It's hard to imagine that Hunter Schafer made her acting debut in Euphoria. The then 19-year-old embodied her character, Jules Vaughn, like a professional and delivered one of the most memorable performances in the series. Jules' relationship with Zendaya's character, Rue, was fascinating to behold.
Euphoria also gave Hunter her first script-writing experience. The showrunners wanted every character's experience on the show to be as authentic as possible, so they asked the actor's to contribute to the storylines.
Read on to find out more about Schafer's gender, career, relationships, and activism.
Hunter protested the fact that a therapist had to approve her hormone medication as she transitioned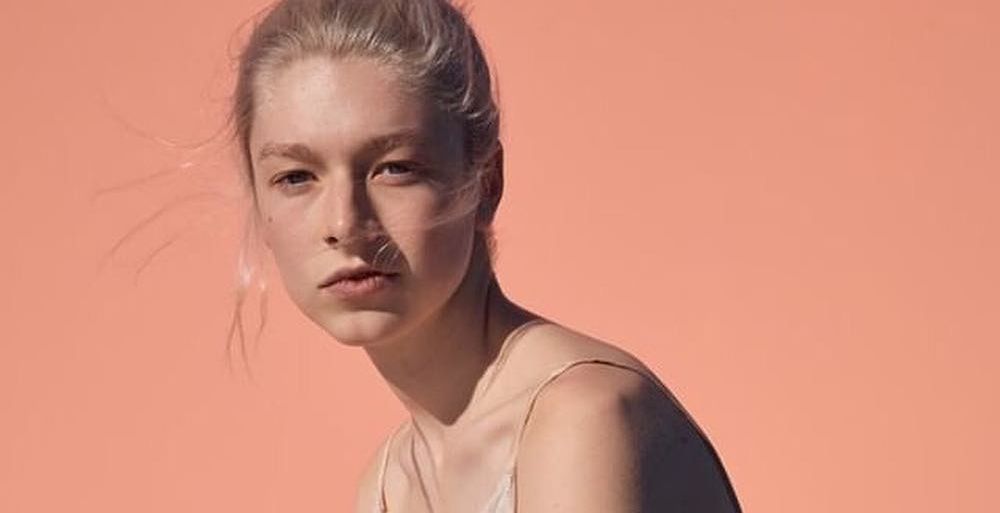 Hunter was born in Trenton, New Jersey to parents Katy and Mac Schafer. She grew up alongside three younger siblings in Arizona and later in Raleigh, North Carolina.
Hunter started her transition in high school. She was in a public school at the time, and she referred to her transition as a pretty intense experience. Hunter started her transition as a gay person before becoming fully trans. However, she now states that she has a non-binary identity.
She told the New York Times that she doesn't assign a name to her sexuality; "…I have sort of let go of the idea that I need to do one thing or the other – and just let myself be."
Hunter had a tough transition, and she needed a therapist to help her with her transition. However, she told the New York Times that she didn't like the fact that the therapist had to approve her hormone medication;
"…and have that therapist confirm to doctors before I could have access to hormones – have that therapist confirm to them that I was, in fact, female in my head, which is nuts just to have some doctor making decisions about your identity when you know the whole time."
She transitioned successfully, and she is proud of the woman that she has become.
She moved to New York to pursue modeling after receiving her first check from Elite Models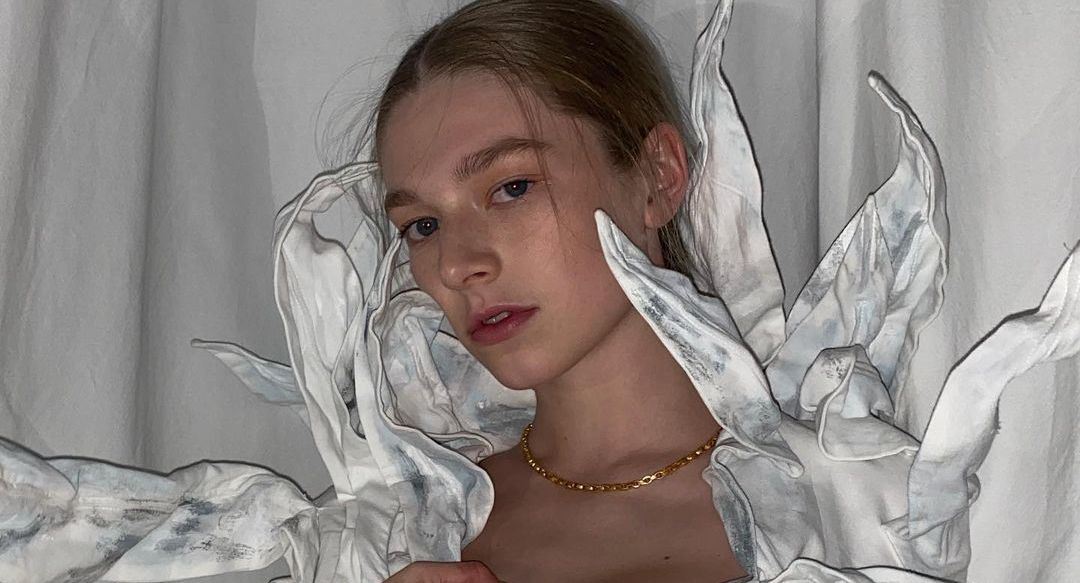 For most of her childhood, Hunter was interested in creating and sketching fashion designs. She spent most of her teen years sketching designs and posting them on social media. Her posts attracted the attention of Tavi Gevinson, creator of the website, Style Rookie.
Hunter told Cosmopolitan; "I tagged Tavi in a happy birthday post because Rookie meant that much to me. She found my Instagram where I had been posting my work and invited me to start contributing."
Soon enough, her drawings and photos began to appear on the site. This experience encouraged Hunter to do more in the world of fashion. In her final year of high school, a North Carolina photographer suggested to her that she reach out to a modeling agency.
Hunter reached out to Elite models, and they signed her. She used her first paycheck to move to New York to further her career in fashion. She told Cosmopolitan;
"By the time I graduated, I had this nice little check and I was like, okay, this is my ticket to New York. Since middle school, all I wanted was to be in a city, particularly New York. I just wanted to be immersed in the fashion industry that I looked up to for so long."
It didn't take long for people to notice Hunter's natural talent. She modeled at New York Fashion Week and London Fashion Week. She also appeared in ASOS's Magazine and Vogue Japan. She has now modeled for top fashion designers such as Rick Owens, Marc Jacobs, Tommy Hilfiger, and many more.
In 2017, Hunter appeared on Teen Vogue's '21 under 21' list due to her success as a model.
She made her acting debut in HBO's Euphoria and is looking forward to starring in other productions
Hunter planned to go to Central Saint Martins fashion design school in London. However, an acting opportunity presented itself during HBO's casting for the show Euphoria.
The directors of the show wanted to cast raw and unknown talent. The show passed around ads on Instagram encouraging anyone who wanted a role in the series to audition. Her friends suggested that she audition for the role of a trans actor, but Hunter wasn't interested.
She finally decided to audition for the role when her modeling agency encouraged her to do it. She impressed the directors, and they offered her the role. Her role in Euphoria has given her a lot of fame, and she now plans to go into acting full time.
She recently moved from New York to Los Angeles to further her acting career. Hunter played the role of a trans girl, and she enjoyed her role. However, she wants to play in diverse acting roles. Hunter told Cosmopolitan; "I'd love to try playing a character who is a stark difference from me."
Hunter also told The New York Times that she will be auditioning for other roles; "…I think I will start auditioning soon, and I'm really interested to explore what other characters I could inhabit…I would love to branch off to someone who is cisgender or a fantasy role. There are many different ways to go and I feel so new to acting and really excited about the art form. I'd love to just keep exploring."
She incorporated aspects of her gender story in Euphoria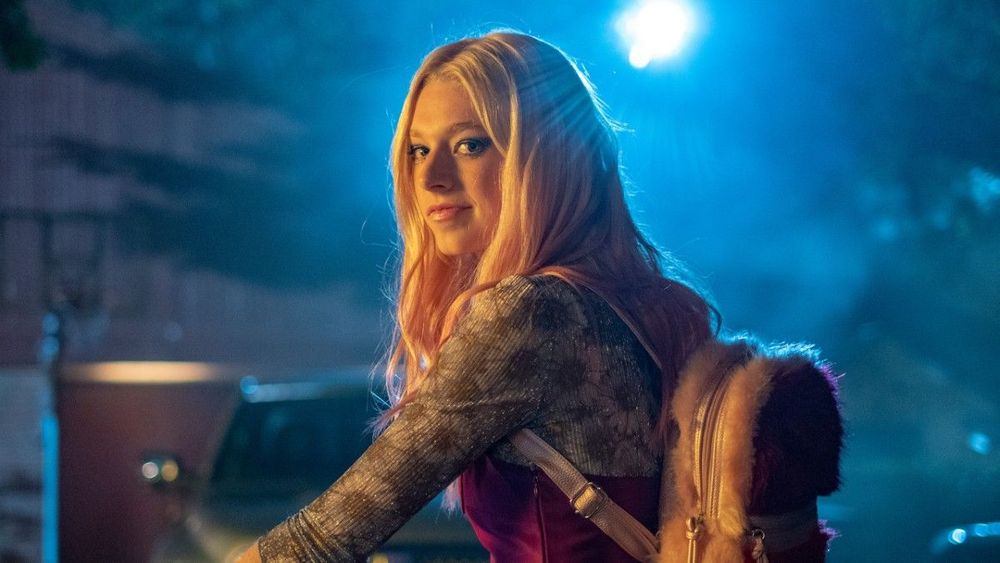 Hunter plays the role of Jules in Euphoria. Jules is a transgender girl trying to figure out life. Hunter and the producers tried as much as they could to incorporate Hunter's story in the show.
She met with the show's creator, Sam Levinson, to figure out how they would tell her story in the show. Sam's dedication to the show encouraged Hunter to do her best. Hunter told Cosmopolitan;
"Sam really ripped himself open to write this story. Seeing his commitment made it easier to put my own love and full self into what I was doing."
Hunter enjoyed contributing to Jules's story, as she told Cosmopolitan; "Jules's transition toward queerness is definitely something that I felt like I could bring to this story. I wasn't acting like Jules, but some of the frameworks in my head are being a femme person and how I relate to the world that way."
She portrayed her role perfectly, and she is widely regarded as the breakout star of the show. She feels like its beneficial for trans roles to go to trans people. She told The New York Times;
"I think it's always preferable that a trans person plays a trans person – one, because there's enough cisgender actors in Hollywood, and two, because trans people can bring levels of experience to the trans experience that they might be portraying."
Hunter hopes that Jules fully embraces her trans identity in season 2 of Euphoria
The coronavirus pandemic forced the postponement of season 2 of Euphoria. Thankfully, HBO delivered a two-part special that focused on the aftermath of Rue and Jules' parting at the train-station.
One of the episodes gave us a deeper look at Jules than we had seen in the first season. The episode proved so cathartic for Hunter that it kept her from checking into a mental hospital. She told Vulture:
"Without realizing it, I had developed a pretty solid dependence on the catharsis that acting provides, particularly with this character, just because I feel so close with her. She became a vehicle for working through things I was thinking about at her age and haven't finished processing. So it was therapeutic in a way."
Hunter was heavily involved in writing the script for her special episode. She tried as much as possible to use her experiences to better tell Jules story without making Jules too similar to her. "When I first started with her, we were much more parallel then than we are now because I've had a lot of growth," Hunter said.
Schafer wants to see more trans people involved in the film industry. "I think there is a certain level of creativity that is inherent to transness and very special to transness that is unique," she told IndieWire. Hunter refused to tell the outlet whether she wrote Euphoria season 2, but stated that she wants to see Jules embrace her trans identity:
"[I hope] this growth and interrogation of Jules… and what she wants and ultimately finding newer and healthier intimacies in her relationships, which I hope will be more queer and more healthy."
She described her co-star Zendaya as her new best friend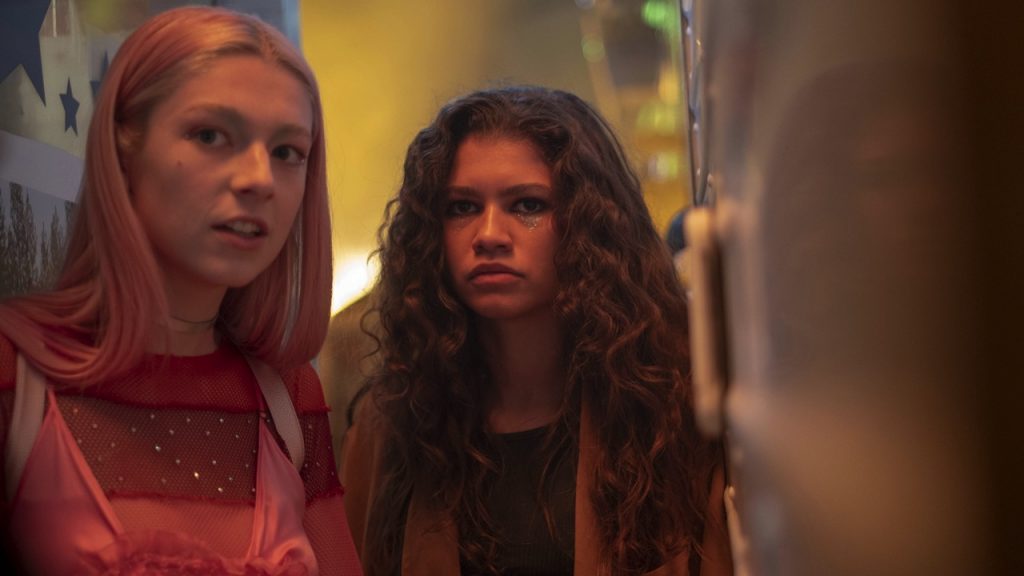 Zendaya plays the role of Rue in Euphoria. Rue is Jules's best friend on the show, but she eventually turns into a romantic interest. Hunter has a great relationship with Zendaya both on and off-screen. She told The New York Times;
"She's amazing. Z was my main scene partner for most of this season and I just feel so lucky to come out of this experience with a new best friend."
Hunter also has a great relationship with the rest of the cast. They stayed at the Standard Hotel during filming, which took eight months. They all got to know each other, and they are all very close. They spent their time at the hotel sunbathing and riding bikes around the Sony lot. Hunter told Cosmopolitan;
"We would just go swimming and hang out. It was also during Pride, so the Standard was just absolutely nuts. We watched from the sidelines, but to witness that together was wild."
Hunter's favorite day with the cast was during the wrap party, after completing filming. It was a relaxing time for the cast who didn't get to go out a lot during filming. Popular rapper, Drake, was at the party and he reportedly handed out cash to the cast. Hunter told Cosmopolitan;
"People couldn't really go out, so I think everyone just went really hard that night, as they should."
She protested against a Bill forcing people to use bathrooms corresponding with their gender at birth
Hunter started her journey as an activist when she was 17. She was the youngest plaintiff in the lawsuit against North Carolina House Bill 2. The bill forced people to use public bathrooms that corresponded with the sex on their birth certificates rather than their gender identity. Hunter told Teen Vogue;
"When the discriminatory HB2 bathroom bill was passed in North Carolina, where I'm from, I came onto the case as a plaintiff to be a testament to the trans and gay communities."
Hunter is also a member of Arts Not Parts. The organization creates posters to fight transphobia in bathrooms. However, she told The New York Times that she doesn't feel like she fits into the traditional definition of an activist;
"When I think of an activist, I think of a community organizer who is working every day and directly with community members, and making it a job to take care of and speak up for a community in some way…I don't think that's what I am – or what I've been – just because I'm vocal about my identity sometimes."
She desires a 'cute ass relationship' with a trusting partner
In the show, Euphoria, Hunter's character transitions from a reliance on men to being sexually attracted to women. Hunter told The New York Times; "What I just loved about the script is that we see her start to recognize her reliance on men and eventually move away from it…"
In real life, Hunter seems to be interested in men. In January 2018, she posted a sketch on Instagram with the caption; "My gender was so influenced by a need to be used by men."
Hunter revealed to Cosmopolitan that all she wants right now is 'a cute ass relationship.'
---