Grant Gustin is an American actor who is famous for his role as Barry Allen/ The Flash on the series The Flash. He has played the role of The Flash in other Arrowverse films, including Arrow, Supergirl, and Legends of Tomorrow. Grant introduced himself as a star when he played the recurring role of Sebastian Smythe in Glee.
Gustin forms one-half of one of the most famous on-screen couples. He and Candice Patton (Iris West) got married in The Flash, and some think that the two famous actors are a couple in real life. However, Grant is married to Andrea La Thoma in real life. Andrea and Grant are quite secretive, but this article will provide some of the details about their relationship. It will also explore Andrea's roots and her career.
Andrea initially thought that Grant's proposal was a joke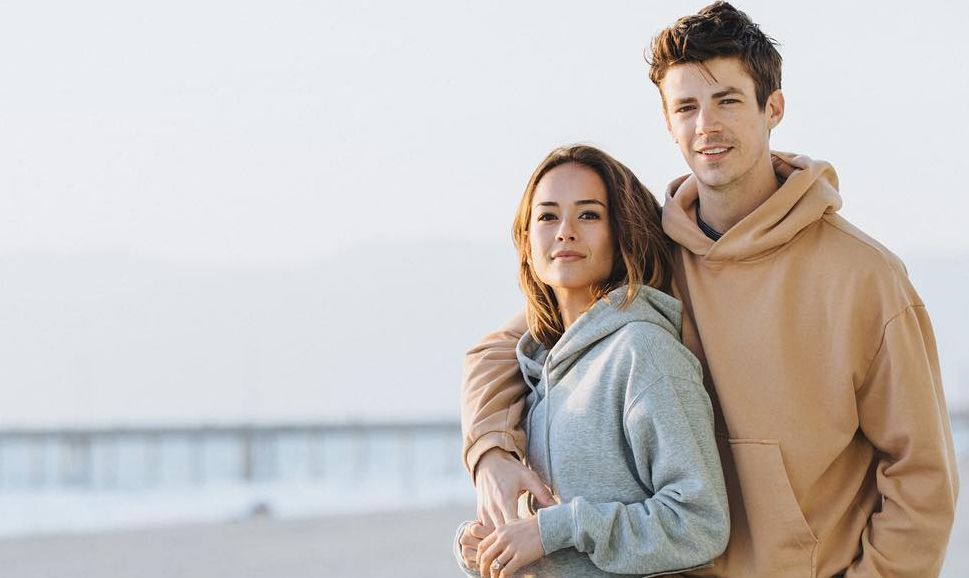 Andrea and Gustin started dating in 2016, and a year later, Gustin was ready to propose. He was due to appear on set in Costa Rica, and he planned to propose there. However, the movie he was set to film in Costa Rica kept being postponed, and he had to abandon the project to get back to filming The Flash.
After that disappointment, Grant decided to propose out of the blue. He planned to pop the question as the couple exercised on the beach one morning. However, he almost messed up that proposal. He told Conan O'Brien:
"We worked out on the beach, I forgot the [engagement] ring was in my backpack. When we were sitting on the beach afterwards, I thought she saw it. It turns out she hadn't [seen the ring]."
Grant successfully averted the first crisis, but he wasn't prepared for Andrea's reaction after he popped the question. Gustin told Conan that Andrea laughed at the proposal. The former Glee star said:
"It was such an impromptu proposal and random moment, she thought I was joking, actually, when I proposed. It was obviously not a very good proposal. She laughed at first. But then she said yes."
The couple announced the engagement via a photo posted on Instagram on 30th April 2017. The captionless photo showed a happy couple and a massive rock on Andrea's ring finger.
Andrea and Grant went through two marriage ceremonies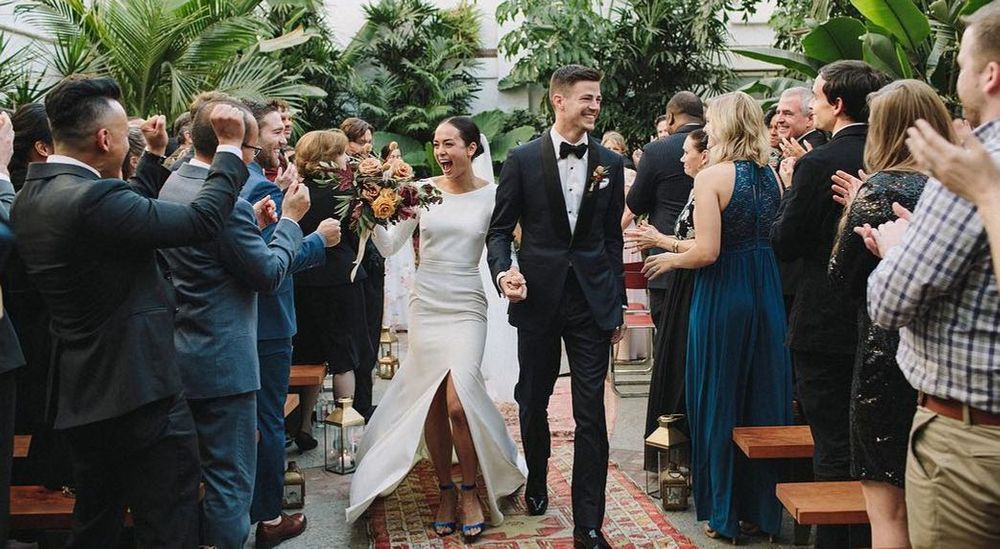 Andrea and Grant first got married in a ceremony that took place in Andrea's homeland in Sabah, Malaysia. The ceremony was meant to please Andrea's ancestors, and close friends and family attended it. After the ceremony, news reports emerged stating that Andrea and Grant had gotten married in secret. Grant dispelled the rumors via an Instagram post with the caption:
"I did want to clear something up before the internet ran with it. It was incorrectly reported, without our permission that LA and I had a private wedding while we were here, but that's not quite the truth. While we did have a beautiful, symbolic Kadazan ceremony to honor LA's ancestors, we still won't tie the knot until next year."
Grant stated that he had a great time in Malaysia with Andrea's family and friends. The couple talked about the ceremony on the Anna Faris is Unqualified podcast. Andrea stated that she and Gustin were technically married, but they hadn't signed a document to prove it. The couple got married officially in a beautiful ceremony held at The Valentine in downtown Los Angeles on 15th December 2018.
A source speaking to E! described the wedding as beautiful, "They were surrounded by their family and close friends, and it was a beautiful ceremony and an unforgettable day."
Andrea has a close connection to her Kadazan roots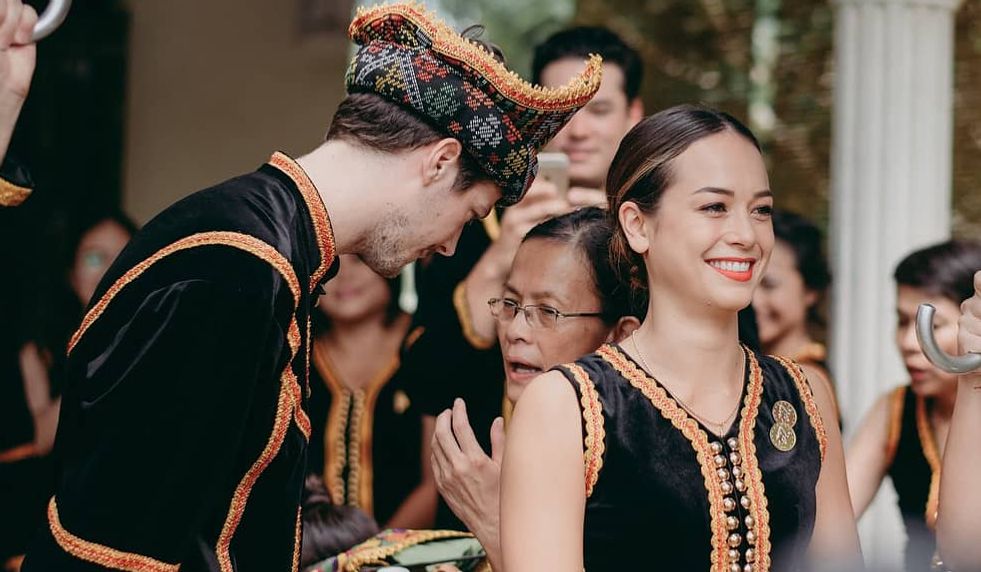 Andrea La Thoma was born on 11th July 1988 to Judy and James Thoma in Ohio. Andrea's mom is a Kadazan, and a native of the Island of Borneo. Andrea grew up alongside her three siblings Jonathan, Louise, and Christian. Andrea's mom regularly used Kadazan language while raising her children, and it helped Andrea stay in touch with her Kadazan roots. Andrea told the Straits Times:
"My mum makes sure that she speaks to us in Kadazan at times so that we would not be completely clueless about our other identity apart from being American."
Gustin was warmly received when he visited Andrea's home in Malaysia, and he is making an effort to learn her native language. Andrea posted a funny clip of herself trying to teach Gustin a Malay phrase, and added the caption:
"One of my favorite videos – trying to teach G how to say 'don't mess with me' in Malay. It always makes me smile."
She is a fitness coach and dieting enthusiast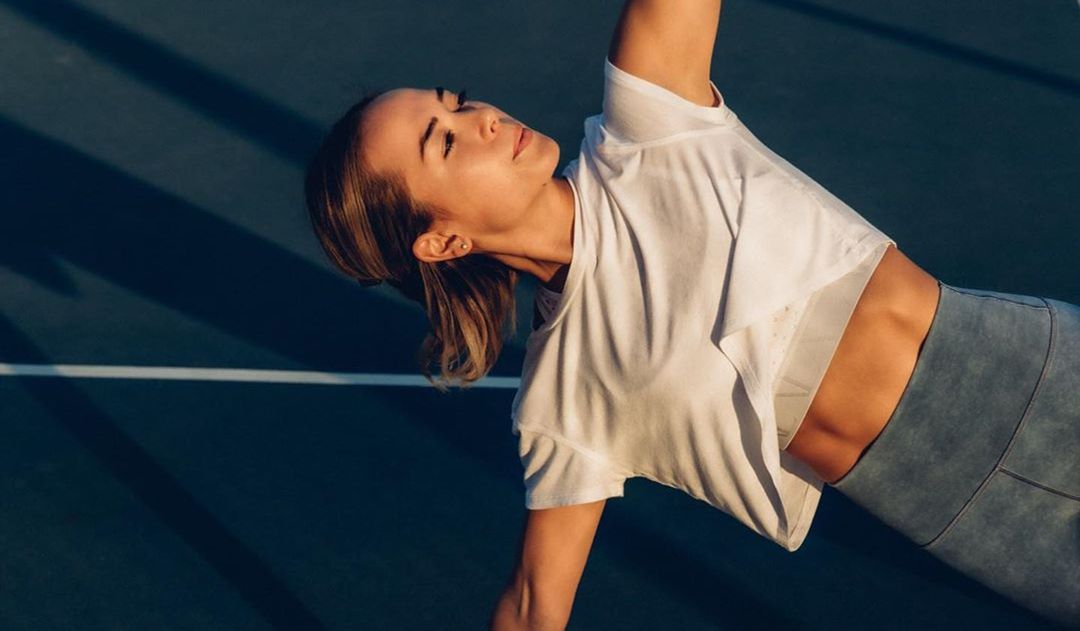 Andrea has always been passionate about fitness, and in high school, she was one of the stars on the school's women's football team. She was also a star in track and field events. After graduation, she enrolled in Kent State University to study Exercise Physiology. She worked in Virginia and Connecticut as a physical therapist before earning her degree in 2009.
Thoma then pursued her doctorate at Old Dominion University and continued her work as a physical therapist in Sunnyvale, California. Dr. La Thoma Gustin shares her fitness tips via photos and videos posted on her Instagram page. She also has a YouTube channel in which she posts work out videos.
---