When you find your true love, past mistakes don't matter anymore. Tom Ellis knows a thing or two about past mistakes. However, all that is behind him now as he looks forward to a happy future with his wife, Meaghan Oppenheimer.
Tom is best known for his roles in the British sitcom, Miranda, and the American series Lucifer. Tom played the role of "Gary Preston" in Miranda from 2010 to 2015. He now plays the role of "Lucifer Morningstar" in the hit series Lucifer. Netflix plans to release the fifth and final season of the series in 2020.
Tom didn't have a lot of luck in his love life until he met Meaghan Oppenheimer. In Meaghan, Tom found the love of his life and the woman he wants to spend the rest of his life with. His social media pages reveal how much he loves Meaghan. There are loads of photos showing the couple having the best times together.
Unlike Tom, Meaghan prefers to be behind the camera rather than in front of it. This means that she is not as famous as her husband.
Keep reading to discover some truths about Meaghan Oppenheimer.
She started out as an actor
Meaghan started acting in the theatres of Tulsa, Oklahoma when she was still young. She then went on to star in the Disney series, Even Steven, which aired between 2000 and 2003.
In 2010, she featured in the films, The Rock 'n' Roll Dreams of Duncan Christopher and Hot Mess. A year later, she appeared in the series stalkTALK and the movie LoveFinder. She also appeared in the television series, How to Marry a Billionaire.
Her final role as an actor came in 2012 when she appeared in LoveFinder: The Virals. After that, Meaghan chose to pursue a career as a screenwriter and a producer.
She is a talented screenwriter
Meaghan is an Oklahoma native. She was born in March 1986 to Reed and Gabrielle Oppenheimer and, she grew up alongside two brothers and one sister.
After graduating from Holland Hall in 2005, Meaghan joined the Tisch School of Arts in New York to study drama. She graduated in 2009 with a Bachelor's degree, and she briefly contemplated staying in New York to pursue a career in theatre.
However, she couldn't resist the allure of becoming a Hollywood star. Her first project as a screenwriter was on the short film Hot Mess. After that she developed the screenplay for the musical film, We Are Your Friends, starring Zac Efron and Emily Ratajkowski. The film was a huge success grossing about $11.1 million in box office against a $2 million budget.
She also wrote a screenplay titled, The Remains. The screenplay didn't result in a movie but, it appeared on the 2013 Black List. The Black List is an annual listing of the best screenplays that failed to get filmed.
In 2015, she wrote a screenplay for one episode of the horror series, Fear the Walking Dead. She also collaborated with T.R. Knight and Penelope Ann Miller to write a screenplay for a series titled, Meaghan Oppenheimer Pilot. ABC changed the series' name to Broken but, the network scrapped it after releasing one episode.
Her most recent project is the Facebook Watch series, Queen America. The dark comedy series plays out in her hometown and, it features the struggles of a young model trying to become a supermodel under the guidance of an unforgiving pageant coach. Meaghan is the screenwriter and executive producer of the series.
The show amassed over 9 million views, and fans are waiting for season 2. Catherine Zeta-Jones stars on the series and she stated that she would love to return for a second season.
She got engaged to Tom in 2017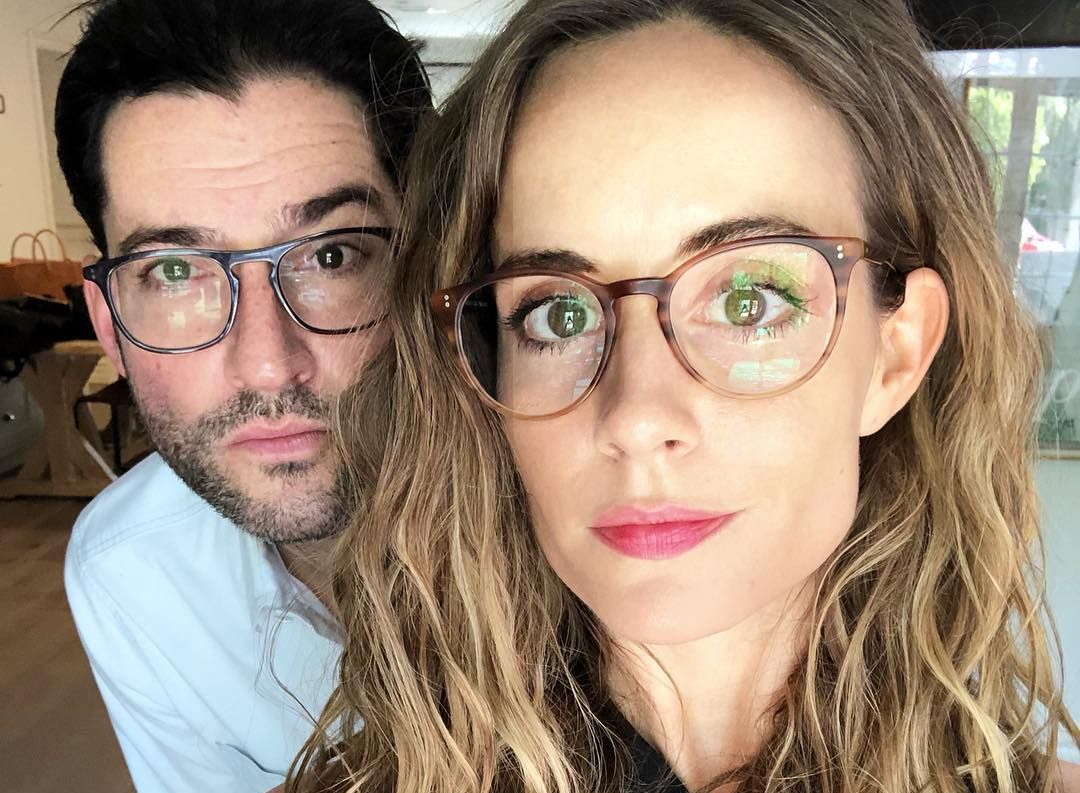 Meaghan and Tom started dating sometime in 2015. The couple's love blossomed and, they got engaged in March 2017.
Meaghan announced the engagement on 27th March 2017, in an Instagram post with the caption:
"Does this ring make me look fat??"
It was a fun way to announce that she was engaged to the love of her life. The engagement happened one day before Meaghan's birthday and, this made the occasion extra special.
Meaghan gave the world a better view of the ring in an Instagram photo posted on 30th March 2017. The caption thanked Gillian Conroy for helping Tom with the ring's design. The caption stated:
"I have to thank @gillianconroyjewelry for helping my love design the most perfect ring I've ever seen. A grey moody rock for my grey moody soul. I can't stop staring at it. Thank you so much!"
She married Tom in a beautiful wedding held in California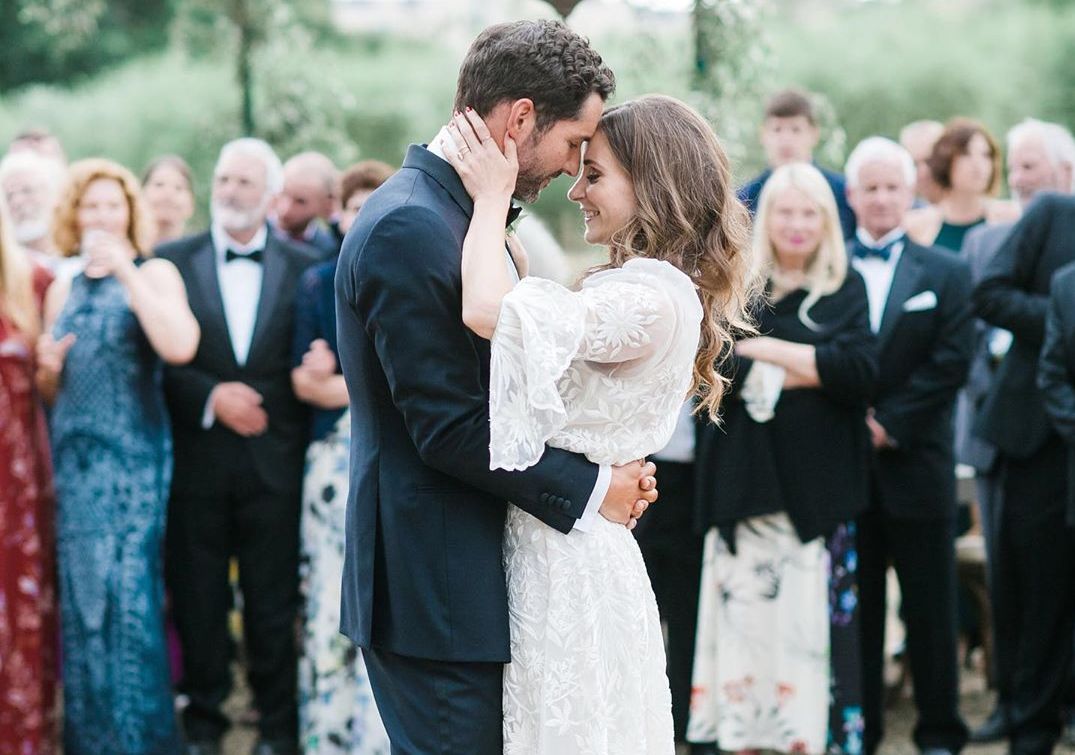 Meaghan and Tom kept the details of their wedding a secret from the world. The only hint was a tweet from Meaghan on May 29, 2019, stating that she would be on her honeymoon when The Handmaid's Tale premiered on 5th June. Only people with an invite knew when and where the wedding would take place.
Meaghan announced that she was married on June 3rd, 2019. The wedding took place in the Santa Ynez Valley in California. The couple exchanged their vows under oak trees at the Grassini Family Winery.
Meaghan looked stunning in a full-length white gown designed by Naeem Khan while Tom wore a classic black suit. The slightly unusual part about the wedding was that Meaghan allowed her bridesmaids to wear white gowns.
Brides usually love to be the only ones wearing white at their weddings. This didn't matter to Meaghan and, the wedding went on as planned. The ceremony took place in the early evening as the sun went down.
The couple's close family and friends attended the wedding. Tom's castmates in Lucifer also made an appearance at the wedding. Some casts of the Lucifer present at the wedding included Kevin Alejandro, DB Woodside, and Rachael Harris.
Tom announced the wedding on a photo posted on Instagram with the caption:
"My new wife @moppyoppenheimer was a little unsure about my choice of transport for the honeymoon. Thank you to everyone who made our special day so precious…"
The choice of transport that Tom was referring to was a canoe that appeared next to the couple at the lakeside location where they took wedding photos. Meaghan and Tom went to Paris for their honeymoon, and they had a good time. Tom posted a photo on Instagram with the caption:
"Thank you @moppyoppenheimer for showing me Paris…I can't wait to come back…#honeymoon…"
She is a loving stepmom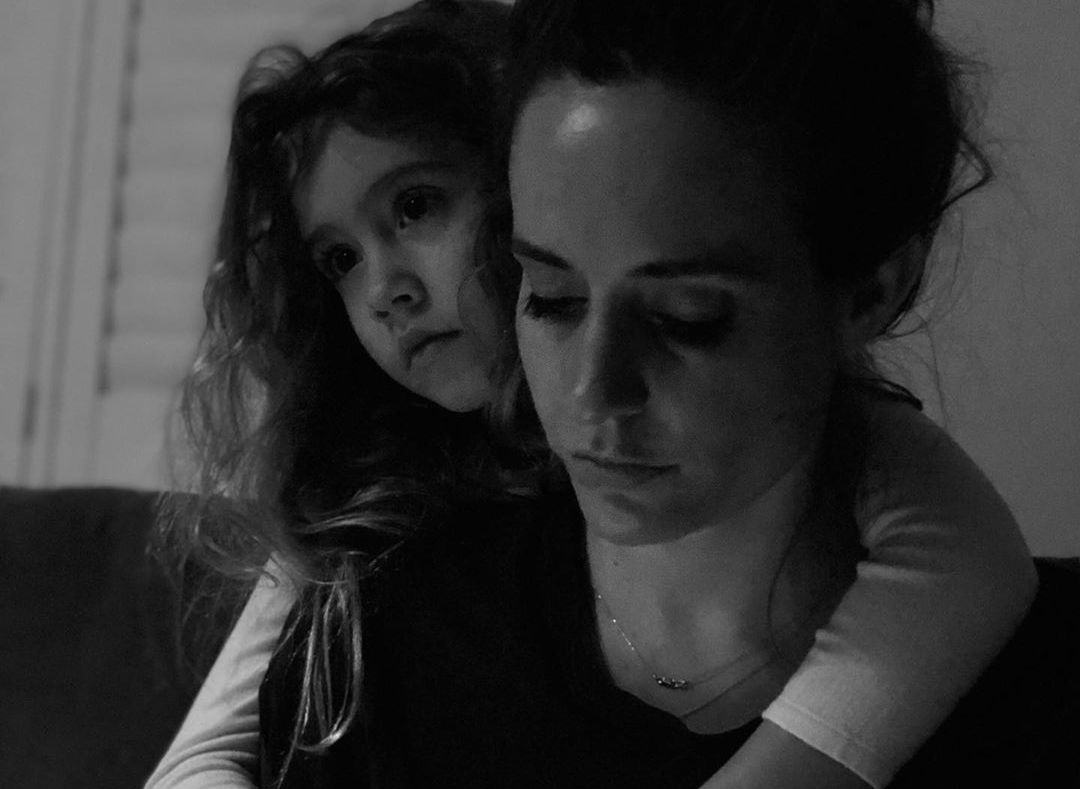 Before marrying Meaghan, Tom divorced EastEnders actress Tamzin Outhwaite. Tom married Tamzin in 2006 and, the couple broke off the marriage in 2014 after Tom admitted to cheating.
Tom has two daughters from the failed marriage, Marnie Mae and Florence Elsie. He also has another daughter named Nora from a previous relationship with Estelle Morgan.
It, therefore, makes Meaghan the stepmom of three beautiful daughters. The daughters attended their father's wedding and, they took some photos with the couple. From the outside, it looks like Oppenheimer enjoys a good relationship with her step-daughters.
It's not clear whether Meaghan and Tom are planning to have kids soon. However, Meaghan's social media posts suggest that she would, someday, love to be a mum. She posted the following message on Twitter alongside a video of her best friend's child:
"Here is your daily dose of joy brought to you by my best friend's baby. One of my future children WILL marry this kid someday, whether they like it or not."
She works for The Reed Jules Oppenheimer Foundation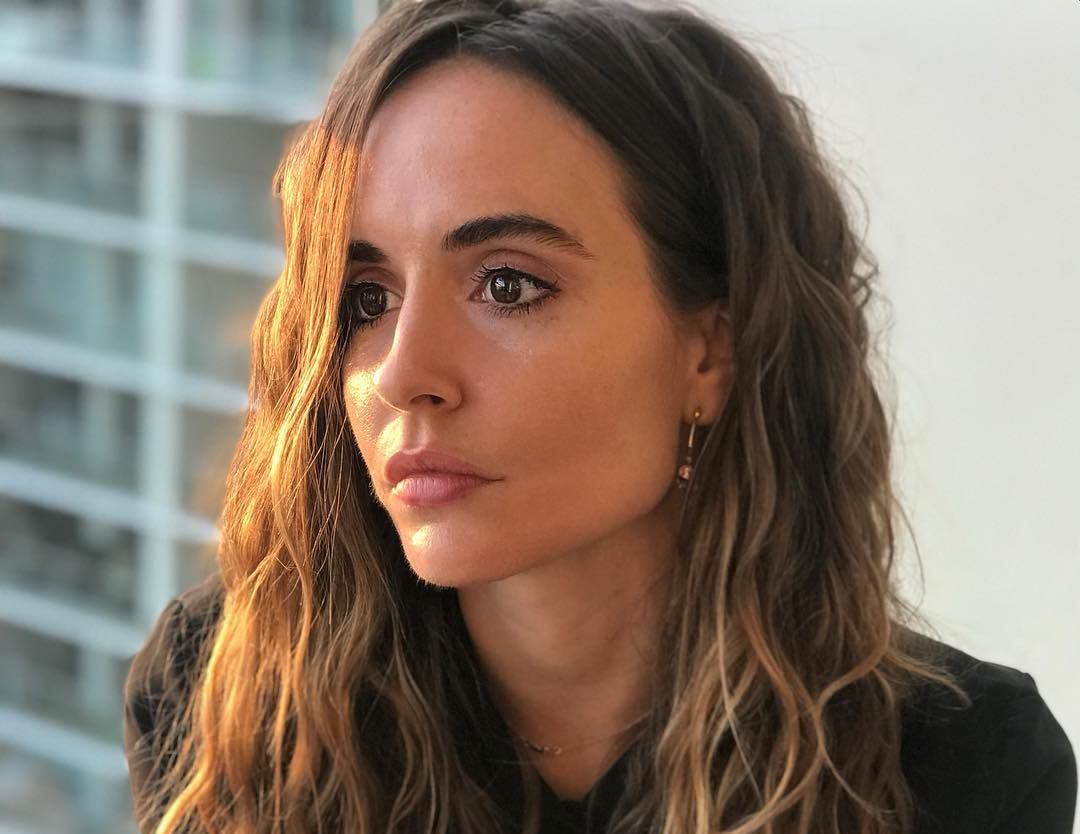 Meaghan's interest in charities can be traced back to her dad, who studied history and anthropology at Yale University. He has done a lot of work for charities such as The Hunger Project, Grameen Foundation USA, Trees of Life and Chiapas International.
Meaghan's family runs a private non-profit organization known as The Reed Jules Oppenheimer Foundation (RJOF). The organization has helped with wildlife conservation, tree planting, poverty reduction initiatives, environmental sustainability, social justice, and many more.
The organization is active in many countries around the world including, Nigeria, Nicaragua, Colombia, Paraguay, Tanzania, Vietnam, Honduras, Kenya, and many more.
Meaghan also works to sensitize people on issues facing her country. Her twitter page is full of messages aimed at directing people's attention towards issues such as immigration and abortion. Recently, Meaghan and Tom took a step towards sensitizing people about the abortion issue in some states in the USA.
The couple asked anyone who wished to send a gift to congratulate them on of their wedding to instead make a donation to Planned Parenthood. Tom posted the following message on Twitter:
"Thank you to all the people that have been asking about wedding gifts or charitable donations for my upcoming nuptials with @MoppyOpps that is so kind. If you would make a donation to @PPFA #plannedparenthood we would be very grateful."
Planned Parenthood is an organization that provides reproductive health services in the USA. Meaghan and Tom showed support for the organization after Alabama passed a law that effectively outlawed abortion.
Also Read: The Untold Truth Of Amy Adams' Husband, Darren Le Gallo
---