Russell Westbrook will go down as an NBA legend. He holds the record for most career triple-doubles, hence the nickname 'Mr. Triple-Double.' Westbrook has played for the Oklahoma City Thunder, Houston Rockers, and Washington Wizards and recently joined the Los Angeles Lakers, where he hopes to win a championship ring.
Nina Earl's Instagram activity foreshadowed Russell's move to LA. Fans noticed that Lakers' megastars Anthony Davis and LeBron James had followed Nina Earl – Russell Westbrook's wife – on Instagram before the team announced the move. The follows confirmed that, contrary to expectation, Russell would link up with King James and The Brow.
Let's find out more about Russell Westbrook's wife, Nina Earl.
Russell and his wife Nina met while playing basketball at UCLA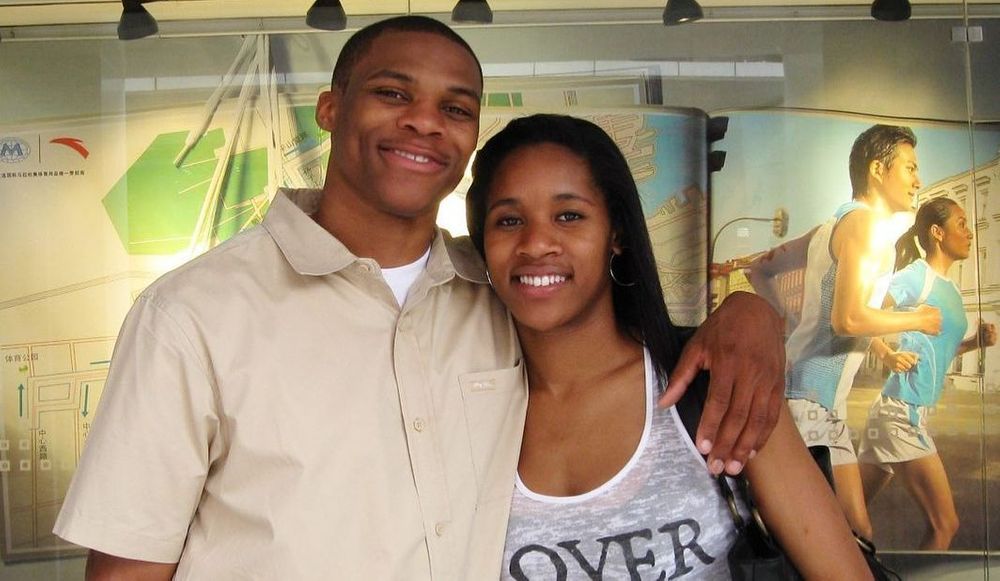 Nina Earl was born on 16th January 1989 to Jennifer Lyons and Michael Earl. She has three brothers: Benjamin, Michael, and Jonathan.
Earl's athletic prowess shone during her time at Diamond Ranch High School. She was a multisport athlete, but basketball took priority. Nina led her team to two California Interscholastic Federation title games, once earning the CIF Player of the Year accolade.
Her efforts earned her sports scholarship to UCLA, where she continued to shine on the court. Nina could play in any position and was one of the fastest players on the team.
Nina and Russell met while playing basketball for UCLA. They started dating and have remained together to this day. In an interview with ESPN in 2013, Russell showered praise on Nina:
"But she's a smart girl. She's in school right now, trying to get her master's in psychology. She knows what she wants to do in life, which in great. That's easy for me to cope with."
On 4th September 2014, Russell proposed to his long-time beau. "Nothing even matters," Russell captioned a photo of Nina wearing the ring. "Forever my lady! LOVE YOU!!!" Nina's engagement ring cost Westbrook a mouthwatering $700,000.
Russell and Nina wed in Beverly Hills nearly a year after the proposal. "My Mrs… 8.29.15… #Westbrookwedding," Russell announced on Instagram.
NBA stars such as Kevin Durant, Serge Ibaka, and James Harden attended the nuptials. R&B queen Keri Hilson also witnessed the wedding.
Lauryn Hill and D'Angelo's Nothing Even Matters played as Russell and Nina first danced as a married couple. The pair and their wedding guests later enjoyed a surprise performance from Miguel.
Earl experienced unexpected complications when welcoming the couple's second and third children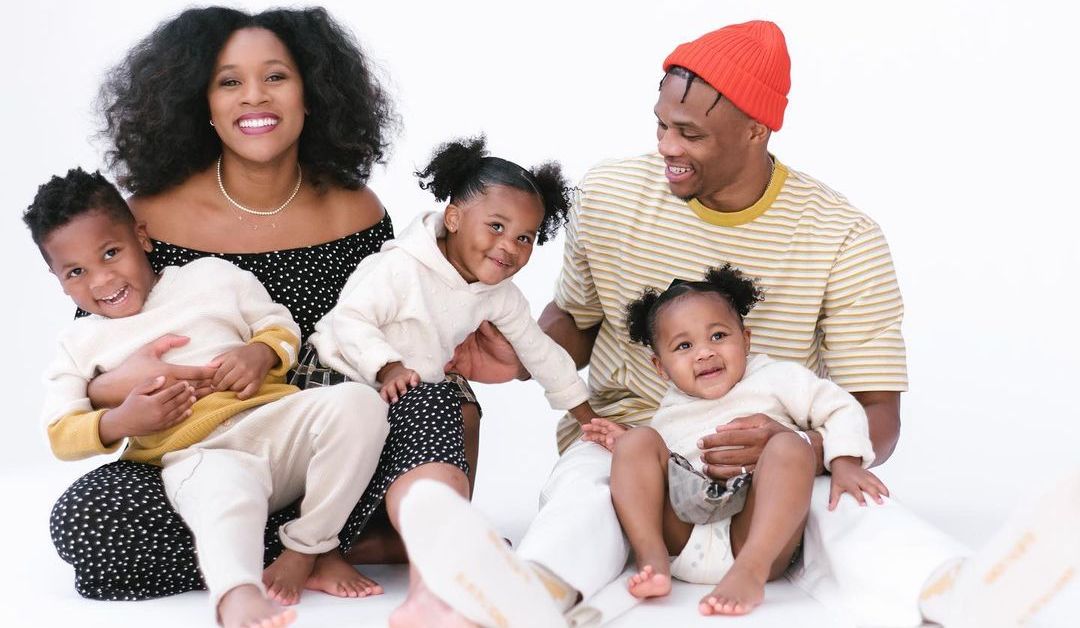 Nina Earl's Instagram page features occasional photos of hers and Westbrook's three children: Noah, Jordyn, and Skye. Noah had an uneventful birth in May 2017. A year later, Nina and Russell announced that they were expecting twins via a YouTube video posted by the Oklahoma City Thunder.
Nina spoke of her excitement at the prospect of welcoming two baby girls. "If Noah gets out of hand, they'll be able to both jump on him at the same time," she gushed. "You know having two girls is exciting in itself, but just having been able to be blessed and have more children, I think is a complete blessing," Russell added.
The couple welcomed Jordyn and Skye on 17th November 2018. Unlike their older brother's birth, the twins' birth almost ended in disaster as Nina encountered unexpected birth complications. In mid-April 2021, Nina wrote on Instagram:
"The reality is my pregnancy with Skye and Jordyn was high risk and we did run into unforeseen complications during delivery, which was really scary. I feel so fortunate that we had the care that we had, but it pains me to know that woman dies from pregnancy-related causes every 12 hours and that 60% of those deaths are preventable."
Earl opened up about the twin's complicated birth as part of a campaign by March of Dimes to raise awareness about the US's discriminatory healthcare system. "Unequal access to good healthcare leads to higher rates of maternal and infant health complications for Black moms and their babies," Nina added.
Fortunately, Nina and the babies survived the scary delivery. Nina regularly posts her family on Instagram. "Locked in on game day," Nina captioned an April 2021 photo of the family seated on the stands cheering on Russell.
Nina runs a mental health wellness brand named Bene and a kids clothing store called The Little Ark
Nina earned bachelor's and master's degrees in psychology from UCLA. Earl is a licensed marriage and family therapist offering mental wellness workshops through her company Bene.
Bene is Latin for wellness. A rummage through Bene's website reveals that the company offers both mental and physical health advice. The company's 'our story' section reads:
"Nina Westbrook is a licensed Marriage and Family Therapist offering exclusive mental health e-workshops with the goal of supporting women and youth on their unique journeys towards physical and emotional wellness."
Before launching Bene, Nina operated a kids' clothes store named The Little Ark. The store has an outlet in Oklahoma where people can get mom and baby apparel, books, and snacks. It also offers CPR courses, story time, music activities, and kids' cooking classes.
"I also wanted to incorporate the classes because I'm so used to, in my career as a marriage and family therapist, working with groups of people; with kids, adults, and students. I wanted to somehow have a space where I could incorporate that aspect of my life."
Nina is also an active member of the Russell Westbrook Why Not? Foundation. She's been pictured alongside her husband serving meals during the foundation's annual Thanksgiving event.
Nina clapped back at Stephen A. Smith after he accused Westbrook of stat-padding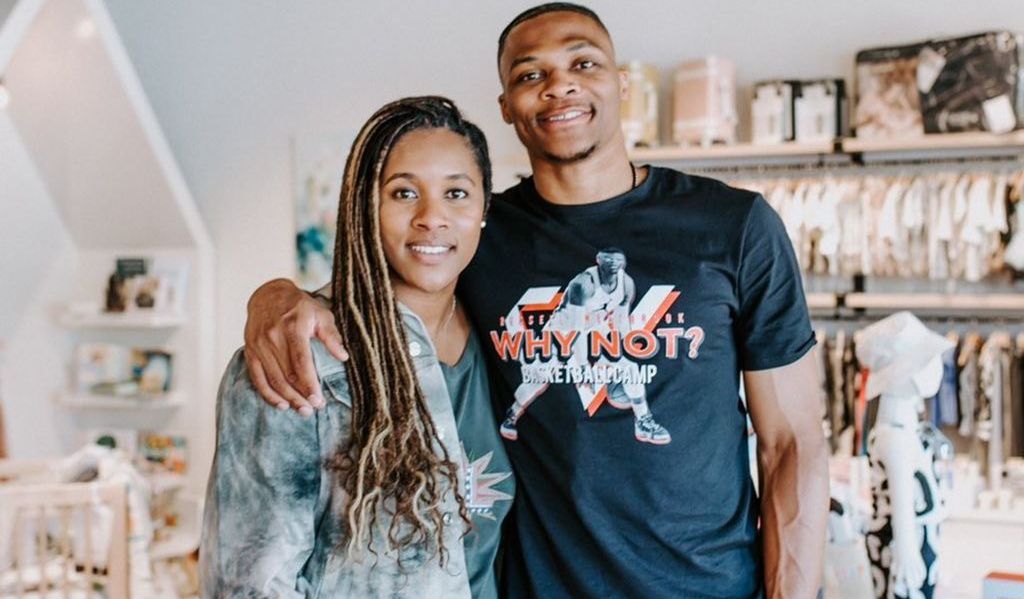 In 2021, Russell Westbrook broke the NBA's triple-double record. He received plaudits all around for breaking a record set by Oscar Robertson decades ago, but outspoken NBA pundit Stephen A. Smith wasn't impressed. "And here's the thing about Westbrook's big night: I don't give a damn about any of it," Smith said.
Smith slammed Russell's achievement and criticized him for playing in teams that fall short. "If Russell Westbrook was a better 3-point shooter, could you imagine what he would've done? I'm here to tell you he would've won a championship by now," Smith added.
Nina Earl leaped to her husband's defense via a passionate Instagram message that slammed Stephen A. Smith and commentators in general for speaking ill of basketball talents. She spoke of a UCLA commentator that told Russell that he wouldn't make it in the NBA.
"Imagine if I had listened to him," Russell told Nina. Earl blasted Smith for trying to diminish Russell's achievements. "Never let anyone else place value on your talent," Nina wrote. "My husband is the prime example of how you can defy the odds in any and every way." She added:
"Russell is the happiest he's ever been. Not having a championship does not 'hurt him a lot.' You know nothing about him. If you did, you'd know that he is way, way, way more than a championship. He is a champion of life. He does not care about YOUR championship, and certainly not YOUR opinion."
Russell echoed Nina's statements in his response to Stephen Smith's comments. He admonished college basketball commentators for saying negative things about young prospects, thereby affecting their career trajectories.
Westbrook played down his lack of a championship and stated that his legacy lies in what he's done outside the court. He sees himself as a champion for making it to the NBA and using his platform to help the community. Part of his lengthy statement read:
"Like I said before, a championship don't change my life. I'm happy. I grew up in the streets. I'm a champion. I don't have to be an NBA champion. I know many people that got NBA championships that's miserable, haven't done nothing for their community, haven't done anything for the people in our world. My legacy is what I do off the floor, how many people I'm able to impact and inspire."
---