Jaime Jaquez Jr.'s impressive senior year with the UCLA Bruins likely raised his ranking in the 2023 NBA Draft. He was voted the Pac-12 Player of the Year in 2023, becoming the first Bruins player since Kevin Love in 2008 to win the award. Jaime's efforts earned him a spot in the Miami Heat roster.
Jaime Jaquez Jr. was born to a Mexican father and a white mother in Irvine, California
Jaime Jaquez Jr. was born on 18th February 2001 to a Mexican father, Jaime Jaquez Sr., and a white mother, Angela Jaquez. He is Mexican-American. Jaime grew up in Camarillo alongside his younger siblings, Gabriella and Marcos.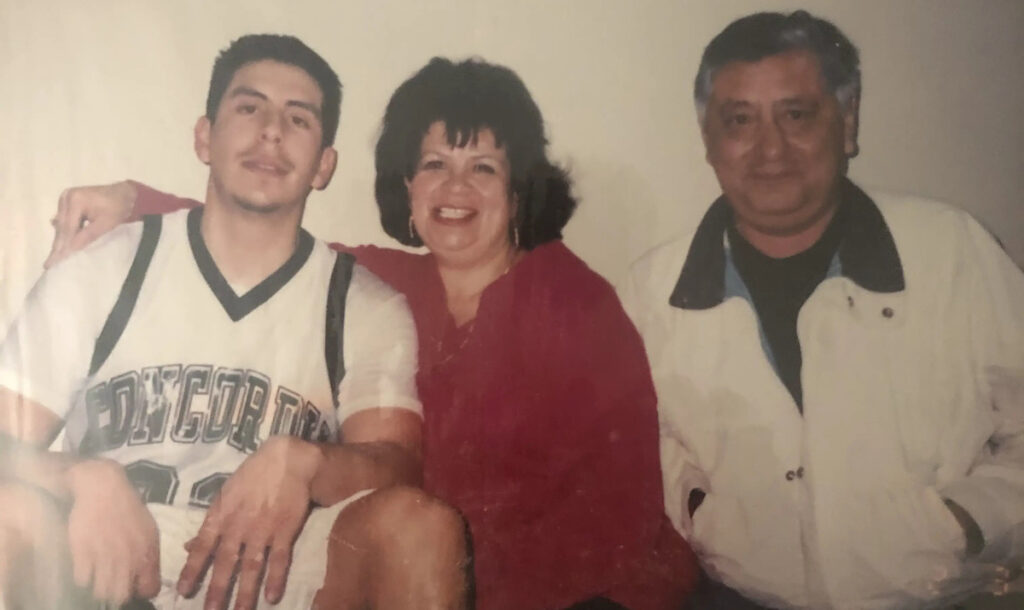 Jaime's grandfather, Ezequiel, moved from Mexico to Oxnard, California, as a child with his parents. Gloria, Jaime's grandmother, grew up on the outskirts of Guadalajara and met Ezequiel during a trip to California to visit her sister. Ezequiel and Gloria fell in love, married, and settled in Camarillo. "When my grandparents came to the states and crossed the border, they came to better their lives – to live the American dream," Jaime told USA Today.
Gloria moved to the United States despite knowing no English. Nevertheless, she established a successful hair and nail salon business in Camarillo. Jaquez Sr. told Our Esquina:
"My mom and dad, they demonstrated to us kids – and I try to do the same – that you have to work hard. I've instilled that in my kids, as my mom and dad instilled that to me. Imagine my mom coming from Guadalajara not speaking any English, yet she was able to be a successful businesswoman."
Jaquez Sr. and Angela met at Concordia University in Irvine. Angela is white and hails from Minnesota.
Ezequiel and Gloria took their children to Guadalajara at least once a year to keep them in touch with their Mexican roots. Gloria has family in Mexico, where she held a reception for her family several years ago. She showed ESPN pictures of her more than 100 family members standing in the church she attended as a youth.
Gloria's cooking keeps the family together: every Sunday, she provides a home-cooked meal for her large family. She told USA Today: "Food brings us all together. When I cook, I tell everyone in the family (nearby) what time dinner is and they come over because we have a big backyard. Jaime will come over and ask me for his favorite dish. I'll say, 'OK, mi niño.'"
Jaime Jaquez Jr. will become the sixth player of Mexican heritage to play in the NBA
Jaime hails from a family with a rich sports history. Ezequiel started playing basketball after his father built a rim for him and his brother, Dick, to play with. Compared to the regulation-size basket, the one at home was considerably smaller, ultimately benefiting Ezequiel and Dick. "By the time we got to a bigger rim, it was easy," Ezequiel told ESPN.
Ezequiel played at Ventura Community College and Northern Arizona before becoming a coach. Jaquez Sr. also played basketball, lacing up for Concordia University. Jaime's mother, Angela, played basketball for Concordia's women's team.
Angela and Jaquez Sr.'s children inherited the family's sporting genes. Jaime's sister, Gabriela, is a promising basketball player at UCLA. Marcos, the youngest sibling, plays basketball and football but prefers football.
Jaime will become only the sixth player of Mexican heritage to play in the NBA since 1946. "I'm trying to represent the Mexican culture the best that I can," Jaime told USA Today. "It means a lot because there aren't a lot of Mexican or Latino basketball players as there are soccer or baseball players. I want to shed light and inspire kids to do the same as me."
As a minority, Jaime has faced prejudice and racism. However, he told the outlet that his UCLA team treated everyone equally. "This is a way to recognize the love that's there," Jaime said. "My teammates, we're all brothers no matter what shape, size, color or culture we are."
Jaime told ESPN that though he values his representation of Mexican culture on the national stage, he doesn't want his ethnicity to factor into his achievements. The Miami Heat draft pick explained:
"I love representing a country and representing a culture of something bigger than myself as well. But I also like to think I want to be remembered as a great basketball player, and not just a great Mexican basketball player. A lot of people get lost in that. So whether I'm Mexican or not — and I love to embrace my culture and that's who I am — I'm a person at the end of the day."
Jaime plays for the Mexican national team. However, every other time he plays, he represents two cultures: Mexican and American. "He's making two countries proud," Gloria told USA Today.
---