The power of love in a person's life is undoubted. One's life can improve drastically after finding the love of their life. Love can grow you in ways that you wouldn't have achieved by yourself. Kamala Harris can tell you a thing or two about how the right person can help you grow.
Kamala Harris has recently emerged as a strong contender for the Democrat presidential seat. Her performance in the recent debate has improved her ratings. There is a real possibility that she will get the party ticket.
Her career, before she met Douglas Emhoff, was quite spectacular. She graduated from Hastings College of Law and immediately joined public prosecution. She was elected D.A. of San Francisco in 2004. She went on to become California's attorney general in 2010 and then again in 2014.
Kamala won California's senatorial election with the support of her husband, Douglas Emhoff. They met and got married when she was an attorney general. Now, she could be the first woman elected into the white house.
Douglas Emhoff is a successful lawyer in his own right. While Kamala went into public prosecution, Emhoff ventured into corporate law. Destiny and a mutual friend brought them together, and the rest is history. Douglas' claim to fame is as a result of Kamala's desire to be the president of the USA. As a result, little is known about him.
Keep reading to find out more about the man who could become the USA's first First Gentleman.
He is a successful entertainment and intellectual property lawyer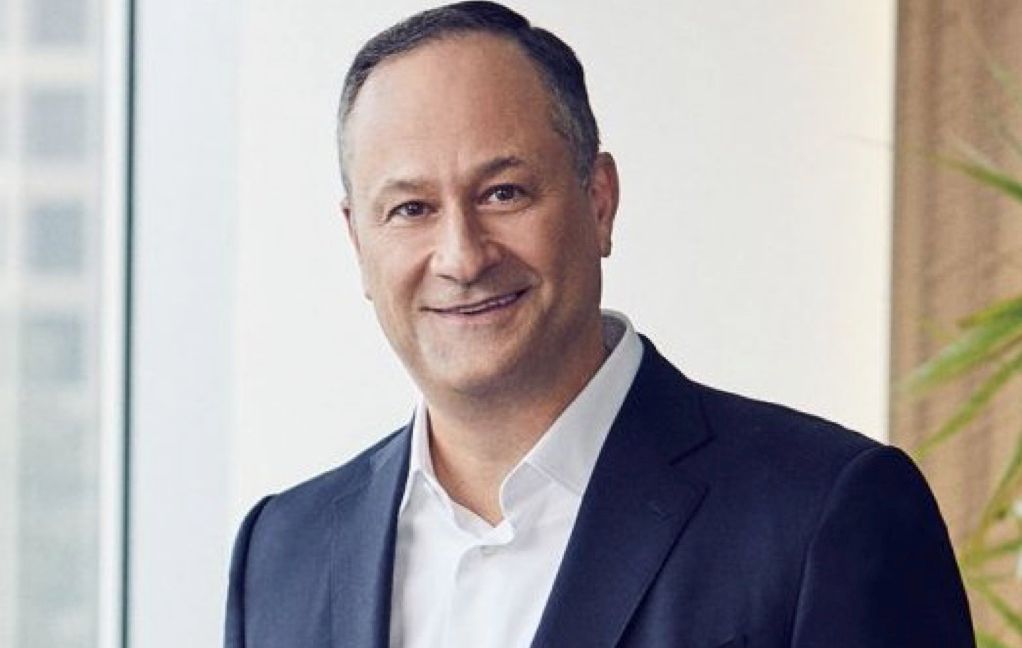 Douglas Emhoff is a successful lawyer who now works at DLA Piper Law Firm. He is a partner at the reputable California law firm. Emhoff always wanted to be a lawyer, but that isn't where he started.
Emhoff was born on 13 October 1964 in New York, where he attended Agoura High School. He moved from New York to California to study communications and media studies at California State University. He acquired his Bachelor of Arts in that field in 1987.
Emhoff worked for a bit in the media industry before joining law school. He studied law at the University of Southern California's Gould School of Law. He worked hard and acquired a Doctorate.
Emhoff has worked in a number of law firms. He has worked as both an associate and a partner. Emhoff has a reputation for being an excellent entertainment and intellectual property lawyer.
As a result, he represents some of the biggest companies and individuals dealing with intellectual property and real estate. He represents domestic and international clients. His background in communication and media gives him an added edge when it comes to intellectual property disputes.
One of his most famous intellectual property cases involved a Chihuahua that appeared in a Taco Bell ad. He represented the ad company that was denying rights to the Chihuahua. According to his firm's website, he has also been involved in other high profile copyright and trademark cases.
He owes his entertainment law career to Belin Rawlings & Badal law firm. The boutique firm introduced him to entertainment law by handing him some cases in that area of law. He would end up representing huge companies such as Fox.
He moved away from the firm in 2000 and established his practice alongside Ben Whitwell. He has never looked back ever since. Emhoff works from the California and D.C. branches at his current firm.
Emhoff and Kamala met at a blind date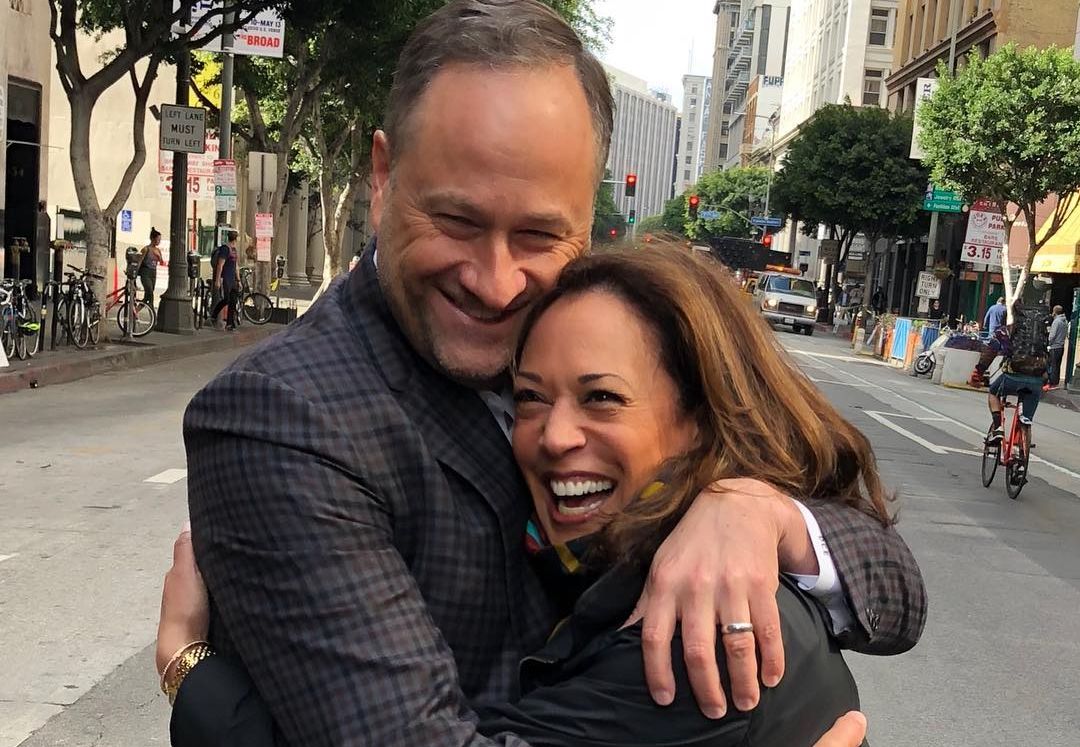 Their mutual friend, Chrisette Hudlin, organized the blind date. The couple hit it off immediately and, their love blossomed. At the time, Kamal was California's attorney general.
The couple describes the blind date as a resounding success. Emhoff and Kamala never struggled to create conversation. They were compatible in almost all aspects of their lives.
However, the couple is coy about revealing the details of their dating lives. However, Kamala recorded the details in her book, The Truths We Hold. Emhoff and Kamala refer you to the book every time you ask a question about the time they were dating.
The book is very candid about the events that happened when the couple was dating. It has every little detail including, the first texts they sent each other. Emhoff was watching a Lakers game when they exchanged their first texts.
They got married at town hall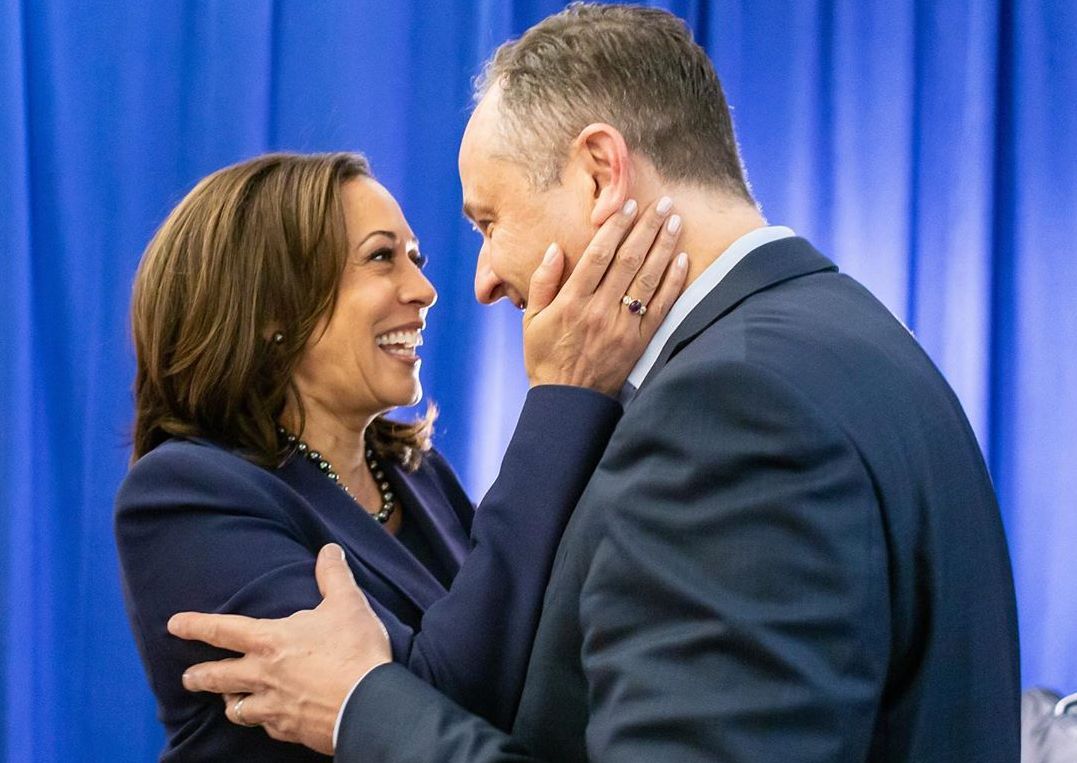 Emhoff popped the question after dating Kamala for a year. He proposed with an elegant diamond and platinum ring. He asked Kamala to marry him at Kamala's apartment in what was a simple but intimate moment.
Kamala doesn't believe in long engagements. She wanted to get married as fast as possible. She got her wish when they got married after four months at a town hall. Kamala wore up in a flowing gold dress. A cellist played melodies all through the marriage ceremony.
The marriage was an intimate affair presided over by Kamala's sister, Maya. The couple comes from different cultures that were both honored at the wedding. They honored Kamala's Indian heritage by placing a flower Garland around Emhoff's neck.
The couple honored Emhoff's Jewish roots by breaking a glass at the end of the ceremony. The couple is going strong since their 2014 marriage. Emhoff and Kamal are looking forward to their 5th wedding anniversary this year.
The couple regularly displays their love for each other on social media. They have dozens of posts that portray them as very much in love. Emhoff's social media posts about his wife have earned him the title, "Instagram husband." It is because more than 90% of his posts on social media are about the love he has for his wife.
He has two children from a previous marriage with Kerstin Emhoff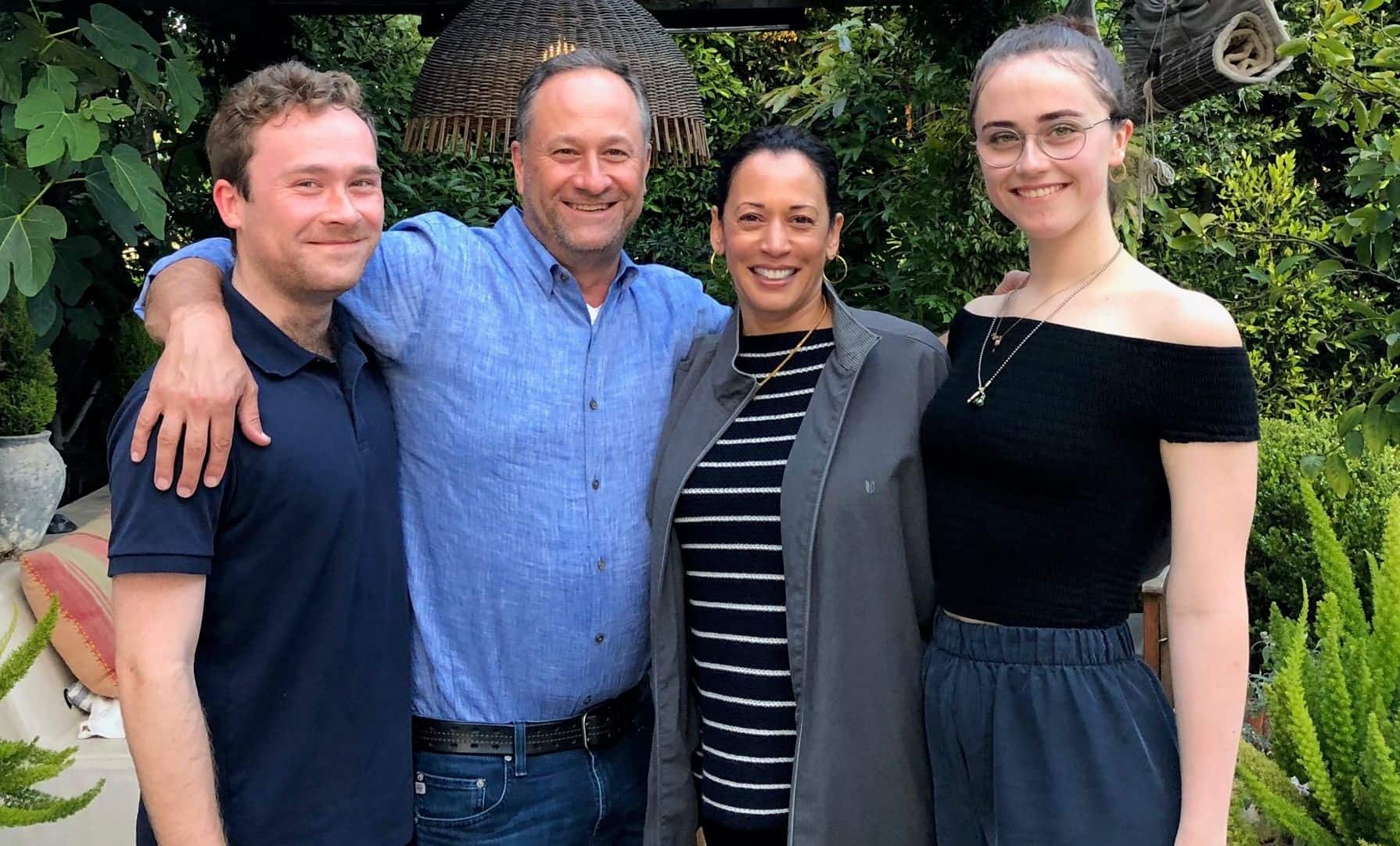 Emhoff was in a marriage with Kerstin Emhoff before he married Kamala. They had two children, Cole and Ella, before the divorce. Cole graduated from Colorado College while Ella is a student at Parsons School of Design.
Emhoff's children have a great relationship with Kamala. Social media posts show that the kids and Kamala spend a lot of time together. Kamala brought cookies during her first meeting with the children. They have enjoyed a close relationship since then.
The children refer to Kamala as S-Mamala. It's a cute name that shows the strong bond between the kids and Kamala.
For now, the children stay away from the spotlight. However, they might come up more once Kamala's campaign is in full swing.
Emhoff maintains a close relationship with his family
Emhoff's twitter page shows that he is still close to his family. He recently posted a picture of his mother and father congratulating them on their 60th wedding anniversary.
His brother and sister got a feature on his page on National Siblings Day. Emhoff also admits that he maintains constant communication with his family.
He is extremely supportive of his wife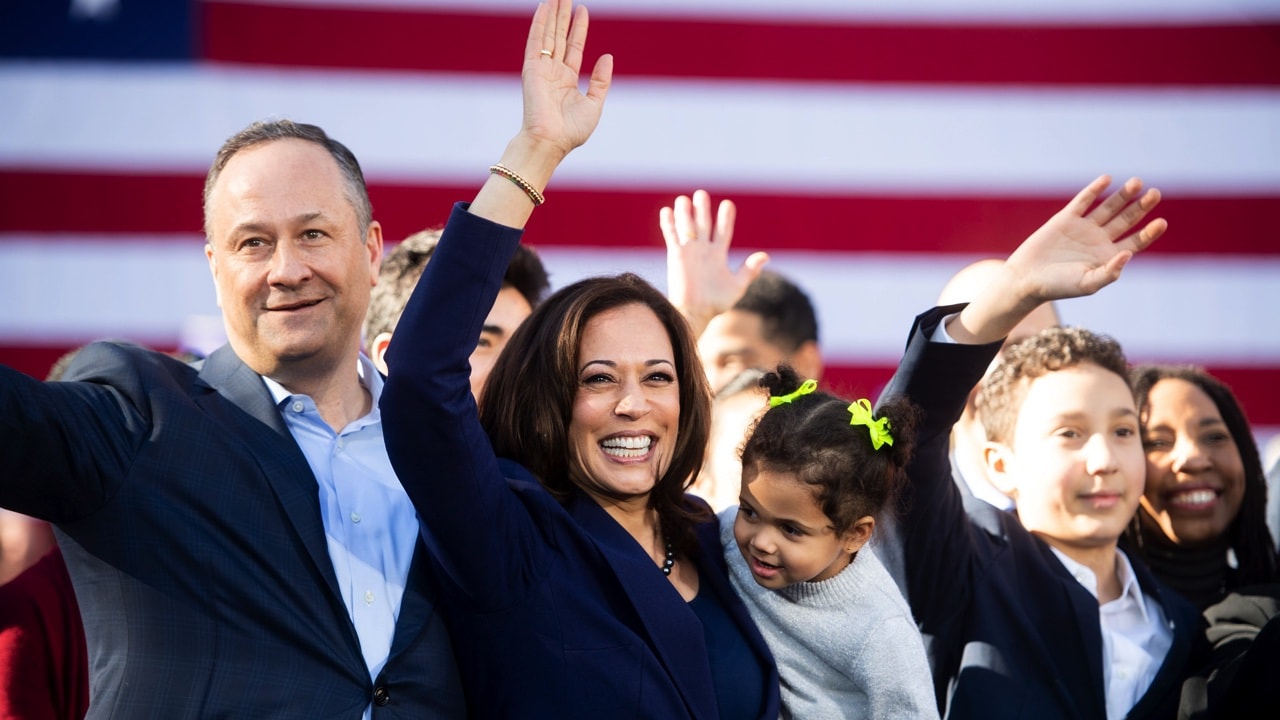 When Emhoff and Kamala first met, Kamala was the attorney general of California. She ran for senator of California after marrying Emhoff and, she won. She is now gunning for the presidency as a Democrat. Emhoff's support has benefitted Kamala's career greatly.
Kamala can count on Emhoff's support at all times. He worked tirelessly on the campaign trail when Kamala was running for Senate. Kamala admits that his support as a loving partner was invaluable. The couple was all smiles during Kamala's swearing in as a Senator. Emhoff proudly held the Bible as his lovely wife took her oath.
Now, the stakes are much higher. Kamala is running for president and, there is a real possibility that she will be the Democratic Party candidate. Emhoff could be the first 'First Gentleman' in the USA.
Emhoff is determined to make Kamala's dream a reality. He is currently on the campaign trail with Kamala. His provides support on the campaign trail and, he is there to comfort Kamala when things get tough.
Kamala has described Emhoff as the one person who always makes her laugh. It, therefore, makes Emhoff's presence on the campaign trail priceless. Election campaigns can really get stressful. Endless traveling and public speaking can take a toll on a person's mind and body. Kamala recognizes that Emhoff's support will be crucial to her campaign.
Emhoff also supports Kamala outside of her career. Kamala's favorite hobby is cooking. Emhoff wasn't a great a cook before the relationship. However, he took some time to learn so as to spend more time with Kamala. Now, he is Kamala's favorite chef.
He might be the USA's first First Gentleman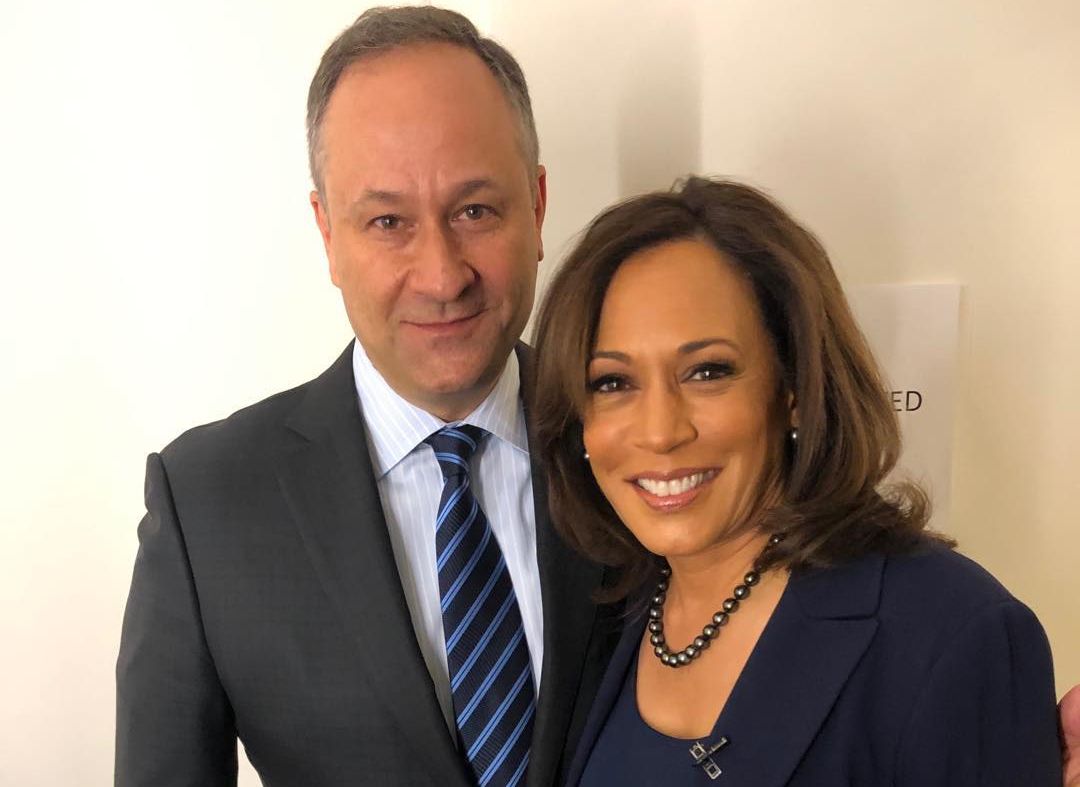 The goal is for Kamala to be president after the election in 2020. However, the result is that Emhoff will be the First Gentleman.
It's a thought that has definitely crossed his mind. He might get to be the husband to the most powerful woman on the planet.
This might prove to be a reality if he continues his campaign work on the trail and, on social media. You will see a lot of Emhoff and Kamala over the next year.
Also Read: The Untold Truth Of Ivanka Trump's Husband, Jared Kushner
---