To many, Hafthor is nothing more than Iceland's strongest man. To others, he is the ruthless character 'the Mountain' from HBO's hit show- The Game of Thrones. But to Kelsey, he is the man who stole her heart.
Hafthor has garnered muscles beyond anyone's imagination and has constantly proven his prowess in weight lifting. Previously, he was mentioned Iceland's strongest man and even won the distinguished title- 'World's strongest man' in 2018.
Whilst most people place their attention on popular actors, sportsmen, and musicians, it is important to appreciate strongmen are also iconic. Lifting weights is not only risky but also demands years of practice.
After gaining an incredible reputation all over Iceland, Hafthor joined the Game of Thrones cast to portray a ruthless militant.
The fact that most women are fascinated by well-built men shows how lucky Kelsey is to have this giant all to herself.
Read through as we explore some of her untold truths.
She was born and raised in Canada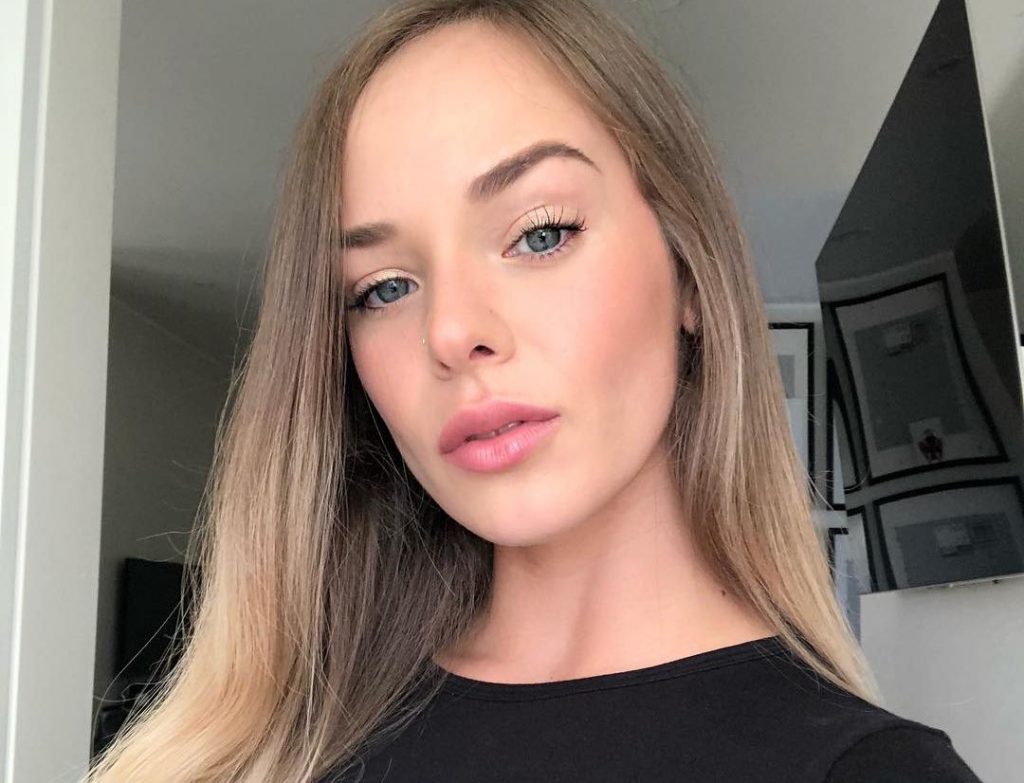 Unlike her Icelandic husband, Kelsey was born on 5th March 1990 in the city of Alberta- Canada and has pure Caucasian roots. Not much is known about her parents, but she grew up with a sister- Kathleen Henson who is currently a professional photographer.
Growing up, the strongman's wife was strongly motivated and wasn't complacent like other girls who just waited around to get married. In 2014, she graduated from the University of Alberta, where she studied Occupational Health and Safety; later on proving to be rewarding.
Before dating the celebrity actor, Henson made a living through modest jobs. She worked as a building operator at the Guthrie Mechanical firm and at the Suncor base plant as a junior safety advisor.
Later on, she landed herself a 'financial service' job among other project administration contracts. She is an ideal combination of brains and beauty and is not afraid to express herself to the world.
She met Hafthor at a restaurant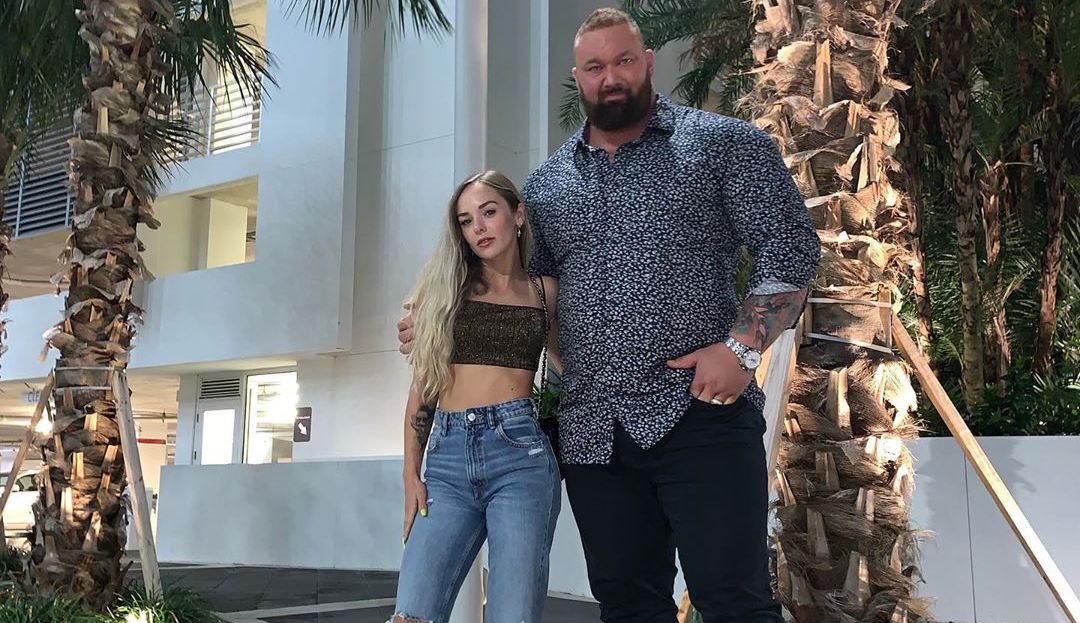 Compared to Hafthor, Kelsey never got the opportunity to travel the world often. Before becoming Iceland's famous strongman, Hafthor was a professional basketball player.
At 6 feet 9 inches (2.06m), he perfected his art and managed to play for the junior national basketball team from 2006-2008. During this time, he played 32 games as a center, even though his venture was cut short by an injury. Not much is known about his academic life. So how exactly did he end up meeting Kelsey who was halfway around the world?
Because of the strongman competitions, Hafthor started traveling a lot. At the time of meeting Henson (2017), he was well established in his venture and had featured in a couple of seasons of the Game of Thrones.
In the same year, Kelsey had two jobs: A construction safety officer and a restaurant waitress. It was during one of her shifts at the Earls Kitchen + Bar Restaurants that she met her future husband. Hafthor was in town for one of the local strongmen competition, and Kelsey recognized him for his popular character in HBO's hit series.
The young ambitious waitress didn't hesitate to ask for a photo with him, and the two kicked things off smoothly right there and then. Who wouldn't have fallen for all that bulk and muscle anyway?
She is an enthusiastic gym trainer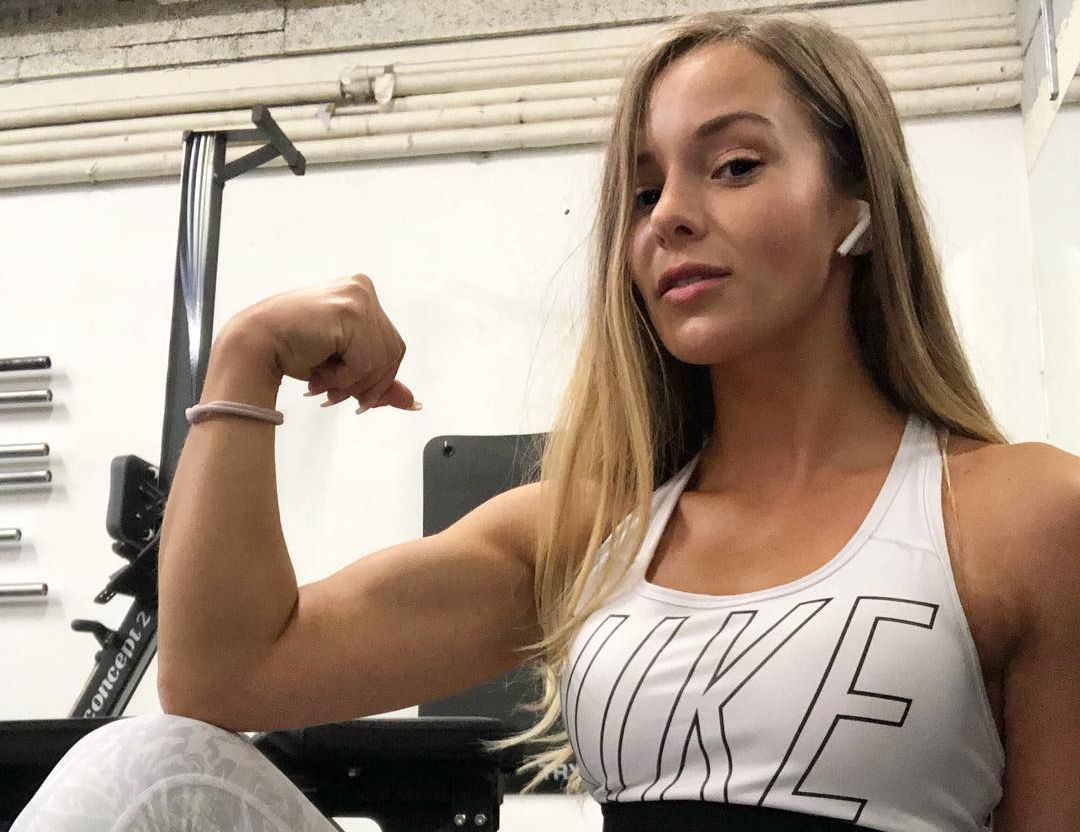 Living with a professional strongman has definitely changed Kelsey in one too many ways. It is no surprise that she has become an impressive fitness trainer.
She has a curvy body that has captured the attention of many, and Hafthor is truly lucky to have her. It is worth noting; He has had a better run as a weight lifter than a basketballer, managing to break numerous world records.
Over the years, he has been an inspiration to Kelsey, challenging her to push herself to the limits.
Many people speculate she is into modeling because of her fit body, but these are nothing more than unproven claims. Henson is entirely dedicated to fitness, and thanks to her husband, she helps manage their gym- Thor's Power Gym.
She is 19 inches shorter than her husband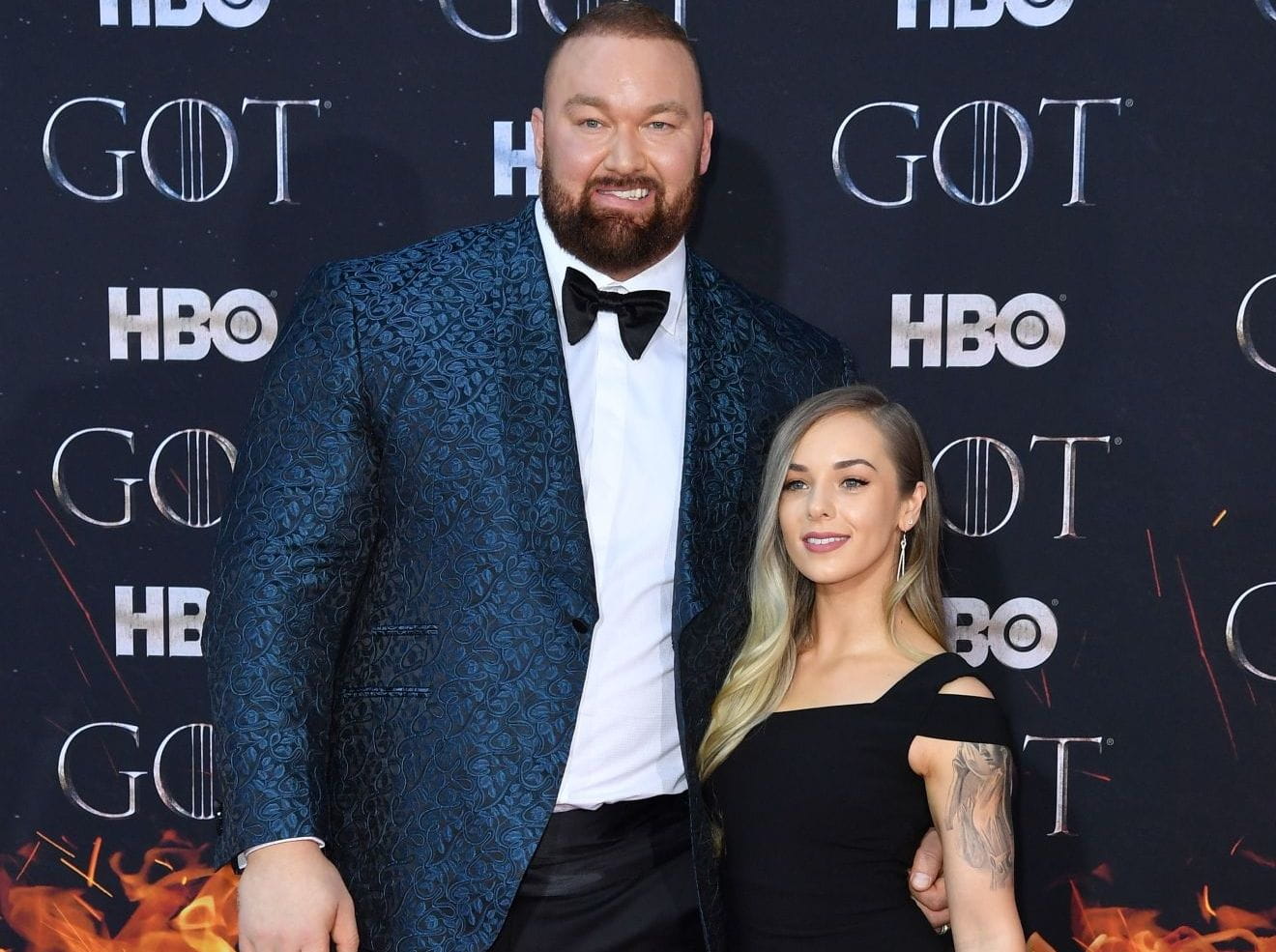 The fact that Thor (a Shorter form of Hafthor) qualified for the role of the Mountain in the Game of Thrones, proves how big he is. For someone in his caliber, you would expect a spouse who is as tall or as big as he is. But love is no respecter of height or body measurements.
Kelsey has a height of 5 feet 2 inches and weighs 53 kg which brings quite a difference compared to her giant of a husband. Hafthor has 200 kg and is 19 inches taller than his wife. This, however, does not prevent the two from having fun together and doing normal things as a couple.
Hafthor's family is full of tall people, and surprisingly, his own father is even taller than him by a few inches. Indeed, love comes in all shapes and sizes. We sure would be interested to see how their kids turn out to be.
On different occasions, you can find them performing various work out routines together, even though the 'Mountain' greatly towers and overshadows Henson. You can be guaranteed that no one can mess up with the World's strongest man's wife; he is scary just from the looks.
She has a vibrant social life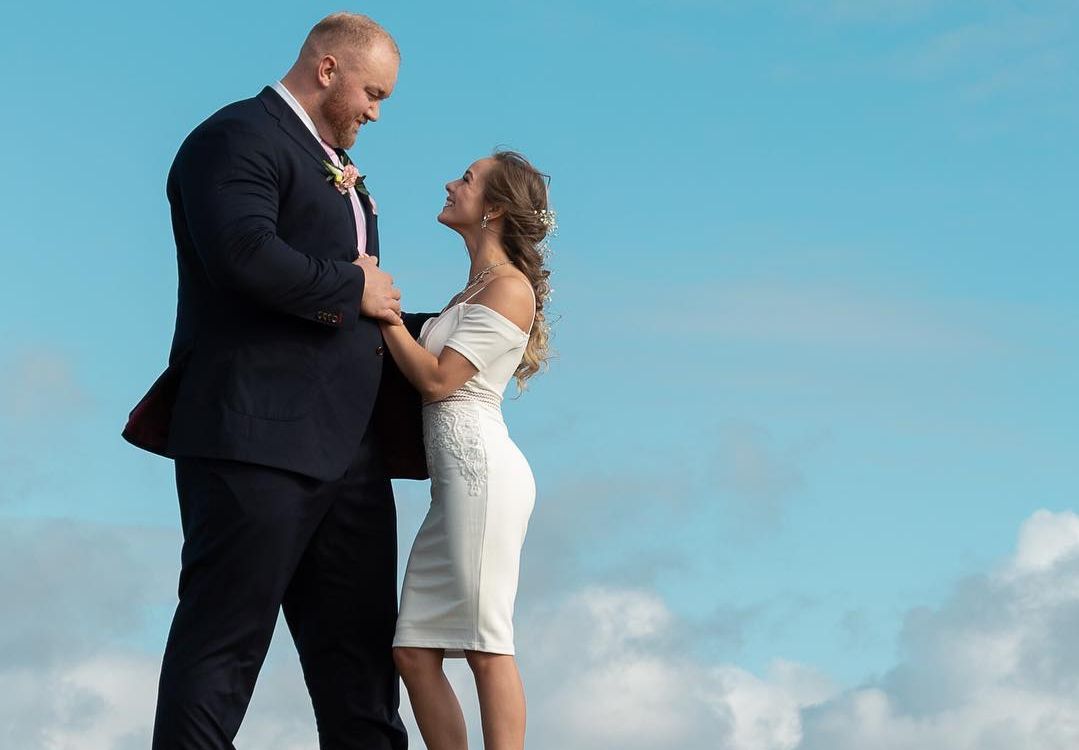 Aside from the gym, fitness, work and model life, Kelsey also thrives off her social media influence. She is sensational to many and is widely known as an influencer. Needless to say, she has a huge fan base on different platforms but is most active on Instagram, where she has thousands of followers. Her husband, on the other hand, has over 2.5 million followers, which is no surprise for someone like him.
Being the strongest man in the world and giving one of the best theatrical performances could definitely attract many people to your handle. All the same, Kelsey is a bit more active than her husband and can be seen posting photos more often. One of the things that brought her to the spotlight is their trending newlywed's photos.
Hafthor, though huge and cold-hearted in the movies is as romantic as any other guy in real life. He poured out his affection in October 2018 by taking Kelsey through his native Iceland home. They got married and immediately after saying their vows, Hafthor took the good news to his Instagram feed. He went ahead and mentioned how he appreciated his newly-wedded wife.
Romantic photos of them enjoying Iceland's scenery and cool weather started trending. Soon, she was the talk of the town. What really fascinates people is how she is only as big as one of her husband's thighs. Seeing them together raises a lot of questions, but the unique couple has managed to show the world that there is nothing out of the ordinary for them.
She is fun to be around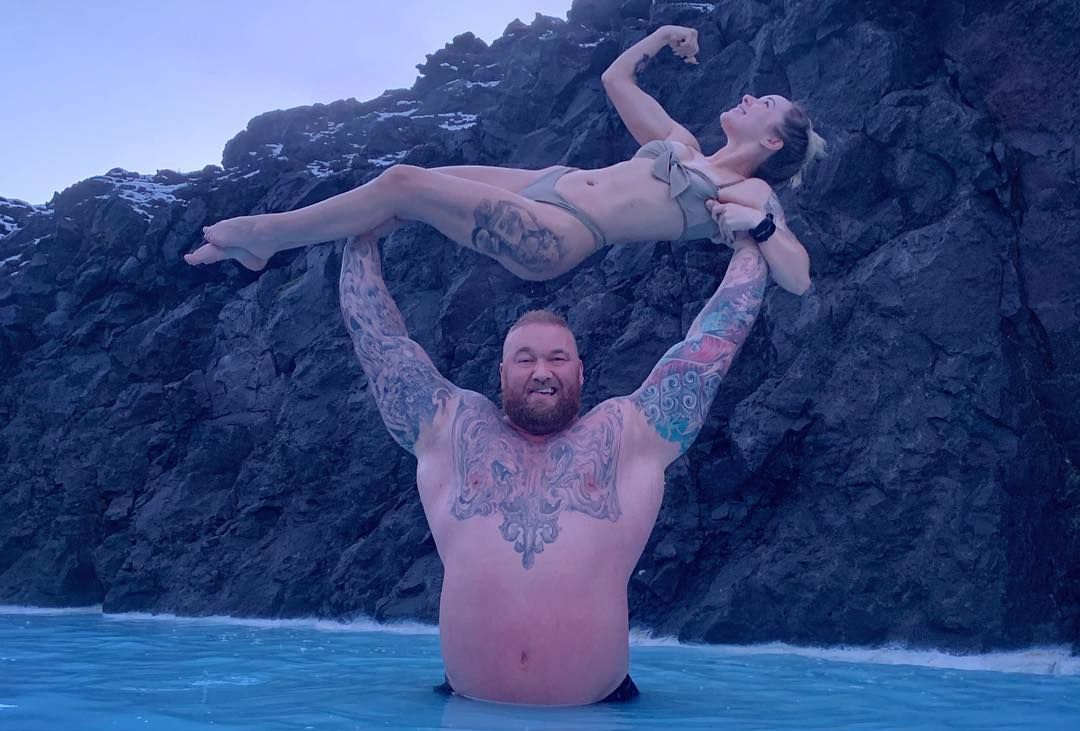 In recent years, people have asked Kelsey how she manages to kiss the Game of Thrones star, something which seemed to spark a lot of speculation on the Internet. In an Instagram post, she answered by citing how her husband would bend to her or simply pick her up for them to simply make out. For a 200 kg strongman, lifting up a 53 kg human being is just another walk in the park.
Overall, the two have had countless pictures together when hanging out, going on vacations and attending celebrity events. No one would ever get tired of seeing their height difference. As gym enthusiasts, the two seem contented with life and have a pet which they both love and raise together.
Having been married for a few months, there have been no signs of a baby coming from the couple, but we hope to see little sturdy kids from them soon. Over time, Kelsey has managed to spice up her marriage and complements her husband in so many ways.
On different occasions, they have been seen working out together, traveling, rocking matching outfits, and even making fun of each other. With no doubt, their marriage is fun, lively and rock solid.
Also Read: The Untold Truth Of Josh Peck's Wife, Paige O'Brien
---