It took Sophia Smith 14 minutes to open her World Cup scoring account. Sophia scored one more and assisted another as the USWNT kicked off their campaign with a 3-0 victory over Vietnam. After the game, her father, Kenny Smith, presented her with the Player of the Match trophy. "So proud of you," Kenny told Sophia.
Sophia Smith is mixed-race; she has a black father and a white mother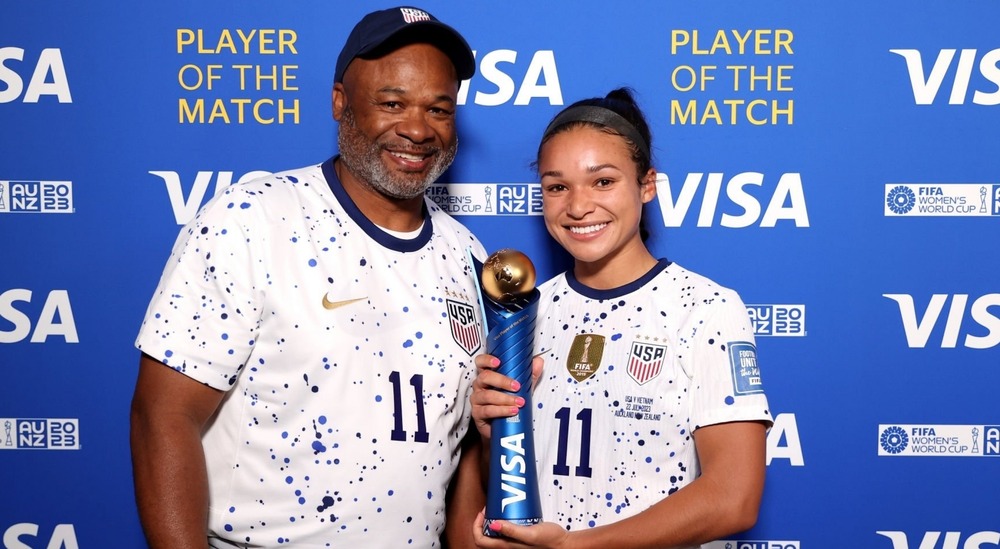 Sophia Smith was born on 10th August 2000 to Mollie and Kenny Smith. Mollie is white, and Kenny is Black. Sophia grew up in Windsor, Colorado, alongside two older sisters: Gabrielle and Savannah.
Mollie does records and referrals for a pediatric clinic, while Kenny is a postal clerk and youth basketball coach. "Kenny's kind of like the mayor around our area," Mollie told The Philadelphia Inquirer. "He's super friendly; he talks to everybody, knows everybody. He coaches basketball, so he knows everybody's kids."
Kenny, who played basketball at the University of Wyoming, introduced his children to sports early on. Sophia played volleyball and basketball and ran track before settling on soccer. "It was a pretty easy decision just because I loved soccer and felt like I could be more of myself when I played soccer," she told The Stanford Daily.
Sophia's talent, hard work, and sheer determination to become the best marked her out as one of the best young talents in the country. Per Fox Sports, she told her dad before a 3-on-3 game that she would score ten goals; she delivered on her prediction.
Mollie, who has traveled to the World Cup tournament to support Sophia, said she doesn't know the source of her daughter's drive. Mollie said: "She had that drive in things that we saw from when she could barely walk. Where that drive comes from? I don't know. Good question. She always told us she wanted to be a professional soccer player. And when she told us she wanted to do something, I don't ever remember a time she didn't do what she said she wanted to do."
Regardless of the World Cup's outcome, Sophia will continue striving to improve. "The biggest thing for me is that I've always had a goal for myself that I want to be one of, if not the best player in the world," she said. "And I think it's a big goal to have, but why not? Why not me, you know? Why doubt myself or set any lower expectations?"
---