Alex Morgan is one of the most recognizable sports stars on the planet. When Morgan started playing, women's football was nowhere near men's football in terms of popularity and prestige. However, Morgan's personal and team successes have helped elevate the status of women's football all around the world.
Viewership numbers have gradually increased, and teams now put more resources into the development of female talent on the pitch. Morgan is a serial winner with two Women's World Cup gold medals and one Olympic gold medal. Her individual honors include the ESPY Award for Best Female Athlete in 2019, and CONCACAF Player of the Year awards in 2013, 2016, 2017, and 2018.
Morgan is just as successful in her personal life as she is career wise. She is happily married to fellow soccer player Servando Carrasco. This piece will look at Alex and Servando's family and marriage, the role Alex's family played in her success, and a rare moment of controversy for Alex.
Alex and Servando recently welcomed their first child Charlie Elena Carrasco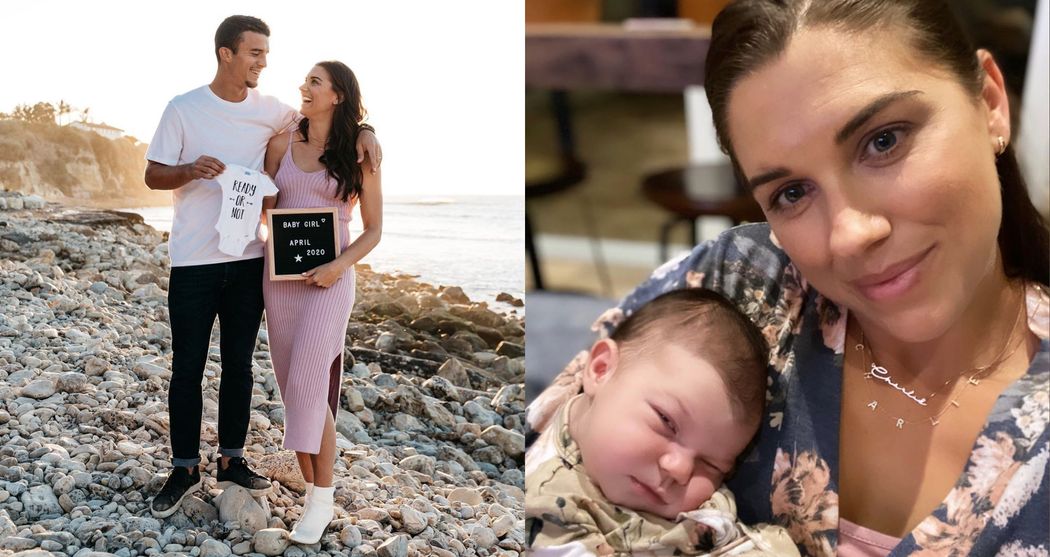 In October 2019, Morgan and her beau announced via Instagram that they were expecting their first child in April 2020. The announcement came a few months after Alex led the United States Women's Soccer Team to World Cup glory in France. Charlie Elena Carrasco arrived on 7th May 2020 half an hour before midday. Alex shared a photo of her 8-pound bundle of joy on Instagram and added the caption:
"At 1130am on May 7 weighing 8lbs5oz, Charlie Elena Carrasco made her grand entrance into the world. She made us wait longer than expected, but I should have known she would do it her way and her way only. My super moon baby."
Morgan had intended to be fit and ready for the 2020 Tokyo Olympics after giving birth to her child. To increase her chances of playing, she trained with the national team while seven months pregnant. The team's manager told Sports Illustrated that with a specialized program after her pregnancy, Alex had a chance of playing in the tournament.
However, it would have been pretty challenging for Alex to make the team three months after giving birth. Luckily for her, the Tokyo Olympics have been postponed to 2021, and it means that she has more than enough time to get ready for the games.
Alex and Carrasco got married on New Year's Eve 2014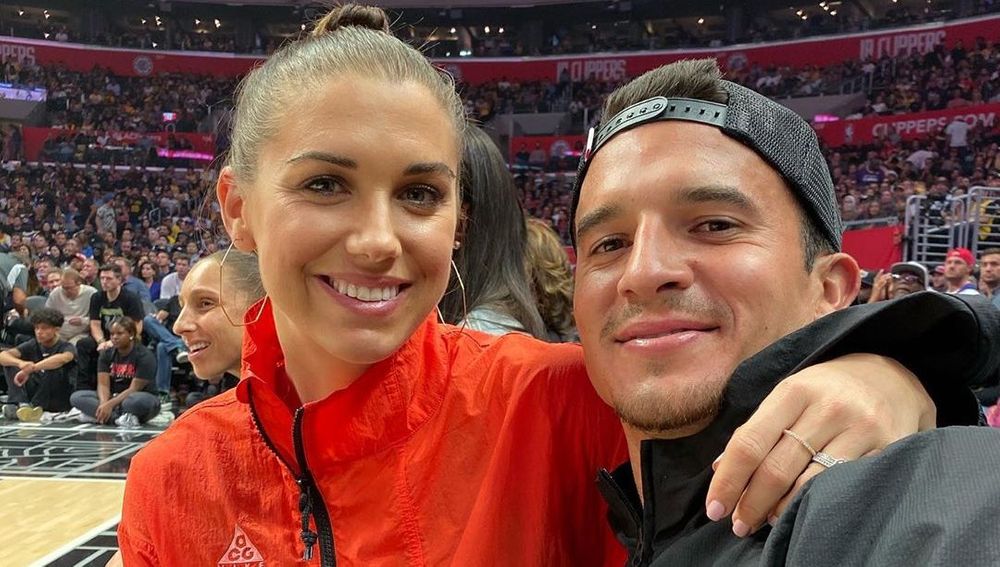 Morgan and Servando's love story began when they met at UC Berkeley. They initially bonded over their love for the beautiful game. Carrasco, a midfield dynamo who could play in any position in the middle of the park, immediately recognized Alex's immense potential and talent. He helped Alex adapt her game to fit in with the tactics of her team, and it improved Morgan's performances.
Servando and Morgan's relationship gradually deepened and became romantic. In December 2013, Carrasco proposed to his long-time girlfriend, and she said yes. They got married soon after in a ceremony that took place on New Year's Eve. The beautiful service had a star-studded guest list, including most of Carrasco and Alex's teammates. Alex told People:
"To be surrounded by our family and friends tonight in such a beautiful location, and on New Year's Eve to boot, has just been magical. We are both so happy, grateful and excited to start our lives together as Mr. and Mrs. Carrasco."
Alex and Servando are both professional soccer players, and their busy schedules made it challenging for them to see each other regularly. It got more difficult for the couple after Servando transferred to the L.A. Galaxy from Orlando City. His move meant that the couple worked on separate coasts, and thus it became harder to meet face to face during the season.
Servando told Pro Soccer USA that the couple decided to focus on their careers first. He said:
"It's far from ideal to be that far from your wife. We know that this is temporary. We're only going to play professional soccer for five to six more years. We've got to take advantage of this, and know that when we're done playing, we're going to be together."
Carrasco showed his love for Alex when he travelled to France to support her during the World Cup final. The L.A. Galaxy had a game three days after the final, but Carrasco didn't want to miss the chance to watch his wife lift the title.
Alex's family played a crucial role in her early development as an athlete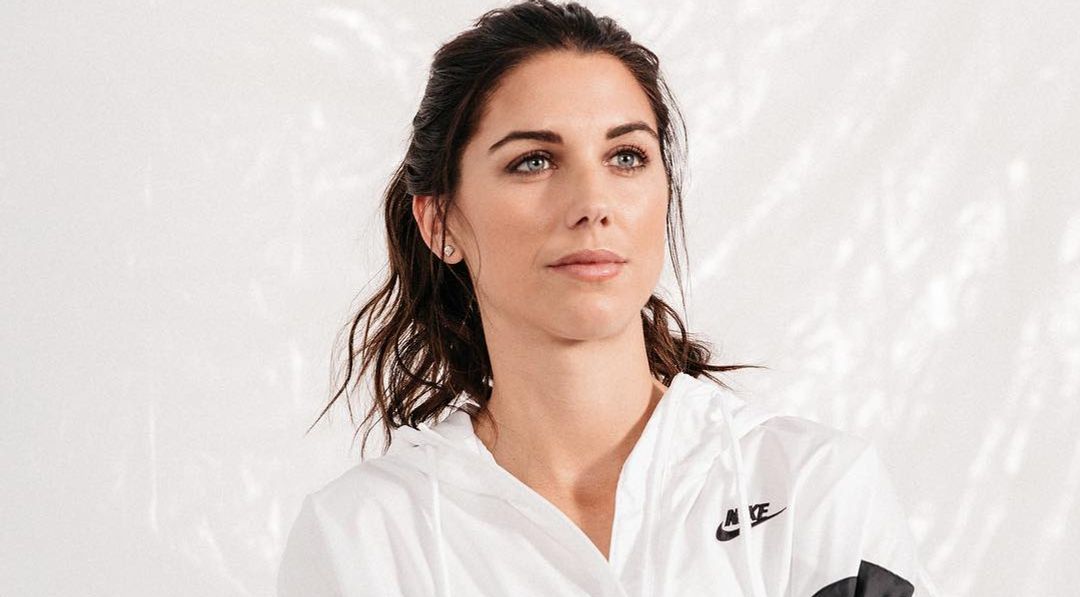 Alex Morgan was born on 2nd July 1989 to Pamela and Michael Morgan in San Dimas, California. She grew up alongside two older sisters, Jeni and Jeri, and participated in all manner of sports. Alex played football, basketball, kickball, and participated in track and field. She was fiercely competitive even at a young age, and one of the people she regularly went up against was her sister Jeri. Alex told The New York Times:
"I was 9 and she was like 13, and she would always, always beat me. She was rubbing it in my face, too, 'I'm going to beat you, you've got no chance,' all of that… I totally killed her. I was so excited. She probably still claims to this day that she's faster than me, but it's a false statement. Very false."
Morgan didn't want to commit to one sport at a young age, and she mostly played recreational soccer. She was part of the local American Youth Soccer Organization (AYSO) team until she was 14. Alex didn't benefit from professional coaching at a young age, but her father, who was also her coach, helped sharpen her skills.
After leaving AYSO to play competitively, Alex quickly caught up with players who'd joined professional clubs earlier.
Alex and her friends were kicked out of Disney World for being verbally aggressive
Alex is one of the most loved sports stars on the planet. She is a favorite with fans and is rarely in the spotlight for the wrong reasons. However, in 2017, Alex and her friends clashed with Orange County authorities at a Disney World Park in Florida. Managers of the facility requested help from the police to deal with a loud and belligerent group in the park. According to CNN, a deputy wrote the following about Morgan in a police report describing the incident:
"I observed a white female, who was later identified as Alexandria Morgan yelling, screaming and taken (sic) video and possibly pictures. She appeared to be highly impaired."
Morgan and her friends were kicked out of the park and weren't charged. Alex took the embarrassing event in her stride and stated that she had learned from it. She wrote on Twitter:
"I want to apologize for my actions that occurred over the weekend. I will learn from this make sure it does not happen again."
---