Novak Djokovic is one of the most famous and successful tennis players of all time. With his recent French Open Grand Slam win, Novak is one Grand Slam win away from equaling the record held by greats Roger Federer and Rafael Nadal. The win also made him the first person two win the four Grand Slam tournaments at least twice.
Djokovic has spent a record 325 weeks ranked No. 1 and has finished the year at the top on six occasions. Nine of his nineteen Grand Slam titles have come at the Australian Open, where he holds the records for most wins.
Novak and his wife Jelena Djokovic initially found it hard to maintain a long-distance relationship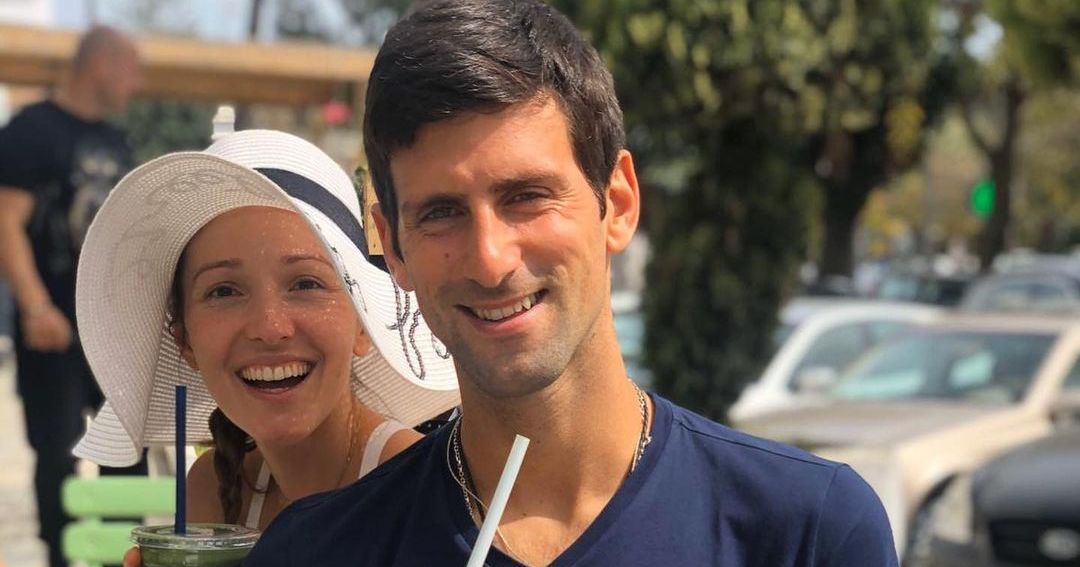 Novak and Jelena Djokovic (formerly Ristic) met in high school and began dating in 2005. The couple faced plenty of difficulties as neither had the money for expensive trips. Novak was a young tennis player trying to break into the big leagues, which meant that he traveled around a lot.
"Airplanes were, at the time, something utterly out of our reach," Jelena told Hello Magazine. After completing her studies, Jelena landed a demanding job with an oil company. "At a certain point, Novak told me: 'Darling, we cannot go on like this,'" Jelena added. "I was confined to the office almost at all times."
"It wouldn't have been possible for our relationship to thrive if I had stayed there." Despite the difficulties, Jelena and Novak found a way to make it work. "We contrived and devised these plans how to meet, how to make our relationship work," Jelena said.
On 4th November 2020, Jelena shared a photo of the couple celebrating their 2nd dating anniversary surrounded by 1001 roses. "And believe it or not, in this photos, these two babies were celebrating 2 years of dating with 1001 roses just after Davis Cup victory," she captioned the post.
Jelena married Novak while pregnant with the couple's first child Stefan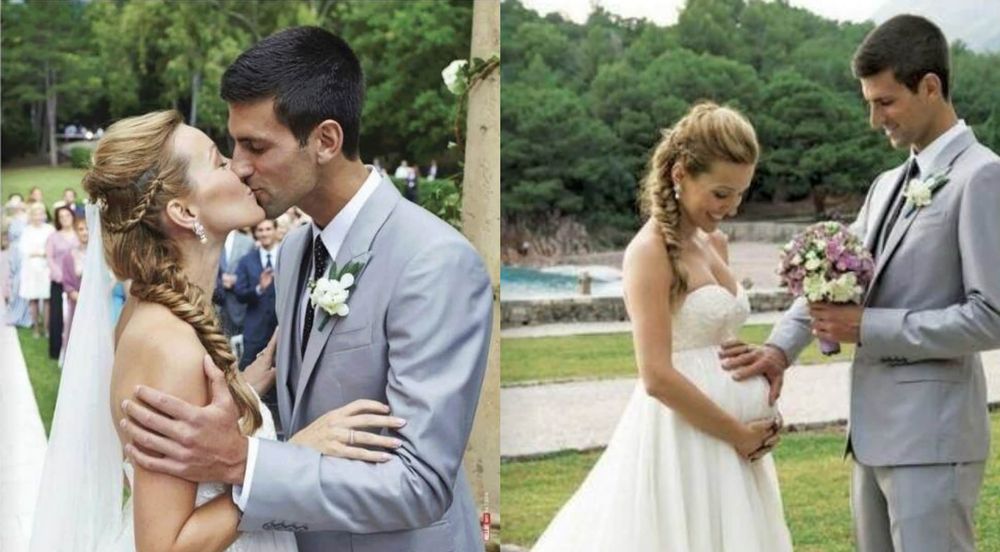 Novak spared no expense during his September 2013 proposal to his long-term girlfriend. He took Jelena to the Couvent des Minimes hotel in Provence via a helicopter, where he proposed to her.
The couple's wedding took place at the Aman Sveti Stefan resort in Montenegro on 10th July 2014. By that time, Jelena was pregnant with the couple's first child, Stefan. "Seeing her for the first time in her wedding dress… She looked like an angel," Novak told Hello Magazine. "I was focused on her, and her smile, and our baby. It was really a perfect moment."
Jelena stated that her pregnancy made the moment extra special. "I was just so happy and probably being pregnant makes it quite difficult to control the emotions," she said. "I couldn't ask for a better partner than him."
Ristic gave birth to Stefan in October 2014 and welcomed the couple's second child Tara in September 2017. Novak told Channel Nine that Stefan has shown interest in tennis and that he plays regularly with Stefan.
He stated that Stefan has been exposed to the sport due to his father and that the boy understands a lot about the game. Stefan also knows some of the biggest stars in tennis including, Roger Federer and Rafael Nadal. Novak, however, stated that he and Jelena won't pressure Stefan and Tara into pursuing tennis careers. He said:
"Look, I'm giving him (Stefan) all the space and all the time he needs in the world. I really want him and my daughter to really express honest desire to take the racket and the ball and just hit, got to the court or up against the wall. I would be more than happy and thrilled to support them in their tennis careers and journeys but it still very early to talk about it, you know, my wife says."
Novak flat out denied that he and Jelena are considering divorce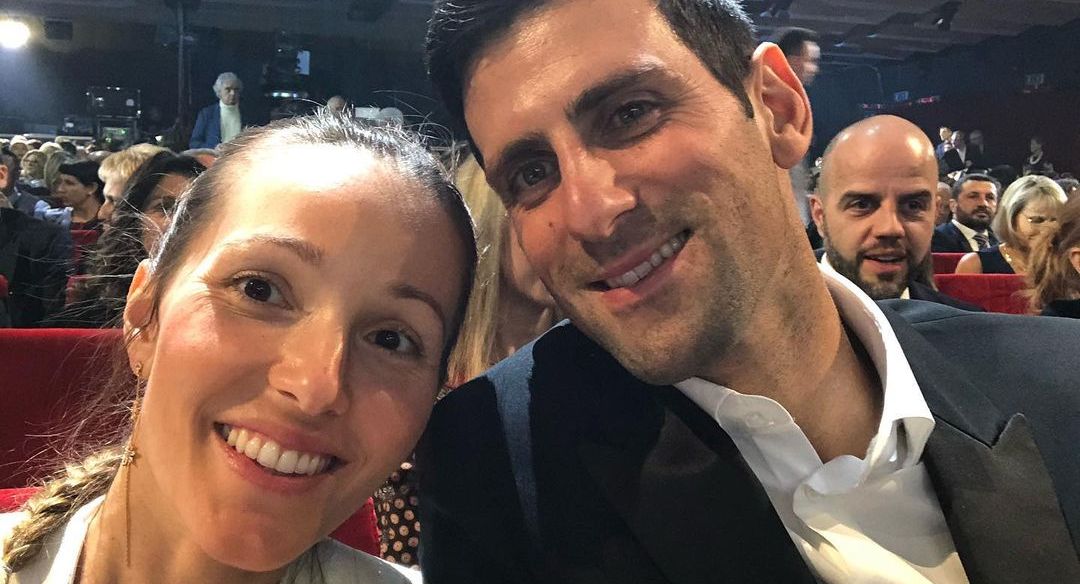 Jelena and Novak have consistently faced rumors that their marriage might be crumbling. Tabloids pointed to marital problems as the reason for Djokovic's uncharacteristically poor performance at Wimbledon 2017. The reports claimed that Jelena's absence on the stands was due to the couple's rocky marriage.
Ristic later stated that she missed the tournament because she was pregnant with Tara. Jelena addressed the issue via an Instagram post with the following caption:
"… I became a mom again in 2017, had quite a tough pregnancy but loving and supporting family to help me get through. I've been pointed at, shouted at and discriminated by unhappy people for my husband's tough year… really not fun. Luckily I have gone through all those changes SANE and full of love…"
Per Serbian model Natalija Scekic, there are people willing to go out of their way to ensure Jelena and Novak's marriage fails. She told European magazine Svet Scandal that she was contacted by people who offered her 60,000 euros to record herself seducing the tennis master. At first, she thought it was a joke before realizing that the planners was serious. She said:
"I felt very offended and humiliated. I was told to take Novak somewhere to an intimate place and film it all. At that moment I thought of hitting him, throwing water on him, but I restrained myself because we were in a public place. I gathered my things and left. I hope he didn't find a girl who wants to do that, because it's not fair to Novak."
Through all the speculation and alleged plots against their marriage, Novak and Jelena have remained together. "I understand that it is more interesting for people to read Nole and Jelena are getting divorced than Nole and Jelena are in love," Novak told The Sun. "But that doesn't affect Jelena and me because we love each other."
Jelena showered Djokovic with support as he defied the odds to lift his second Roland Garros crown in 2021. She was particularly vocal as Djokovic recovered from a set down to beat king of the clay Rafael Nadal in the semi-finals. Djokovic pulled off another masterclass in the final, recovering from two sets down to beat Stefano Tsitsipas for the crown.
"What a blissful moment!!!" Jelena tweeted. "Cherishing every second, how much he gave himself to achieve his dream. @rolandgarros is a special place indeed. X2."
Jelena is a successful entrepreneur and the CEO of The Novak Djokovic Foundation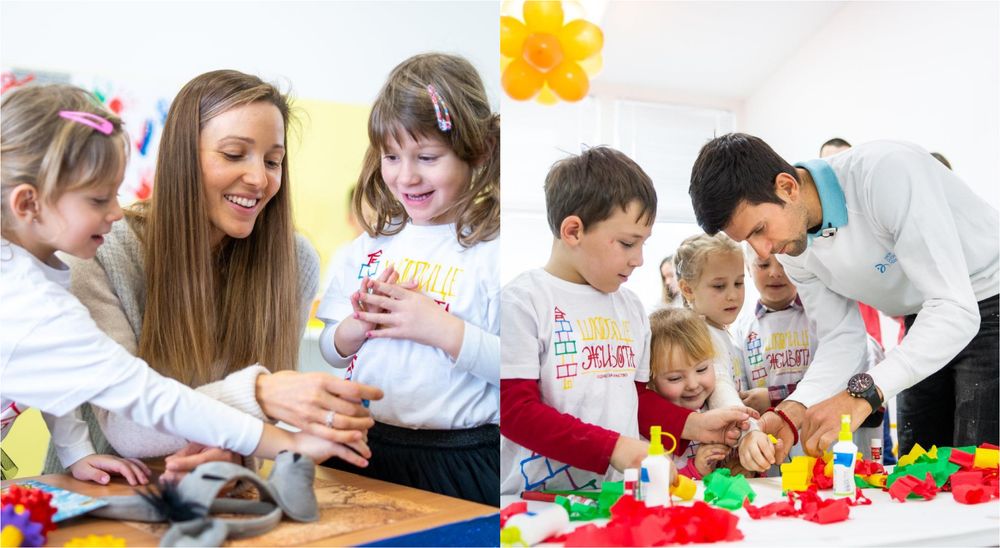 Jelena Ristic was raised by her parents, Miomir and Vera Ristic, alongside her elder sister, Marija. She was a gifted student who rose the academic ranks through scholarships. She graduated with a Bachelor's degree in business administration from Bocconi University in Italy before earning a Master's degree in luxury brand management from the International University of Monaco.
After graduation, she worked as a human resource coordinator and later branched out to form her company, Jelena Ristic Consulting. She also founded the celebrity magazine titled Original.
Jelena is heavily involved in charitable work. She is passionate about peace-keeping in her native Serbia and the provision of education for the country's children. Accessible education is one of the main aims of The Novak Djokovic Foundation, which she runs as CEO. The Foundation's about page reads:
"By giving every child the opportunity to receive a quality preschool education, we are giving them a chance to flourish. To know they joy of success. To believe that they are worthy of their dreams. Every childhood education is the foundation upon which they will stand for the rest of their lives, and the foundation for the future of our world."
---