Novak Djokovic is a star tennis player and the world number one at the moment. He spends most of his time on the court, but when he isn't playing, he is usually spending time with his wife, Jelena Djokovic.
Djokovic and Jelena are long term sweethearts who've seen each other through thick and thin. Djokovic began playing when he was only four years old and always looked like a future star. He was so good that by the time he was 12, he had no competition in his native Serbia. His coach took him to an academy in Germany where he continued to crush his competitors.
It's safe to say that Djokovic has lived up to his potential. He is a multiple Grand Slam and ATP Tour Titles winner. He has multiple records which could take some time before being broken.
Jelena Djokovic has stood by Novak through most of his professional career. She has been a constant source of support and love for Novak even during difficult times.
She is a constant presence beside Novak, but people know very little about her. Read through as we explore some of her untold truths.
She was a top student in school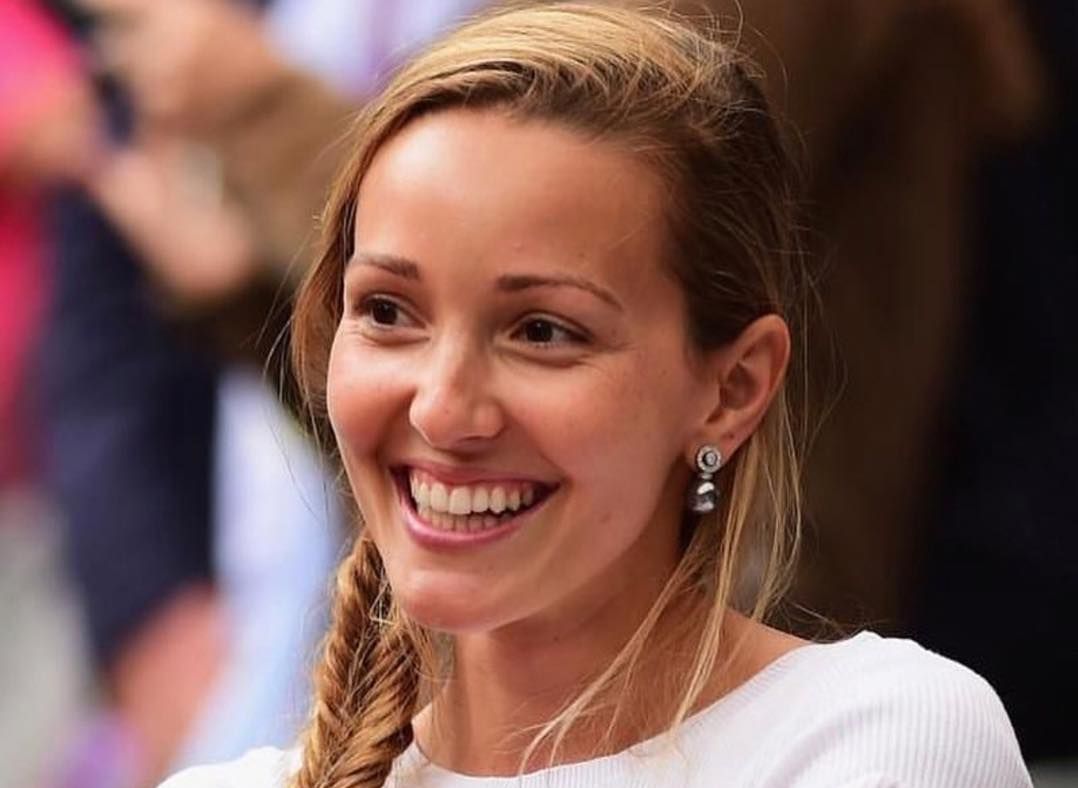 Jelena Djokovic (formerly Jelena Ristic) was born and raised in Belgrade, Serbia by her parents Miomir and Vera Ristic. She grew up alongside her elder sister, Marija.
Jelena went to a sports high-school in Belgrade, where she focused on getting excellent grades. She didn't come from a well off family and, the only way to advance her education was by scholarship awards. The best way to earn a scholarship was to score good grades.
Scholarships got her to high-school and, with her grades, she could have enrolled at a good university in Serbia. However, Jelena wanted to study abroad, and she was lucky to get a position at Bocconi University in Italy.
She graduated with a Bachelor's degree in business administration and, she didn't stop there. Jelena managed to enrol at the prestigious International University of Monaco, where she graduated with a Master's degree in luxury brand management.
Jelena didn't go back to school, but she takes a keen interest in learning new things. She is fluent in 17 languages including, Italian, English, and French.
She is a multitalented entrepreneur
After earning her Master's degree in Monaco, she joined the Oilinvest Group as a human resource coordinator. She then branched out to form her own company, Jelena Ristic Consulting. At the moment, she is the director of the firm.
She also founded the magazine, Original, and she writes a column for the celebrity magazine. Jelena also did a bit of modeling in 2013 when she modeled for online lingerie retailer Figleaves. She is also concerned with peace all around the world.
Jelena comes from a country which has had a great deal of turmoil. The wars in Serbia threatened to derail her work in school. She knows the value of peace since she has lived in a war-torn land. In 2016, she gave a rousing speech at the Western Balkans Women Conference.
In her speech, she inspired women to get involved in the peace-keeping process in the Western Balkans. Countries in the Western Balkans include Albania, Croatia, and Serbia.
She met Novak in high school and, they started dating in 2005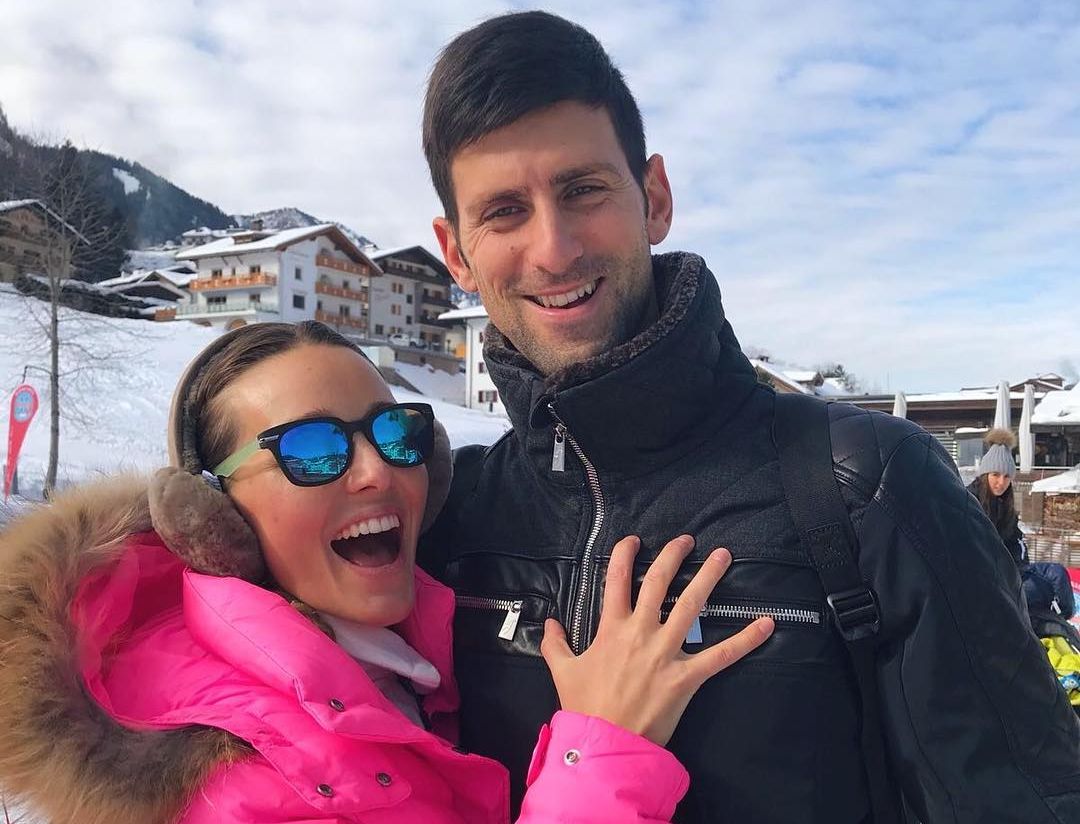 Novak and Jelena are long term sweethearts. The couple met in high school, and they started dating in 2005.
Jelena is a year older than Novak, but it didn't matter to him. The initial stages of the relationship were tough for Jelena and Novak. Jelena landed a job at a big oil company based in Monte Carlo. At the time, Novak was trying to make his way up in tennis and, it meant that he moved around a lot.
The couple didn't have the money to pay for airplane tickets to meet up with each other often. It was a difficult time for the couple, and they even thought about breaking up. However, they chose to see through the difficult part of their relationship together. The love they had for each other prevailed in the end.
In September 2013, Novak planned a wedding proposal that was fit for a queen. He hired a helicopter and took Jelena to the Couvent des Minimes hotel in Provence where he proposed to her. It was quite a big leap for a man who couldn't afford a plane ticket to see his wife in Monte Carlo a few years earlier.
Novak wed Jelena in a beautiful marriage in Montenegro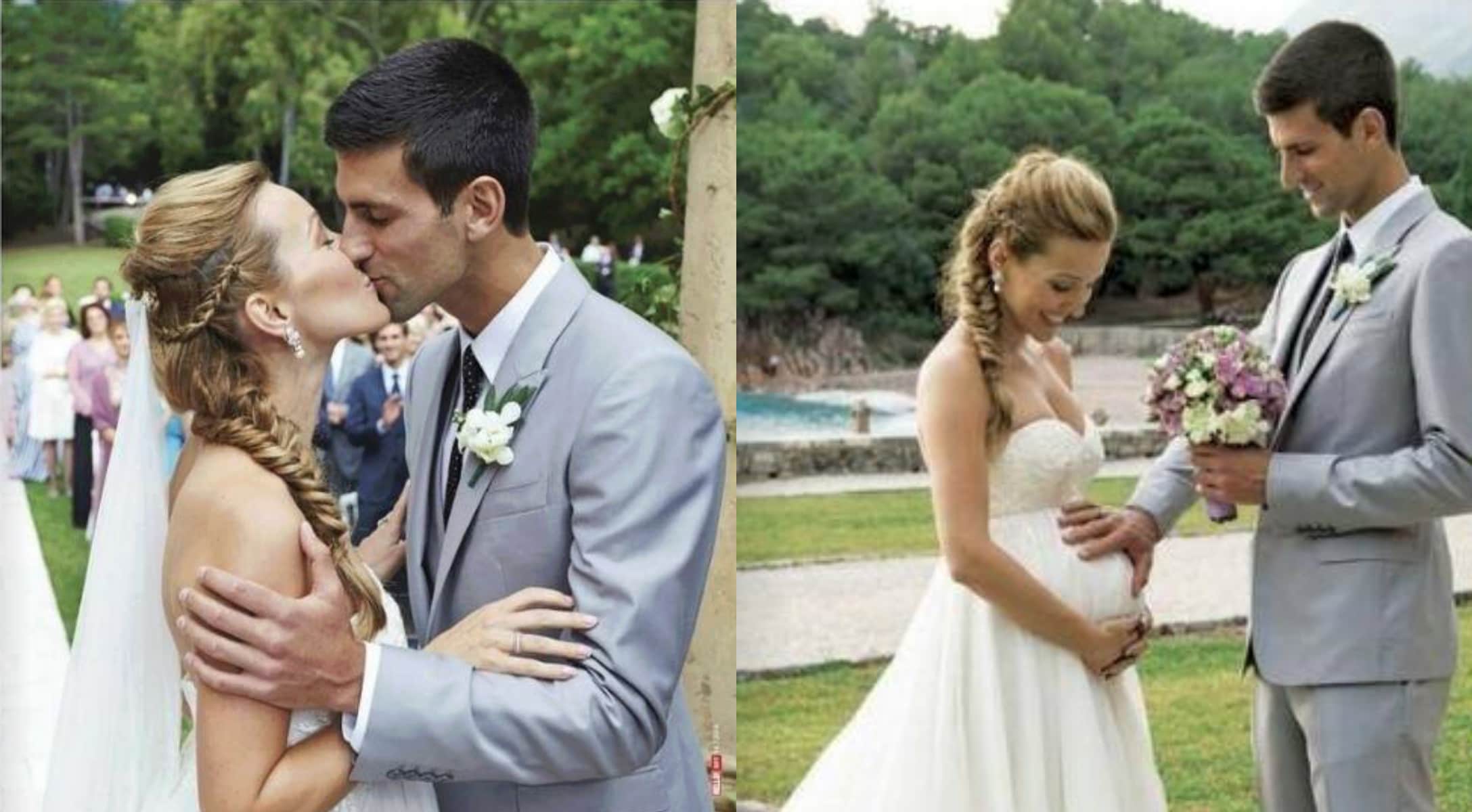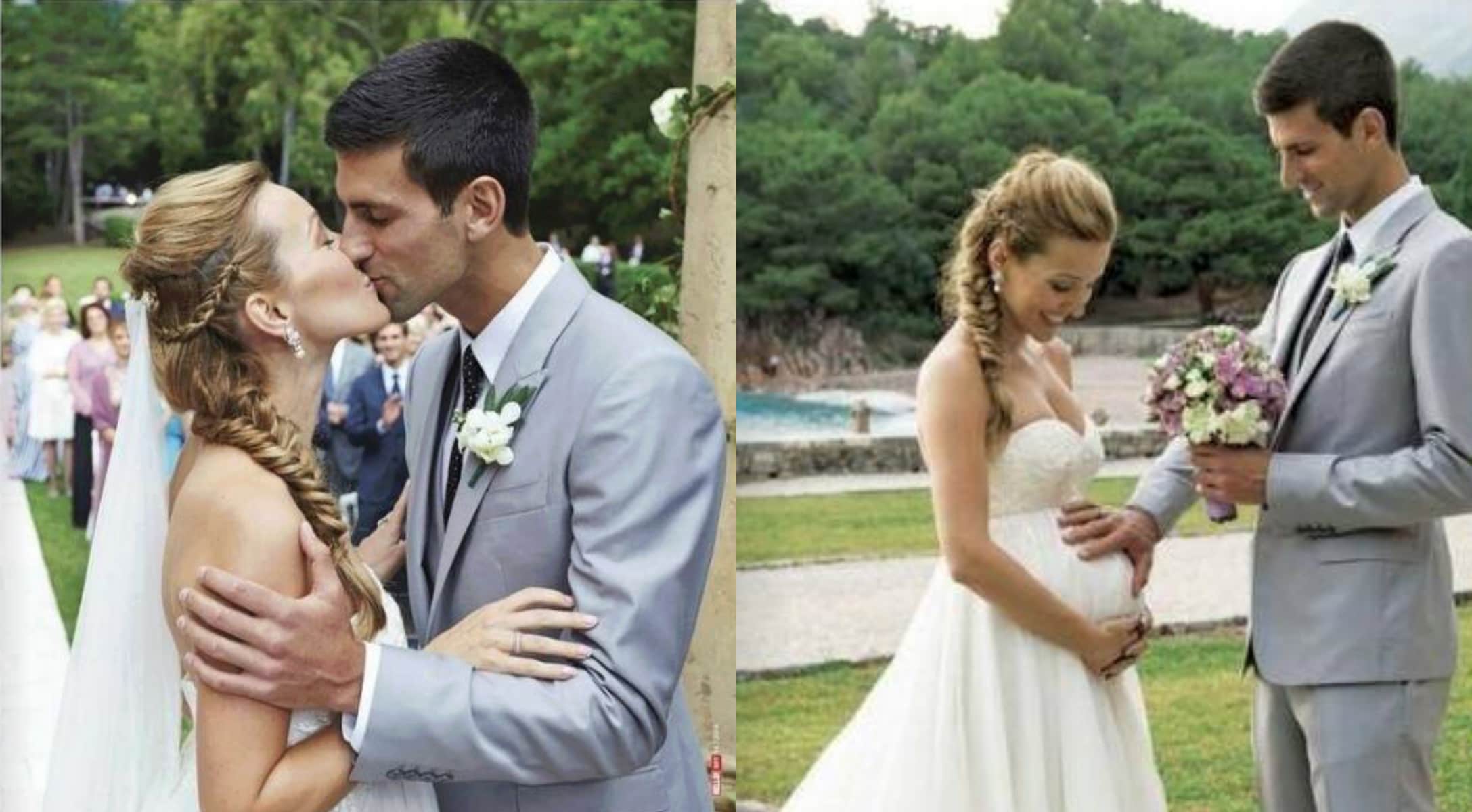 Jelena and Novak's wedding took place at the Aman Sveti Stefan resort in Montenegro on July 10, 2014.
Novak and Jelena announced on April 24, 2014, that they were expecting a child. The baby bump was visible as Jelena walked down the aisle. Djokovic remembers the wedding day fondly. He told HELLO! Magazine the following:
"Seeing her for the first time in her wedding dress…She looked like an angel…I was focused on her, and her smile, and our baby. It was really a perfect moment."
Jelena also remembers the moment vividly. This is how she explained it to the same magazine:
"I was just so happy and probably being pregnant makes it quite difficult to control the emotions. I am so blessed to have him in my life. I couldn't ask for a better partner than him."
The wedding came at the best moment for Novak and Jelena. Novak won his second Wimbledon title right before the wedding. Everything felt right for Novak and Jelena at that moment.
The couple celebrated their 5th wedding anniversary this year. Djokovic is currently in the finals of the Wimbledon tournament and he hopes that he can win it again. His wife is usually in the crowd cheering him on at major tournaments.
Even when she isn't there, she makes sure that she sends her support through social media. The couple's love for each other is always on show at the events they attend together and on their posts on social media.
She is the loving mother of two kids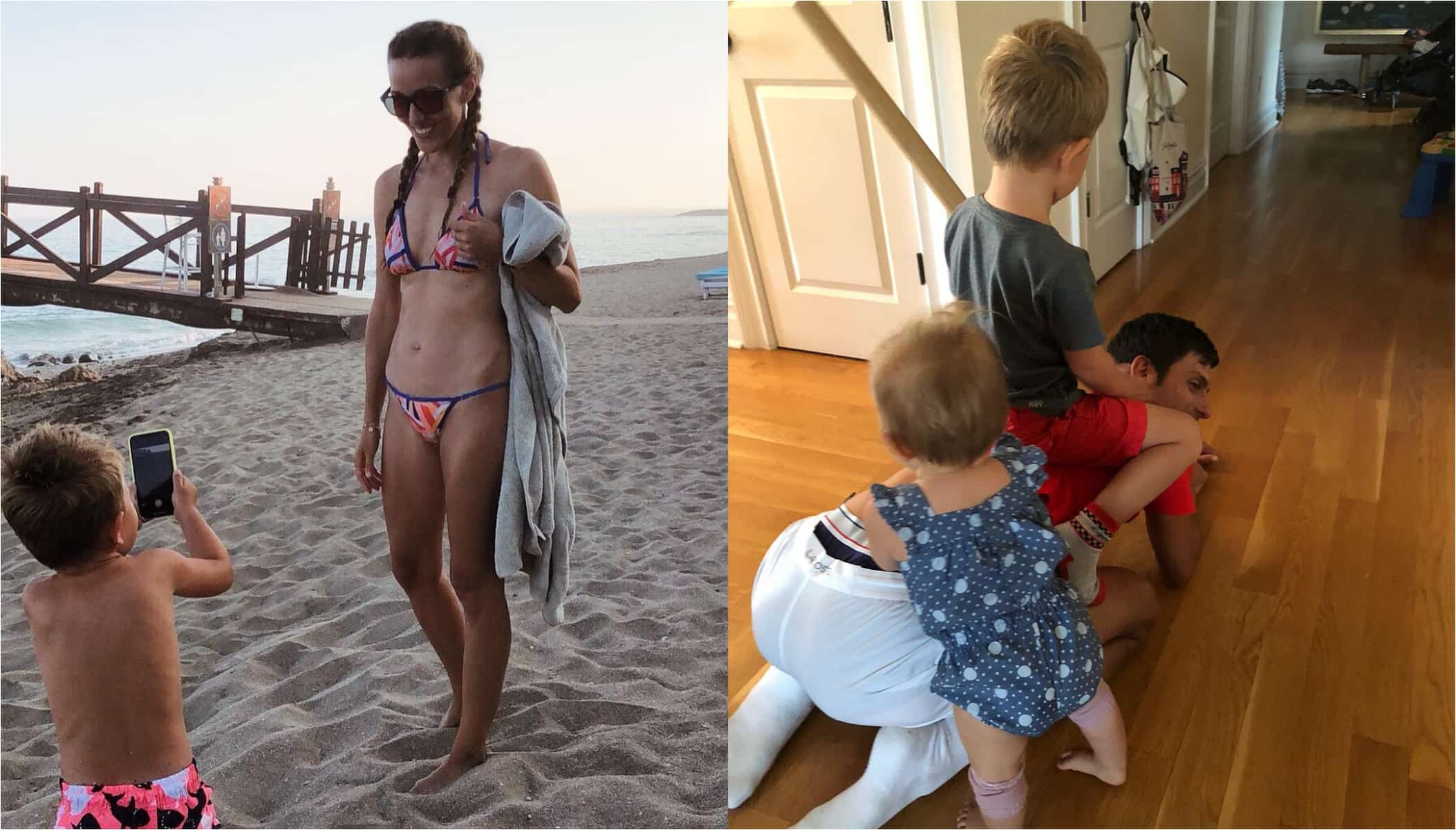 Jelena was pregnant with her first child when she got married to Novak. She gave birth to Stefan in October 2014. Jelena was pregnant again in 2017 and, she gave birth to Tara in September of that year.
Stefan was born at a very happy time for Jelena and Novak. They were newlyweds and, Novak's tennis career was going very smoothly. However, Tara's birth came at a time when Novak was struggling on the tennis court and, there were rumors that Jelena's relationship with Novak wasn't going very well.
Jelena's absence at the Wimbledon tournament in 2017 fueled reports that the couple's marriage was struggling. Consequently, Novak struggled in the tournament and, he only made it to the quarter-final. He retired from his last match following an injury to his elbow but, his form wasn't great throughout the tournament.
The real reason why Jelena failed to attend the Wimbledon tournament in 2017 was because of her pregnancy with Tara. Jelena was affected by the fact that people blamed her for Novak's poor performance. She addressed the issue on an Instagram post with the following caption:
"…I became a mom again in 2017, had quite a tough pregnancy but loving and supporting family to help me get through. I've been pointed at, shouted at and discriminated by unhappy people for my husband's tough year…really not fun. Luckily I have gone through all those changes SANE and full of love…"
Her post showed the world that it was a difficult time for her, but her family's love got her through it. The rumors that her relationship with Novak wasn't going well were false.
The couple enjoys a great relationship with their kids. Novak and Jelena regularly post photos and videos of the happy moments they have with the kids.
She is the national director of the Novak Djokovic Foundation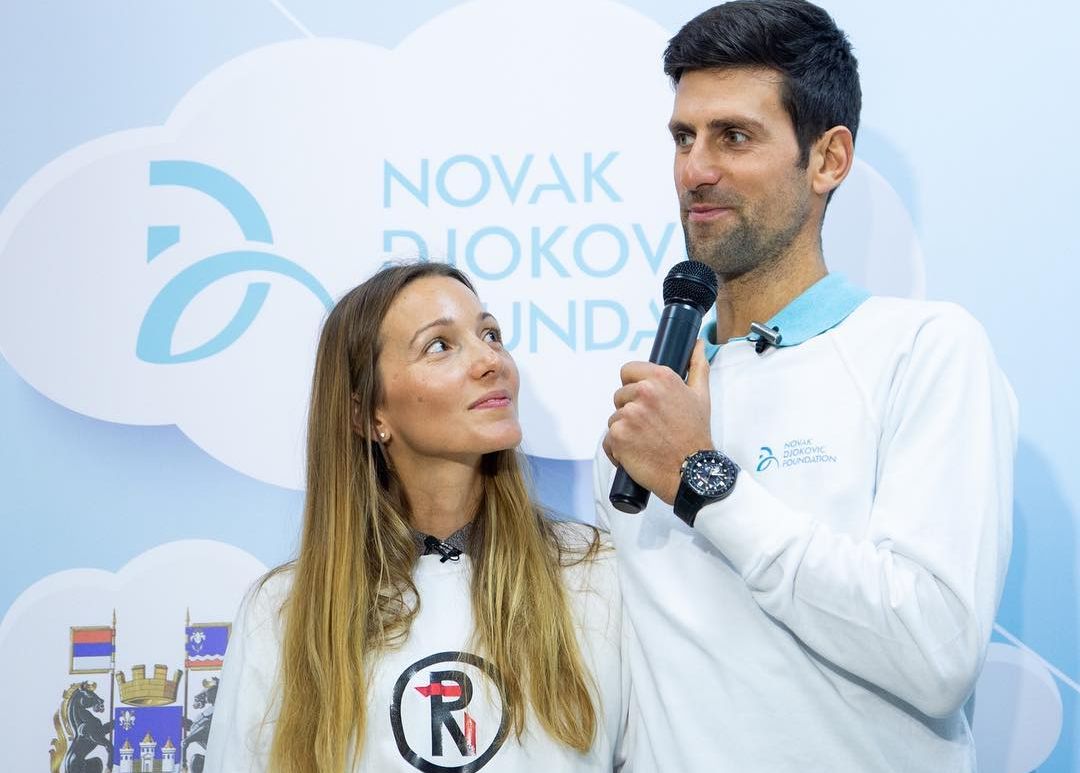 Novak Djokovic started the Novak Djokovic Foundation to help children in Serbia. The foundation focuses on early childhood development for disadvantaged children in Serbia.
She is the co-founder of the foundation, and she occupied the CEO position between 2011 and 2015. Her efforts with the Novak Djokovic foundation earned her an award in 2014 because of her dedication to bettering the lives of children in Serbia.
Also Read: The Untold Truth Of Roger Federer's Wife, Mirka Federer
---