Steve Harvey is one of the world's most famous comedians. He started out as a comedian, and he has gone on to become a television host, radio personality, actor, producer, and author. For most of his life, Harvey didn't get it right when it came to love. However, that changed when he married Marjorie Harvey.
Harvey first performed as a stand-up comedian on 8th October 1985. He struggled a lot in the late 80s, but he eventually landed his first major gig as host of It's Showtime at the Apollo. Harvey went on to star on The Steve Harvey Show which ran between 1996 and 2002.
He made his first film appearance in the 2003 movie, The Fighting Temptations. Harvey went on to author the book, Act Like a Lady, Think Like a Man. The book was a huge success, and Harvey was involved in the making of its cinematic follow-up, Think Like a Man. He ended his career as a stand-up comedian on 2nd August 2012.
Marjorie Harvey has contributed a lot towards Harvey's success and happiness. The couple looks happy and in love. Harvey knows that he is lucky to have a woman like Marjorie by his side. He acknowledges that his wife has contributed to the man that he is today. He told Essence;
"Every great man has a woman…I didn't say successful man, I said great man."
Keep reading to find out more about Marjorie Harvey.
She met Harvey back in 1990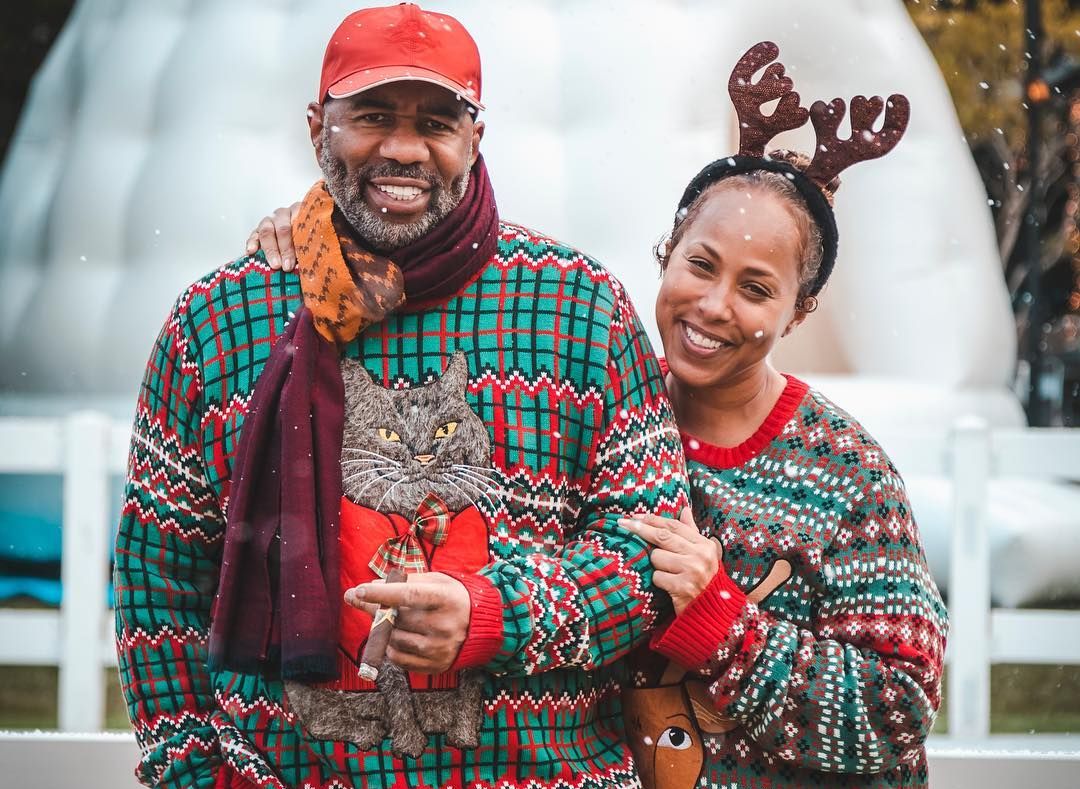 Marjorie first met Harvey at a comedy show in Memphis, Tennessee. Harvey was performing at the comedy show when Marjorie arrived with her girlfriend.
Harvey stopped the show when Marjorie came in. She had booked a spot right next to the stage and, Harvey watched her up to the point where she sat down. Harvey spent a significant amount of time staring at her and Marjorie thought that he was going to make her part of the comedy show.
Marjorie thought that Harvey was going to 'give her the business' because she came late. However, it seems that Harvey was just taken away by her beauty. After a while, Harvey had to get on with the show, but before he continued, he told the crowd;
"I'm sorry, I don't know who this is, but I'm going to marry her."
The couple explained this beautiful story in an episode of the Steve TV Show. Harvey knew that he was going to marry Marjorie, but at the time, he was still married to Marcia Harvey. He split up with Marcia Harvey in 1994.
Harvey didn't date Marjorie for long. He kind of 'disappeared' on her and married Mary Lee Harvey in 1996. Marjorie and Harvey got their chance in 2005 when Harvey divorced Mary Lee.
Harvey got in touch with Marjorie, and they hit it off. The couple waited 15 years before starting a proper relationship. Harvey's 1990 prophesy came to be when he married Marjorie in 2007. The couple celebrated their 12th anniversary this year.
Marjorie posted a photo on Instagram with the caption;
"God has renewed our youth like the eagles. Happy anniversary my love."
Harvey responded with an Instagram post of his own with the caption;
"Happy anniversary to the chick of my dreams."
The couple looks to be happy and in love. Harvey has made it clear that he owes his success to his wife. He told Essence;
"Everything I have is because if this girl right here."
Marjorie and Harvey feel like they lost a lot of time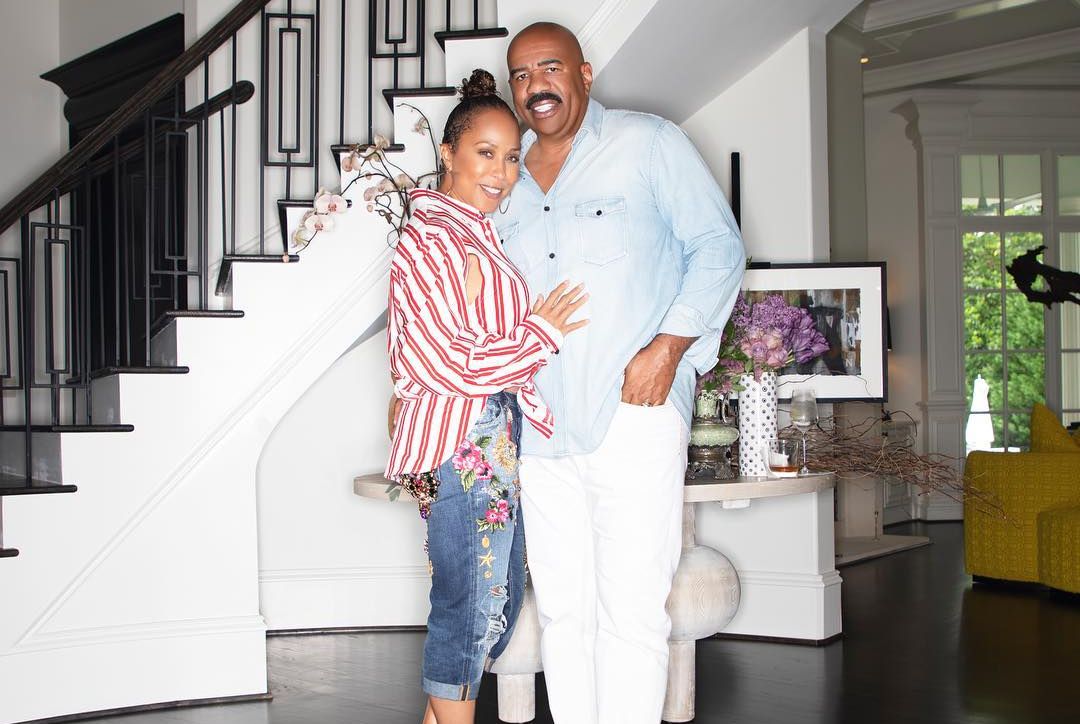 In the end, Marjorie and Steve got married just like he had predicted. However, the couple still feels like they lost a lot of time. Marjorie confessed on the Steve TV Show that she wishes that Steve would have married her when they met in 1990.
However, at the time, Steve was homeless. He felt that he needed some stability in his life before committing. Marjorie told People that she regrets Steve's decision to leave;
"I only wish he'd told me what was really going on with him when we were first dating. I told him, 'I owned my house. Honey you wouldn't have been homeless.' We could have saved so much time."
Harvey and Marjorie had a connection, and Harvey's bodyguard noticed it. After Harvey ended his second marriage, it was his bodyguard who reunited him with Marjorie. Elaine told People;
"He told me, 'Look, the only time I've ever seen you happy was when you were with that woman Marjorie. Now before you go and do something stupid and marry another woman, I'm calling her."
Harvey's bodyguard made the right decision as the couple are now happily married.
She is a loving mom and step mum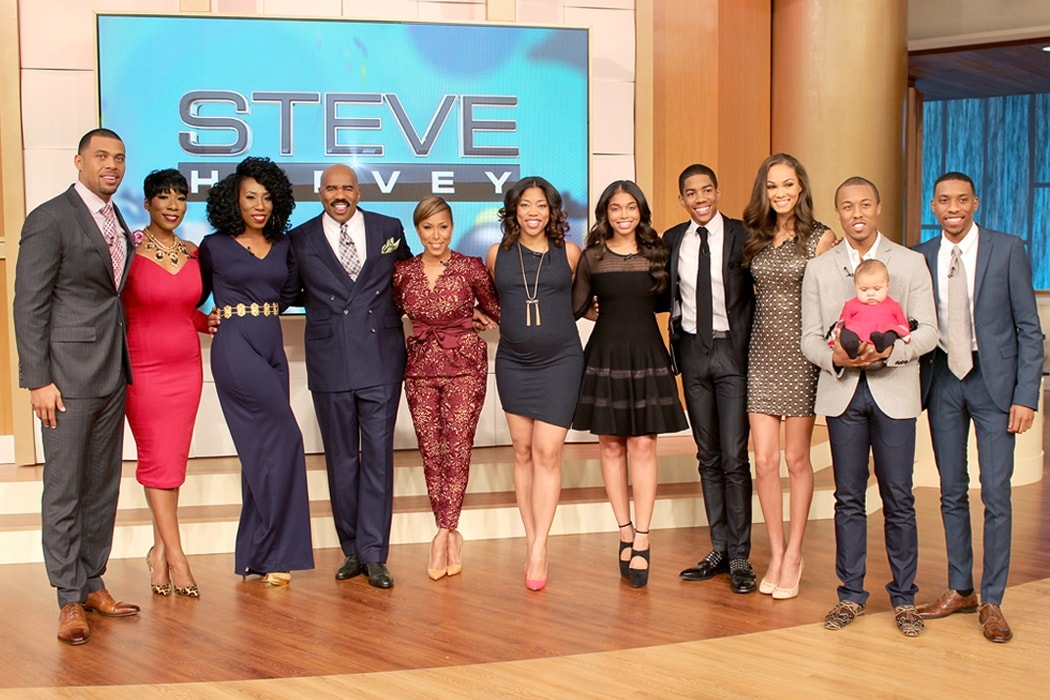 Harvey and Marjorie were in previous marriages before they got married. Their previous marriages yielded seven children. Steve has four children from his past marriages – Karli, Brandi, Broderick Junior, and Wynton. Marjorie has three children – Morgan, Jason, and Lori.
After marriage, the couple decided to blend their families. However, some of the kids were against the idea. Steve simply told them to 'deal with it' while Marjorie took a motherly approach. She confessed to People Magazine;
"When you're dealing with a blended family, everyone is coming from a place of broken. We knew this was right. But I just told them, 'Everyone is included. Everyone has access to their parents. Whatever you didn't have before, don't let that interfere with what you can have now.'"
Marjorie's words had the desired effect, and ultimately, all the kids were on board with the idea of a blended family. The kids don't seem to regret the decision as they are often seen hanging out together. The big family always looks happy together. Harvey knows the importance of a happy home. He told People;
"When you're happy at home, you can make a lot of things happen."
The family is bigger now that Marjorie and Steve are grandparents. Marjorie and Harvey spend time together with the family. Their Instagram pages are full of photos of the family's happy times together. Steve joked about his ever-increasing family when he said;
"I've been waiting for years for my kids to get out of my house. Now they come back to the house and they got more people with them."
The couple has endured divorce rumors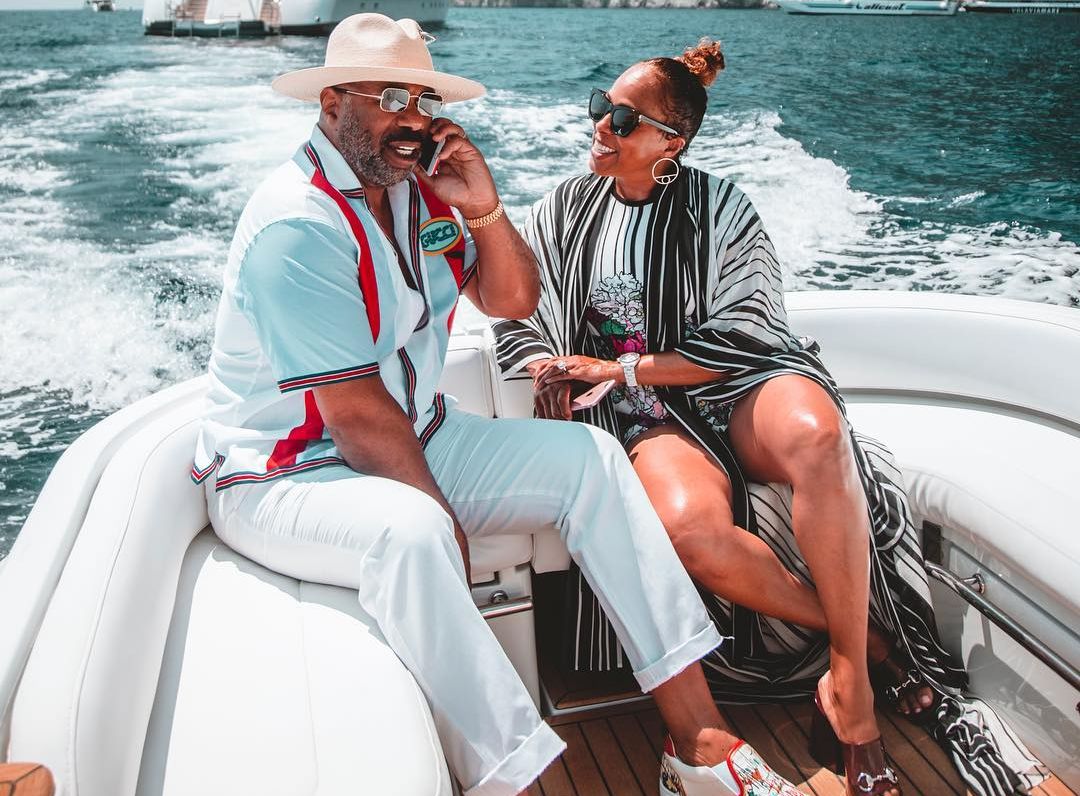 It has been a relatively smooth ride for the couple over the years. However, in 2018, Radar Online reported that Marjorie and Harvey were in the middle of a '$400 million divorce." The reports turned out to be false.
These reports sickened Harvey, and he went on to say;
"They act like I don't have family. They act like my kids can't read. They don't care. They just go out and destroy people with no facts behind it."
However, in 2019, Radar Online again claimed that Harvey was secretly trying to liquidate his assets in preparation for a divorce. The publication claimed that the couple had a major fallout and that the disagreement prompted Marjorie to take their daughter on a month-long trip around the world.
Again, the rumors turned out to be false. Marjorie posted a hilarious Instagram video that featured the couple talking about the rumors. In the video, the couple stated that they had no idea that they were getting divorced.
It doesn't look like the couple will get divorced any time soon. The couple has immense love for each other, and they show it whenever they can. Harvey confessed to Essence about the importance of Marjorie in his life using some famous figures as examples;
"Do you think Dr. Martin Luther King was anything without Coretta? You take Michelle out of Barack Obama's equation, and he is a whole other dude out there."
Marjorie was married to a drug dealer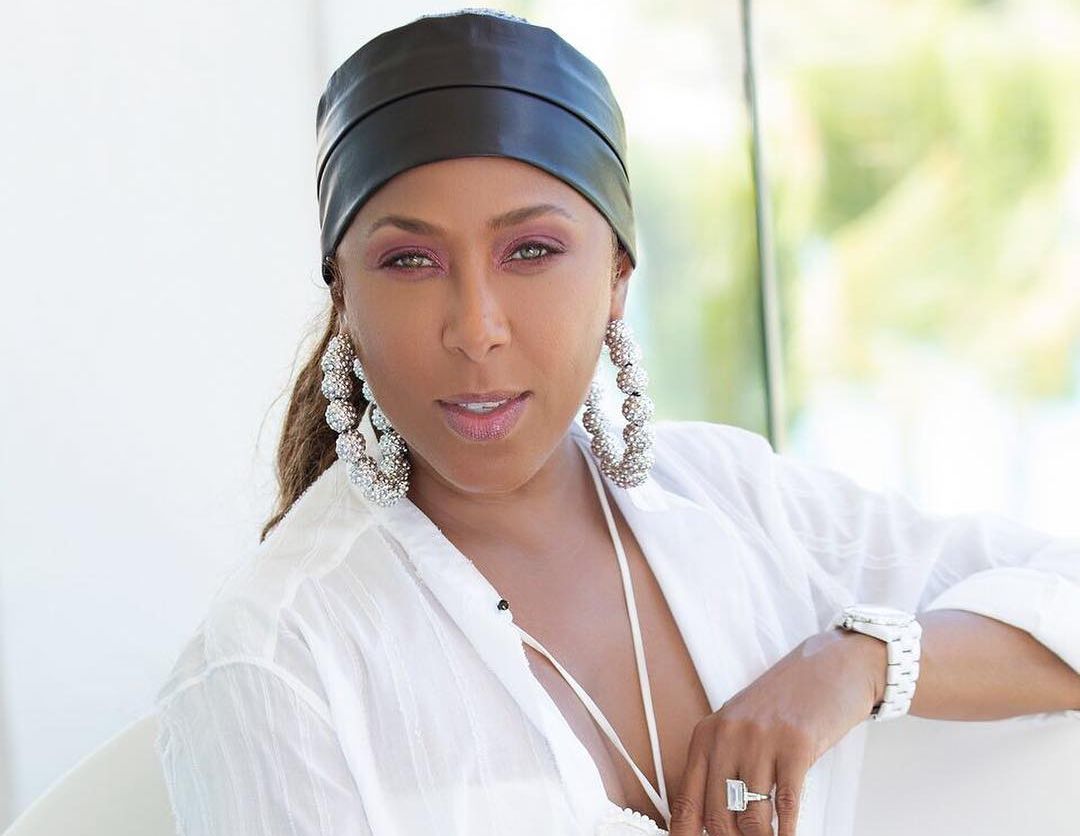 Just like Harvey, Marjorie was in two previous marriages. Her first marriage was to Jim Townsend. Jim turned out to be a drug dealer who was imprisoned for life in 1992. She had two children with Jim before he was arrested. Agencies suspected the Marjorie had a role to play in the drug cartel, but they didn't charge her with any crime.
Authorities released Jim in 2017 after he received a presidential pardon from President Obama. Marjorie divorced Jim after he spent five years in prison. After his release, there were reports that Jim was planning to write a memoir. However, it isn't clear when it will be released or whether it was written at all.
Marjorie went on to marry another drug lord called Donnell Woods. They got married in 2000 when the FBI started to investigate him for drug smuggling. He left Donnell before the investigation concluded and went on to marry Harvey. She has one child with Donnell.
She is a fashionista and entrepreneur
Marjorie is respected in the fashion world, and she gets invited to fashion shows all around the world. Her photos show that she makes the best fashion choices.
She shares her fashion tips on her blog titled The Lady Love Couture. Marjorie also owns an online shop, which sells handbags and clothes. The items in the shops range between $150 and $1200. She makes a decent amount of money through her shops, but it's nothing compared to her husband, who is worth about $160 million.
Also Read: The Untold Truth Of Dwayne Johnson's Partner, Lauren Hashian
---