For months during the coronavirus pandemic, the only laugh Stephen Colbert heard was his wife's. Colbert's wife, Evelyn McGee, served as the solo audience as Colbert recorded The Late Show with Stephen Colbert from his home. "I used to think, 'If I could get an audience to laugh the way Evie laughs, I think I'll be okay," Stephen told John Dickerson on CBS Sunday Morning.
"And for the last 15 months, that's the only laugh I had." Evelyn's infectious laugh became Stephen's support system and part of the show. She said that she enjoyed her role. "I mean, being told to laugh for someone is great!"
This piece will look at Evelyn and Colbert's dreamy first meeting, the couple's children, Evelyn's role in Colbert's career, and her acting career.
She started dating Colbert while he was contemplating marriage with his ex-girlfriend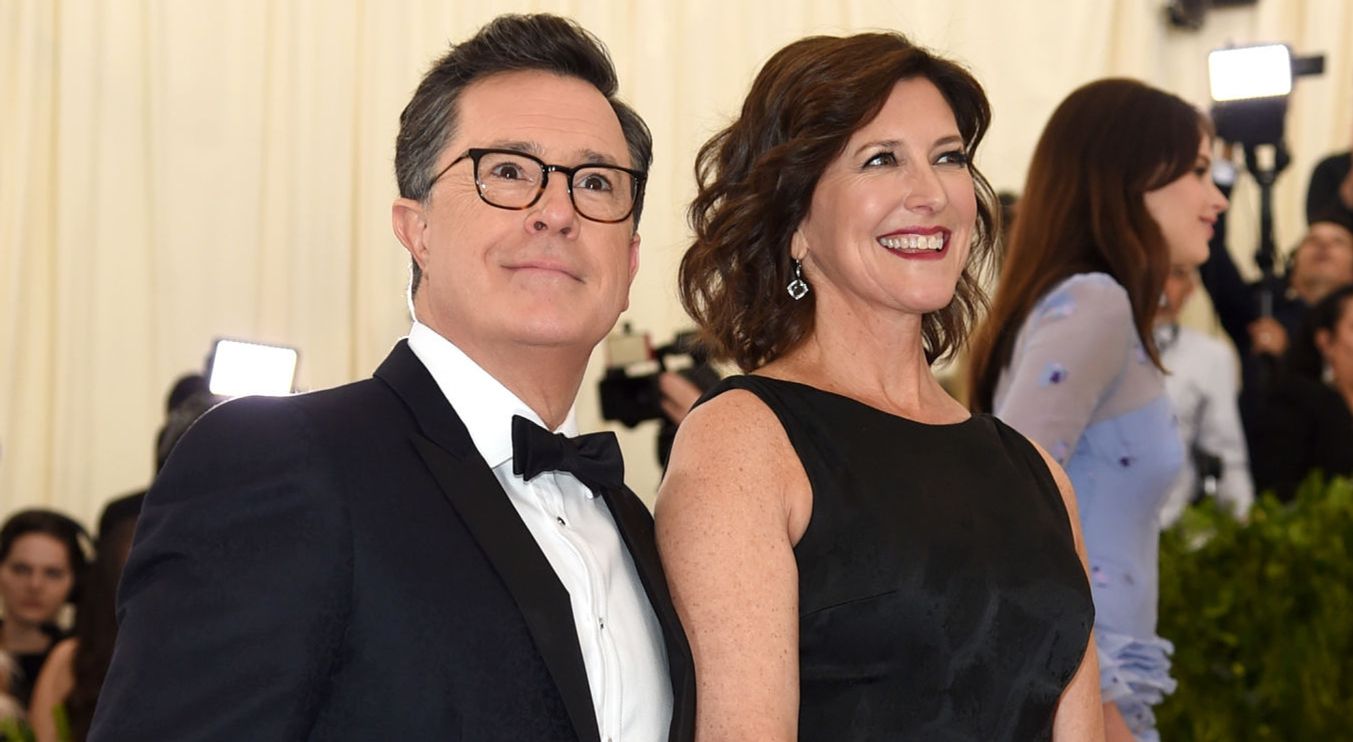 Colbert detailed how he met his wife on a 2016 episode of The Late Show. He stated that at the time, his ex-girlfriend wanted to get married, but he wasn't sure about marriage. So Colbert decided to take a trip back home to Charleston, South Carolina, to seek his mother's advice. Colbert's mother helped him realize that he wasn't interested in marriage at the time.
While still in Charleston, Colbert agreed to accompany his mother to the Spoleto Festival. At the festival, he came across this gorgeous woman in a black linen dress, and he instantly knew that she was the woman he was going to marry. The woman was Evelyn, and she was also attracted to Colbert. The couple spent some time eyeing each other from across the room before they started talking. Colbert said:
"We realized we had grown up with each other, but hadn't gone to the same school… We knew so many people in common we were suddenly embarrassed because we thought, 'Oh, our friends are gonna find out from stories that we were flirting with [each other] across a room at a party."
Colbert and Evelyn started dating from that day, and they got married in 1993.
She and Colbert have three children Madeleine, Peter, and John
The couple welcomed Madeleine in 1995, Peter in 1998, and John in 2002. Colbert regularly talks about his children, and he once gave a guide to BuzzFeed about his experience raising children. He gushed about how being a parent is one of the best things in the world. He told the publication:
"And it really is the best part. You know, coming home, pouring yourself as a glass of wine, and sitting there and having a conversation with your kid about how their day was. It's not dramatic, it doesn't seem exciting, but it's probably the nicest part of it… I didn't know what to expect. But I think the most surprising thing is that, while it's hard – it's hard – but even the hard parts are beautiful."
She helped Colbert transition from his role in The Colbert Report
Stephen spent a decade playing the role of a right-wing version of himself in The Colbert Report. Evelyn confessed to hating Colbert's character, and she told him never to bring that character home. After Colbert left Comedy Central and joined CBS, he found it challenging to transition from his Colbert Report character.
There were even calls for him to be replaced by comedian James Corden. To help himself transition, Colbert asked his wife to be part of the audience. Colbert told Jon Stewart on a Flipped Interview on The Late Show:
"First coming out here, a) I didn't know who I was. I mean, I know who I am as a human being. And so, my wife, Evie, I'd have her sit in a chair five rows back there. For the first month, she sat there. Because I'd go, 'Oh, oh, I'm married to her.' Because my character was not married to her… So I would look at [Evie] and say, 'Ok, I'm her husband. This is me. I'm me. I'm their dad, I'm her husband."
Evelyn helped Colbert settle, and after a successful interview with Joe Biden, Colbert secured his job at CBS. It wasn't the first time that Colbert relied on Evelyn's support. He suffered for a long time with depression, and his wife helped him through the tough times.
She has several film credits to her name
Evelyn McGee was born on 23rd July 1963 in Charleston, South Carolina. She may not be as famous as her husband, but she has several acting credits. In 1999, she played the role of Chuck's mom on Colbert's show Strangers with Candy. Stephen played the role of Chuck in the Comedy Central show.
McGee also played a small role in the 2013 film The Hobbit: The Desolation of Smaug.
---