Stephen Colbert is undoubtedly the true definition of a multitalented individual. How does one manage to become a successful Tv personality, actor, comedian, politician and ordained minister at the same time? Well, only Colbert can answer that.
He is at the very least, a personified version of a stone that has killed many birds. Once a hopeless boy and last born in a family of 11, Stephen never knew he would meet an incredible wife or win multiple Primetime Emmys and Grammy Awards.
The much celebrated Late show and Colbert Report host has captured the attention of millions. For a long time now, people have taken it upon themselves to learn what his life is all about; this includes uncovering truths about his wife and kids.
Evelyn McGee, who has been married to Colbert for more than 20 years now has been the foundation and support of the acclaimed Television star. But just how much do you know about her?
There is much more to her story than being a stay-at-home mom as many believe. Truly, behind every successful man, is a great woman. You would be amazed by the following untold facts about Mrs. Colbert. Read on!
She was Colbert's 'saving grace'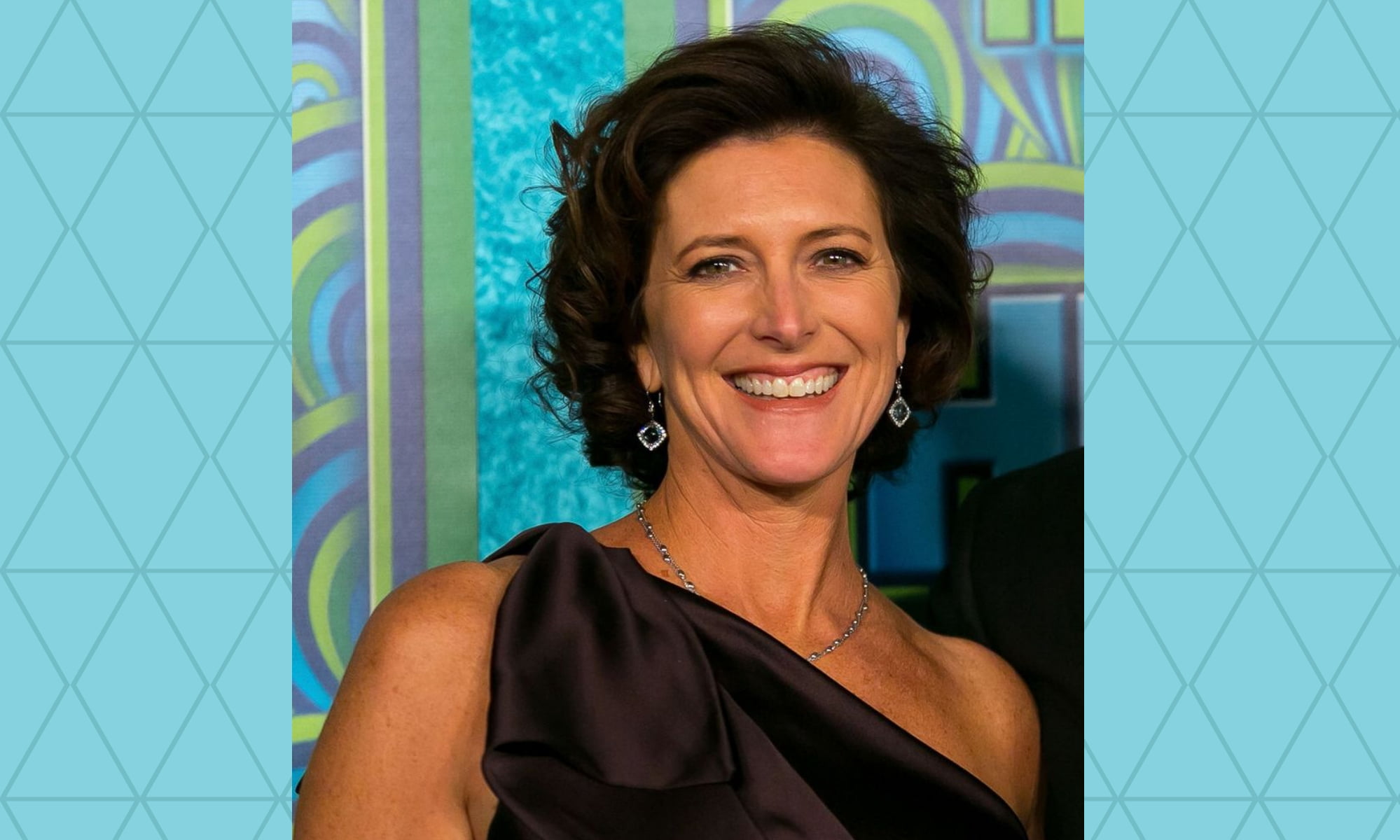 As vibrant as Stephen seems to be, he is a victim of the monster called depression, which almost killed him. This was after the tragic death of his father and two brothers. Growing up, he struggled to get his life back on track, and even though he never seemed like the romantic type, he fell in love and dated a girl for many years before meeting his one true love, Evelyn.
It happened, that Evelyn and Stephen grew up a few blocks from each other and surprisingly, their parents were long-time friends. Unfortunately, they went to separate 'same-gender' schools; hence they never met, until 1990. The divine meeting happened when the two attended the Hydrogen Jukebox musical at the Spoleto festival. A clear indicator that both of them had an interest in the show business.
Colbert glared in admiration at a young McGee who rocked a stunning black linen dress. Often during interviews, he admits to having decided right there and then, that she was the one he was going to spend the rest of his life with; and boy was he right!
One thing led to another, and the two found themselves getting acquitted for more than two hours. Evelyn clearly had her hopes up, especially after realizing that their parents knew each other. Her husband to be, however, first doubted himself, but then decided to put his best foot forward. Soon afterward, they made things official.
She is blessed with three kids and has a supportive husband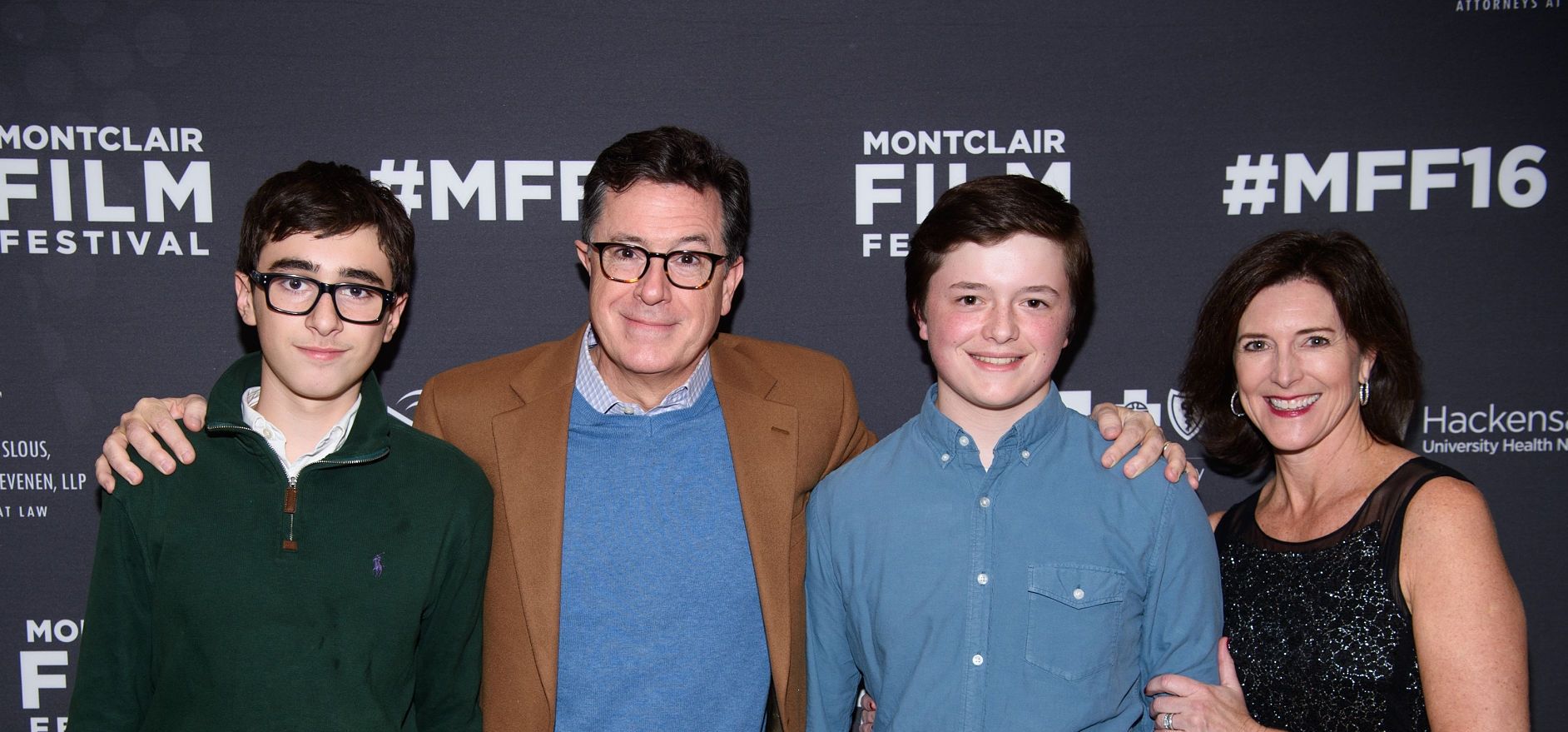 With no time to waste, Evelyn walked down the aisle 3 years after meeting Colbert, wearing a smile and sheer determination to make her love story unique. Two years later, the couple was blessed with a daughter, after which they added two more sons.
The family of 5 has a somewhat balanced gender and has been quoted by many as an outspoken bundle of joy. It is not known for sure what the Colbert kids do with their lives, because their parents like keeping them as far as possible from the public eye. Well apart from a few occasions where they accompany them to red carpet events.
Evelyn and Stephen both have a humorous nature and seem to spice up their parenting life. All the same, Colbert used to be skeptical about allowing his kids to watch his shows. Reason being, he thought the sarcasm and irony in his speech would have given them the perception that their father was insincere. We can only presume that the kids can now watch the show, especially since they are all grown up.
Having enjoyed each other's company for more than 25 years, Mr. and Mrs. Colbert can be outrightly cited as a good example of true love.
For them love is more than a feeling; it is a lifetime commitment.
She has had her fair share of fame as an actress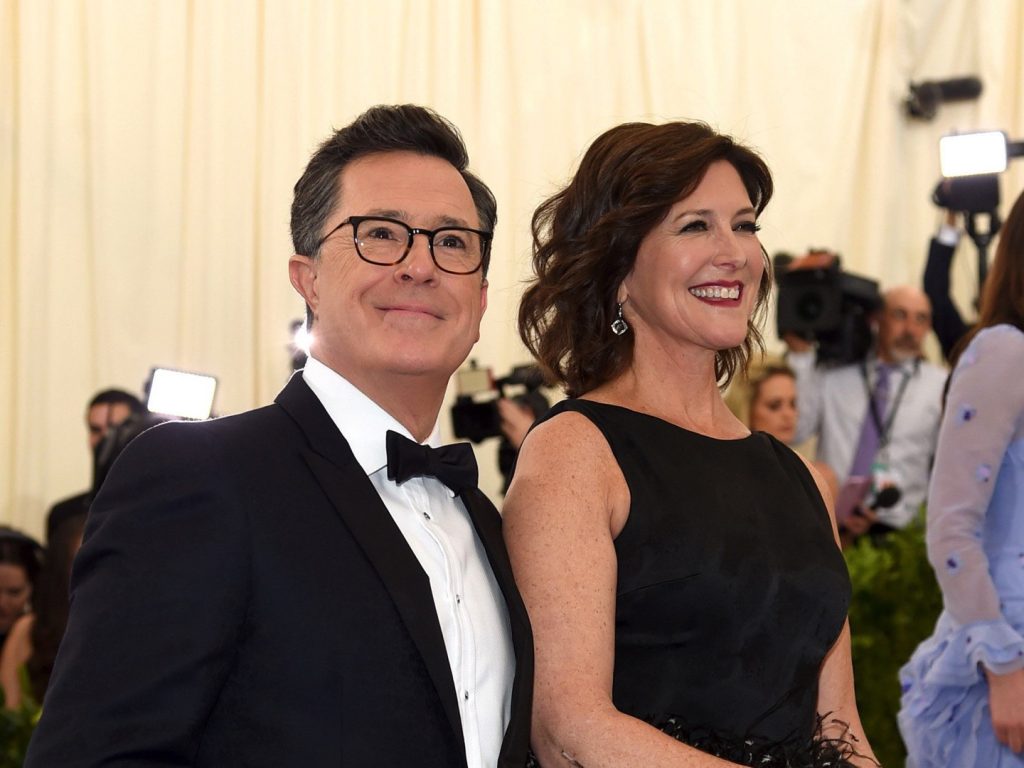 Yes, you read that right! Other than being a stay-at-home mom, Evelyn has made several appearances in movies and shows. Many find this as a shocker, but it was expected sooner or later since she has always had a passion for the film industry.
McGee hails from a distinguished family; primarily because her father worked as a skilled litigator at a renowned firm. All her years growing up, she admired the acting life, thus attending the University of Virginia, where she majored in arts and sciences. Additionally, she also took a major in Drama and English; a stellar combination for any upcoming actor.
Even though she anticipated for big roles after graduating, she was not as fortunate as her husband. She showcased her hidden talent multiple times at the Heritage Repertory Theatre and soon afterward, she started getting more meaningful roles. Her first major role was in the 1999 movie- Strangers with candy, where she played the role of a nurse. Later on, during the prequel of this movie (2005), Evelyn and Stephen both made appearances as mother and son. Ironic in a great way!
After starring in Alpha House's series finale, she landed a job at Fox News where she worked as a minor reporter. Later on, Evelyn appeared in a crime adaptation of a past novel, A Crime in the Neighbourhood. Her most outstanding project yet is The Hobbit: The Desolation of Smaug, which was the last movie she appeared in despite not having a major role. Though her career is nowhere near Colbert's, she does seem to be a woman of many surprises.
She hated Colbert's personality on the Colbert Report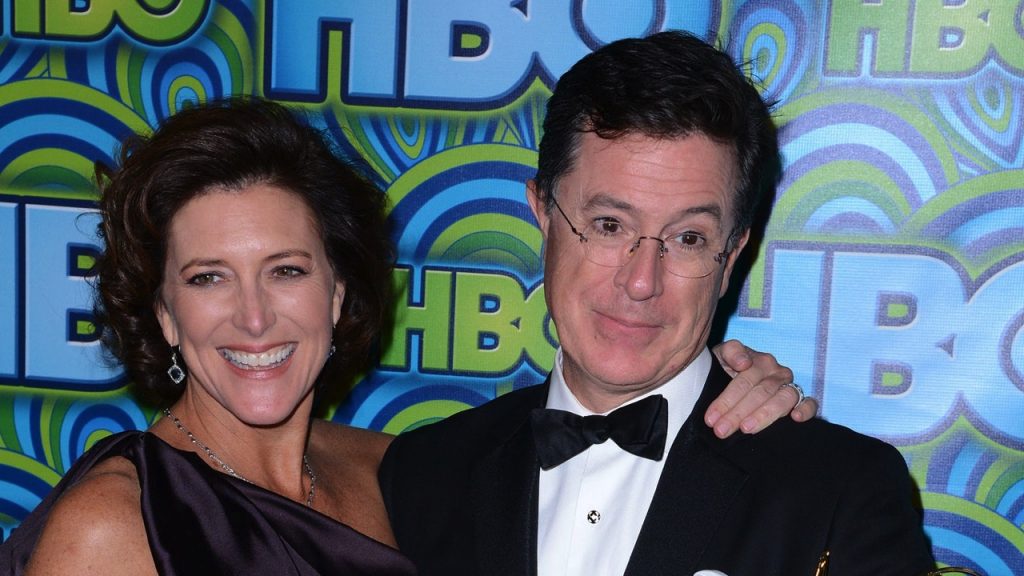 Between the years 2005 and 2014, Stephen hosted one of America's biggest talk shows, the Colbert Report. This marked a major milestone in his career because he started trending the moment the show started. Through the success of the Colbert Report, he was appointed the new host of the Late Show, succeeding David Letterman.
Despite the high levels, this show took him, Evelyn never liked Stephen's show personality at home. In a past interview with Oprah, she openly confirms in front of her husband, how much she used to insist on him being the simple guy at home and leave the other guy at work.
On the Colbert Report, Stephen portrays this unbeatable dark comedy Lord, with fans all around the world who praised his art of improvisational comedy. At home, he was definitely not the boss, as he had to leave his invincible character at the doorstep. Through it all, Colbert was comfortable with such policies from his beloved wife.
Contrary to this, Evelyn loved the Late Show and never made any strict demands. Stephen, who had once tried bidding for the presidential seat, centered The Late Show around politics but had a wide variety of guests in attendance.
She supports her husband fully and inspires his romantic nature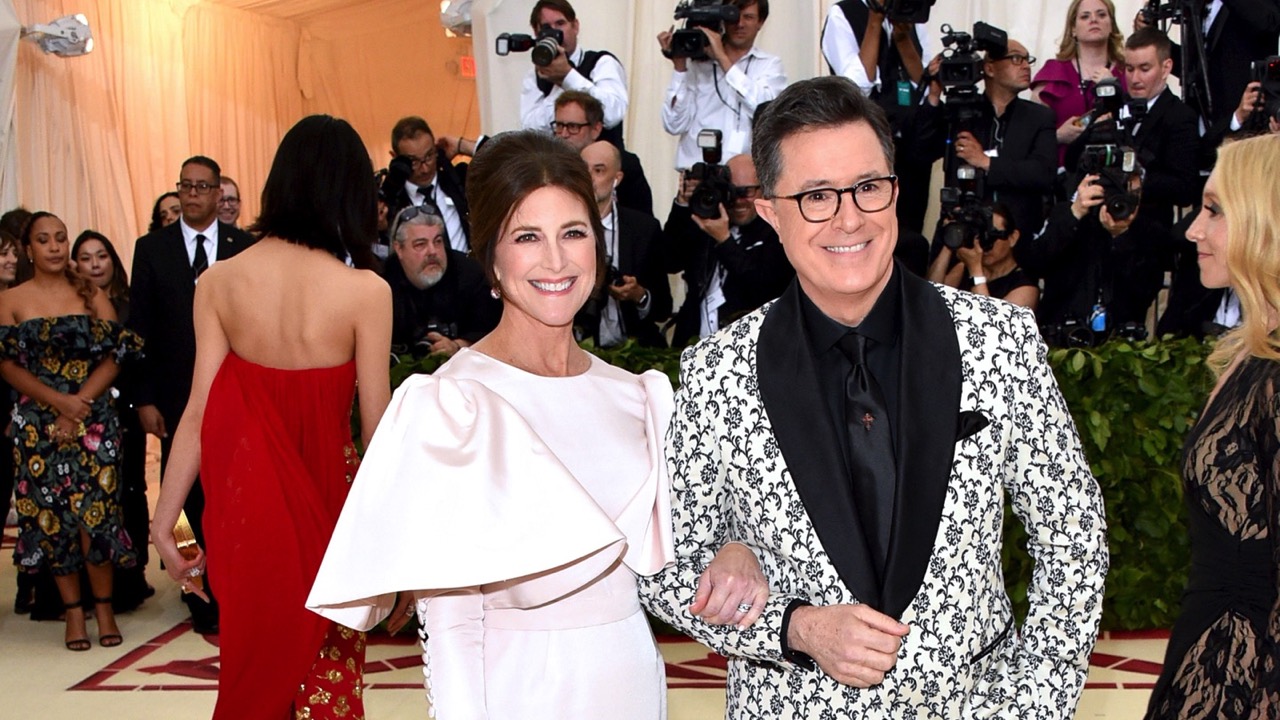 Living with a comedian can be equated to having a roller coaster ride all your life. When the two met, Evelyn instantly fell in love with Stephen's jovial personality that has ever since helped the family become iconic.
In previous interviews, she mentions how the early days of his career were full of ups and downs. Colbert had no money-making job, other than the minor theatrics and stand-up comedy shows he used to do; all which Evelyn watched and attended. Regardless, they were happy with each other and both saw a bright future ahead. She was truly his ride or die.
After much growth and transformation, she remains supportive as ever, and promotes some of Colbert's advocacies on Twitter; the only social media platform she is on. Stephen, on the other hand, has to maintain a strong Social media life, as his career depends on it. For many years now, both of them have been seen attending numerous events together, stunning people with their glow even after being together that long.
During an interview with one of the reporters at the renowned Met Gala 2017, Evelyn stated how much she adored her husband. She went ahead and described in full how 'sexy' he was, and how he inspired her to be silly.
We hope to see more from Evelyn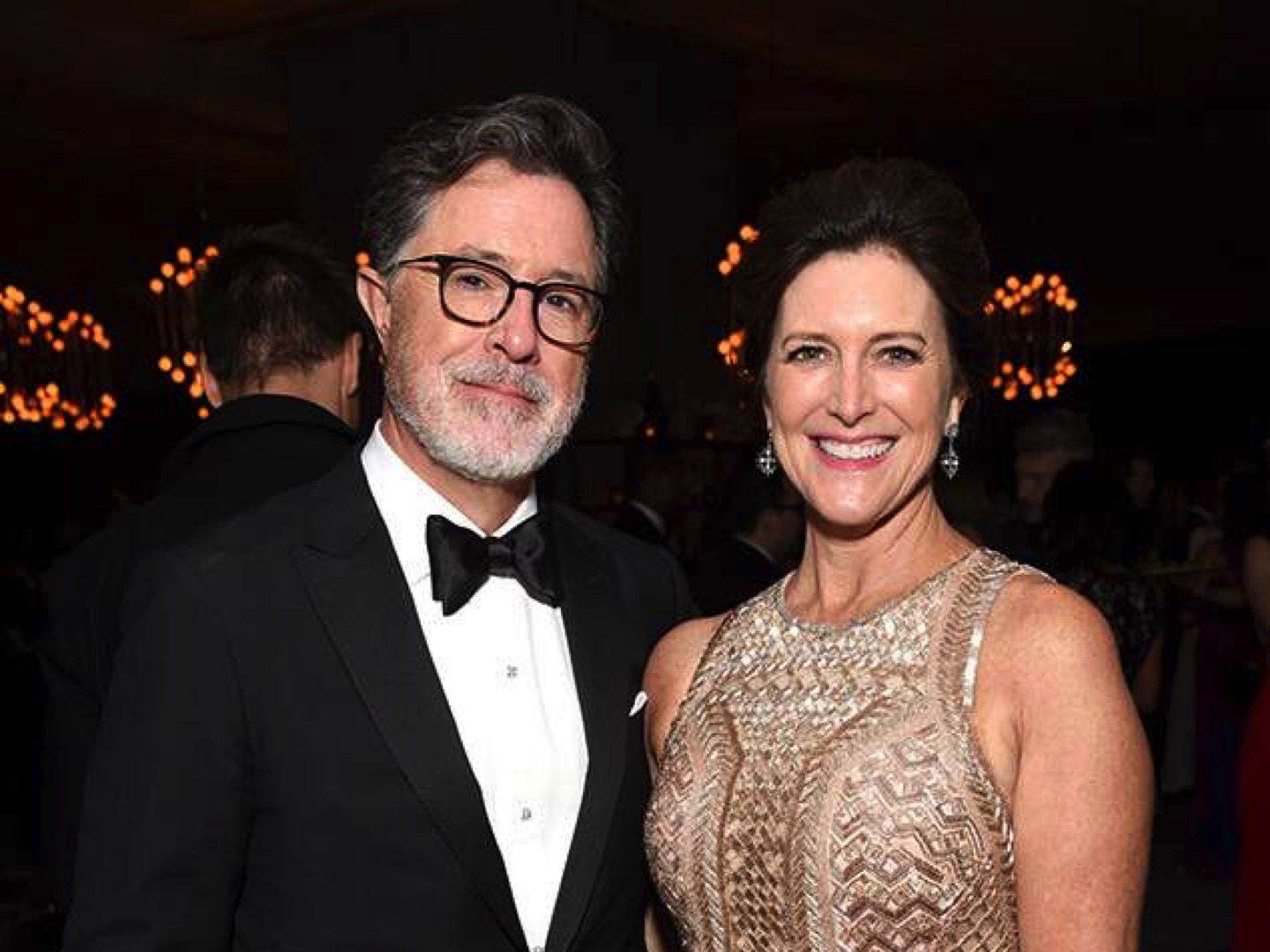 Being the think tank to a multi-talented personality is perhaps one of the hardest and most unappreciated jobs in the world. Through her utmost commitment, Evelyn has been the backbone of her family; portraying a character that is worth emulating.
With all her kids almost growing up fully, we hope to see her back in the showbiz or any other venture, before old age creeps up on her.
By and large, she has been Sensational!
Also Read: Yaron Varsano – The Untold Truth Of Gal Gadot's Husband
---