Katie Couric is an American journalist and presenter who has worked for the 'Big Three' television networks in the US. Couric worked as an Editor for CNN before joining NBC in 1989, where she remained up to 2006. She joined CBS in 2006 and worked for five years before leaving to join ABC.
She then worked as Yahoo's Global News Anchor from 2013 to 2017. Couric currently runs a daily newsletter titled Wake Up Call. A true television great, Katie is an inductee in the Television Hall of Fame. He book, The Best Advice I Ever Got, was a New York Times Best Seller.
Read on to find out more about Katie's husband John Molner.
During her daughter's wedding Katie paid tribute to her husband John Molner and her late first husband Jay Monahan
Katie Couric delivered a beautiful speech during her daughter's July 2021 wedding. Ellie wed Mark Dobrosky before loved ones at Cedar Lake Estates in Port Jevis, New York.
Couric stated that Jay Monahan, Ellie's father and Katie's first husband, would have been proud of Ellie. "Jay would have been so proud of you both," Katie said, "and so thrilled that Ellie married a lacrosse player. And a terrific guy."
"Ellie, he [Jay] he would be beaming to witness the woman you've become." The family band played Jay's favorite song, Ashokan Farewell, as Ellie prepared to walk down the aisle. Ellie told Vogue that the song is significant to the family as it was played during Jay's funeral. She added:
"Hearing it performed live was just so overwhelming. When they began their final crescendo, I walked out and down the aisle. It was important to me that I walk by myself – I lost my father when I was six."
Katie also mentioned her husband John Molner and the joy he's brought to the family. "Meanwhile, the Molners have added such a rich, unexpected dimension to our lives," she said. "John's love and devotion, wicked sense of humor, and exacting personality – well, Molner, you've got your hands full."
Couric told her friends to hook her up with a doctor, but they brought Molner instead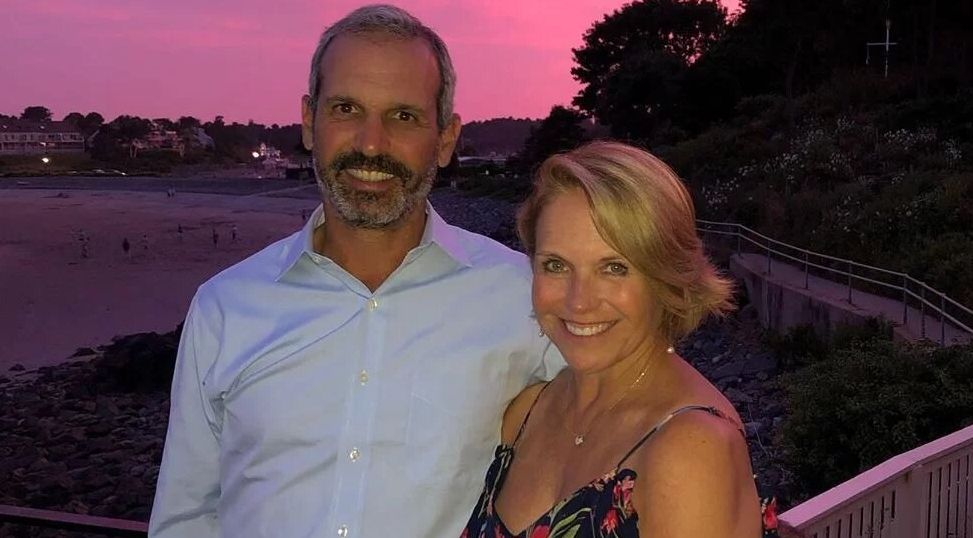 John and Katie credit their mutual friends for bringing them together. In 2012, Katie asked one of her friends to hook her up with a doctor. At the time, she felt like she wanted to go out with a doctor. Her friend, Molly, hooked her up with John instead. Molly gave Molner Couric's number, but he took some time before calling her. When they did finally meet, it was love at first sight. Katie told People Magazine;
"He finally asked me out, we met at a restaurant and what can I say? He had me at hello."
However, some of Couric's friends expressed concerns over Molner's sketchy past. They didn't believe that Molner was the right man for Couric. Their fears were put to rest when Molner turned out to be a loving and caring partner for Couric.
The couple dated for a while before John decided that it was time to propose. John chose the beach in East Hampton New York as the scene for his proposal. Katie told People Magazine that she was stunned when John proposed;
"He said that there was a reason he'd brought me there to be beach, and that he loved and was committed to me, and I said, 'Yeah, I know that, you didn't have to bring me here to tell me that.' Finally he said, 'Couric, I'm trying to propose to you,' and I was stunned."
Molner went down on one knee and presented Katie with a gorgeous diamond ring. Katie was overwhelmed by the proposal, and she took some time before accepting the proposal. Katie announced the news via Twitter;
"Yes it's true! So touched by all the kind Tweets & warm wishes-thank you! A great end to the summer & looking fwd to seeing you all Monday!!"
The proposal represented a victory for Katie, who had struggled to move on after her husband's death in 1998. She had dated a few people after her husband's death, but the relationships didn't go the distance.
The couple got married in the Hamptons ten months after John proposed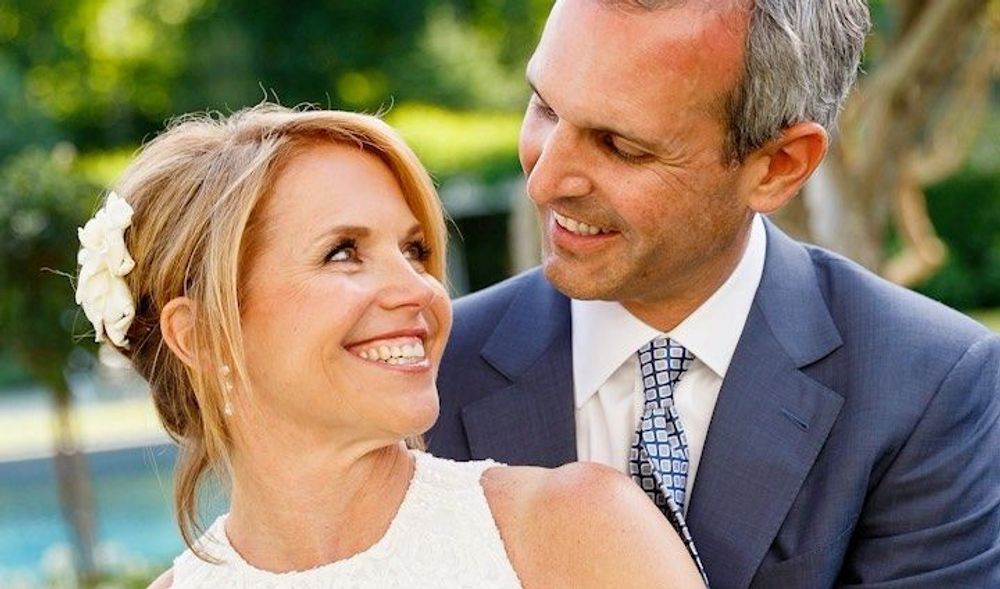 After ten months, the couple got married in a small and intimate ceremony in the Hamptons. The ceremony happened at one of Katie's houses, and it was officiated by the couple's close friend, John Ellis. Katie looked lovely in her crystal beaded gown designed by Carmel Mark Valvo. John kept it simple with a classic blue suit coupled with a checked tie.
It was a small ceremony attended by the couple's close friends and family. The guests included the couple's children from previous relationships. Molner's nieces and nephews served as the flower girls and ring bearers.
Katie's busy schedule meant that John did a lot of the planning. Katie told E! News that she gave him the name 'groomzilla' for all the work that he put in to ensure that the wedding was a success. Katie said;
"I'm so busy and he's great. He's a finance guy and he is methodical and get things done. I said, 'Do it! Do your thing!"
Katie said in her canceled talk show that she is glad that she is married to John. She said; "The quality I look for in a person is integrity and someone who's honorable and loyal and has just terrific core values, and I think he has all those things. He's really funny. He makes me laugh all the time, and I really think that the best way to get through all of life's challenges is to have a sense of humor."
John and Katie seem to enjoying married life. Molner gives fans some insight into the couple's marriage on his Instagram page. It looks like Katie found the right man.
He is a retired banker, and is a Senior adviser to BHH Capital Partners
Molner attended the Trinity College and afterward acquired his Master's in Business Administration from the University Of Chicago Booth School Of Business.
He initially joined the banking division at the First Boston Corporation before joining Brown Brothers Harriman. Molner worked hard in the largest and oldest private bank in the United States, and he slowly earned his promotions.
He eventually became the head of the corporate finance and advisory practice and later, the head of mergers and acquisitions. He retired in 2014, but he is a Senior Advisor to BHH Capital Partners. His company bio reads;
"John Molner is a Senior Advisor to BBH Capital Partners and is actively involved in sourcing, investment evaluation and providing post-investment value added oversight to portfolio companies…Mr. Molner has advised clients across a broad category of industries in both the U.S. and Europe."
Katie's kids supported her decision to marry John Molner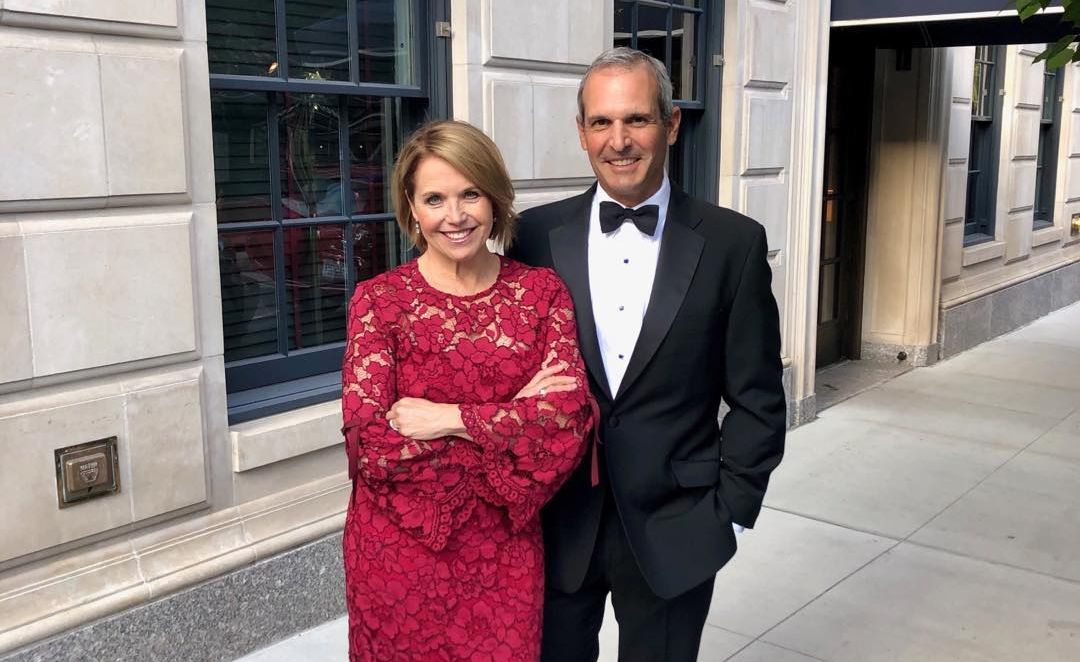 Katie has two daughters from her past marriage to Jay Monahan. Ellie was born on 23rd July 1991 while Carrie was born on 5th January 1996. Sadly, Katie had to raise the kids on her own when Jay died of colon cancer in 1998. Ellie is a successful television writer while Carrie graduated from Stamford in 2018.
For a long time, Katie thought that she would raise the kids alone. She had failed to find a suitable stepdad for her kids until she met John. The kids accepted John as their mom's partner, and as a stepdad. They supported their mom's decision to marry John, and they have always seen him as a member of the family.
John's Instagram page shows that he enjoys a great relationship with the girls. On 23rd July, he posted an Instagram photo, featuring himself and Ellie, with the caption;
"Happy Birthday, @elinorigby21! You are a class of one! I'm posting this now so your mom doesn't forget…there is less than a 0.001% chance that could happen but why take the risk? See you at the big surprise party next week! Are you bringing a date?"
Ellie is currently married to Mark Dobrosky. Mark proposed using the ring that Jay used to propose to Katie many years ago
He was faced with cheating rumors but they turned out to be false
Early on in the couple's relationship, the National Enquirer reported that Molner was involved with another woman. The National Enquirer reported that Couric discovered that he was seeing Jessica Hsu.
Jessica was a colleague of Molner at his workplace. Hsu told the National Enquirer; "Yes, John cheated on me."
However, it seems that the rumors were false since Molner and Katie were spotted together in September 2012. According to Us Weekly, the couple was attending a New York screening of The Perks of Being a Wallflower. The couple looked happy together as they posed for photos.
He made his first on-screen appearance on Full Plate with Katie & John
Katie has spent most of her life in front of a camera. John, on the other hand, is more comfortable behind a desk making financial calculations. However, now that he is retired, he decided to have a taste of Katie's life in front of the camera.
In 2017, John made his first on-screen appearance when he co-starred in Full Plate with Katie & John. The show features celebrity chef, Joel Gamoran, alongside Katie and John, making healthy meals in less than 20 minutes. The trio film the show in the couple's apartment in New York.
Katie revealed that it's an activity that the couple enjoys; "John and I love cooking at home but can rarely find the time, so we are thrilled to partner with Sur La Table and Chef Joel Gamoran in creating these fast gourmet recipes. We look forward to sharing them with our busy viewers and showing them that they can do the same."
---