Georgina Rodriguez is presumably one of the luckiest women on the planet. By far, having an intimate relationship with one of the greatest player of all time is the greatest thing that could happen to anyone.
For almost two decades now, Ronaldo has managed to defy the odds of football by attaining stardom like no other player; despite his much-championed rivalry with Superstar player Lionel Messi.
Overall, his achievements cannot be exhausted; thanks to his hard work. Indeed, he has left big shoes to fill in his previous teams- Manchester United and Real Madrid.
Given his attractive looks, skill, and fame, Ronaldo has attracted a multitude of women over the years and has been in different relationships in the past. However, the 5 time Ballon d'Or winner has recently made things official with Georgina, the stunning Spaniard model. People all over the world seem to admire them, acknowledging how much they are a perfect fit.
Despite the fame, Ronaldo keeps his dating life to himself, making it hard to discover much about the love of his life.
Here are some of the untold truths about Georgina Rodriguez
Georgina was born in Argentina but grew up in Spain together with her sister- Ivana.
Though she is Spanish, Georgina was born in Buenos Aires in 1995. At the time of her birth, her mother was visiting their dead-beat dad- Jorge Rodriguez in Argentina. Consequently, he tried convincing them to stay and make a fresh start there; but to no avail.
Growing up was not easy for Georgina, especially with a cannabis and cocaine kingpin for a father. Later on, Jorge was convicted of drug-related charges and imprisoned for the better part of the 21st century. Fortunately, Georgina's mother took the kids away from him and returned to Spain.
The celebrity beauty grew up in Jaca, a city in the Northern parts of Spain. Not so much is known about her mother's and sister's current endeavors.
Rodriguez struggled to make ends meet throughout her teenage life; Working as a waitress and taking up other domestic jobs in her hometown. Ronaldo was also not so different since he was brought up in an impoverished home. So how did someone so modest end up meeting one of football's greatest legends?
Her big break came when the family she was working for relocated to Bristol, England. Stayin in England was great for Georgina. She got to learn English on top of her eloquent Spanish, then reinforced her arts by attending dance classes. All these were stepping stones to her success and her fateful union with Ronaldo.
After much empowerment, Rodriguez moved to Madrid and took the fashion industry by storm. This is where she was first linked with her husband-to-be.
She met Ronaldo in the most casual way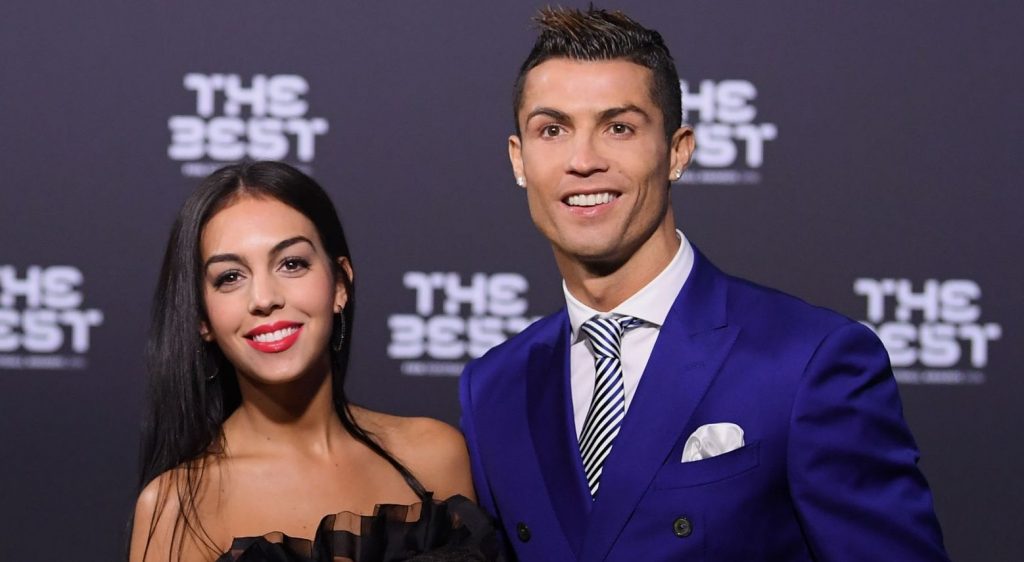 Ronaldo and Georgina's encounter was a 'rags to riches' kind of love story.
Georgina, who was 21 at the time, impressed many in the fashion industry through her outspoken beauty. Within a short time, she developed a strong liking for designer brands. As a result, she had to work 7 days a week at a local Gucci store to pay bills and other expenses. Ronaldo changed everything for her.
It all started during a Dolce and Gabbana VIP event at the store in 2016. Ronaldo is said to have spotted Georgina and the two kicked things off immediately. We cannot confirm whether it was love at first sight, but we hope to get more details from the two as time goes by.
Soon afterward, Georgina spontaneously rose to fame and could no longer work comfortably in local stores; primarily due to paparazzi disturbance. Eventually, she quit her job in order to manage her new life as a public figure.
Ronaldo is 10 years older than Georgina. While it may be shocking to many, it is completely common, especially for celebrities. Regardless, the highly-acclaimed footballer has managed to maintain a younger outlook.
The important thing is that the couple looks great together. The former Real Madrid star popped the big question in 2018 and the world has ever since been awaiting their official matrimony.
She is a loving mom and stepmom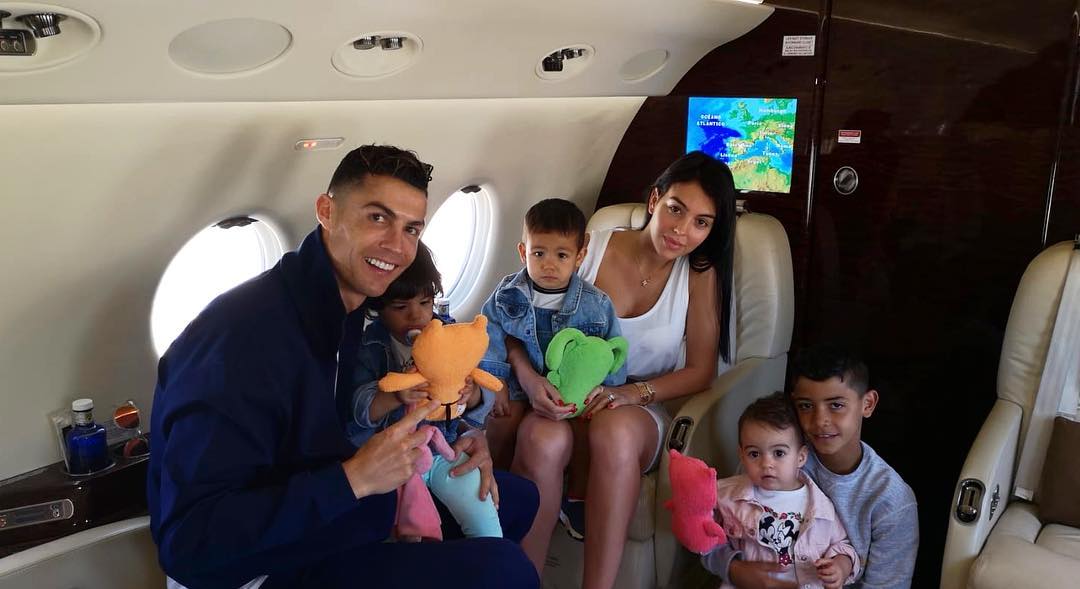 Barely at 25 years of age, Georgina is already a mother of 4; leaving many people mouth-gaped. Nonetheless, out of the 4 kids, only one is truly hers. But as the loving person she is, Georgina treats them all equally.
In 2010, Ronaldo got his first kid- Cristiano Jr. Back then, he was dating Russian celebrity Irina Shayk who confirmed she was not the mother. The two ended things in 2015, just before meeting his Soulmate-Georgina.
No one knows Cristiano junior's real mother, and the footballer chooses to keep it that way. People assume it was as a result of a scandal that previously came up between Ronaldo and a waitress. Some even claim she was paid off to keep quiet. But since there was no official confirmation, these claims ended up as false rumors.
During a previous interview, Ronaldo admitted that he would only tell Cristiano Junior about his real mother when he becomes of age. The stories and speculations have since then died off slowly. In November 2017, Georgina was blessed with her first child, Alana Martina– a beautiful baby girl. This is the only child she has with the football player, yet.
Before the birth of Alana, the Ronaldo and Rodriguez had twins born through a surrogate mother in June 2017, due to unknown reasons.
This is not the end for Georgina. We do expect more kids from her, especially since Ronaldo's dream is to have 7 kids, just like his famous jersey number. We truly hope to see this happening.
She is a professional model and businesswoman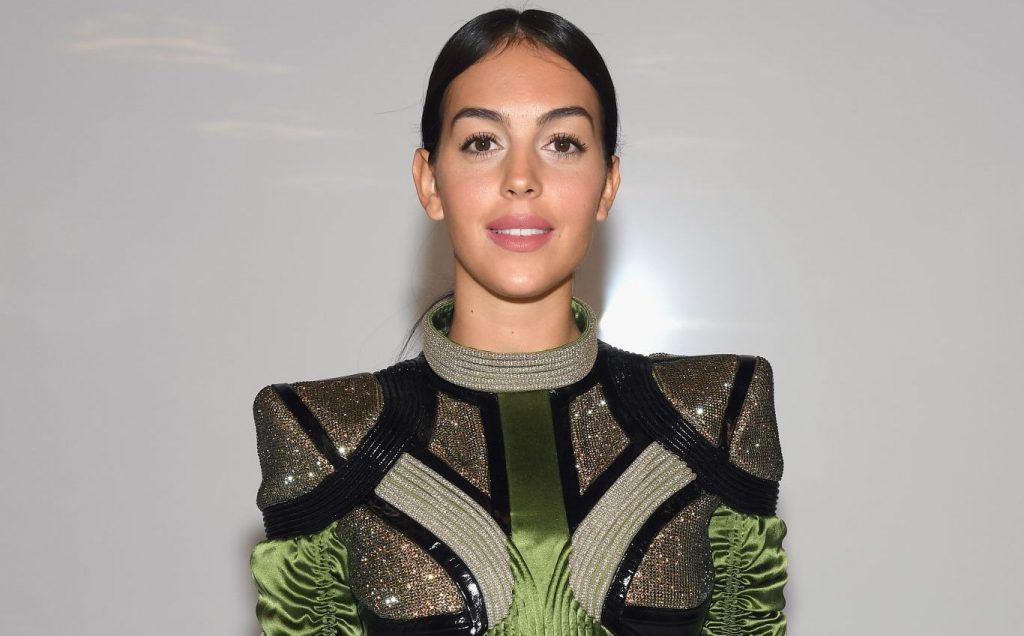 In a world full of beauties, it is incredibly hard to make it in the fashion and modeling industry. Georgina, however, has proven over and over again, that she is equal to the task.
Creating a balance between a husband, kids, self-nourishment, and career takes a lot of hard work and self-discipline. Growing up, Georgina never thought of herself as an outstanding kid, neither did she seek people's attention and approval. Nevertheless, as years went by, she started taking her beauty into account and decided to use it to her advantage.
As a means to reinforce her family name and to stand out as a celebrity wife, Georgina settled on modeling, though her specialty is not in rocking runways. She has made appearances in numerous fashion gigs as well as celebrity shows for her skill and physique.
On the whole, she has featured in magazines such as Nova Gente, Lux, VIP, Women's Health, LOVE and Diva E Donna. Aside from that, she was recently appointed the brand ambassador of Yamamay, a renowned Italian brand that deals with lingerie. All this came to be through her association with Cristiano Ronaldo and his love for the fashion industry.
In case you are not aware, Ronaldo has inspired his wife-to-be through his famous CR7 underwear and clothing brand. The family dresses in posh designer clothing, a clear indicator of how they value maintaining a good reputation.
In recent years, Georgina followed her dreams of becoming a businesswoman after taking a business course whilst still pregnant. Her family background and state of growing up didn't allow her to have a proper education, but since she is now young and affluent, she can do it comfortably. Who knows, she might be the next big thing in the business world.
She has remained supportive and loyal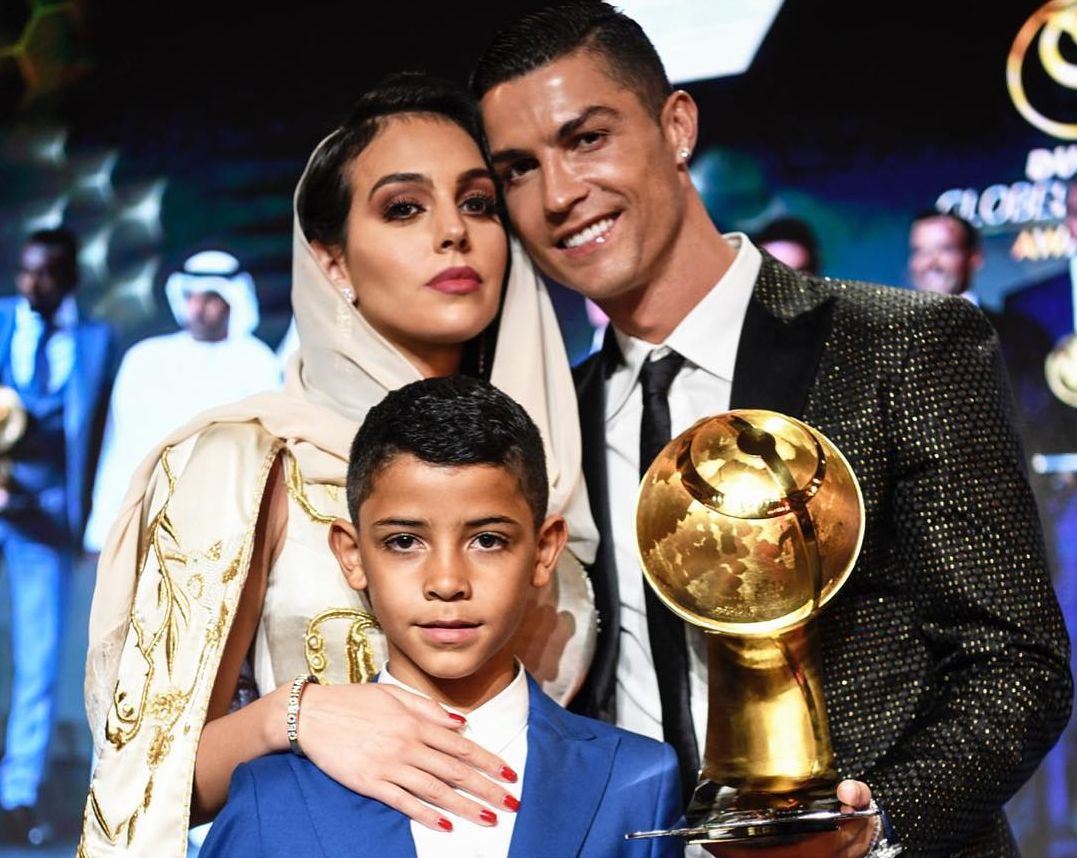 Notably, Georgina has stayed on Cristiano's side throughout good times and bad. Despite getting some of the most-coveted trophies and awards in football history, Ronaldo has also endured some of the greatest loses. Georgina has proven to be his anchor and peace during such times.
Together with her family, she has attended countless games and has been seeing cheering her husband's magic from the stands. It doesn't stop at football matches. Georgina and Cristiano Junior have accompanied Ronaldo to events and campaigns all over the world, publicly displaying a united and loving family. No wonder many people admire them.
Soon after they started dating, Ronaldo tried disguising himself when he took Rodriguez to Disneyland-Paris. But no one could mistake the familiar faces. In as much as she enjoys life as a celebrity, Rodriguez has struggled to keep off intrusive paparazzi and defend her personal space.
Needless to say, the family is made up of fitness enthusiasts who push each other to the limits when working out.
Following Ronaldo's 2009 rape case allegations that surfaced recently, Georgina came out strongly to defend her lover, emphasizing that he was a man of integrity. Without a shred of doubt, the two are madly in love with each other and have managed to keep their union strong through thick and thin.
She is a social media icon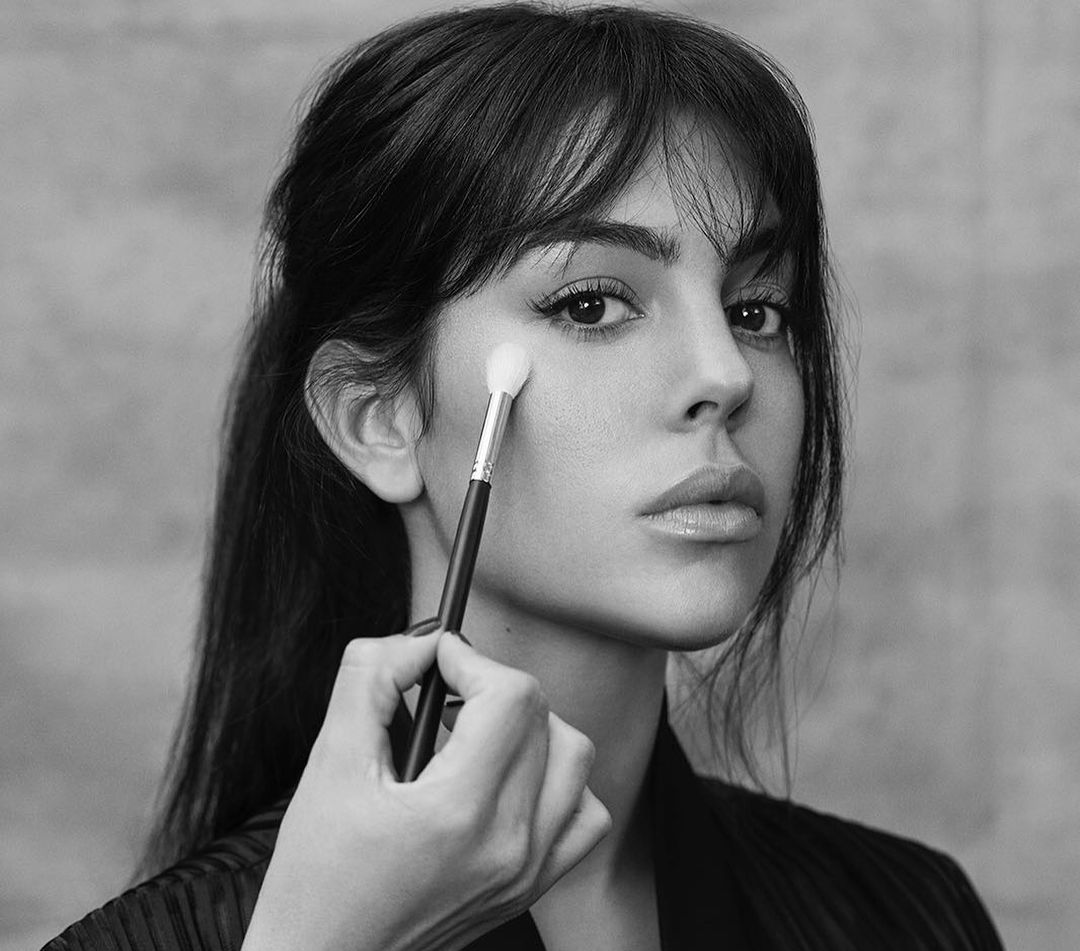 Over the years, Georgina has garnered an astonishing 11 million followers on Instagram. Being Ronaldo's woman, the number is expected to rise as she continues working on her ventures.
Her account portrays a colorful combination of family photos, self-love, and general societal development. Above everything, she values her family and posts any important life event that comes their way. Fans have shown their love and support, as they continue emulating some of her traits.
In addition, she heavily campaigns for the various brands she represents and often talks about the importance of facial and body therapy. She has also inspired many by her gym workout routines and pictures of her fit body, ultimately encouraging women to be the best they can be.
Her husband, on the other hand, has the most followed celebrity account on Instagram, with over 170 million followers, as of June 2019. He is the true epitome of excellence and a perfect example of public approval. Just like Rodriguez, he also posts his family and supports all his wife's undertakings.
Given her tender age, we expect Georgina to rise to new levels and soar to new heights as the years go by.
There is much more in store for Georgina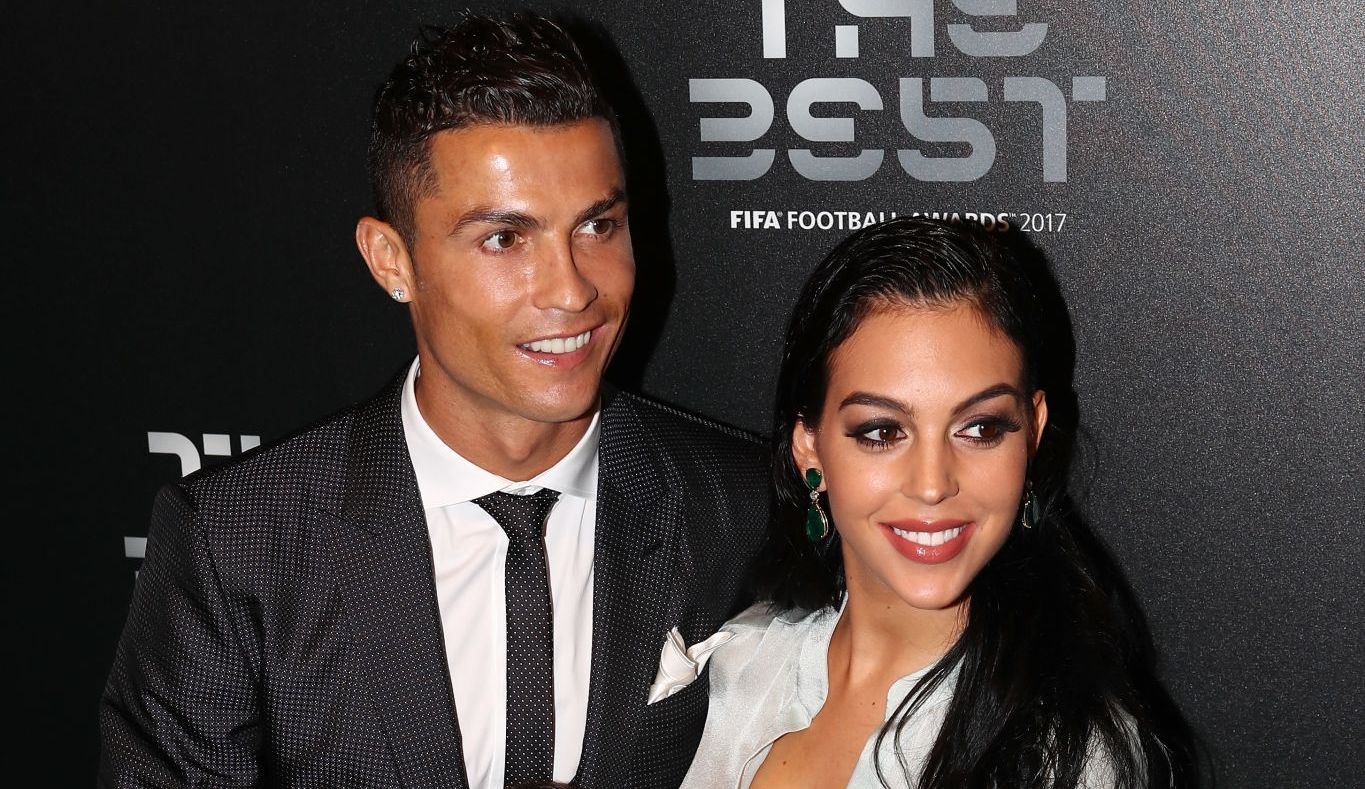 Despite the fact that Ronaldo's time as a football star is closing in, we are almost sure this is just the beginning for Miss Rodriguez. Soon enough, her name might be as big as her partner's.
For the most part, she has been a pillar of success, resilience, persistence and a source of empowerment for women in the society. She has constantly shown her devout loyalty and love for family. We are proud of her.
The sky is the limit for Georgina Rodriguez!
Also Read: The Untold Truth Of Lionel Messi's Wife, Antonella Roccuzzo
---