Cristiano Ronaldo is a footballer who needs no introduction. In 2003, he arrived in England from Portugal to play for Manchester United as a fleet-footed 18-year-old. In his first season, he helped United win the FA Cup. He went on to win three successive premier league titles, the FIFA Club World Cup, and the UEFA Champions League.
Ronaldo arrived in Manchester as a winger, but by the time he'd left, he had proven himself to be an all-round forward, capable of playing in any position across the front line. It was at Real Madrid that he experienced his most prolific spell, with his goals earning the capital club 15 trophies, including four UEFA Champions League titles. Cristiano currently plays for Italian club Juventus.
This piece will look at Cristiano Ronaldo's partner, Georgina Rodriguez.
Georgina described her first meeting with Ronaldo as love at first sight for both of them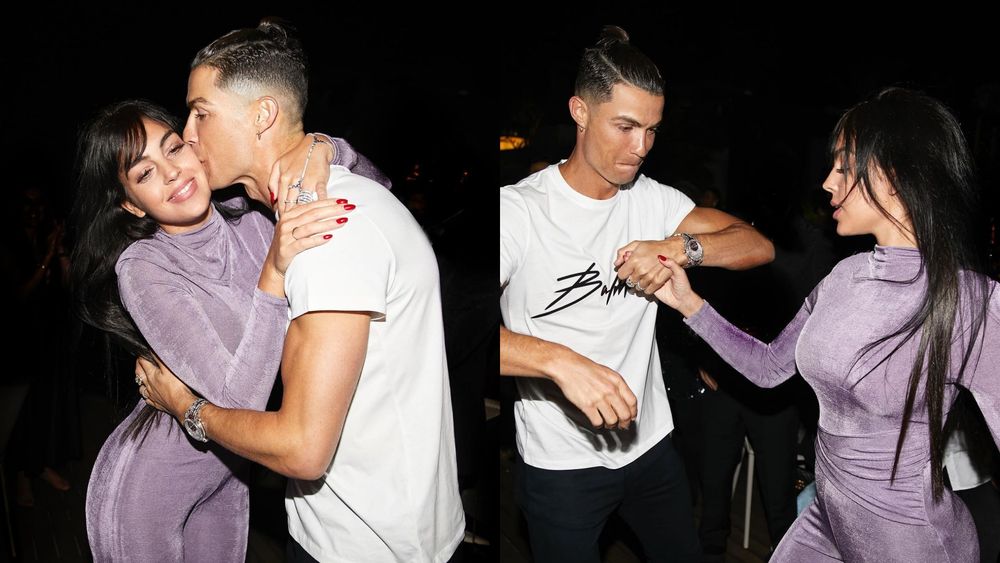 Cristiano and Georgina Rodriguez met at a Gucci store in Madrid. She had the rare privilege of serving one of Madrid's most iconic figures. Georgina told AS that Ronaldo's physique blew her away. "His height, his body, his beauty caught my attention," she said. "I was trembling in front of him, but a spark ignited."
According to Georgina, Cristiano also felt a connection between them. "It was love at first sight for both," she told Elle. Several days later, the couple went on their first date. Initially, Cristiano tried to keep the relationship hidden as he'd recently ended his public relationship with Victoria's Secret model Irina Shayk.
Ronaldo infamously wore a wig and sunglasses, attempting to disguise himself, during a 2016 date with Georgina at Disneyland Paris. Unfortunately for him, it didn't take long for paparazzi to figure out that the man behind the costume was Cristiano.
Eventually, the couple took their relationship public. They regularly post tributes to each other on social media. Georgina talked to Hello Magazine about Ronaldo's love for her: "I have found love. We complement each other very well. We have a beautiful relationship and when I have him beside me, I have everything. I feel loved and cared for. Love conquers all."
Georgina has one biological child with Ronaldo and she raises his other three children as her own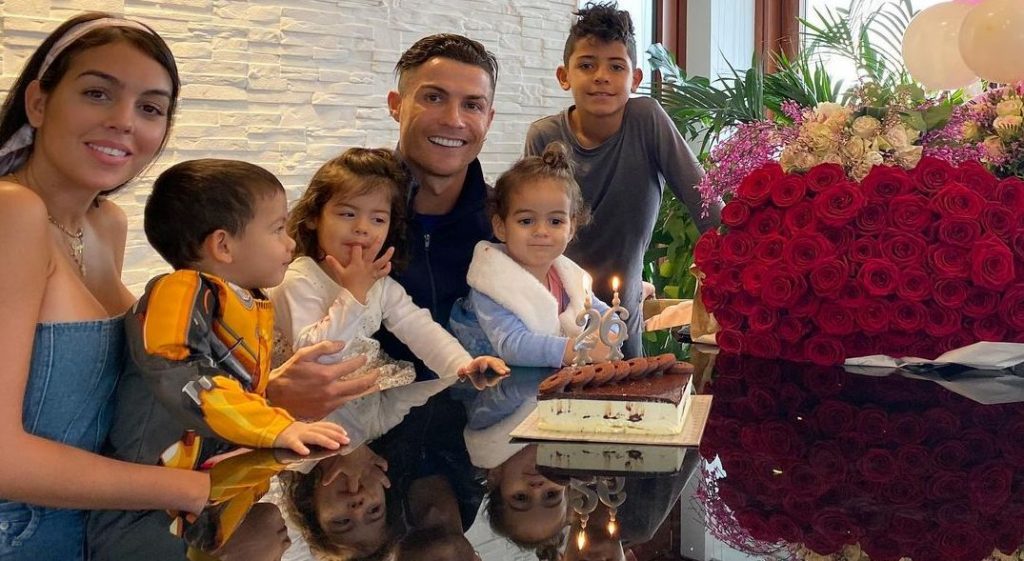 Georgina and Cristiano welcomed their daughter Alana Martina in November 2017. The couple announced the birth of their healthy baby via social media. Georgina told Hello Magazine that Cristiano had a surprise in store for her when she left the hospital: "I'm very proud of him. When we got home from hospital, he'd organized a surprise dinner, with all our nearest and dearest. I felt like the luckiest woman in the world."
Cristiano has three other children, Cristiano Jr., Eva, and Mateo, who Georgina raises as her own. Cristiano Jr. was born in June 2010 in the United States. Ronaldo refuses to reveal the identity of his mother and says that he will only do so when Cristiano Jr. comes of age. Eve and Mateo were born in June 2017 in the United States via a surrogate.
Georgina's goal is to raise healthy kids who are aware of the realities of life. She spent most of her childhood in the Spanish city of Jaca, engaging in outdoor activities such as cycling and skiing. Due to Cristiano's wealth, his kids will experience a different lifestyle to the one enjoyed by Georgina, and she wants them to learn humility and develop an appreciation of their privilege. She told Elle:
"I don't want to keep them in a castle, to enjoy their privileges, but to educate them. I would like them to see how lucky they are, to learn to live with respect, humility and conscience, appreciating all those who are part of their life. Because these too are their origins, and those of their parents. Sacrifice, dedication and perseverance are essential values in the education of our children."
Georgina and Ronaldo have faced engagement rumors but it's unclear whether the rumors are true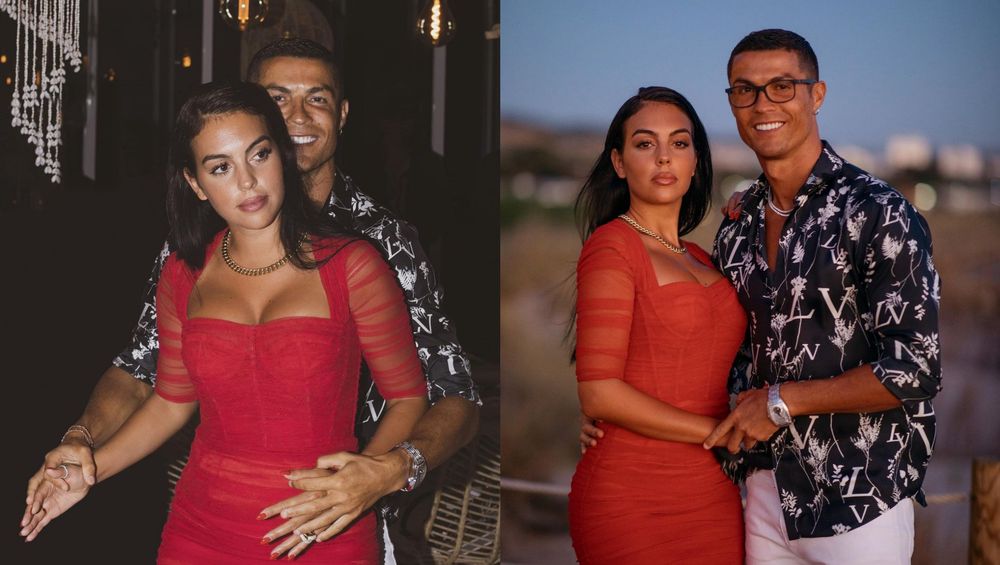 The first rumor about Georgina and Ronaldo's engagement came via a late 2018 report by Portuguese news outlet Correio da Manha. The report claimed that Ronaldo had proposed and Georgina had started preparing for the wedding. A source cited by the paper said:
"Cristiano has already asked Gio to marry him! The wedding will take place, but few people know the details. All that is known at the moment is that Gio has already tried on some wedding dresses."
The rumor flared up again after Rodriguez posted an August 2020 Instagram photo of the couple alongside the caption: "YESSS." Ronaldo posted the same photo on his page and wrote, "Mi amor," alongside it.
Fans took the images and Georgina's caption as confirmation that she had accepted Cristiano's marriage proposal. The photo didn't feature a diamond ring, and Georgina's left hand was hidden from view by Cristiano's shoulder. Nevertheless, the comments section under the post flooded with congratulatory messages from excited fans.
It's unclear whether the recent rumor is true. Reports claim that Ronaldo spent 615K pounds on the ring he used to propose, making it the most expensive engagement ring bought by a footballer.
Georgina initially wanted to be a policewoman, but she developed a passion for fashion as she grew older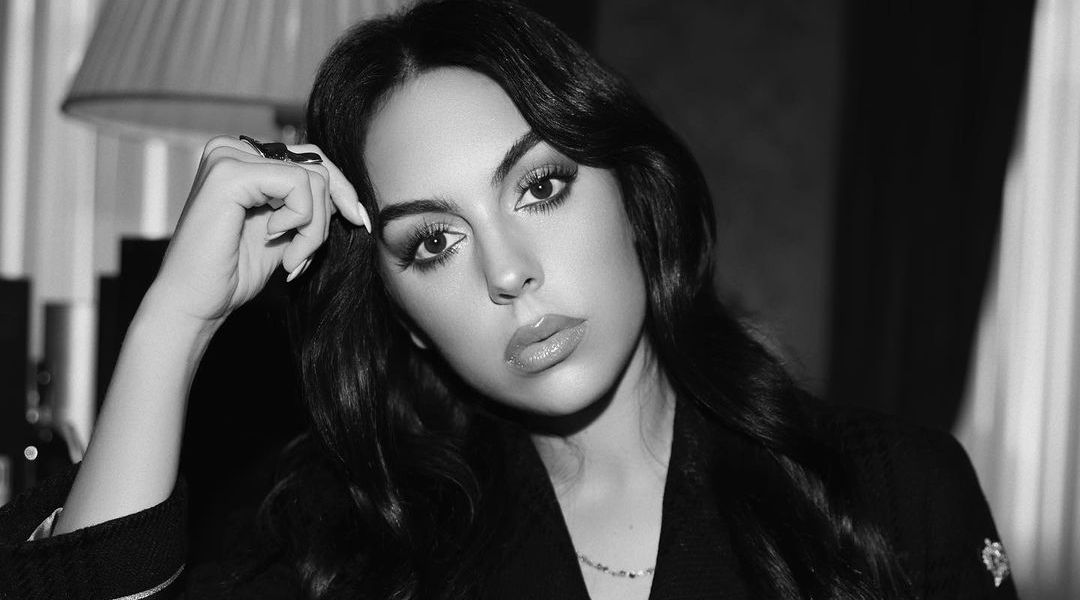 Georgina Rodriguez was born on 27th January 1995 in Jaca, Spain, to Ana Maria Hernandez and Jorge Rodriguez. She grew up wanting to be a policewoman due to the influence of an investigative series the family used to watch.
Her dalliance with fashion and modeling started after a random woman on the streets of Madrid offered to sign her to a modeling agency. Despite the financial and logistical struggles of operating from Jaca, a town 450 km from Madrid, Georgina gradually developed a passion for fashion. She told Elle:
"It got complicated because I lived in a small town in the north of Spain and couldn't move to do casting and shooting, due to studies and costs, among other things. It was while growing up that I discovered a great passion for fashion and beauty."
So far, Georgina has appeared in magazines such as LOVE, Harper's Bazaar, Nova Gente, and many more. Georgina's beauty, effortless charm, relationship with Cristiano Ronaldo, and an over 33 million-strong following on Instagram make her a fashion designer's dream model. However, Rodriguez won't model for just anyone with a sizeable bank account.
Her status allows her to cherry-pick who she wants to collaborate with, regardless of their fame or financial might. "I'm happy to be able to choose what I like best or what signatures to lend my image to," she told Elle.
Georgina's family has accused her of neglecting the family
Georgina's family used the anticipated release of I am Georgina, a Netflix feature about the behind-the-scenes life of Georgina, to accuse her of neglect.
Jesus Hernandez, her uncle, raised Rodriguez and her sister after their father was arrested on drug-related charges. Hernandez told The Sun that Georgina turned her back on him after tasting a luxurious life.
"She may feel ashamed of us and consider she's better than us because we don't live with her luxury," Hernandez said. "I've never asked her for anything. She has only rung once or twice since I found out she was dating Ronaldo."
Jesus claims that Georgina refused to inform the family of her father's passing. He allegedly wrote to Ronaldo on Facebook, telling him that he's got 'the most evil woman' by his side.
Patricia Rodriguez, Georgina's half-sister, also had a bone to pick with her. She claimed that Georgina refused to request a signed shirt from Ronaldo for her son. Patricia said:
"When it was my son's birthday, I asked if she could ask Cristiano to sign a shirt for my boy and she said 'no,' that she wasn't going to bother him as he was on holiday."
Also Read: Georgina Rodriguez's parents: Her father's death caused a rift between her and Cristiano
---