There's that special feeling you get when you know that you've found the one. When you meet that special someone, it doesn't matter who came before.
Amy Schumer's special someone is Chris Fischer. Anybody can tell that Amy and Chris are very much in love with one another. Their relationship is a perfect story that displays the power of love when you find the right person.
Amy is a hugely successful comedian and actor. She ventured into comedy in the early 2000s and appeared on the fifth season of Last Comic Standing. She then went into acting with her own Comedy Central series Inside Amy Schumer.
The series has earned Amy five Emmy Award nominations. Her film debut was in the movie Trainwreck which she wrote and directed. The film was hugely successful and, her performance earned her a Golden Globe nomination. She has gone on to appear in films such as I Feel Pretty and Meteor Shower.
Her movie appearances make Amy one of the most recognizable people on the planet. Chris is not quite as famous as his wife. He prefers to keep a low profile away from the camera flashes. It is one of the things that Amy likes about him.
Chris isn't famous but, he has rubbed shoulders with a few very famous people in his lifetime. Keep reading to find out some truths about Chris Fischer.
He is an accomplished chef and farmer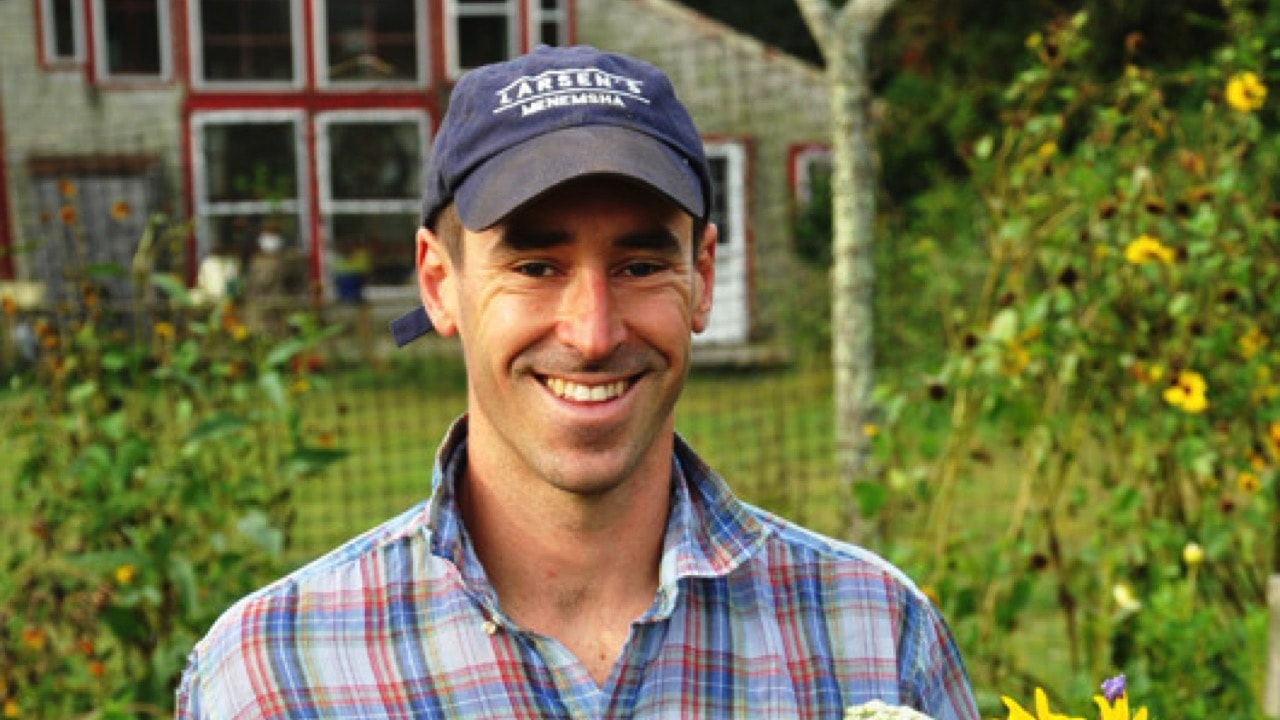 Chris was born into a farming family at Martha's Vineyard. His grandfather owned a farm called The Beetlebung and, that's where Chris started farming. Chris' father taught him how to farm, fish, and hunt.
With time, Chris developed a love for cooking. He moved away from the Island to become a chef in restaurants such as Babbo and The River Cafe. At Babbo, Chris worked under famous chef Mario Batali. He then went on to work as an executive chef at Beach Plum Inn & Restaurant.
Chris' most successful spell as a chef was during his time at Beach Plum. He won the Coastal New England Rising Star Award while working there.
Chris also got the opportunity to cook for former president Barack Obama and his wife, Michelle Obama. Beach Plum is one of Obama's favorite restaurants.
Chris also went international by cooking at restaurants in England, Japan, and Italy. Eventually, Chris grew tired of the urban life that came with being a restaurant chef. He decided to go back to Martha's Vineyard to take over his family farm.
However, he didn't give up cooking. Chris describes himself as a cook who farms in that cooking supports his farm work. His work as a cook enables him to invest in his farm. Cooking also influences the type of farming that Chris does.
He is an award-winning writer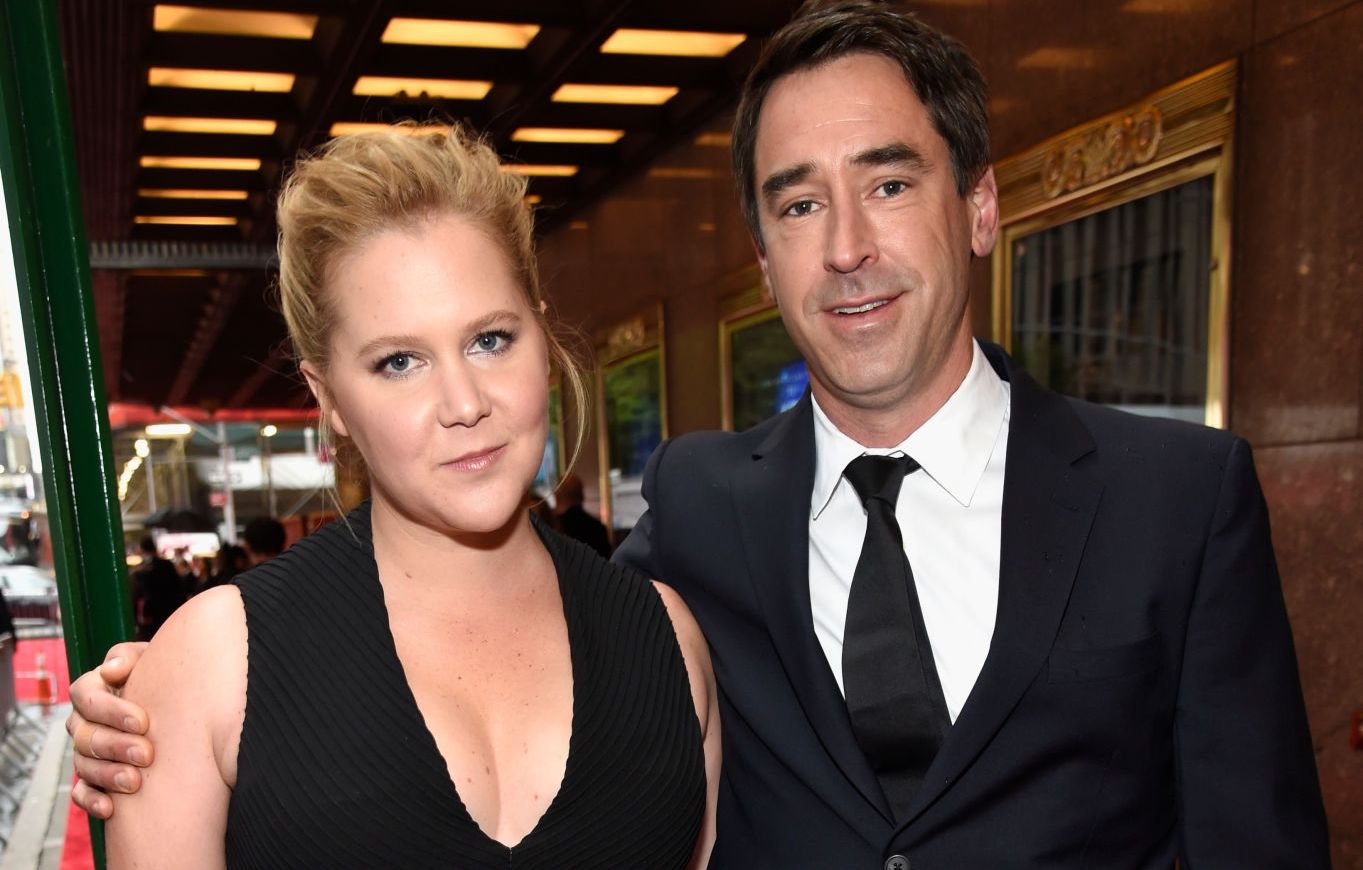 Chris's book, The Beetlebung Farm Cookbook: A Year of Cooking on Martha's Vineyard, won him the James Beard Award in 2016.
Chris is passionate about writing. He wants to write as much as he can, but he admits that it can be tough being a writer, a farmer, and a chef. Sometimes Chris feels like by doing one thing, he is neglecting the other two.
However, Chris states that working on three jobs at the same time creates a pressure environment which he enjoys. Chris' most productive period, after he went back to Martha's Vineyard, was when he was writing his book, cooking and farming at the same time.
He was able to coordinate all projects successfully. Production on the farm was sky-high, and he was still able to feed people through his cooking. Chris also finished his book according to schedule.
He met Amy at Martha's Vineyard
Amy and Chris met at Martha's Vineyard thanks to Chris' sister, Molly. At the time, Molly worked as Amy's assistant. Amy had traveled to Martha's Vineyard to shoot her movie I Feel Pretty.
Molly arranged for Amy and Chris to meet at Amy's house, where Chris would cook dinner. Amy and Chris became friends immediately, but it took a while for them to get romantic. Chris made the first move by wrapping his arms around Amy while kissing her on the neck.
It signified the start of an amazing relationship. Amy states that he knew that Chris was the one even before they started dating. She knew that he was the one to spend the rest of her life with.
Amy and Chris were secretive about their relationship. They announced the relationship after dating for about six months. Before the announcement, Amy hinted that she was seeing someone, but she declined to reveal Chris' identity.
There were rumors about their relationship when Chris and Amy appeared together in public for a couple of times. However, the couple managed to keep the relationship a secret until Chris proposed.
His proposal was funny and unconventional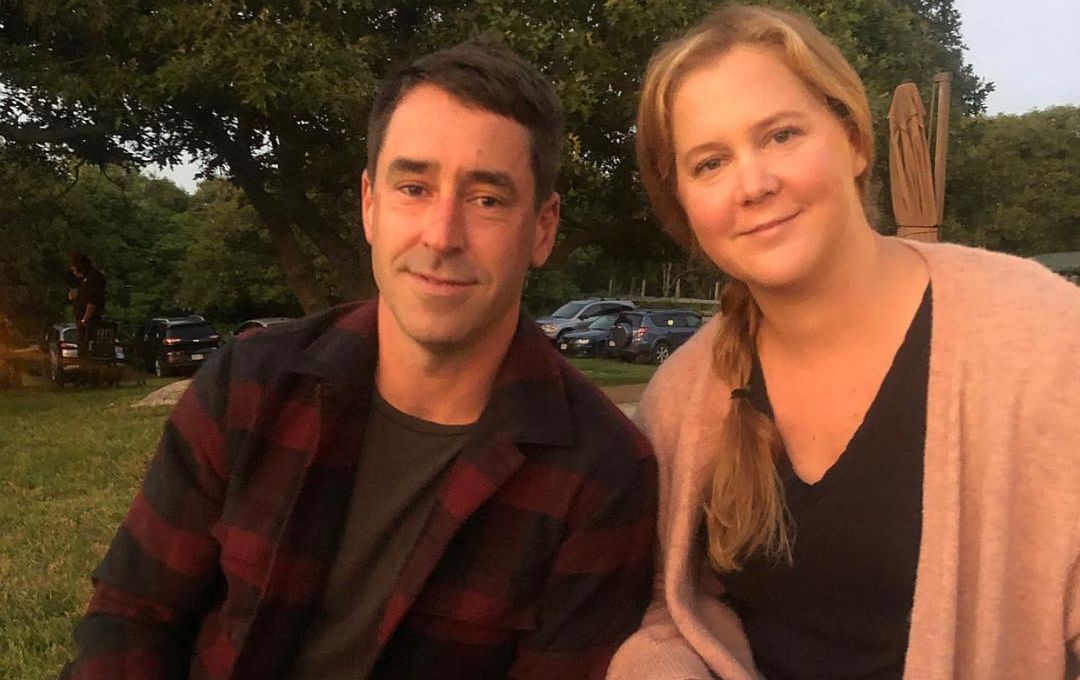 After living together for six months, Chris decided that it was time to pop the question. Most people usually try to make unforgettable proposals. Chris' proposal was memorable because of how casual he made it look.
He woke Amy up one morning, showed her the ring and said, "I got you this," Amy still had her earplugs and night mask, but she understood what was happening and, she said yes.
Amy hadn't known Chris for very long but, deep down, she knew that he was the right person to marry. Before dating Chris, Amy was in a long term relationship with Ben Hanisch. The couple knew each other for a long time, but it didn't feel right when the marriage issue popped up.
Amy broke up with Ben when they realized that they wanted different things from the relationship. Amy started the relationship with Chris soon after breaking up with Ben. Fans began to question Amy's quick decision to marry Chris in what people thought to be a rebound relationship.
However, the length of Chris and Amy's relationship didn't matter to her. All that mattered was that she was going to marry the man she loved.
Adele almost presided over their wedding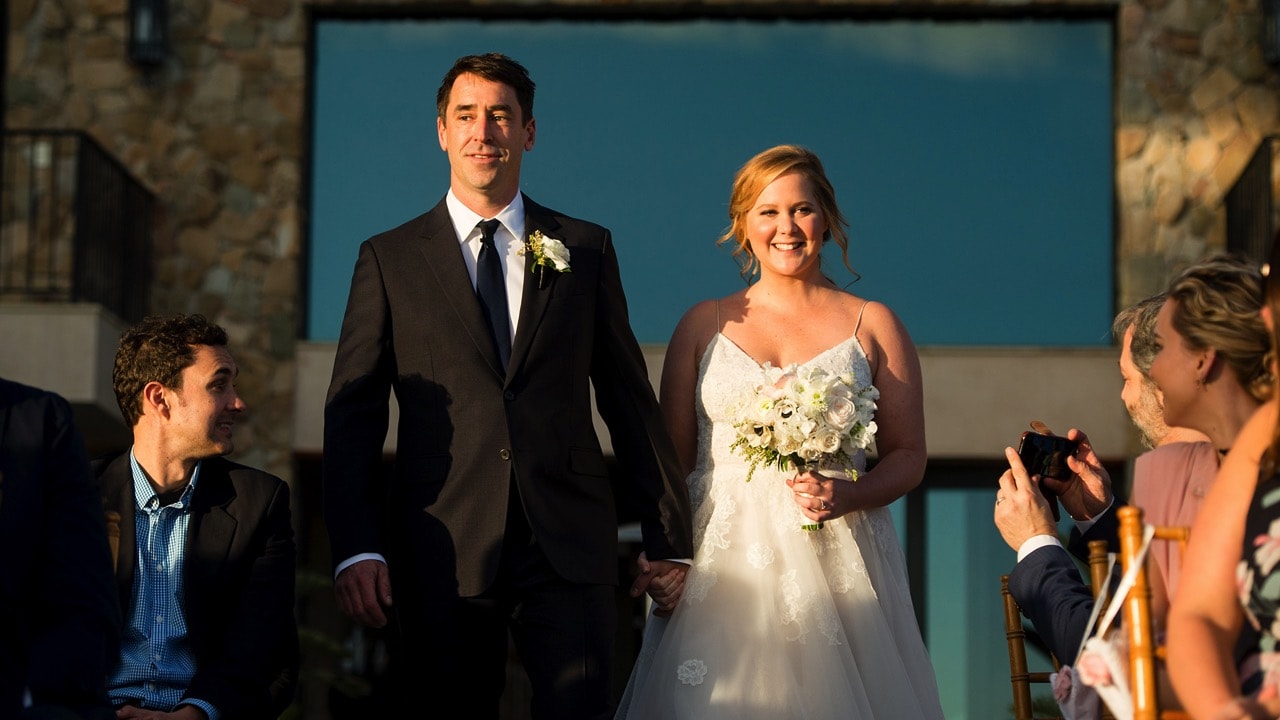 Chris wedded Amy on February 2018, two days after confirming their relationship on social media. Before the ceremony, Amy and her bestie, Jennifer Lawrence, almost convinced Adele to officiate the wedding.
The three of them were enjoying a few drinks together when Adele revealed that she is ordained. They then agreed that Adele would officiate the wedding.
Sobriety kicked in the next morning and Adele backed out of the arrangement. Adele claimed that she got ordained to preside over her close friend's weddings. At the moment, Adele and Amy weren't close friends.
Adele claimed that her friends would get annoyed if they found out that she officiated on a wedding that didn't involve a close friend. Luckily, comedian John Early volunteered to officiate. It took Amy three more days to plan the wedding.
She invited her friends and family via a simple text with the date of the wedding. The wedding was a small affair attended by friends and family. Their wedding vows were affectionate but they also contained some insults.
It gave the vows a funny and unforgettable touch. Amy recently admitted that she feels that Chris won the battle of vows.
Chris is a loving dad and a family man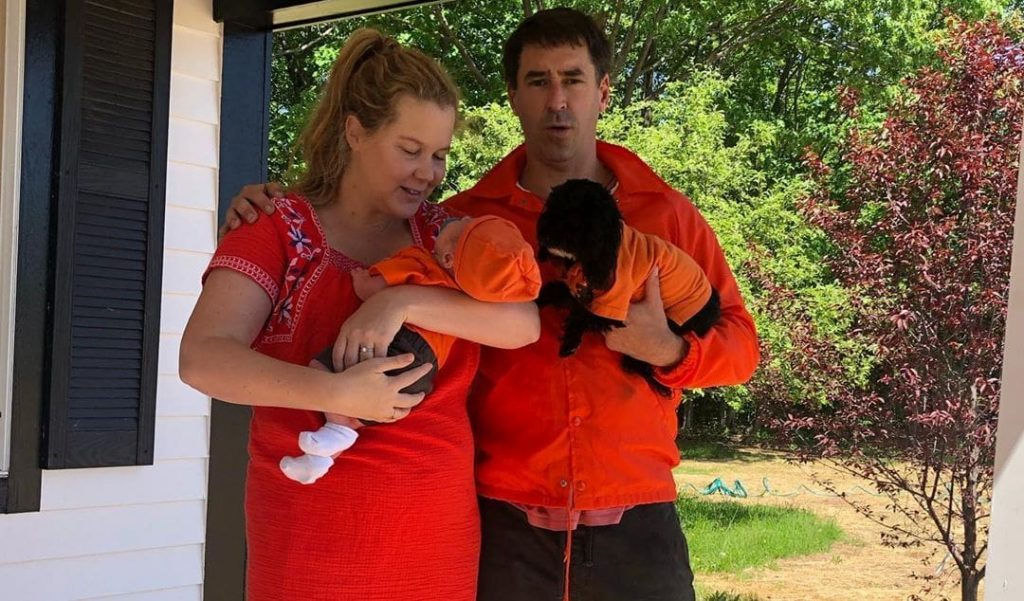 After the marriage, Amy initially denied reports that she was pregnant. However, she couldn't hide the baby bump any longer and, the couple decided to announce the pregnancy.
It wasn't an easy pregnancy for Amy. She suffered from acute morning sickness for most of the pregnancy. However, Amy chose to see the funny side by posting hilarious Instagram posts about the pregnancy. She also stated that she was lucky to have a chef for a husband since his good food provided relief from the morning sickness.
Amy underwent a C-section to bring her son into the world. The pregnancy was tough, but Amy always chose to make it humorous. Amy even had time to pass by the Met Gala red carpet on her way to deliver her son. Her outfit wasn't of Met Gala quality, but she still made an appearance.
The couple named the child Gene Attell Fischer. Chris believes in the power of family and, that is why he went back to his family home. He enjoys spending time with the section of his family that still lives on Martha's Vineyard.
This fact bodes well for Chris' young family. Chris will surely pass his family ideals onto his family with Amy. The future seems bright for Mr. and Mrs. Fischer.
He has an autism spectrum disorder
Amy recently revealed that Chris suffers from an autism disorder. Amy stated that she noticed the signs early on in the relationship.
The condition is rare in adults and, Amy chooses to focus on the funny side of it. She explained that the condition contributes to what she loves about Chris. The condition makes Chris unresponsive to societal norms and pressures. He says what is on his mind without a second thought.
The condition is part of who Chris is and, Amy loves it.
Also Read: The Untold Truth Of Ashley Graham's Husband, Justin Ervin
---