Amy Schumer is an American comedian who gained recognition as a contestant on NBC's Last Comic Standing in 20o7. In 2013, Schumer's Inside Amy Schumer launched on Comedy Central. The sketch comedy series earned Schumer a Peabody Award and five Primetime Emmy Award nominations. Inside Amy Schumer won the Primetime Emmy Award for Outstanding Variety Sketch in 2015.
Schumer earned a Golden Globe Award for Best Actress for her role in 2015's Trainwreck. In 2016, she released a memoir, The Girl with the Lower Back Tattoo, which held the top spot on The New York Times Non-Fiction Best Seller List for two weeks.
Amy met her husband, Chris Fischer, through his sister, who was her personal assistant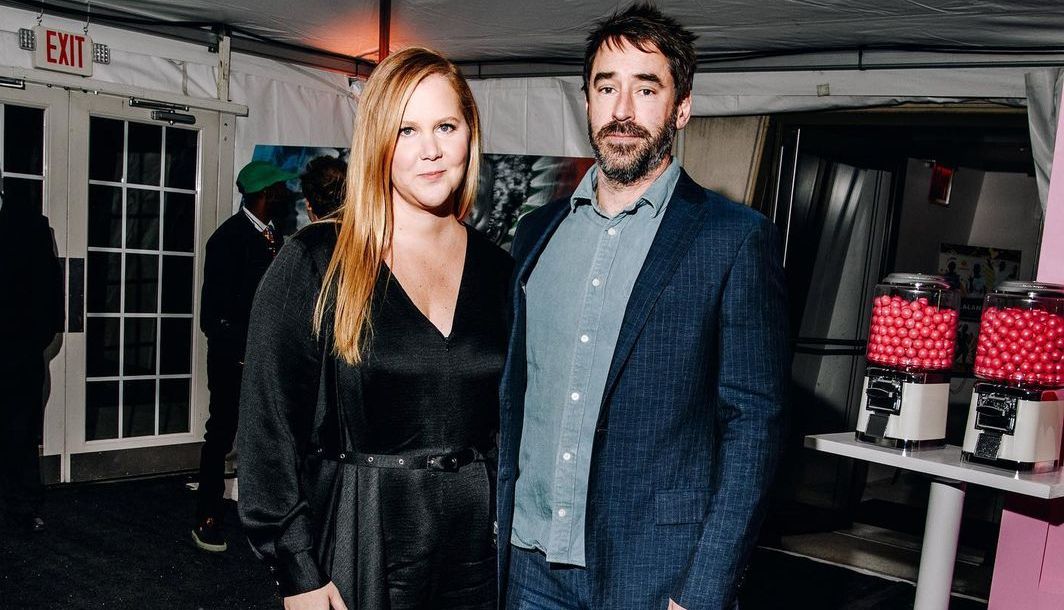 In 2018, Schumer told Howard Stern that she met Chris at the Fischer family farm in Martha's Vineyard. Chris offered to prepare a meal for Amy and her personal assistant, who is also Fischer's sister.
Schumer said on the Armchair Expert podcast that she tried not to flirt with Chris. "You know, I'd be like, 'Oh, I haven't shit in three days," Amy said. "Just really hitting him with hotness." Amy's tactics worked, but it wouldn't be long before the pair formed a romantic bond.
A short while later, Amy invited Chris to cater for Rachel Feinstein's 40th birthday dinner in September 2018. At that party, she gave in to her attraction to Fischer. Amy told Howard Stern:
"It just felt like we were hosting this party together. He was cooking and I was getting things ready and we wanted everyone to have a really good time. And I was like, 'Uh oh. You know? I got that feeling where all the blood goes to all the places. And we were looking at each other a little bit longer. And it just changed."
Schumer married Chris days after his unconventional yet honest proposal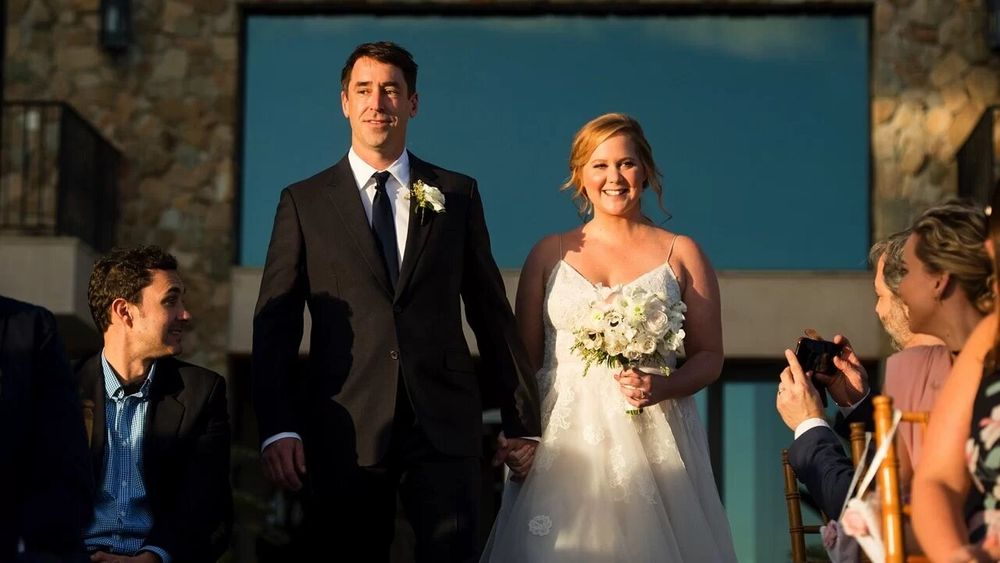 Chris Fischer woke Amy from deep sleep to ask her to marry him. Fischer presented the stunned Amy with a ring and said, 'I got you this.'
To his credit, Chris asked Schumer whether she would have liked him to go down on one knee. She appreciated the request but assured Chris that it wasn't necessary and that she would gladly marry him.
The couple wed on 13th February 2018 in Malibu, surrounded by friends and family. Schumer told Howard Stern that the couple planned their wedding in three or four days. She invited the guests via text days before the ceremony.
A-Listers such as Jennifer Lawrence and Jake Gyllenhaal witnessed the nuptials. Jennifer Lawrence, who gave a funny speech at the wedding, told Entertainment Tonight that Chris wrote beautiful vows. She said:
"His vows were stunning. It's when two people really love each other and they really mean it, it shows, and it was a beautiful ceremony and an amazing time. I couldn't be happier for them."
Adele could have officiated the wedding had she not gone back on a drunken decision to preside over the ceremony. Schumer and Jennifer Lawrence had convinced Adele, who is ordained, to marry Schumer and Chris.
However, when sobriety kicked in, Adele stepped aside, the reason being that she'd gotten ordained to officiate close friends' ceremonies, and Amy wasn't a close friend at the time. Luckily, comedian John Early volunteered to officiate.
The couple changed their son's name after realizing that it sounded like 'genital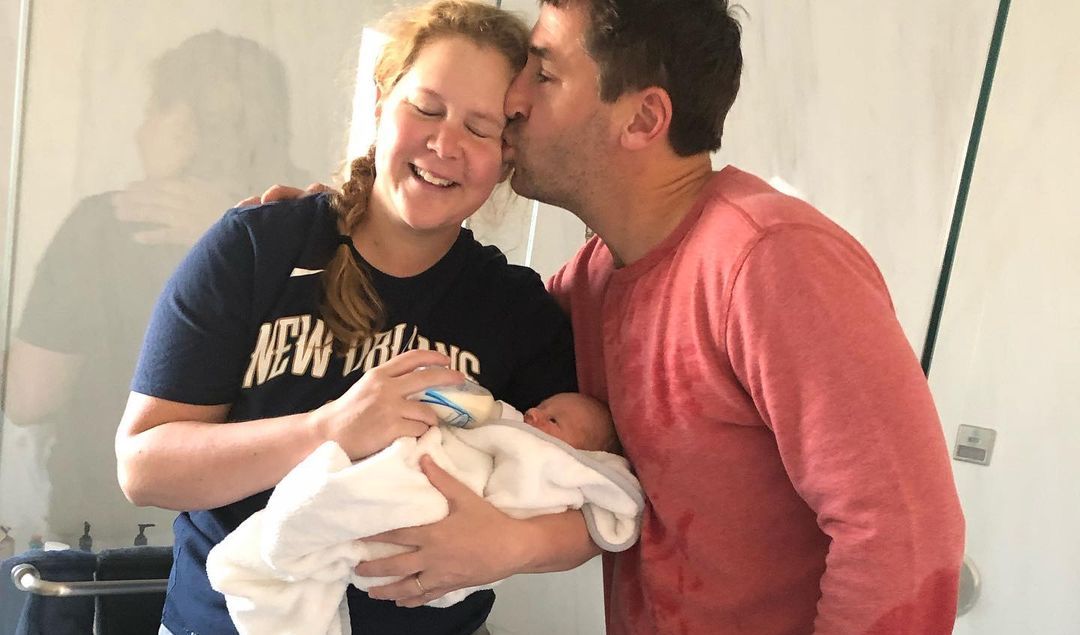 Amy Schumer didn't have an easy pregnancy. She experienced acute morning sickness for most of it. Luckily, her husband is a master chef who knew what to prepare to provide relief.
Schumer passed by the Met Gala red carpet on her way to deliver her son. On 5th May 2019, she underwent a C-section to bring Gene Attell Fischer into the world. On Gene's second birthday, Amy praised Chris for his support during Gene's birth. She wrote on Instagram:
"Today is our son's birthday and I woke up emotional as hell thinking about my husband, Chris. In this first photo while I was having a 3-hour c-section he held my hand and stared in my eyes so I never felt alone. I feel loved and supported always. He takes care of our family and is a husband and a father beyond my wildest dreams."
Schumer and Chris chose the name Attell in honor of Amy's close friend Dave Attell. However, they changed the name after realizing that the names 'Gene' and 'Attell' together sounded somewhat like 'genital.'
"It's now Gene David Fischer," Amy said on her 3 Girls, 1 Keith podcast. "It was Gene Attell Fischer, but we realized that we, by accident, named our son 'genital.'" Schumer told Howard Stern that it took a while for the couple to realize their mistake as they were smitten with their son.
"You're new parents, just kind of tired and in ecstasy," Amy said. "It's the first of many failures."
Amy revealed that she knew that Chris' brain was different long before his autism diagnosis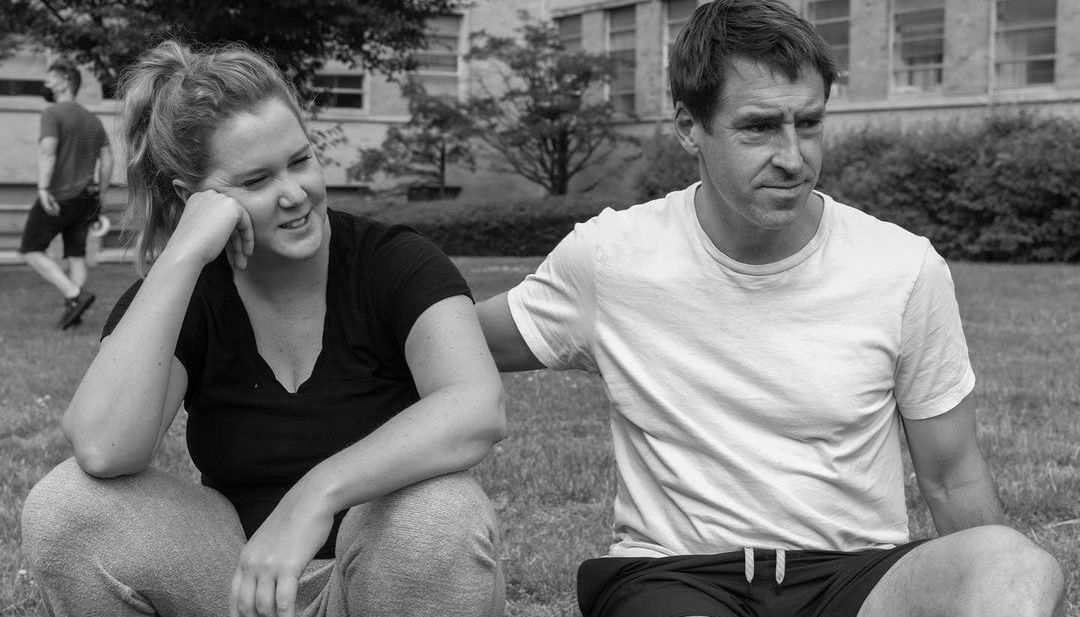 In her Netflix special Growing, Amy revealed that she realized from the beginning that Fischer's brain worked different. She recalled Chris struggling with how to act after she fell during one of their dates. "He kind of froze and became a lighthouse, opening and closing his mouth," Amy said.
After his diagnosis, Amy realized that she fell in love with Chris because he was on the spectrum. "All of the characteristics that make it clear that he's on the spectrum are all of the reasons that I fell madly in love with him," she continued.
Chris's diagnosis features in Amy's HBO documentary Expecting Amy. On 5th May 2020, Amy wrote on Instagram that people had reached out, stating that the documentary motivated them to get tested for autism. She added:
"We want to encourage parents and people to give themselves the gift of information so people can function to the best of their abilities and remove any stigma that comes with autism."
Chris's autism prevents him from lying or caring about social norms. Amy told Seth Meyers that Chris's truth-telling can have its downsides. Schumer explained:
"It's a dream, but it's also like a real nightmare. He's here, and I came out right before, 'cause I changed outfits. I'm like, 'Does this look OK?' And he was like, 'Well. It's too late.' He's right, though it was too late!"
It's probably why Amy looked concerned when, on her 40th birthday, Chris delivered a cake with a message saying, "I'm leaving you. This is the only way I could think to do it." Amy posted a video of the hilarious moment on 1st June 2021.
Amy would love to welcome a second child with Chris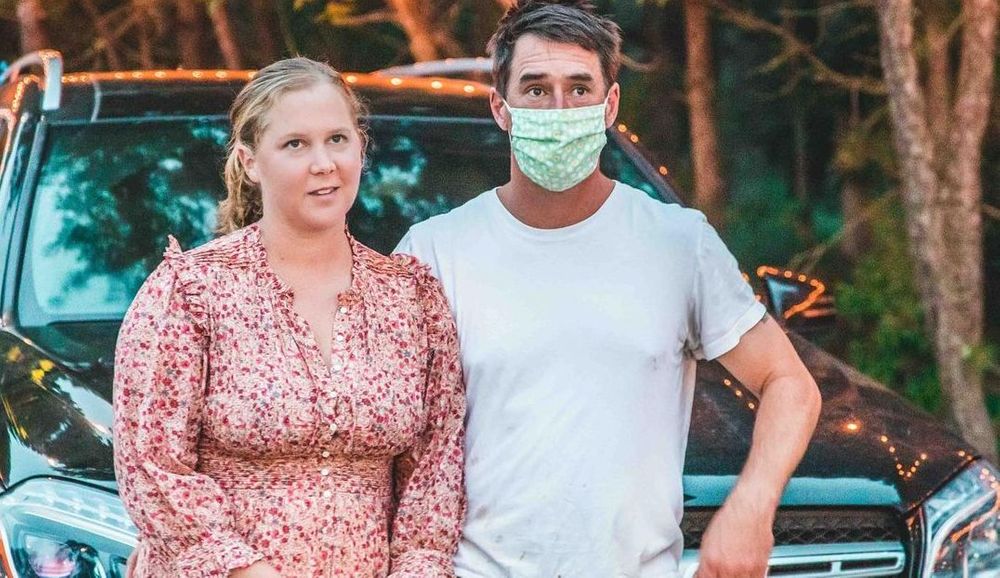 Schumer had a difficult first pregnancy, but she nevertheless hopes to welcome another child with Chris. "We're trying to figure it out," Amy said on The Ellen DeGeneres Show. "I mean, you know, it's like there's nothing better."
At the moment, Amy and Chris have their hands full raising Gene. According to Schumer, there is a high chance that Gene will be diagnosed with autism.
Amy revealed in February that the couple had 'evolved to having no child care' as their nanny, Jane, had left to focus on her studies. In March, Amy showed a glimpse of her messed up life without a nanny via a hilarious Instagram video.
"Yeah, actually, like we were worried about not having childcare but we're actually like doing really well," Amy said sarcastically. "I think we are a lot more capable a lot more than we realized we were."
Schumer told Kevin Hart that her and Chris's sex life has changed since Gene's birth. "Okay, truly, we probably have sex every seven to 10 days," Amy said. "And we do it and we go, 'God, that's so great. Like we need to do that more.' And then we don't do it again for another seven to 10 days."
Chris is a renowned chef and an award-winning cookbook author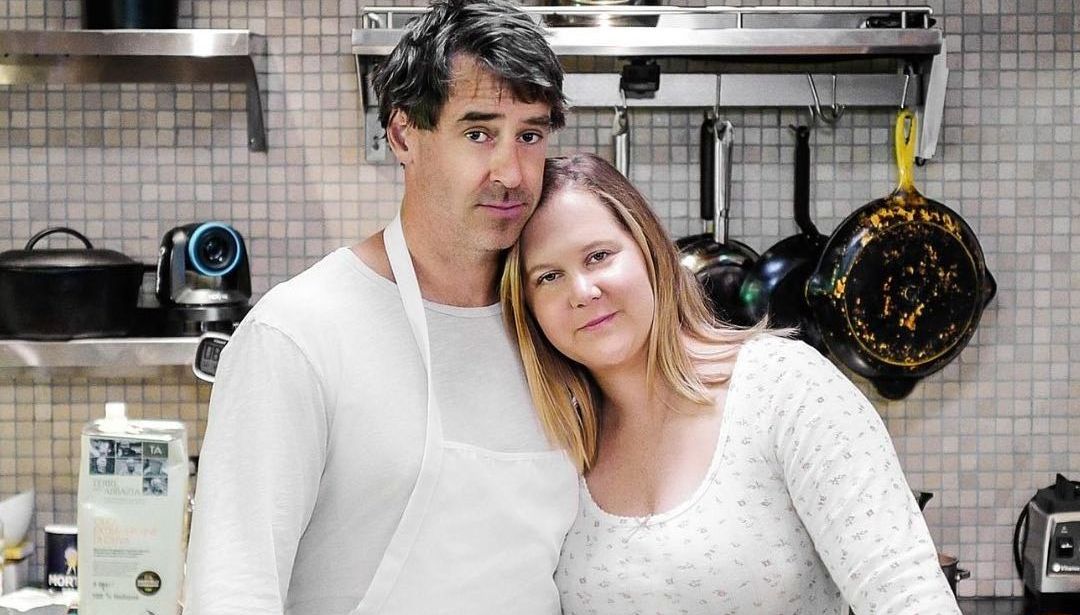 Chris Fischer was born into a farming family in Martha's Vineyard. He learned farming, fishing, and hunting from his father. "I spent a lot of time on the farm growing up," Chris told Esquire in 2013.
Fischer left the farm to become a chef. He worked at Beach Plum Inn & Restaurant, where he cooked for President Obama and Michelle Obama. Chris also cooked in restaurants in Europe and Asia before returning to New York City. He told Esquire that he took over the farm after struggling to make ends meet in New York:
"I got into farming partly because I came back from NYC broke and I realized that it only made sense to start using what I was growing. Now that we're a farm and we've grown and we like the support of our community, I look at the whole picture. The more money you give directly to farmers, the more they can grow the best food."
Chris combined his love for writing and farming to author a book of family recipes titled Beetlebung Farm Cookbook: A Year of Cooking on Martha's Vineyard. The book won the 2016 James Beard Award.
Fischer displayed his cooking skills alongside Amy via their 2020 series Amy Schumer Learns to Cook. The self-filmed series features Chris trying to teach Amy how to prepare meals from farm ingredients.
"She's a great student," Chris praised Amy's efforts on the show. "She really focuses and listens, and isn't afraid to mess up. And that's the thing with cooking, you have to roll with anything." Amy Schumer Learns to Cook has been renewed for a second season.
---