Kentrell DeSean Gaulden (YoungBoy Never Broke Again) is one of the most successful rappers of this generation. The rapper makes popular and catchy music, and he has an incredible work ethic.
YoungBoy is famous for his music, and he is also famed for his baby mama drama. YoungBoy rarely has an incident-free relationship, and he is regularly in the headlines for something pertaining to the women in his life. YoungBoy is only twenty two years old, but his list of baby mamas and girlfriends is quite long.
This piece will detail YoungBoy's relationships and all the drama surrounding his baby mamas. NBA has 9 children and is expecting a 10th. They include one son, Kamron, who is not biologically related to NBA, but who NBA raises as his own.
Youngboy is expecting a second child with his fiancée Jazlyn Mychelle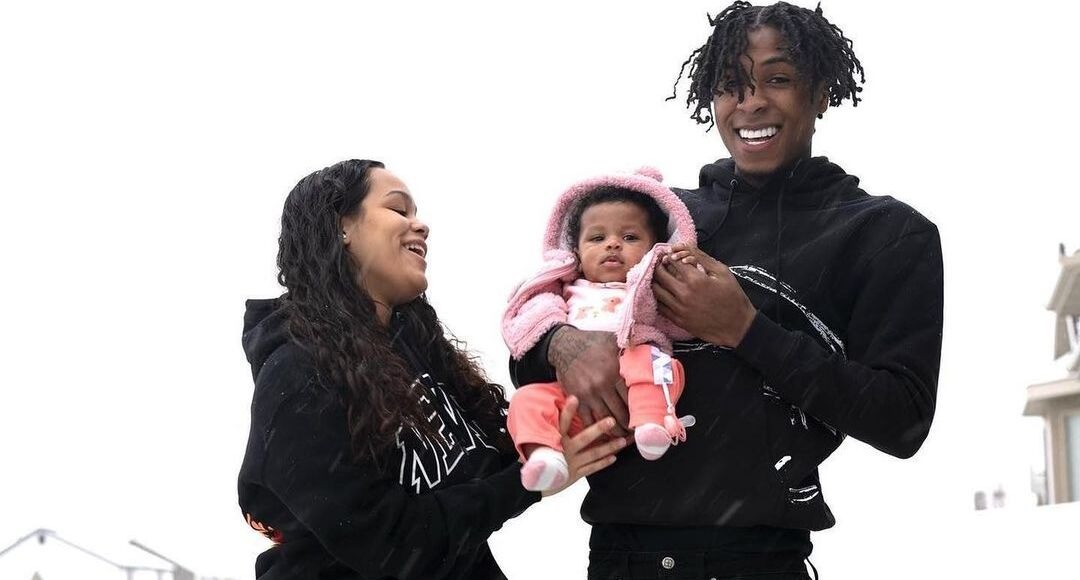 NBA Youngboy and Jazlyn Mychelle were linked in mid-2020 and made their relationship official in late December 2020. 
In May 2021, NBA revealed he was expecting his first child with Jazlyn via a letter written in prison. He expressed regret for being absent from his children's lives and resolved to change, starting by being present for his child's birth. 
"I really just want to be there when my daughter born i want to be in the same house as her while she grow up i never had that experience," NBA wrote. 
Youngboy apologized to Jazlyn for his mistakes and begged her to stick around. He wrote:
"Jaz im sorry (ma'ma) I promise im sorry for every time i said something to another woman for every time they ever gotten the chance to come around ill give you anything for you not to leave anything to have you when its all said and done."
Jazyln stayed and is expecting the couple's second child. Youngboy announced the news via an Instagram photo of Jazlyn's hand on the baby bump. The heavily pregnant Jazlyn also featured in Youngboy's freshly released video for the song Purge Me. 
Mychelle's hand featured a large diamond ring, suggesting she and NBA are engaged. 
NBA has a tumultuous relationship with his baby mama Arcola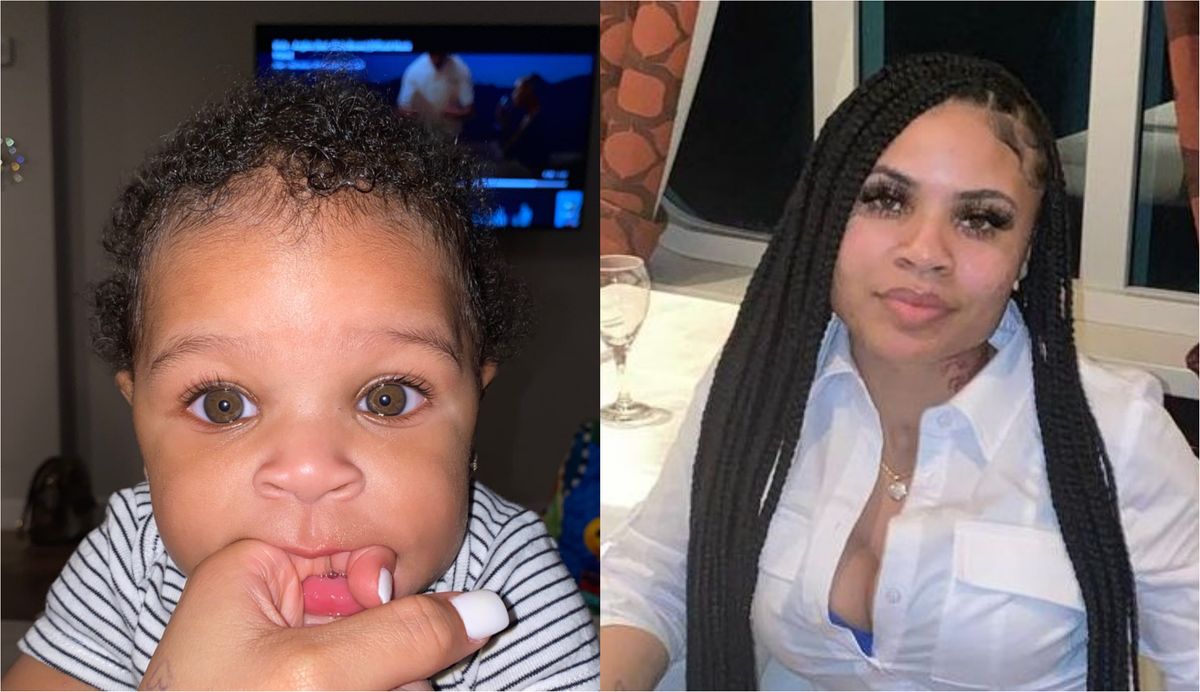 NBA welcomed his eighth biological child, a boy named Kaell, in mid-2021. Immediately after his mother, Arcola, posted the baby online people pointed out his similarities to YoungBoy.
"To my first born, I love you so much, I pray god protects you every step of the way," Arcola wrote. "I will protect you every step of the way. You melt my heart; I never knew I could feel this way. I love you, stinky fat."
YoungBoy and Arcola haven't seen eye-to-eye over Kaell. They've repeatedly posted screenshots of texts online, blasting accusations at each other. The couple's fights seemingly start after NBA requests to see Kaell.
Arcola works her usual job despite receiving child support payments from NBA. She told fans on TikTok that just because NBA has money doesn't mean she won't work. If NBA left the picture, she'd manage to raise Kaell, Arcola added. She said:
"Working is a choice for me. We both are parents… why would I just let him do everything for my son? That's like cheating on a test in my eyes. I'm going to take care of my son by any means. If that man was to leave right now, I'd be able to take care of my son by myself off working. The fuck? I'm a parent too, I got money too."
Floyd Mayweather's daughter Yaya and NBA welcomed their son in early January 2021
Yaya Mayweather confirmed the birth of her son by sharing a photo on the child's foot on her Instagram Story. She didn't comment on the child's gender or name, but The Shade Room reports that it is a boy.
Fans started to speculate that Yaya might be pregnant after the baby bump became visible over the summer. In an interview with Hollywood Unlocked, Floyd confirmed that Yaya was expecting NBA's child. He said:
"I just want the best for my daughter. Always want the best. If that makes her happy, then we're happy. Me and her mother are happy. But what I try not to do is get in her personal business. Because once she's no longer under my roof, then it's between her and her better half."
NBA's second child with Drea Symone arrived in November 2020
On Thanksgiving Day 2020, Drea Symone announced on Instagram that she'd given birth to a baby girl. Symone attached the following caption alongside a photo of her daughter's hand:
"November 26th 2020, on Thanksgiving Day, I was given a 7.5lb reason to become more thankful. I've been caught up cherishing the days after… it's safe to say my heart is full!! Kodi Capri…"
Symone and NBA now have two daughters.
NBA's ex-girlfriends Nisha and Kaylyn Marie gave birth to NBA's children within a few days of each other in June 2020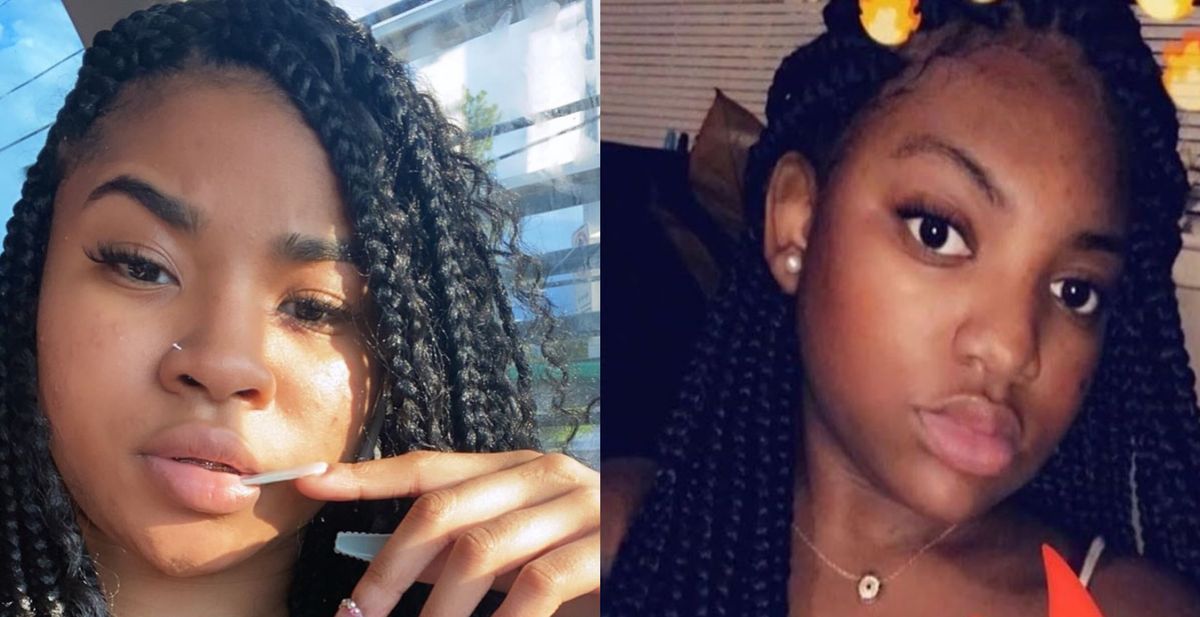 Nisha and YoungBoy had their first child Kayden Gaulden in 2016. In late 2019, Nisha announced via Instagram Live that she was pregnant with YoungBoy's child. She also stated that YoungBoy had another child on the way with another ex-girlfriend, Kaylyn Marie.
YoungBoy is yet to address these rumors, but Kaylyn Marie has been documenting her pregnancy on Twitter. She regularly tweets about how excited she is to be welcoming a baby into the world.
On 18th June 2020, Nisha posted a tweet which made people assume that she'd given birth. She wrote, "Thanks everybody', and people interpreted it to mean that the couple's second child had arrived.
Nisha's announcement came shortly after Kaylyn Marie tweeted that she'd given birth to NBA's child. Marie's tweet stated, "KAMG, 6/16/20. 12:43. The whole world stopped for you."
He raises Kamron Gaulden as his son even though they aren't biologically related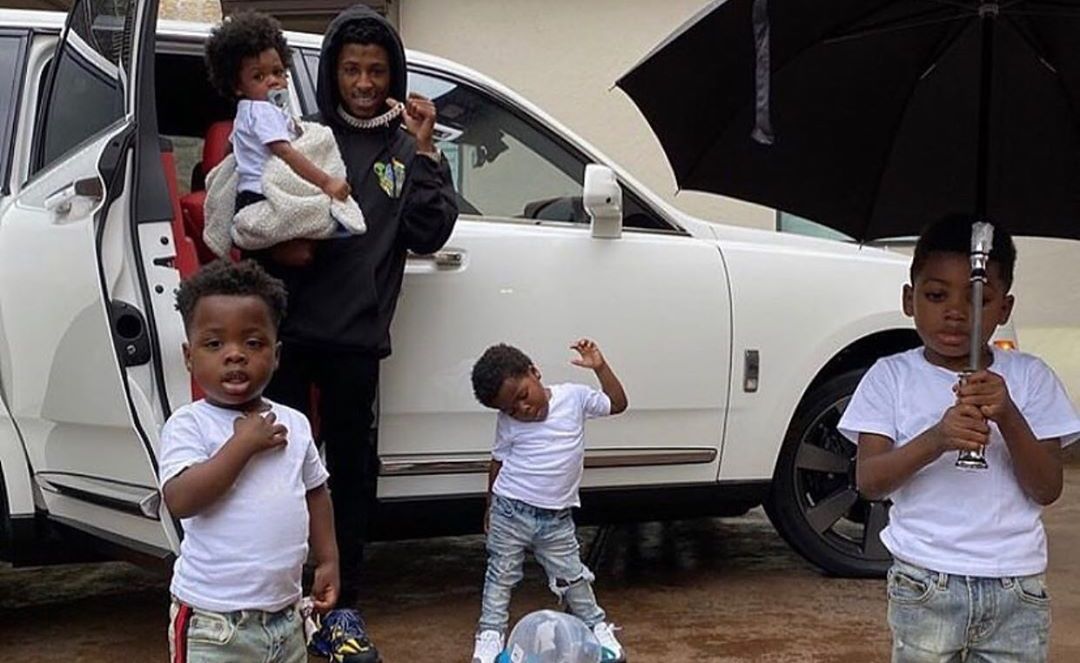 Kamron Gaulden is one of YoungBoy's sons, but they aren't biologically related. Gaulden is one of Starr Dejanee's three children. YoungBoy revealed the following via Facebook:
"Wanna Be First To Tell Yall I Officially Found Out Baby K Isn't My Child, But The Man I Am I'm Going To Keep Raising Him Like He's Mine I Cant Lie It Hurt To Find Out The Truth But Life Goes On."
YoungBoy's second child with Starr, Kamiri Gaulden, is his biological child. His decision to raise Kamron as his own child was applauded by many, but Nia's mother didn't appreciate his decision. On 19th March 2017, YoungBoy and Nia welcomed Tay Gaulden into the world. At the time, YoungBoy wasn't convinced that Tay was his child, but he accepted the baby after passing a paternity test.
He was arrested for allegedly assaulting Jania Meshell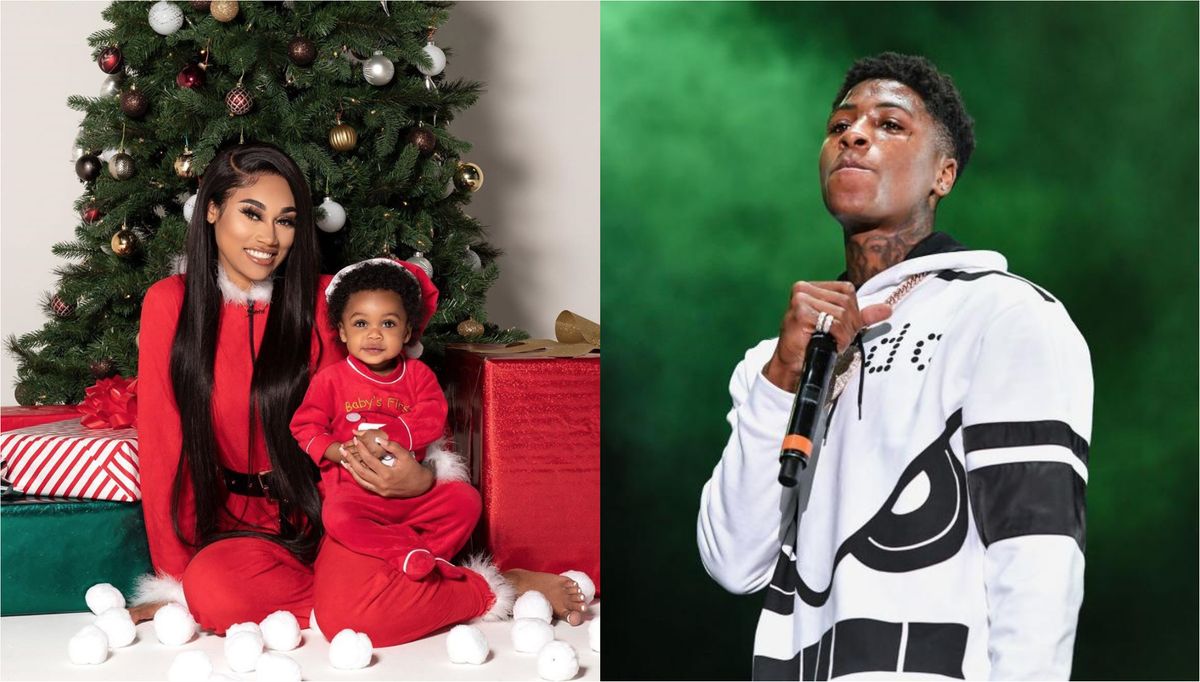 YoungBoy was arrested in February 2018 for allegedly assaulting and kidnapping ex-girlfriend Jania Jackson. The arrest came after TMZ released a video showing YoungBoy hitting Jackson and dragging her into a hotel room. Jackson defended Youngboy by stating that she wasn't kidnapped and that she wouldn't have stayed in a relationship in which she was being abused.
Further reports claimed that YoungBoy forced Jania to sleep in a hotel lobby so he could hook up with another lady. Jania admitted to sleeping in the hall, but she didn't incriminate YoungBoy. The charges leveled on YoungBoy kept him from communicating with Jackson, and during that time, he picked up a new girlfriend.
He revealed via Instagram Live that Jania was pregnant and that he was going to leave his new girlfriend for Jania after clearing his name. He said:
"I never physically punched my girl, I never physically slapped my girl. But you know, they gon' bend it for who I am. And when they ban us from being around each other, you know we couldn't speak no more. But at the same time, you know, when everything back right, you know what it is. Bitch I'll leave you in a second when them charges drop."
Jania and YoungBoy welcomed Kacey into the world, but their drama didn't end there. They have regularly traded accusations about who between them gave the other herpes.
He was rumored to be engaged to Yaya Mayweather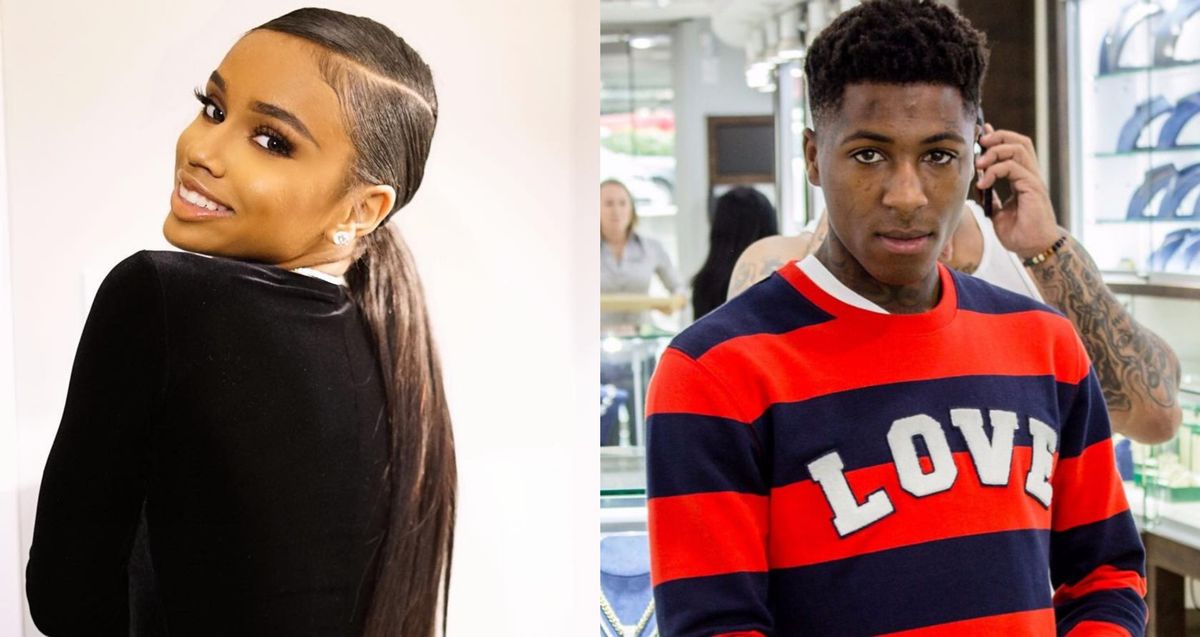 Iyanna and NBA YoungBoy have had their fair share of fights and reconciliations. Iyanna has professed her love for YoungBoy, but he doesn't seem to feel the same way towards her. She drunkenly stated on Instagram that YoungBoy has her heart, and he replied by saying that he doesn't like girls that get drunk.
Iyanna then posted a photo showing a ring on one of her fingers, and it set off rumors claiming that she and NBA were considering marriage. YoungBoy fueled the rumors when he wrote on Twitter that he needed a wife. It currently looks like the relationship between Iyanna and YoungBoy is doomed after she was accused of stabbing one of YoungBoy's baby mamas, Lapattra.
Iyanna reportedly found Lapattra at YoungBoy's house and asked her to leave. In the ensuing argument, Iyanna allegedly stabbed Lapattra. It is reported that Lapattra required surgery after the stabbing and that Iyanya faces a lengthy period in prison if convicted of the charges. A month before the stabbing incident, NBA wrote on Instagram that he considered himself single:
"I don't have no girlfriend I keep my bm with me she can leave if she want if not cool I converse with one bitch on dump I don't know what yall be talking I don't even fuck with/bother yall literally all bullies die."
A YoungBoy fan with his face tattooed on her chest denied being in a relationship with him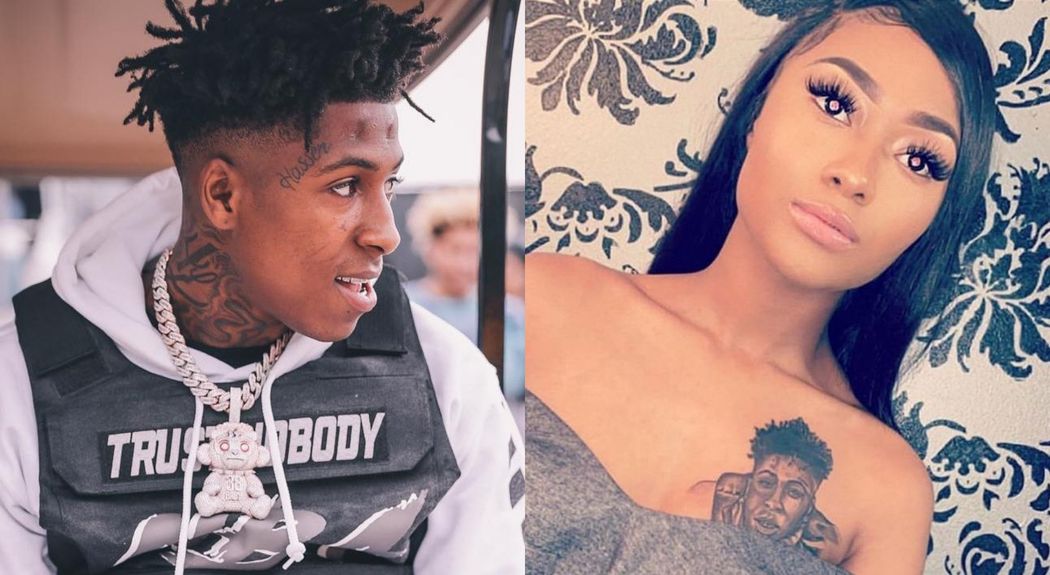 A woman by the name Arabian hit the headlines after she posted a portrait of YoungBoy tattooed on her chest. The tattoo got Arabian in trouble with one of YoungBoy's Baby Mamas, Jania Jackson. Jania and Arabian feuded on Twitter, and at one point, she called Jania's son her 'stepson.' Arabian wrote on Twitter:
"I'm nobody's girlfriend stop the lies please the tattoo is just apart of my story. I never said he told me to get that Y'all came up with all this so stop saying I took an L BC of y'all false accusations and meanings behind the tweets… idk what y'all got going on."
Another lady who got into tattoo drama involving YoungBoy is Bhad Bhabie. Bhabie denied having a YoungBoy tattoo, but the pair were rumored to be in a relationship after they posted pictures of each other on their Instagram pages. A video of the couple in bed emerged, and even though an emoji hid YoungBoy's face, fans identified him via his tattoos.
Bhabie and YoungBoy's alleged relationship was considered to be controversial because of Bhabie's young age. Bhad denied being in a relationship with YoungBoy.
---