Every Formula 1 fan knows the blonde lady who is perpetually by Lewis Hamilton's side. She is usually the last person to see Lewis off before a race starts and the first person Lewis celebrates with after a successful race. Her name is Angela Cullen and she has been one of the driving forces behind Lewis' domination in Formula 1 over the past few years.
Cullen was hired as a physiotherapist, but she has become so much more. For four days a week, she is responsible for, among other things, Hamilton's routine, logistics, his diets, and travel arrangements.
This piece will look at Angela Cullen's sports background, her special relationship with Lewis, and her secretive personal life.
Angela represented New Zealand's hockey team from ages 15 to 21
Angela Cullen was born on 5th August 1974 in Devonport, Auckland, New Zealand. Her passion for sports sprouted at a young age – she played most sports in school, including football, cricket, basketball, and swimming.
Cullen reserved her best performances for field hockey, her first high-performance sport. She represented New Zealand in field hockey from ages 15 to 21.
After graduating high school, Angela enrolled in the Auckland University of Technology, where she earned a Bachelor's degree in health science and physiotherapy. She then moved to London and landed her first job with athletes. She stated in an interview with Hintsa Performance:
"My first private practice job was working near Crystal Palace in London, UK's hive of world-class track and field athletes. I'm hugely grateful for this opportunity which fast-tracked me into the world of high-performance sports."
Working with world-class athletes and some of the world's best physiotherapists offered Cullen experience that would prove valuable after she joined Formula 1. "This was an amazing opportunity to learn about achieving ultimate body performance," she said.
Angela joined Hintsa Performance after learning about Dr. Aki Hintsa's work with athletes and Formula 1 drivers. "Hintsa's model of wellbeing and philosophy, that 'performance is a by-product of wellbeing' resonated with me and reflected my beliefs and ideals of understanding human performance," she said.
The opportunity to work with Lewis Hamilton emerged after Dr. Hintsa passed away in 2016. Before then, Angela had mostly worked with corporate clients, but the hierarchy at Hintsa performance trusted that she could handle the assignment. Hintsa's director of coaching and sports science, Pete Mcknight, concedes that it appeared like a weird combination, but it worked out. He told MSN:
"It has worked out perfectly. People don't always 'get' the performance environment, but she does. She understands that it's performance first. It's her level of experience, too – she has worked with top-level British track runners, and she just knows how to put the athlete first. Angela is a good physio and she understands her trade very well, but she puts Lewis first."
Angela and Lewis Hamilton have matching Loyalty tattoos on their wrists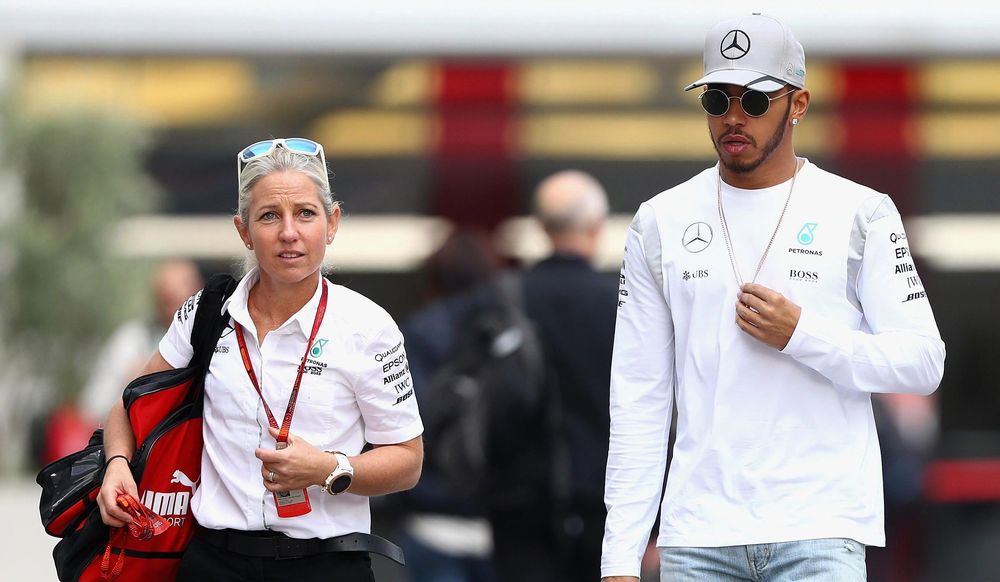 Before he started working with Angela, Lewis had a trainer who couldn't help resolve niggling issues in Lewis's body. "I noticed that I was always having different problems," he told Ziggo. When he offered Angela the job of being his physio, Lewis didn't anticipate that their relationship would morph into what it is now.
"Angela had done a bit of work on me back home, so I spoke to her and asked her, 'Would you like to come on the road with me?' and little did I know that we would have the greatest partnership," the seven-time World Champion said. Lewis also lauded Angela's work ethic and her boundless positivity. He said:
"She's focused, selfless, and she makes my weekends peaceful. Every day I wake up, whatever time it is, she's just positive – never a single day has she been negative, so that's very, very important. I think it's important in life to put positive people around you. You can't be going around with deadweights, you can't be going with people who don't inspire you to be better and lift you up when you're down."
Lewis and Angela have immortalized their special bond by getting matching 'Loyalty' tattoos on their wrists. With Angela, Lewis has won four world titles and is in the hunt for a fifth, with Mercedes looking as strong as usual this season.
Another championship win would take Hamilton to eight world titles, thereby cementing his status as one of the best (and perhaps the best) to ever grace Formula 1. Angela acknowledges that success in Formula 1 is hard to come by, but she relishes the challenge. She attached the following caption to a 28th October Instagram post:
"The intensity of every weekend. The demands on energy and focused determination necessary to produce results with the tiny margins that separate success and utter disappointment… Lewis you truly are superhuman and every day is an absolute honor and pleasure to work with you and I am so grateful to be part of this amazing… and still… there is so much more to come."
Angela, her husband and two kids live in the French Alps away from the media glare
Angela Cullen and her family live in the Alps region of France.
She is intent on keeping her family away from the media glare. Therefore, despite being ardent Formula 1 fans, Angela's kids and husband rarely attend races. Per Angela, Formula 1's media demands make hers and the drivers' work harder. "Insane travel commitments, coupled with a barrage of media demands adds more load on top of the obvious physical and mental demands on the body," she told Hintsa Performance.
---