Jimmy Fallon is the funnyman behind the success of NBC's The Tonight Show starring Jimmy Fallon. Like many comedians, Fallon sharpened his skills as a cast member on Saturday Night Live. After six successful years, Fallon left to pursue acting.
It was during one of those acting gigs that Jimmy Fallon met his wife, Nancy Juvonen. Nancy, who also happens to be Drew Barrymore's closest friend, is a producer. Compared to Fallon, Nancy is quite secretive and doesn't enjoy the limelight as much.
Read on to find out more about Jimmy Fallon and Nancy Juvonen's relationship.
She got married to Jimmy after dating for seven months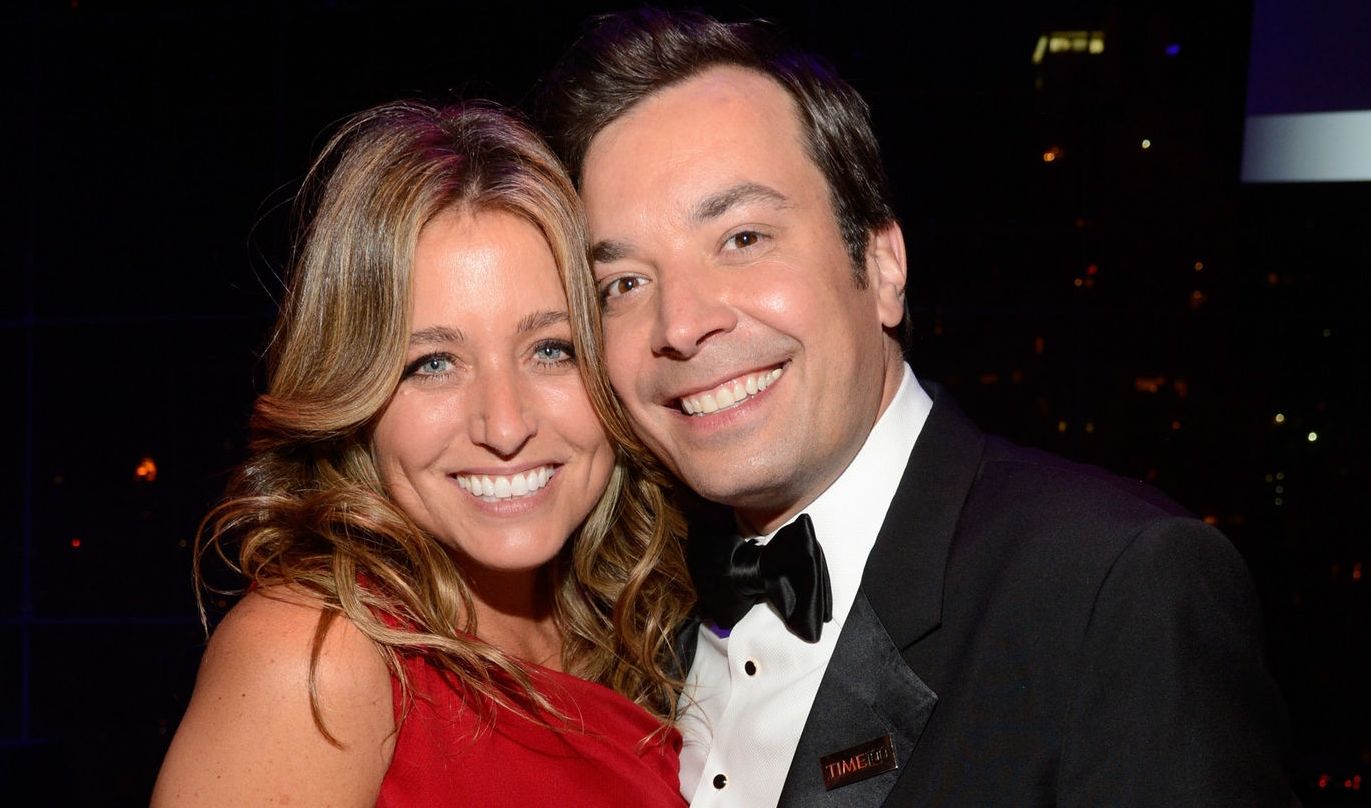 Nancy and Jimmy Fallon met on the set of Fever Pitch as she worked as one of the producers of the show. The romance between Jimmy and Nancy started after Jimmy attended Nancy's birthday party in May 2007. Nancy's long-time friend Drew Barrymore, organized the occasion and invited Fallon to the party.
Nancy and Fallon dated for 3 months before Jimmy proposed. Jimmy had planned to propose earlier, but Nancy wrecked his plan by surprising him with a dinner at restaurant Per Se. Fallon told The Daily Mail;
"I didn't want to propose in Per Se because what if one year it moves location. And years later I'm going to have kids and go, 'Your mom and I got [engaged here]. I know it's a laser tag place but at one point it was a very fancy restaurant."
According to People the proposal took place at Nancy's family home in Wolfeboro on Lake Winnipesaukee. Fallon proposed using a unique ring designed by Neil Lane.
Fallon had resolved not to get too emotional during the proposal, but he started crying as soon as he took out the ring. "And I get down on one knee and I'm like shaking – my voice is quivering," Jimmy said. "It looks like I'm having a heart attack." Nevertheless, Juvonen said yes.
Jimmy talked to People about wedding plans and described Nancy as the 'coolest girl' in the world. He said;
"I'm just really excited right now and just happy. I'm the luckiest guy on earth. She's the coolest girl in the world. It was serious. I did the whole one knee thing. I tried not to cry before she did. I was breaking down a little bit. I don't even remember what I said."
Jimmy and Nancy got married in December 2007 in an intimate ceremony that involved close friends and family.
Nancy's two daughters were born via gestational surrogacy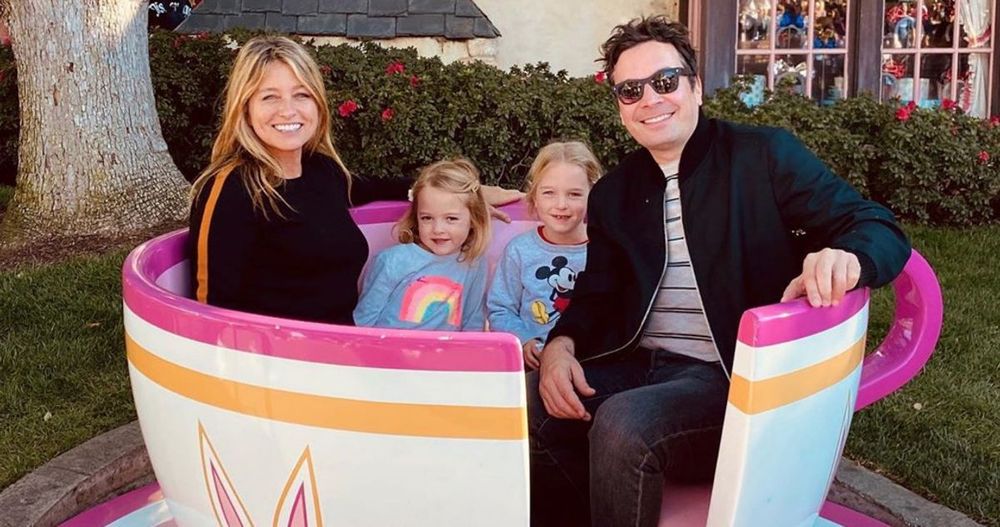 Nancy and Fallon welcomed their first child, Winnie Rose Fallon, on July 23rd 2013. The news came as a surprise to many as there were no photos of Nancy rocking a baby bump. Fallon revealed a couple of weeks after Winnie's birth that she was born via surrogacy.
He revealed that the couple had tried unsuccessfully to have a child, and they were surprised when surrogacy worked. Jimmy told Savannah Guthrie on an episode of Today;
"We had a surrogate. My wife and I had been trying for a while for a baby and so we've tried a bunch of things."
Fallon explained that the couple got the name Winnie from the location of their engagement, Lake Winnipesaukee. Winnie's sister, Frances Cole, was born on December 3rd 2014. A couple's representative told People;
"Their new addition joins big sister, Winnie Rose, 1. The couple opted to keep their baby joy to themselves until their new daughter, Frances Cole, made her official debut. Both Fallon babies were born via surrogate."
Nancy and Jimmy set about trying to have kids immediately after their marriage. "It was just like, 'Now how are you going to do this?' Nancy said on Ask the Fallons. "And that was a whole other question."
The couple explored different solutions to their fertility struggles, eventually settling on gestational surrogacy. "That was five years of really, really, really, really, really deciding not to give up," Nancy added.
Fallon awarded Nancy's dad with a Martin-Baker watch on an episode of The Tonight Show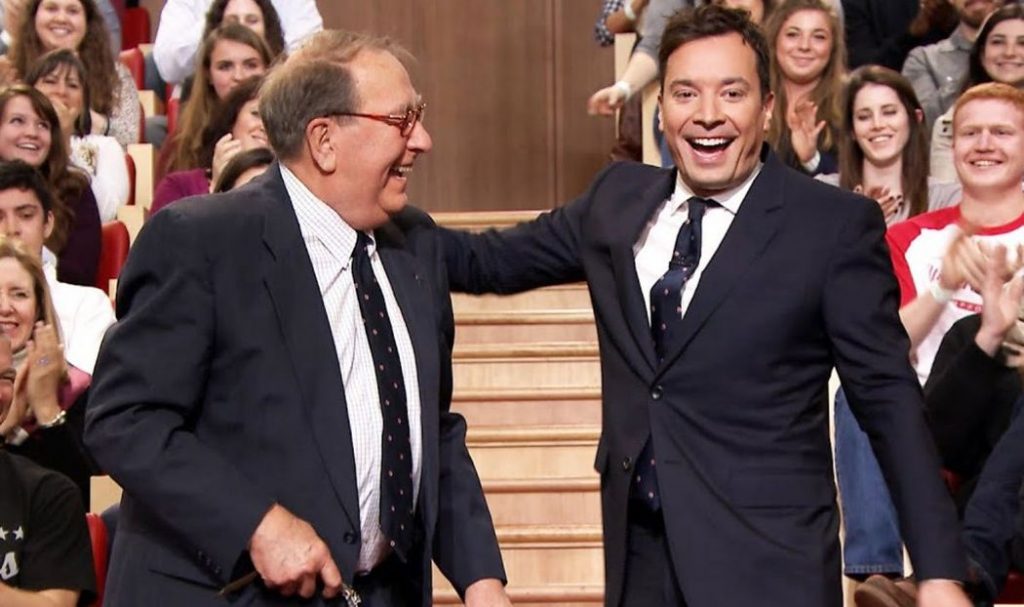 Nancy was born on 18th May 1967 in Marin County, California. Nancy's father, William H. Juvonen, is a former Marine Aviator.
In September 1961, William's VMF 334 malfunctioned while flying a mission as a new aviator undergoing pilot training. William had to eject from his aircraft after the malfunction. The seat he used to eject was manufactured by Martin-Baker.
On 31st March 2015, Fallon presented his father-in-law with a Martin-Baker watch in commemoration of that event.
---