David Harbour is an American actor whose big break came when he was cast to play the role of Jim Hopper in Stranger Things. He began his career as a professional actor in 1999 when he appeared in the Broadway revival of The Rainmaker. He then appeared in several roles in TV shows such as Law & Order, Pan Am, and The Newsroom. These minor roles set him up for his starring role in Stranger Things.
David has received global recognition for his acting and his looks. He has what people call a 'dad-bod', and fans are loving it. David enjoys the attention that he is getting, and he hopes that he can influence the acting industry to be more inclusive when it comes to body types.
Keep reading to find out more about David Harbour's relationships. You might be surprised to find out that your favorite sheriff is a bit of a ladies man.
David and Lily Allen surprised everyone when they got married before announcing their engagement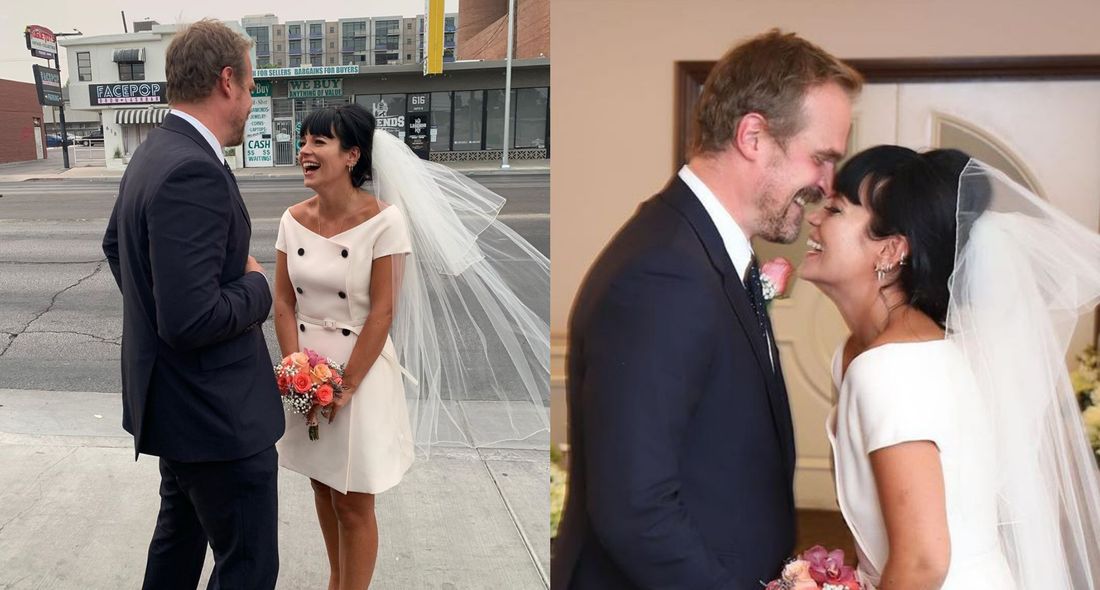 David and Lily Allen are officially a married couple. The wedding came as a surprise to many since the couple hadn't revealed their engagement. In April 2020, Lily started posting Instagram photos wearing what appeared to be an engagement ring. However, there was no official confirmation in any of her posts.
Lily posted a picture of her wedding band shortly after the wedding ceremony. The simple, intimate ceremony happened in a Las Vegas chapel on 7th September 2020. David attached the following caption alongside a couple of Instagram photos of the wedding:
"In a wedding officiated by the king himself, the people's princess wed her devoted, low born, but kind credit card holder in a beautiful ceremony lit by the ashen skies courtesy of a burning state miles away in the midst of a global pandemic. Refreshments were served at a small reception following."
Rumors of a relationship between David and Lily started after she broke up with her longtime boyfriend DJ Meridian Dan
David and Lily were first spotted watching a performance of The Lehman Trilogy at the Piccadilly Theatre. At the time, it looked like a friendly meet-up between the couple. The couple didn't show any signs of affection to suggest that they were in a relationship. Besides, at the time, people still thought that David was still in a relationship with Alison Sudol.
However, the rumors flared up again when people spotted the couple at the O2 Arena watching the match between Luke Campbell and Vasily Lomachenko. This time, David and Allen looked more like a couple than they did at the Piccadilly Theatre. The signs strongly suggest that Allen and David are in a relationship.
David has stated that he is only in London to shoot the Marvel Black Widow movie. Lily broke up with her long-term boyfriend, MC Meridian Dan, in January. Before dating Dan, she was married to Sam Cooper. The marriage ended after Lily admitted to cheating. Lily revealed while speaking on Elizabeth Day's How to Fail podcast;
"I've always had a boyfriend. I don't at the moment. I'm single for the first time since I was about 15…ordinarily, when things get difficult, I do need to have somebody around to share those problems."
He was in a public relationship with Alison Sudol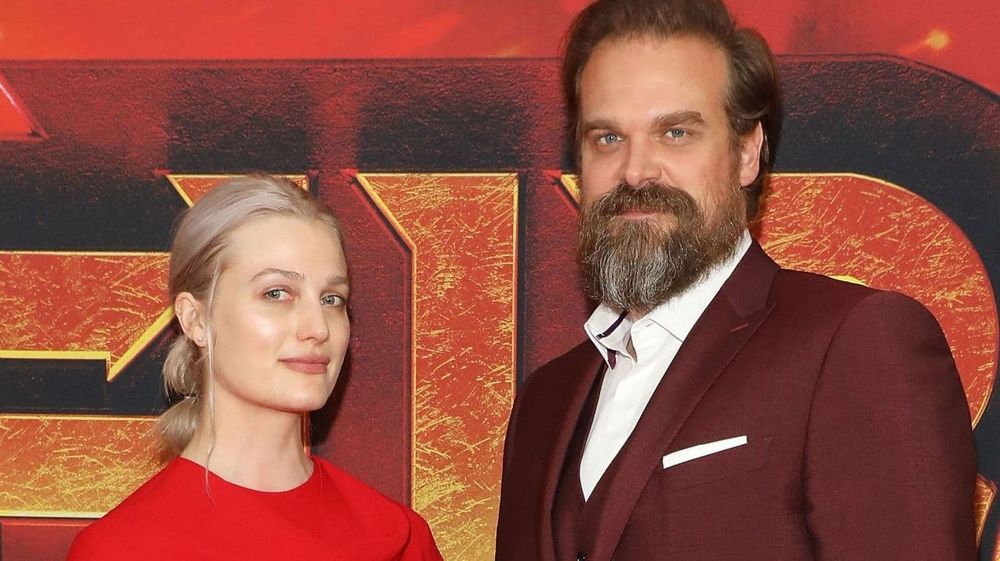 Harbour's relationship with Alison is perhaps his most famous relationship. The couple sparked relationship rumors when they appeared together at the 2018 Golden Globes and the Critics' Choice Awards. They looked to be very close during the awards.
Sudol plays the role of Queenie Goldstein in the Fantastic Beasts movies. She is also the lead singer of the band, A Fine Frenzy. Harbour showed his appreciation for Sudol's creative process via a video post on Instagram. The post also described the effects of their relationship on Sudol's life. Harbour captioned the post;
"This rockstar's beautiful video just hit www.nowness.com. She is very sad in it. She wrote it before she met me. Luckily. Because after meeting me, your life becomes unbearably happy and you can never write sad songs again. You can only write about shitting rainbows and farting glitter. Cause you are so. Damn. Happy."
Harbour described Sudol as being very happy with their relationship. Sudol affirmed her happiness with Harbour when she posted a photo of him on Valentine's Day. She captioned the photo;
"What a generous, large-hearted, roaring wonder of a person I get to walk around and do stuff with…What an ignited soul, what a fire-spirit. What a brilliant artist. What a caring, deep, intuitive individual, who has changed my life completely and utterly. What a lucky woman I am. Love is a really great thing, and rare…Thanks for making my life infinitely more all of it, @dkharbour."
The relationship looked to be going strong when Alison posted a cute mother's day photo of the couple. However, the couple's social media posts dried up after that post, suggesting that the couple had ended their relationship.
David and Maria Thayer ended their relationship shortly after getting engaged
In 2011, David thought that he had found his soulmate when he proposed to Maria Thayer. Can you imagine that David was almost a married man? Marriage looked to be a reality when David met Maria in 2009.
Maria Thayer is famous for her role as the crazy wife in Forgetting Sarah Marshall. David and Maria dated for three years before David popped the question. Maria said yes, and people patiently waited for a wedding. However, the wedding didn't come to be. Maria and David didn't share the reason for their breakup.
He dated feminist icon Julia Stiles for 4 years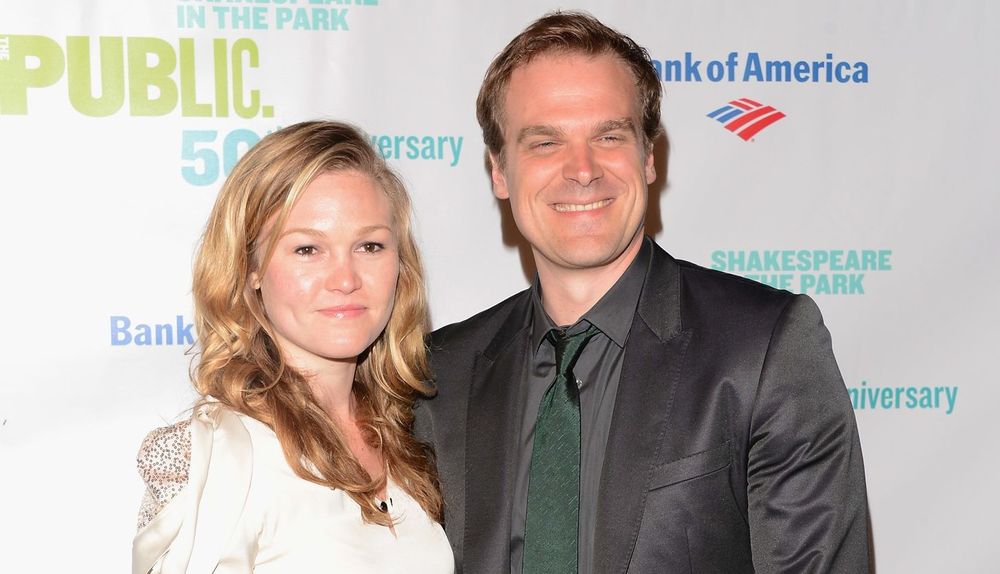 Julia Stiles is widely regarded as the reason why David's engagement to Maria ended. Reports suggest that David left Maria to pursue a relationship with Julia.
Julia was very famous in the 90s, and she is praised for paving the way for women actors in Hollywood. In the 90s and early 2000s she starred in movies such as Wicked, 10 Things I Hate About You and, Save The Last Dance. She also won multiple awards including, the MTV Movie Award for Best Breakthrough Performance for her role in 10 Things I Hate About You.
Julia is a huge star, and it's a surprise that her relationship with David flew under the radar for such a long time. The couple was photographed several times together, but the relationship didn't receive as much coverage as you would expect. Maybe it's because David wasn't as famous as he is now.
The couple appeared together at several award shows and events, and they were occasionally spotted together in the streets of New York. It is reported that they split up sometime in 2015. The couple didn't reveal the reason for the split.
Julia is currently raising her son alongside her husband, Preston J. Cook.
David prefers to keep his love life away from the public eye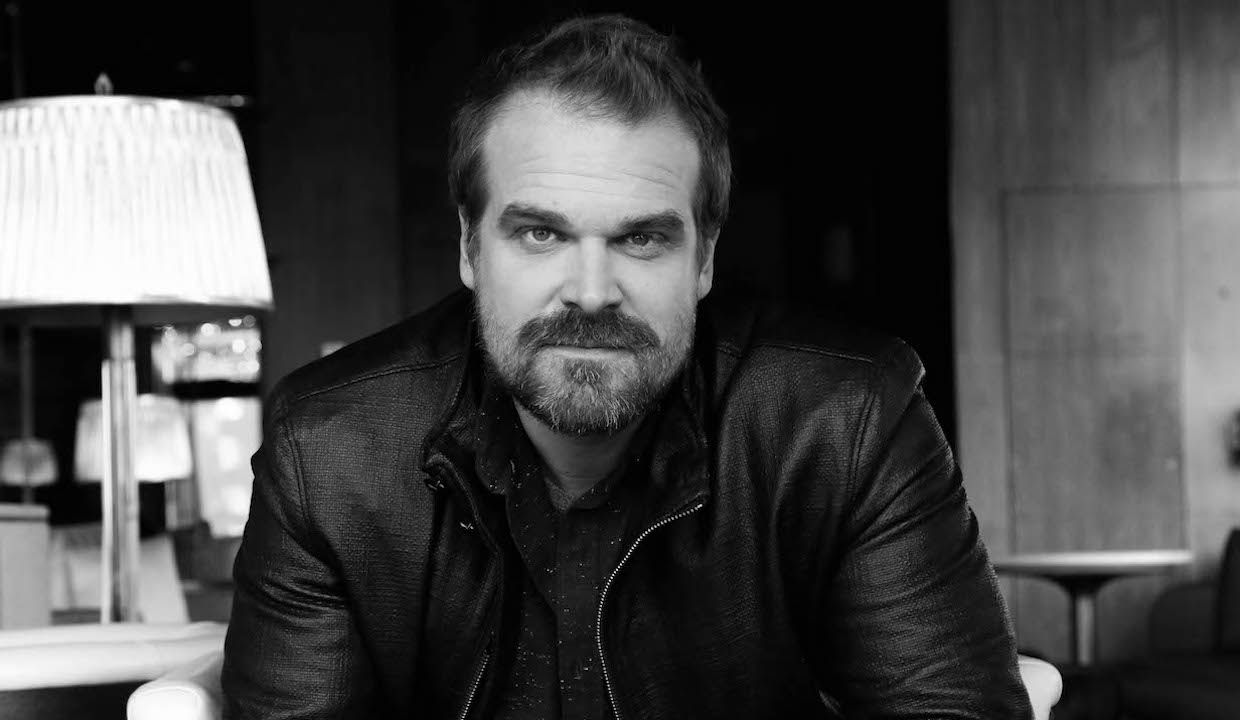 David isn't shy about talking to the press, but he is pretty secretive when it comes to talking about his love life. He cheerfully talks about his acting, his body, and his friends. However, he cleverly avoids questions about his love life.
This has left people wondering about what he wants in a relationship, or the qualities he looks for in a woman. However, he did reveal the following in an interview with Women's Health;
"I'm easily swept away, but I'm trying not to be much. I'm better at the fantasy of relationships than I am at the daily real life, but I'm trying to steer myself into a realist. What I find most exciting now is sharp, intelligent, insightful women. People who are deep thinking, who have sort of a weird way of looking at the universe are wildly attractive to me. So if I can find one of those gals who can stand me, then maybe I might have something."
This interview happened back in 2017. David has refused to share anything else about his relationships. Does he have the same views about relationships as he did a couple of years ago? Your guess is as good as anyone's. David loves his secrecy, and he has done a great job of maintaining it.
He was rumored to be in a relationship with co-star Winona Ryder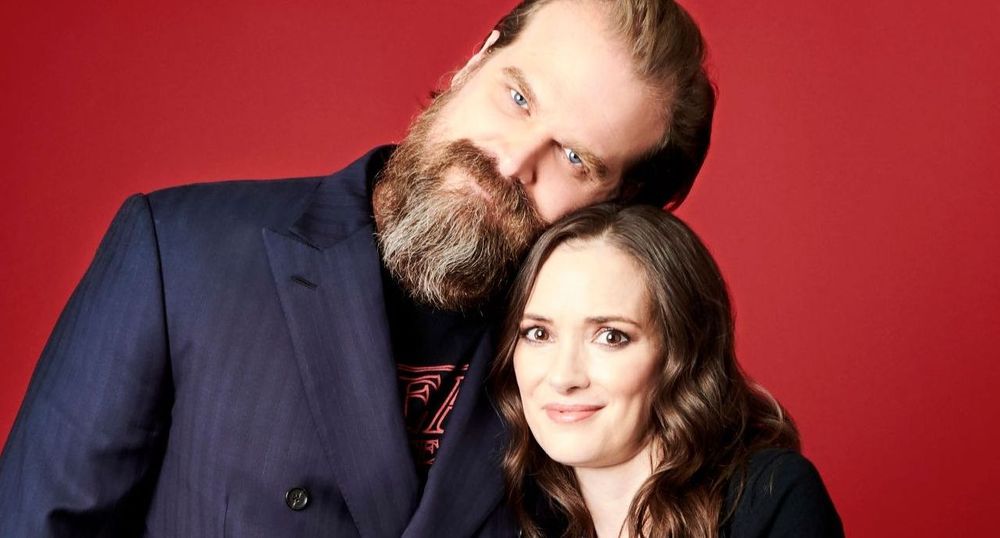 David and Winona star together in the Netflix thriller series, Stranger Things. They have a bit of a frosty relationship on the show. In Stranger Things season 3, David and Winona's characters argue for most of the season, but it feels like there is a romantic spark between them.
Winona has been in several high-profile relationships. She dated Johnny Depp for a few years before they split up. Ryder went on to date Matt Damon for a couple of years. She is now in a relationship with fashion designer, Scott Mackinlay Hahn. David is currently rumored to be in a relationship with Lily Allen.
At the moment, it looks like rumors of a relationship between the couple are false. David and Winona have admitted to having a great relationship off-screen. They have appeared together on interviews, and they enjoy each other's company. We might get a David and Winona relationship on-screen, but an off-screen relationship looks improbable at the moment.
---