Taylor Fritz finally matched his mother, Kathy May, by reaching the quarter-final of a Grand Slam tournament. Kathy reached three Grand Slam quarter-finals – two at Roland Garros and one at the US Open – during her peak playing days in the late 70s. After defeating Jason Kuler to reach the quarter-finals, Taylor said:
"My first grand slam quarter-final, that's really a big deal. Part of the final eight and I'm glad I could get the win on the Fourth of July, being American."
Fritz will need all his skills to get to the semis: he faces Spanish maestro Rafael Nadal. The American knows what it takes to beat Nadal, having triumphed over the Spaniard earlier in the year to claim the Indian Wells Masters title.
Taylor's parents played professional tennis, with his mom winning seven WTA titles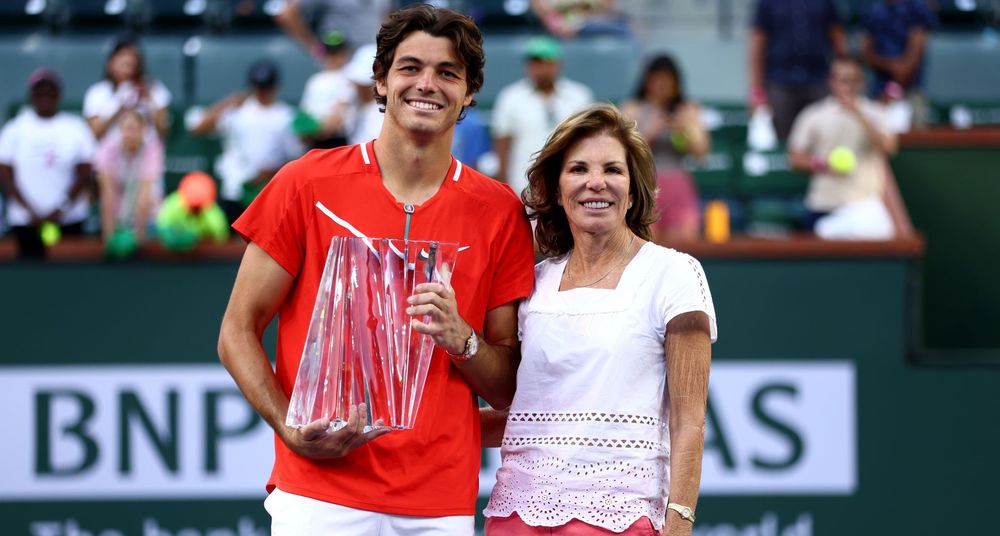 Taylor Fritz was born on 28th October 1997 to Guy Henry Fritz and Kathy May in Rancho Santa Fe, California. Guy and Kathy played professional tennis, with Kathy breaking into the top 10 in the late 1970s and Guy finding success as a coach.
Kathy May came from a wealthy Jewish family. May's father, the late David May II, inherited the May Company Department Stores Co.(now Macy's) and was a notable figure in the LA Jewish community.
May's maternal step-grandfather Mervyn LeRoy was a famous film director who produced The Wizard of Oz. Davin and LeRoy were Jewish, but Kathy May was raised in the Protestant faith.
Kathy achieved fame through tennis, winning her first WTA title in September 1973. She won her seventh and last singles title in September 1976 in three sets over Brigitte Cuypers of South Africa.
In 1977 and 1978, she reached the quarter-finals of the French Open; in 1978, she exited the US Open at the quarter-final stage. Kathy May broke into the top 10 in 1977, achieving a career-high ranking of world no. 10.
Taylor's parents were conflicted over the best time for him to turn pro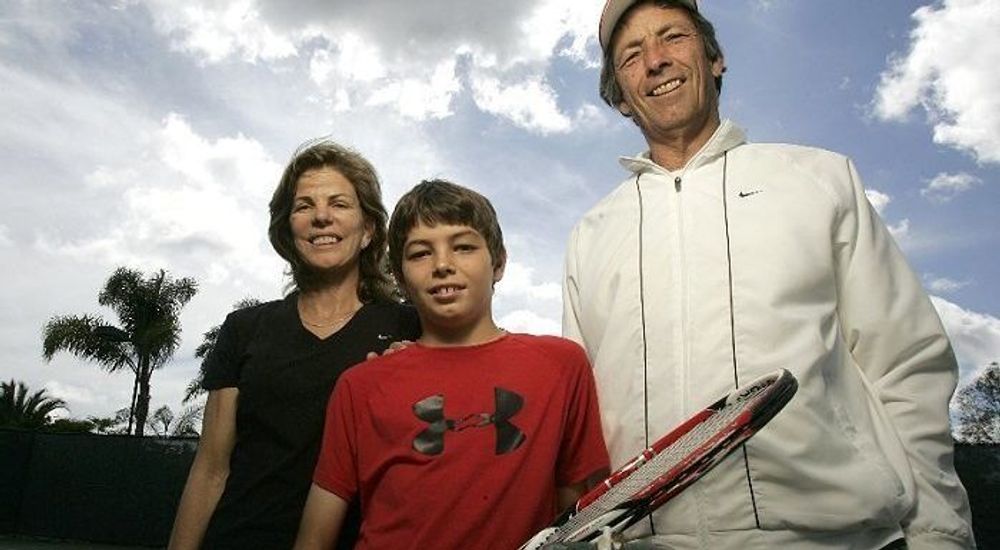 Taylor Fritz first picked up the tennis racket when he was two years old. Fritz also played baseball, basketball, and soccer, which, according to Kathy, benefited his career years later. She told ATP Tour:
"He loved all sports. When he was little actually, tennis was not his favorite. For him, it was great because he didn't love tennis so much. I think if he would have just played tennis he wouldn't have enjoyed it now."
Guy did most of the tennis coaching, but both parents contributed when making important decisions and guiding Taylor's professional path. Fritz told ATP Tour that his parents' guidance played a significant role in his development:
"It was nice to have two parents that could help make important decisions about what tournaments to play, what tournaments not to play, what time I should spend practicing, how many weeks I should be practicing, what I should be doing of the court, keeping myself healthy, coaches I should see, and just a lot of important decisions."
By the time Taylor was 17, he was the top-ranked junior player worldwide. Guy told The Los Angeles Times he expected Taylor to reach the upper echelons of global tennis but didn't expect him to rank first.
"When he was 12 and playing in tournaments, I knew he was good, really special, but not so good that he'd be No. 1 in the world juniors," Guy said. Kathy added: "I remember when he was 8, how focused he was. He knew the score, always had his head in the game. Unusual for an 8-year-old."
In 2015, Fritz had two choices: go pro or spend one year in college as his father wanted. Spending one year in the USC gym would help him get stronger, preparing him for the demands of professional tennis.
Guy told the Los Angeles Times that if Taylor won the Wimbledon juniors, there would be no stopping him from going pro. Fritz didn't win at Wimbledon, losing to eventual champion Reilly Opelka in the semi-finals, but he still went pro.
Fritz soon proved to his parents that it was the right choice. "My thinking was he's gonna get the best competition out here on the road and he can still develop his strength," Kathy said. "He didn't really wanna go to college and he was eager and he kinda made that decision."
Fritz pushed his mother back to the court despite her injury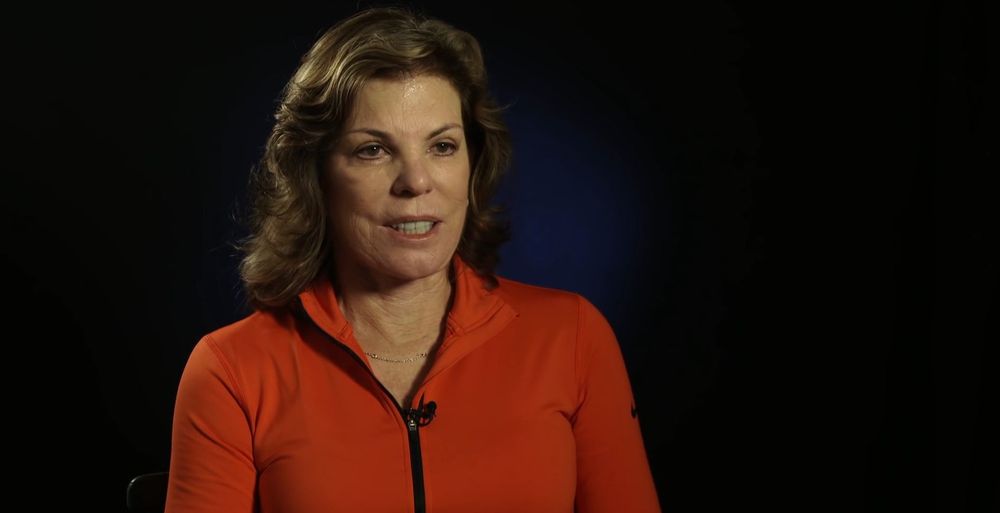 "He [Taylor] is very mentally strong… He hates to lose in anything even since he was a young boy," Kathy said.
Taylor's competitiveness was on full display when, at age 12, he teamed up with his mother to compete in a local mother-son event. Fritz told ATP Tour that Kathy was the best mom at the event:
"One of the biggest mother-son tournaments in the country just happened to be in San Diego where I live. So, it was easy, we would just play it. My mom was a former Top 10 player and she still played a lot, so she was, for sure, the best mom in the competition."
Taylor told the outlet that he was probably the weak link in the team, making him a target for opponents. Nevertheless, the pair made it to the quarter-finals, where disaster struck: Kathy suffered a calf injury.
May couldn't play, but Taylor wanted to win so badly that he forced her to keep going. Taylor continued:
"We got third place in the tournament, but it was just funny because I made her keep playing when she really couldn't walk. Now, looking back at it, it is just a mother-son at the local club near my house so it was not that big of a deal. But, back then, it was all that mattered."
Over a decade later, Taylor's turn to play through injury arrived. Fritz tweaked his ankle during his semi-final win against Andrey Rublev in the semi-finals of the Indian Wells Masters.
Fritz thought he could sleep off the injury as he'd done many times before; when he got to the practice court, however, Taylor learned that the injury was far worse than he'd expected. A doctor advised him not to play the final against Nadal, but Fritz decided to compete.
Taylor took two injections to numb the pain before defeating Nadal in two sets. In doing so, he fulfilled Guy's prophecy that Taylor would win at Indian Wells. Fritz told CNN:
"I do remember my dad taking me on a stadium tour and pointing down the stadium court and saying, 'One day, you are going to win this tournament.' It's insane that [it] actually happened."
Taylor's mom was married twice before marrying Guy Fritz
Kathy May married fellow Californian Brian Teacher in 1979. May informed him she wanted a divorce as Teacher prepared for the Australian Open. An excerpt from Sandra Harwitt's book The Greatest Jewish Tennis Players of All Time reads:
"I called home and I said, 'I just lost and I had match point' and the first thing out of Kathy's mouth was she wanted a divorce. I said, 'What?' That's like crazy and we had just been talking about moving and starting a family."
Teacher was playing the best tennis of his career, but he forfeited his place in the Australian Open to return to California. Before leaving for the airport, Kathy's father called Brian and advised him to head to Hawaii for a holiday instead of returning home.
"I didn't think I'd have a good time in Hawaii so I might as well just stay and try to play this tournament," Brian said. After another player pulled out, Brian retook his place in the Australian Open. Despite receiving news of his impending divorce, Brian played beautifully, winning the 1980 Australian Open.
May and Teacher eventually divorced. Brian went on to have a happier second marriage, but May wasn't as lucky. She welcomed two sons – Chris and Kyle – with fireman Donn Paben, but that marriage also dissolved.
It was third time lucky for Kathy: she's still married to her third husband, Guy Fritz.
---