Carlos Alcaraz arrived at the U.S. Open hoping to enjoy playing tennis again. Before the tournament, Alcaraz's form had floundered as the pressure to keep winning seemed to weigh down the supremely talented 19-year-old. Alcaraz bounced back in style, defeating Casper Ruud in the final to become the first ever teenage men's No.1. After the win, Carlos said:
"This is something I dreamed of since I was a kid. To be number 1, to be a champion. It's something I worked really hard for. It's tough to talk right now, a lot of emotions. This is something I tried to achieve, all the hard work I did with my team, my family."
Carlos' father, a top tennis player in his heyday, introduced Alcaraz to the sport
Carlos Alcaraz was born on 5th May 2003 to Carlos Alcaraz Gonzalez and Virginia Garfia in El Parma, Murcia, Spain.
Carlos Sr. was a top tennis player during his day. He breached Spain's top 40 and played his best tennis during the early 90s. Gonzalez introduced Carlos Jr. to tennis when he was four years old.
Alcaraz revealed before the 2022 Madrid Open that he first attended the tournament when he was five or six years old: "I came here when I was five or six years old, so to be back here playing the tournament is special. I am going to give my best so that the Spanish crowd is proud of me."
Carlos fed off the crowd's energy to win the Madrid Open, recording back-to-back victories against Rafael Nadal and Novak Djokovic along the way.
Gonzalez was the director of Real Sociedad Club de Campo de Murcia, the tennis academy where Alcaraz started playing tennis. Carlos Sr. is much less involved in Alcaraz's coaching nowadays, having adopted a more supportive role since Carlos burst onto the senior leagues.
Carlos' parents and siblings are often in his box cheering him on during matches. After winning the U.S. Open crown, Carlos lamented that his grandfather and mother couldn't make it to New York to watch him lift the trophy but added that he was thinking of them throughout. Alcaraz said:
"I was thinking of my mom, she is not here, and my grandfather. A lot of my family are here, but there are a lot of people from my family, they couldn't come here to watch the final, to watch some matches and I was thinking of all of them."
Alcaraz considers his coach, Juan Carlos Ferrero, his second father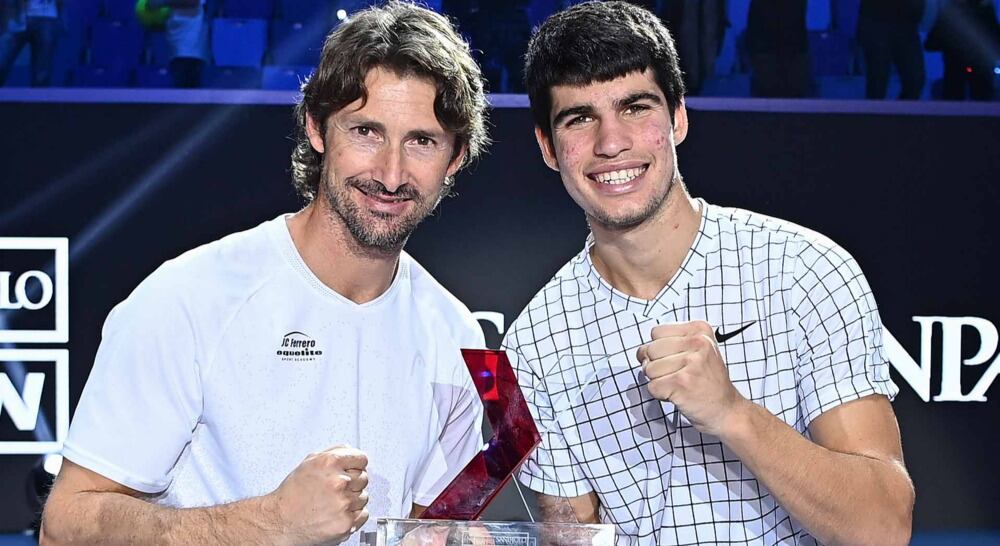 The highlight of Juan Carlos Ferrero's career was winning the 2003 French Open, which earned him the world No. 1 ranking.
When he became Alcaraz's coach, the teenager was a disorganized character. Alcaraz explained:
"At first it was tough. I was very difficult. Juan Carlos had a tough time, because I was really disorganised. And I still am, just a bit less! I didn't control my emotions well and I didn't have my head straight."
Ferrero helped instill order in Carlos' life and improved the teenager's temperament, making him a better player. When Carlos' form faltered due to the increasing weight of expectation, Ferrero helped him pick a style of play that evoked feelings of freedom and happiness – a style that won him the U.S. Open.
No wonder Alcaraz said he considers Juan Ferrero his second father. After winning the tournament at Flushing Meadows, Carlos rushed to his box to embrace his team, reserving the biggest hug for Ferrero. Alcaraz said:
"Thanks to him I'm lifting this trophy today. If I [didn't have] Juan Carlos Ferrero in the box, Juan Carlos [as] my coach, it wouldn't be possible for me… Juan Carlos is my second father. He could train a lot of top players but he decides to be with me."
An oft-forgotten yet important player in Carlos Alcaraz's development is the community in Carlos' hometown of El Palmar. The roughly 24,000 people of El Palmar consider Carlos a hero – in June 2022, a mural honoring Alcaraz was unveiled on one of the town's streets.
Victor Manuel Moreno, a local baker, talked to Reuters about a cake named after Carlos. He explained:
"This is a sweet that we made in honor of Carlos Alcaraz and his grandfather because his grandfather told him that in life you had to have three things: head, heart, and cojones. So we have baked El Palmar, Carlos Alcaraz cojones."
Carlos revealed that his parents still control his finances
Carlos Alcaraz has earned millions due to his tennis exploits: he took home $2.6 million after winning the U.S. Open.
Alcaraz previously revealed that his parents control his spending. He explained:
"To buy myself golf clubs, which I love, I don't ask them for permission, but I do for a good car. I'm still fighting against it. My father is tougher and my mother less so."
Carlos also said that his parents try to manage how much he enjoys his victories. He continued: "I don't have to be back at a certain time exactly, but they always say 'Don't be back late.' As hard as I try not to make any noise when I get home, I always wake them up and they catch me."
---