Shamima Begum is a former British citizen who left the country in 2015 to join the Islamic State. Begum and two of her friends were brainwashed into joining the terrorist group. Their story has resurfaced following allegations that an informant for the Canadian government facilitated the girls' passage into Syria.
In his book The Secret History of the Five Eyes, Richard Kerbaj claimed the informant, Mohammed al-Rahsed, notified British authorities of his connection to Canadian intelligence.
Begum's friends have since died, but she remains alive. Shamima Begum is currently involved in a fight to have her British citizenship restored.
Shamima Begum is in a camp in Northern Syria and allegedly regrets joining ISIS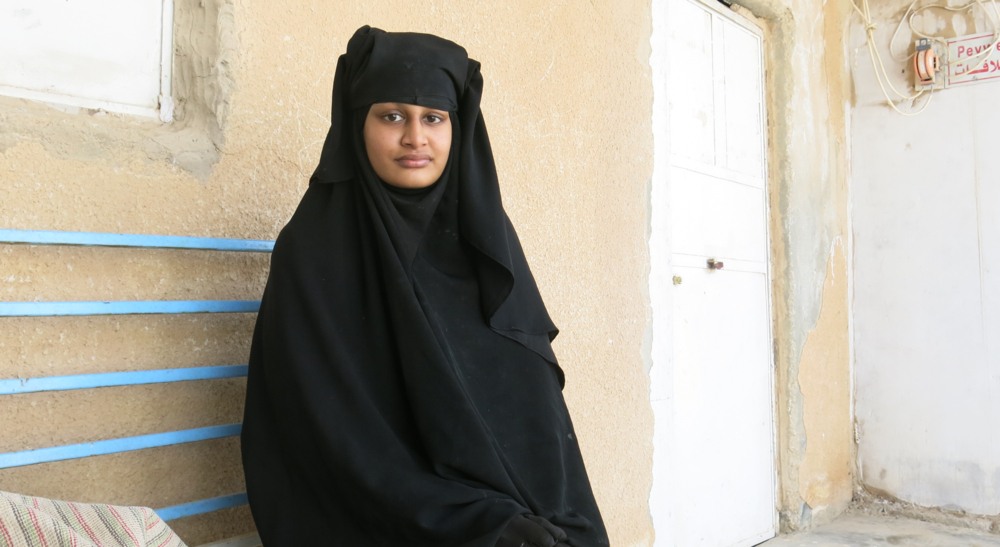 Shamima Begum became an ISIS bride shortly after arriving in Raqqa, Syria. She married Dutch fighter Yago Riedijk; the couple had three children who passed away.
Begum left ISIS-controlled territory after her third child passed away and currently lives in a heavily-protected detention camp in Northern Syria.
When reporters first tracked down Shamima, she expressed no remorse for her actions. Begum appeared to justify the deadly 2017 Manchester Arena terrorist attack. However, she later changed her tune, claiming ISIS threatened her into making those statements.
Shamima said she'd seen the error in her actions but claimed she was brainwashed into associating with the Islamic State. She told The Times:
"Since I left Baghouz I really regretted everything I did, and I feel like I want to go back to the UK for a second chance to start my life over again. I was brainwashed. Anything I said against Dawlah (ISIS), they would immediately attack me, so I was afraid of that."
Begum told The Daily Mail that she'd suffered mentally since her arrival in Syria. "My mental health situation is not the best," she said. "My physical health is OK. I am still young and I do not get sick. That is not my problem. Mentally, though, I am in a really bad way. It is so hard. I have lost all my children."
Shamima said she couldn't confide in her fellow inmates because they wouldn't understand what she'd been through. Begum added that she pretended to support ISIS to protect herself and her then-unborn child.
Curdi Serbilin, a soldier at the camp, supported Begum's assertion that she was struggling mentally. "Her mental illness is very natural because of what she went through," Serbilin told The Daily Mail. Curdi said:
"I believe she truly regrets she was once one of them. She was broken. She refuses to talk about her past. I want her to talk about her future. And give her some hope."
Begum plans to appeal her UK ban in November 2022
After leaving ISIS, Shamim expressed her intention to return to the UK, even as a prisoner if need be. Begum said: "There is more safety in a British prison, more education and access to family. Here, there are so many uncertainties about what will happen. It is still a warzone."
However, former Home Secretary Sajid Javid stripped Begum of her British citizenship. British law allows the Home Secretary to revoke a person's citizenship without leaving them stateless.
Thanks to her Bangladeshi parents, Begum automatically has Bangladeshi citizenship until she's 21. Therefore, Javid's revocation of Begum's citizenship was legal. Sajid's successor Priti Patel affirmed Javid's actions, telling The Sun:
"Our job is to keep our country safe. We don't need people who have done harm and left our country to be part of a death cult and to perpetuate that ideology. We cannot have people who would do us harm allowed to enter our country – and that includes this woman."
In July 2020, the Court of Appeal reversed the Home Secretary's decision, claiming the unilateral revocation infringed on Begum's right to a fair trial. On appeal, the Supreme Court overruled the Court of Appeal and reinstated Begum's ban.
Lord Reed, president of the Supreme Court, said the Court of Appeal had 'mistakenly believed that, when an individual's right to have a fair hearing… came into conflict with the requirements of national security, her right to a fair hearing must prevail.'
According to the Supreme Court, the right to a fair trial had limitations, including the preservation of national security. Lord Reed said the solution was to pause Begum's fight for citizenship until she could take part in her appeal from overseas.
"If a government is allowed to wield extreme powers like banishment without the basic safeguards of a fair trial, it sets an extremely dangerous precedent," Rosie Brighouse, a lawyer with the human rights group Liberty, said.
Begum might have found a way to make her claim for citizenship as she plans to appeal her banishment at the special immigrations appeals commission in November 2022. The revelation that a western intelligence asset may have facilitated her move to Syria will likely feature in her appeal. 
---