Thanks to a ruling by Lancaster County Judge Ryan Post, Nebraska released the performance targets on ex-coach Scott Frost's terminated contract. The contract stipulated that had the Huskers won at least six regular season games and contested a bowl game, it would have triggered a one-year extension for Frost and restored his annual salary to $5 million.
Nebraska's Athletic Director Trev Alberts didn't wait to see if Frost would deliver, dismissing Frost following a narrow loss to Georgia Southern. Alberts would have saved Nebraska around $7 million in payout costs by delaying the firing by three weeks. Trev and Nebraska's hierarchy had clearly had enough of Frost's underwhelming four-year stint as coach.
Scott is reportedly headed to Clemson or the Crimson Tide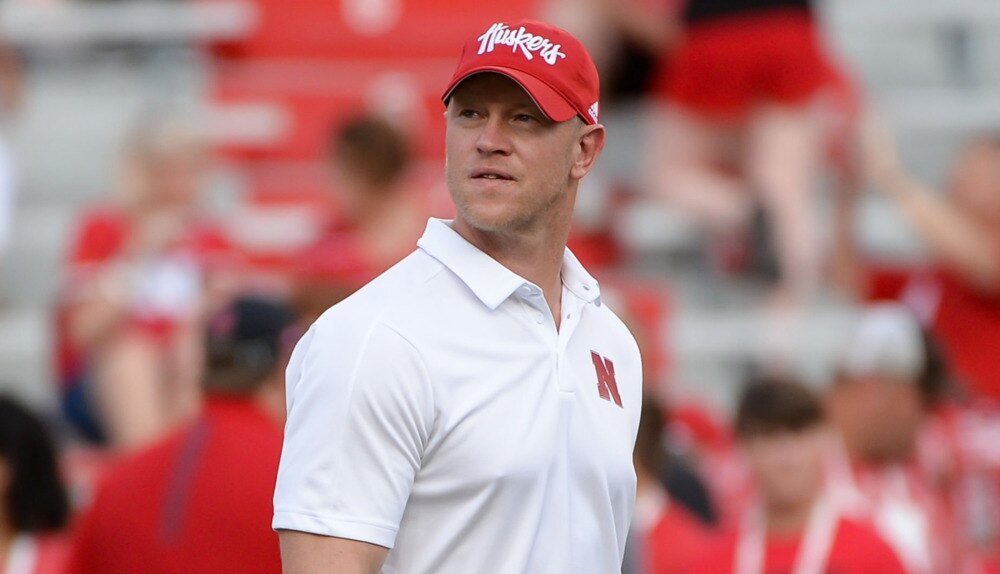 Scott Frost arrived at Nebraska as one of the top coaching prospects in college football. He'd changed the fortunes of the Knights in one season, transforming the perennial losers into a formidable team.
Frost also knew the culture at Nebraska, having played for the Huskers as a quarterback in the mid-90s. The then-43-year-old seemed the perfect buy for Nebraska. However, Scott arguably left Nebraska worse than he found it – the once heralded savior of the Huskers seemingly accelerated Nebraska's descent to the bottom.
Scott's reputation has taken a massive hit. Therefore, he's unlikely to land a top coaching job soon. Nevertheless, he could still contribute to the success of a college football program as part of the coaching staff.
247Sports analyst Cooper Petagna speculated that Scott would be a good fit at Clemson. Petagna suggested that Scott would improve the team's attack if hired as the offensive coordinator:
"Scott Frost is a very, very intelligent offensive mind and one I think they could use at a place like Clemson. More than that, I think Scott Frost could use the tutelage under a guy like Dabo Swinney to see what's a culture and how you build one."
On the other hand, Fans see the Crimson Tide as the ideal fit for Scott Frost. @SSN_Alabama tweeted: "What kind of plane do you think Nick Saban has Scott Frost on for his trip to Tuscaloosa right now? Commercial? Possibly a friend's private plane?"
Regardless of Scott Frost's calamitous time at Nebraska, fans and pundits still value his skills as an offensive coordinator. Frost might not be ready for the top job, but he can do wonders for a team's offense.
At the moment, Scott is a free coaching agent. It's unlikely he'll walk away from football, but he seems to have taken a break from active participation in the game. Frost is probably on holiday following a challenging four years as Nebraska's coach, blowing away part of his $15 million contract termination payout.
Former radio host Mike'l Severe claimed Scott's losses had little influence on his sacking
Scott Frost's sacking wasn't a surprise. However, the fact that saving $7 million couldn't convince Trev Alberts to keep Scott Frost for three more weeks raised eyebrows about Frost's tenure as coach. Former radio host Mike'l Severe confirmed there was more behind Scott's sacking than his dismal win record.
"Just know this, it's not about the losses, or the lack of wins; you can call it that," Severe said on the Hurrdat Sports podcast. "There so much … if someone wanted to write a book about this tenure … first of all it would allow Trev (Alberts) to walk away and go, 'this is why.'"
Severe said Alberts couldn't publicly discuss the contributing factors to Scott's dismissal. He continued: "He can't talk about his head coach showing up late to practice every day. He can't talk about his head coach not making recruiting phone calls. It was a mess up there."
Mike'l said Frost frustrated the assistant coaches so much that they lodged complaints with Alberts. "That should not happen – you should not have to have your assistant coaches complaining about your head coach because he's not doing what he's supposed to be doing," Severe said.
---