Richard Simmons is a famous American fitness personality who gained fame through his Sweatin' to the Oldies fitness videos. Simmons experienced insistent bullying and neglect for being overweight in his younger days. In a desperate attempt to shed pounds, Simmons adopted a near-suicidal weight-loss regimen that included medication and fasting.
He achieved his goal, but not before a trip to a hospital emergency room. Richard had lost weight, but he did it the wrong way and didn't want anybody else to have a similar experience. He, therefore, committed to helping people lose weight the right way, with exercise and dieting. His programs attracted Hollywood's elite and kick-started his rise to fame.
Simmons is yet to return to the public limelight, but his fitness videos were made available on Fuse Sweat
Richard Simmons' last interview was in 2013 with CNN's Brooke Baldwin. Brooke asked Richard what his morning affirmations are. "I say, 'Try to help more people," Richard said before breaking down. "But just remember: You're one of a kind. And God could have made you a butterfly that lasts three months, but he made you a human being."
Simmons made a couple more public appearances before vanishing. Richard closed his fitness studio and cut off contact with friends. In response to conspiracy theories about his sudden absence, Richard called the Today Show and stated that he wanted to 'be a little bit of a loner for a little while.' He added:
"You know, I had hurt my knee, and I had some problems with it, and then the other knee started giving me trouble because I've taught like thousands and thousands of classes, and you know, right now I just want to sort of take care of me."
Entertainment Tonight also reported that its executive producer, Brad Bessey, had spoken to Richard by phone. "No one should worry about me," Richard insisted. "The people that surround me are wonderful people who take great care of me."
Richard's assertions did little to quell the speculation about his sudden disappearance, but at least people knew that he was alive, and by his own admission, had people taking care of him. After making his statement, Simmons recoiled into his apparent solitude.
Simmons resurfaced in 2020 in the form of archival fitness videos posted on his Twitter page and YouTube channel. "We have had an overwhelming request for Richard to return in some way as a comfort to all those dealing with the pandemic," a representative told Fox News. "We thought we would start by re-releasing some workouts and other inspirational content on his channel."
"Richard is very touched by the outreach." In March 2021, Richard celebrated Sweatin' to the Oldies' inclusion on Fuse Sweat via the following statement sent to People: "I am very excited that my groundbreaking fitness series of Sweatin to the Oldies still is so relevant and popular and I hope many new fans will discover these timeless classics."
Richard continues to post videos on his YouTube channel but is yet to make a public reappearance. According to TMZ, Richard has 'still not decided when or if he'll make a return to the spotlight.'
Richard's friends were worried that he was being held hostage by people close to him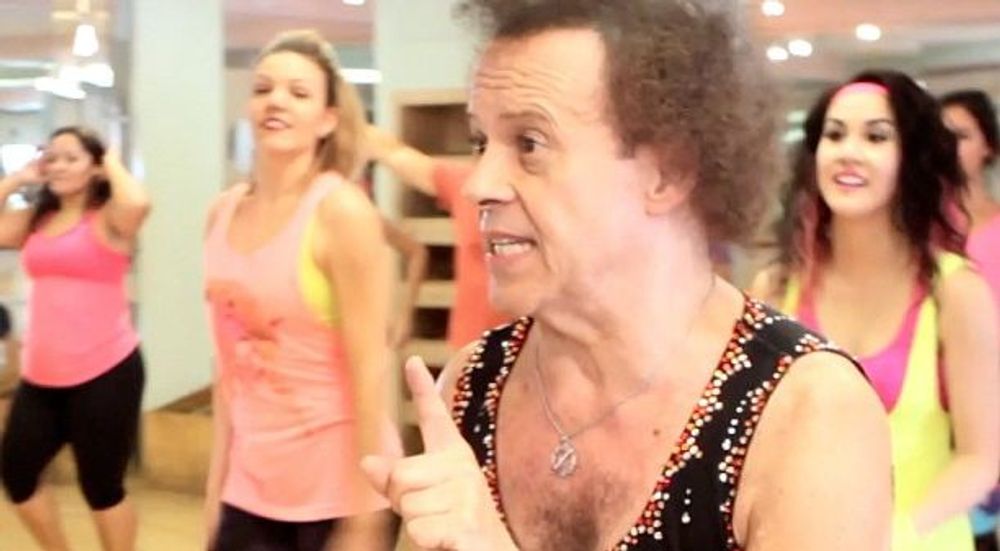 Two years after Richard's disappearance, The Daily News ran a story claiming that Richard's friends feared that he was being held hostage. "He was the most reliable and caring person on the planet, and then to suddenly vanish? I have come to believe that something else is happening," a friend told the publication. "I don't think Richard is in there of his own volition."
The report stated that in April 2014, Richard told his close friend and former assistant Mauro Oliveira that the pair could no longer be in touch. "I want to be in the house, and we're never going to see each other again," Richard reportedly told Mauro. Oliveira reportedly asked Simmons whether his housekeeper Teresa Reveles was controlling his life; "Yes," Simmons replied.
"I feel that Richard is now being controlled by the people he controlled his whole life," Mauro said. "Controlled in the sense that they are taking advantage of his weak mental state. Controlled in the sense that they are controlling his mail, controlling his everything. His brother, the manager, and Teresa. Those three people."
Mauro stated that he visited Richard at his mansion and found him sleeping at 2 p.m. on Sunday. "I don't care," Teresa reportedly told Mauro when he suggested that Richard seek treatment. Per TMZ, police visited Richard's home in January 2015 and found him alert and responsive.
Other rumors and conspiracy theories surrounding Richard Simmons' disappearance include: Richard's knees have given up on him, and he can't bear looking weak in public; Simmons' mental health issues, aggravated by the death of his beloved Dalmatian, have crippled him; and, Richard simply wants to be left alone.
An email sent to The Washington Post by his publicist Tom Estey supports the last theory. "He is simply willingly living his life outside the public eye," the email reads. Filmmaker and Simmons' longtime friend Richard Simmons started the podcast Missing Richard Simmons in an attempt to stir Richard back to his usual effervescent self. He told The Washington Post:
"What we're doing is something of a grand gesture. We are reminding him that what he did was important and that he helped countless people and they love him for it. There's something about him, maybe, that he doesn't believe, and hopefully this will jar that part of him."
---