Rachel Zegler refuses to engage in the conversation about her casting as Snow White in the upcoming live-action remake of the animated classic Snow White. "Extremely appreciative of the love I feel from those defending me online, but please don't tag me in the nonsensical discourse about my casting," Zegler tweeted. "I really, truly do not want to see it."
Rachel Zegler has a Polish-American father and a Colombian mother
Rachel Zegler was born on 3rd May 2001 to a Polish-American father and a Colombian mother. Her grandmother emigrated from Colombia to the United States in the 1960s.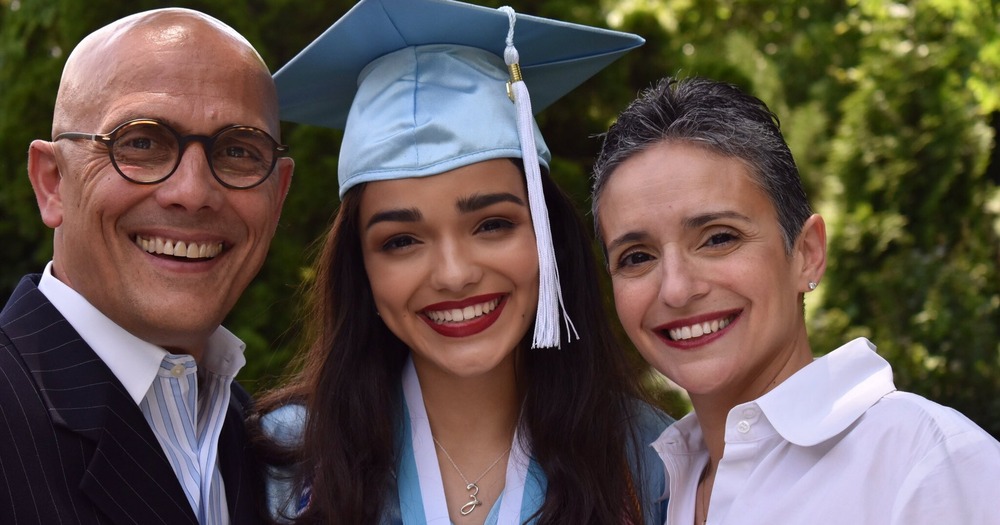 Zegler told Variety she feels more connected to her Colombian culture than her American heritage: "You know, yeah, my dad is white — he's American. His family has been in this country for many, many, many years. And the same can't be said for my other side of the family. I'm more immersed in my Colombian culture than I've ever been immersed in my American culture, so why does someone else get to tell me what I am?"
The internet has relentlessly debated Zegler's ethnicity since she announced her casting as Maria in Steven Spielberg's West Side Story. "As a Colombian-American woman growing up in this day and age, strong roles like Maria are so important. To be able to bring that role to life – a role that means so much to the Hispanic community – is so humbling," Zegler wrote on Instagram on 15th January 2019.
Out of 30,000 auditioners, the film's casting directors picked Rachel Zegler, a testament to her otherworldly acting and singing talent. However, some commenters found fault in her casting, saying she wasn't dark enough for the role. Steven Spielberg stated that the Latino and Latina actors would play the film's leading roles, contrary to the original production, in which white actors like Natalie Wood portrayed Latino characters.
Spielberg's commitment to authenticity and Zegler's casting should, therefore, have received universal approval. However, some netizens opined that Zegler was too white to portray Maria. Zegler had a different perspective, saying the film would show people 'there are so many different ways to be Latinx'. She told TIME:
"Authenticity is really important when it comes to West Side Story, and authenticity in Latin identity comes in so many different shapes and sizes and colors. We have so many people from so many different walks of life in this movie that are being represented whether they were born and raised in Puerto Rico, Cuba, whether their parents were born here, like me."
Zegler admitted that she is treated better than black and indigenous Latino actors
Zegler admitted to Variety that black and indigenous Latino actors face more discrimination than she, a white Latina, does. The actor explained: "I'm a white Latina, I hold a lot of privilege, and if that's the conversation people want to have, about my privilege in this industry, then I am absolutely welcome to have that conversation. Like I said, I'm a white Latina. I don't get stopped on the street for the way that I look."
That's not to say that she hasn't faced discrimination for being Latina – in real life and online. She told the outlet that racists had spat on her in the subway for speaking Spanish and told her to return from where she came from. "They're the same people that will hide behind a profile on Twitter and tell me that because my dad is American or because my mom wasn't born in Colombia or because I wasn't born in Colombia that my identity is invalid," she stated.
Zegler's casting in West Side Story caused an uproar because some people opined she was too white for the role. Her casting as Snow White has drawn fury because she allegedly isn't white enough to play the character. Small wonder she's grown weary of the discourse about her ethnicity. Snow White was originally described as having 'skin as white as snow', a quality doubters say Zegler lacks. Zegler tweeted that she won't bleach her skin for the role.
Photos of Snow White's diverse cast drew criticism from conservative factions, who blasted Disney for being woke. "Meet the cast of Disney's new woke Snow White film. Snow White is Columbian now and the 7 dwarves look more like the 6 normal sized hipster pedos and 1 dwarf from Portland. Snow White no longer has 'skin white as snow'. Absolutely ridiculous," Robby Starbuck tweeted.
Zegler may have grown tired of the ceaseless criticism about her ethnicity, but she won't stop fighting for Latinx inclusion in inclusivity. "And like I said, I'm a white Latina in an industry that is not necessarily kind to Latinas but definitely more kind to white Latinas than anything, and so it becomes my job to make sure that those doors are open to other Latinos who are not necessarily — you know, they don't fix the box," she told Variety.
---