After decades of facing sexual assault allegations, R. Kelly finally got the prison sentence many thought he deserved: a federal court sent the disgraced singer to prison for 30 years. The court granted the prosecution's wish that Kelly get more than 25 years in prison to 'protect the public.'
"I stand here very proud of my judicial system, very proud of my fellow survivors and very pleased with the outcome," a victim said. "Thirty years (is how long) that he did this and 30 years is what he got."
Kelly claimed to have a close relationship with his mom, but it deteriorated after he became famous
Robert Sylvester Kelly was born in the Hyde Park neighborhood of Chicago, Illinois, on 8th January 1987, to Joanne Kelly, a schoolteacher and devout Baptist. Kelly's father was absent in his life, and his identity is unknown.
When Robert was around five, Joanne married his stepfather, Lucious. The family lived in Chicago's Ida B. Wells Homes public housing project.
Kelly told GQ he had a close relationship with his mother, claiming that she asked her to marry him. He said:
"In a son/mother way, I had a serious, serious crush on my mom. I just looked up and down to her. I looked around. I looked [at] everything about my mother. Y'know, I loved her. And I even asked her to marry me one day–she said 'no,' but I understood."
Joanne died of cancer in 1993. Kelly said he was at Joanne's bedside until she took her last breath and promised he would make her proud.
However, journalist Jim DeRogatis cast doubt on Robert's claim that he maintained a close relationship with his mother throughout her life. DeRogatis wrote in Soulless: The Case Against R. Kelly that the singer abandoned his mom after becoming famous. The journalist wrote:
"Several sources told me that once his career began to take off, Kelly actually shunned the mother he claims he worshiped. He refused to deal with her medical bills — she checked into the office under a false name — although he had the money."
The Chicago Sun-Times reported that Joanne told an 'associate' on her deathbed that Kelly made up a story about being shot by a gang in his early teens. The reality, Joanne claimed, was that Robert tried to commit suicide.
Robert was allegedly sexually abused by his sister when his mom left her to babysit
In his 2012 memoir, Soulacoaster, Kelly described being sexually assaulted by a woman in his family. Robert said he was awoken from sleep by a woman playing with him.
The book didn't identify the woman but revealed she was a regular presence in the household. "I remember it feeling weird. I remember feeling ashamed," Kelly told GQ.
Kelly's younger brother, Carey Kelly, revealed that their sister, Theresa Kelly, was the abuser. Carey said on Unwine With Tasha that he wasn't present when Robert was abused but was sure that Theresa assaulted them when Joanne left her to babysit.
Carey said that the difference between him and Robert was that the singer enjoyed it. The younger Kelly said:
"Robert, I believe, mentioned it to Bruce, our older brother, and I overheard it … he was bragging about, 'I'm not a virgin no more.' For him, it was like a rush … I think he enjoyed it, and I think that's another reason they got along after the fact."
Robert expressed similar sentiments during his interview with GQ: "I remember actually, after a couple of years, looking forward to it sometimes. You know, acting like I didn't, but did."
Kelly startled Chris Heath of GQ by comparing sexual assault to a generational curse. To Heath, Kelly said that since his sister had abused him, he'd acquired the curse of becoming an abuser. However, Robert refuted it, saying he'd broken the chain.
"Well, you know, just like poverty – poverty was a generational curse in my family, too, but I decided that I'm gonna stop that curse. Generational curse doesn't mean that the curse can't be broken."
It later turned out that Robert didn't break that curse. Carey believes that without Theresa, R. Kelly's story would've been a lot different. "Theresa is the cause of everything happening in the way that it did," Carey told DeRogatis.
Kelly's former manager added: "[Kelly] was hypersexual, not because he chose to be, but because of his sister."
R. Kelly named his daughter Joanne Kelly after his mother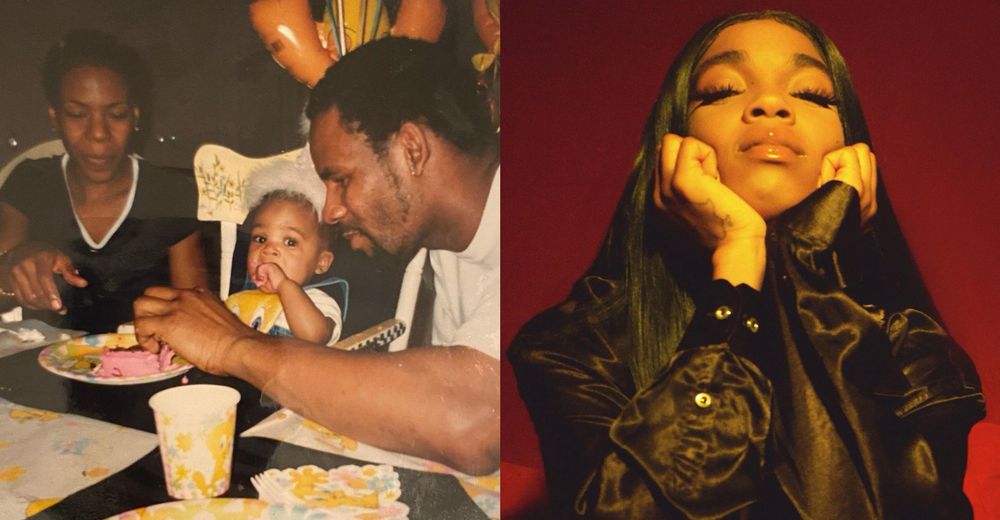 Perhaps in remembrance of his mother, R. Kelly named his daughter Joanne Kelly. Joanne arrived when R. Kelly's life started unraveling.
When Joanne was a child, Robert faced intense scrutiny for marrying Aaliyah when she was underage. Kelly was then accused and acquitted of child pornography but continued to face accusations of sexual assault.
Joanne grew up hearing accusations about her father, which almost pushed her to suicide. She told The Hollywood Reporter:
"Fifth and sixth grade is when I started learning the sore part of it, the not so good part. I think that was the hardest part for me because for so long I went with this image of who my dad (was) and what my family (was)."
Music became a source of comfort for Joanne, but entering the music industry proved difficult because of her last name. She initially went with Arriraye as her stage name before adopting Buku Abi. Buku tried reconnecting with Robert, but it didn't work out.
After Lifetime released Surviving R. Kelly, Abi faced calls by netizens to speak out against her father. Buku explained via Instagram that she was estranged from Robert and was still processing everything. She wrote:
"Reminders of how terrible my father is, and how we should be speaking up against him, rude comments about my family, fabricating me, my siblings & our mothers 'part' etc. Does not help my family (Me, my sister, my brother, and my mother) in our healing process."
"The same monster you all confronting me about is my father. I am well aware of who and what he is. I grew up in that house."
---