Jason Statham and Rosie Huntington-Whiteley share one of the most open yet secretive relationships in Hollywood. The pair don't mind the camera lens, but they refuse to reveal intimate details about their relationship. Statham and Rosie are masters at deflecting media questions about their love lives.
"We just kind of get on with things," Huntington-Whiteley told E! News. "We're pretty normal – were not leaving restaurants separately. People want to live on camera 24/7 but that's not us."
Nevertheless, we have done some digging and uncovered several details about the couple's romance.
The couple's 20-year age difference has raised eyebrows, but the age gap doesn't bother the couple
There are conflicting reports about Jason and Rosie's first meeting. Some sources state that the pair met on the set of Transformers: Dark of the Moon, while others claim that the couple crossed paths at the Coachella Music Festival.
It is clear, however, that the pair started dating sometime in 2010. They dated in secret for about six months before making their first red carpet appearance as a couple.
The pair's 20-year age became tabloid fodder in the days following their first public appearance. Rosie is 20 years younger than the movie star, but the age gap doesn't affect their relationship. She told New York Daily News:
"His knowledge and strength are really inspiring and attractive, and that can come with a man who's had a bit of time. We have a connection that has nothing to do with age. Work comes and goes, but if you have someone at home who thinks you're the greatest person in the world, that keeps you going."
Jason repeatedly plays the anti-hero – the damaged and often irredeemable character that you hate to love. In real life, however, Statham is soft and funny. Rosie stated that she couldn't get enough of Statham's sense of humor.
One person that doesn't feel the same way is Jason's ex Kelly Brook. Jason and Kelly started dating in 1998 and split up in 2004 after calling off their engagement. Kelly has been critical of Jason, once referring to their engagement as 'non-memorable.'
In 2019, Brook sensationally referred to the multi-million-dollar actor as 'skint.' She interrupted Ashley Roberts as the host read out Jason's achievements, saying, "Let's not go there Ashley. He was skint when I was there, trust me."
Jason and Rosie got engaged six years after they started dating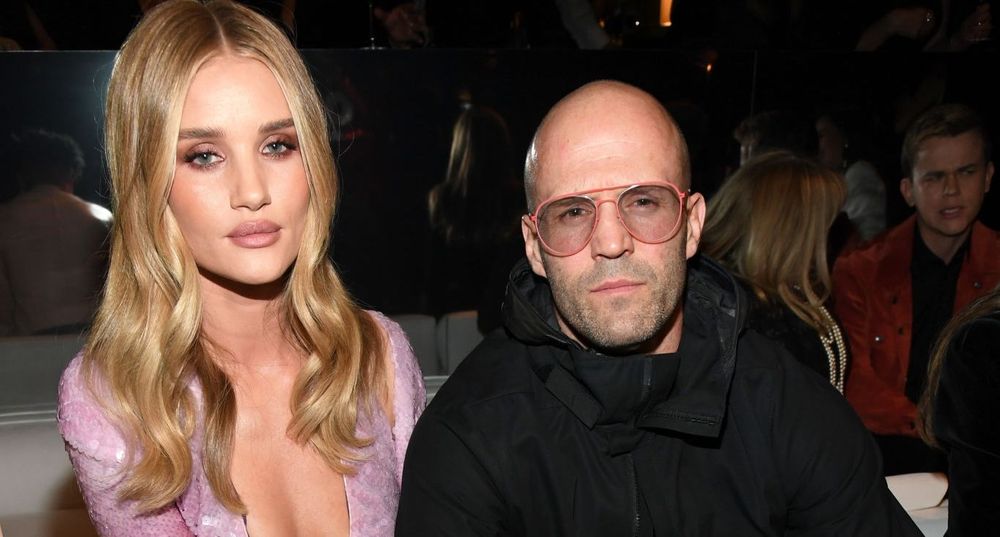 Jason and Rosie's engagement was a low-key as their relationship. We learned of the engagement after Rosie attended the 2016 Golden Globes with a rose-gold engagement ring.
The couple's reps later confirmed that Rosie and Jason were engaged. Neil Lane, the ring's supplier, talked to People about Rosie's $350,000 ring: "Jason wanted something perfect and flawless and he kept coming back to this one. He knew it was right."
Some reports falsely claim that Jason and Rosie wed on New Year's Eve 2018. We can confirm that Jason and Rosie are yet to marry but plan on having a wedding ceremony. Rosie told Extra:
"We've been so focused on our work for so long, and Jack came along. We definitely talk about it. We're looking forward to that time. It's also not a huge priority for us; we're so happy. I think it will be fun to do it when the baby's grown up a bit and he can be involved in the wedding."
The pair welcomed their son Jack Oscar Statham on 24th June 2017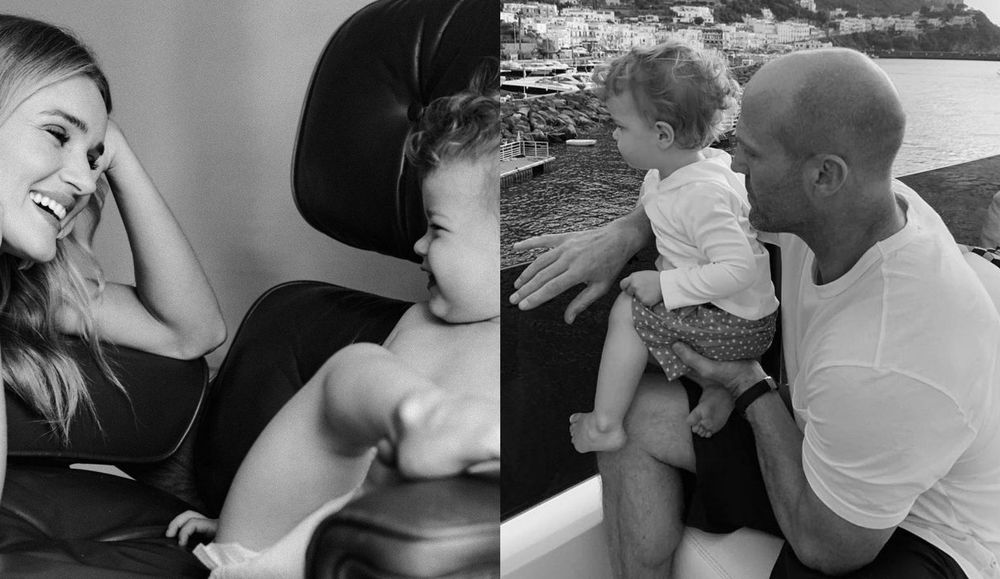 "Very happy to share that Jason and I are expecting!!" Rosie announced on Instagram. During her pregnancy, she made plenty of public appearances, offering her fans a glimpse of her growing baby bump.
Rosie had often spoken of her desire to start a family. "Having a family is something I think about for sure," she told the Sunday Express in 2015. "I have no idea what will happen but it'll be interesting to find out, right?"
The couple welcomed Jack Oscar Statham on 24th June 2017. Rosie admitted to putting on extra weight, but she learned to love the imperfections brought by the pregnancy and birth. She told Harper's Bazaar UK:
"Now my perception of what I thought of as feeling great and looking great has shifted. I'm stronger, both physically and mentally. I feel, probably for the first time, that I'm a woman rather than a girl. It's been a really great shift to see myself in the mirror and to be OK with the imperfections."
Jason is a doting father, but he told Access that Rosie is better at parenting than he is. The couple occasionally share photos of Jack, but the pictures rarely show Jack's face. "How to describe a love like this?! Rosie captioned a Father's Day photo of Jason and Jack on a boat.
"[Jason is] the best dad," Rosie told Harper's Bazaar UK. "I can't even put it into words. It's really a beautiful thing to watch." In an interview with Extra, Huntington-Whiteley heaped more praise on Jason's daddy skills:
"He is very happy to get up at five in the morning and do daddy duty and let me sleep an extra hour. He's very hands-on; he's a brilliant dad. I am very lucky. He's a great partner."
"Do you and Jason wish for more children?" a fan asked Rosie via social media. "Yes, we would love t0!" Rosie replied.
---