Statistics
Age:

34 years old

Date of Birth:

November 15, 1985

Birth Place:

Orange County, California

Horoscope:

Scorpio

Full Name:

Jeffrey Lynn Steininger

Occupation:

YouTube Star, musician, entrepreneur, fashion designer, Make-up artist

Height:

6 feet 1 inch

Nationality:

American

Ethnicity:

White

Marital Status:

In a relationship (Nathan Schwandt)
About Jeffree Star
At a first glance, Jeffree Star passes as a lady, until you look closer and realize that he is actually a man. He is an American make-up artist, YouTube star, musician, fashion designer, and a successful entrepreneur.
Jeffree Star is the founder and owner of the multi-million dollar cosmetic brand titled Jeffree Star Cosmetics. His electrifying persona with heavily done eye makeup has earned him a large fan base attracted by his outstanding skills and talents.
He is also a popular YouTuber and boasts of a whopping 15 million subscribers on his self-titled channel. In 2009, he released his debut first and only studio album titled Beauty Killer which peaked #7 on the US Billboard Top Electronic Albums chart.
Here's everything you need to know about this phenomenal media personality!
Jeffree Star makes a shocking Revelation about the true identity of his mom
Recently on 19th August 2018, Jeffree Star posted a YouTube Video, Revealing my Darkest Secrets in which he clarified about his parents.
Jeffree made a shocking revelation about his mom, Laurie Steininger – revealing that she was not his biological mother! Jeffree's dad, Glen Steininger committed suicide when he was only aged 6 years and he had to be raised by his mom alone.
According to the video, he revealed that all the pictures of his mom on the internet were a 'lie'. 'Laurie Steininger' is actually his aunt from the father's side by marriage. Jeffree stated that his dad had two brothers, Roger and Philip, all deceased and that Laurie had been the wife of his uncle Phil.
To clarify the point about his biological mom, Jeffree revealed that they had been having little or no contact with each other for at least 10 years. They recently reconnected in the Christmas day of 2017.
The reason as to why he had lied about his biological mom was because he needed something to show the internet. Jeffree has no actual blood connection with Laurie Steininger, and that what had started as a 'cute white' lie reached to a point where it left him all loaded with guilt.
Jeffree confessed that he had always been embarrassed that most of his family parents had died. He goes on to reveal that his paternal grandmother had turned 100 years and was, unfortunately, the only surviving member. She had outlived her husband and three sons.
Jeffree's uncle Phil, and Laurie had been married for 36 years before he passed away. Laurie had been his high school love and the only girl he had ever slept with – what Jeffree termed as a 'magical fairytale'. After the death of his uncle Phil, Jeffree reportedly became very close to her aunt and as they bonded, he even started calling her his mom.
With his debut career and fast-growing popularity, Jeffree needed something to tell the internet. That was when he revealed Laurie Steininger as his mom mainly because she was the closest thing to a mom Jeffree had ever had.
Jeffree Star's Bio & early life
Jeffree Star was born as Jeffrey Lynn Steininger Jr. on 15th November 1985 in Orange County, California, U.S. He holds the American nationality and belongs to the white ethnicity.
Jeffree stands at a height of 6 feet 1 inch and weighs approximately 73 kg. He has blue eyes. His hair color is, however, unclear since he is always appearing in flamboyant hairstyles with different colors.
Jeffree also loves tattoos and has his body covered with them.
While growing up, Jeffree would regularly 'experiment' with his mother's make-up and would convince her to let him wear it to school – he was in junior school by then.
After graduation from high school, Jeffree moved to Los Angeles where he supported himself through various makeup, modeling, and music jobs. He reveals that he would spend his weekends using 'fake ID's' to attend Hollywood clubs dressed in mini dresses and 9-inch high heels.
After socializing with various celebs, they would contract him for makeup work at their homes. Jeffree's skills and the makeup advice he offered eventually led to his modeling career.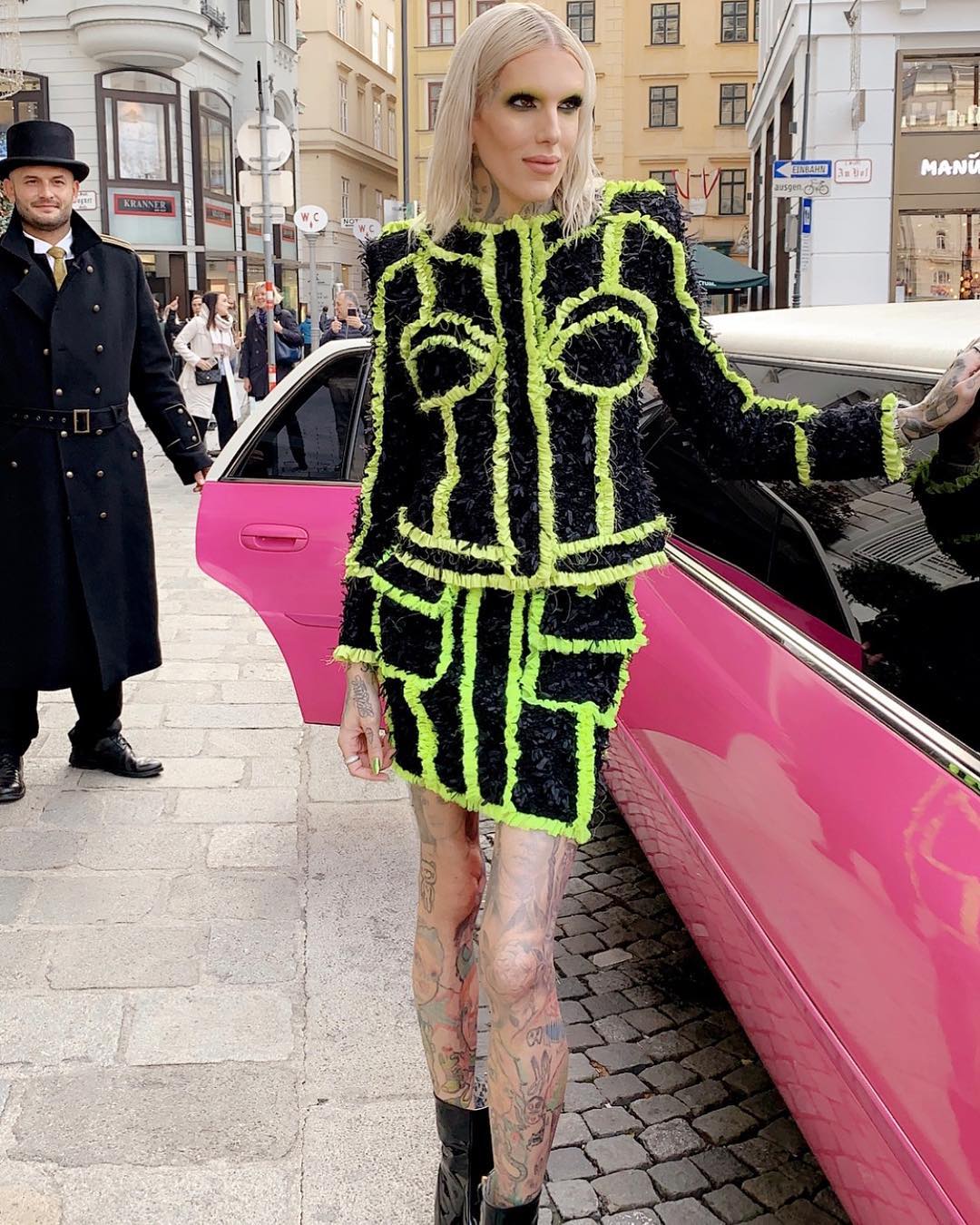 Jeffree Star's Career – his meteoric rise to stardom
For Jeffree Star, it was never a shortcut to his success, and he literally had to pave his way to reach where he is today. He started off as a make-up artist sneaking his way into Hollywood clubs – where he would pitch his clients.
Today, he is a guru make-up artist and a proud CEO of his million-dollar e-commerce makeup brand titled Jeffree's Cosmetics. What is the success story behind the phenomenal internet personality?
Following his early interaction with various artists from an early age, it was not that difficult for Jeffree to explore his musical career. He started his career as an electronic and pop vocalist when he befriended Peaches drummer, Samantha Maloney – who reportedly encouraged him to pursue music.
Jeffree released his first and only album titled Beauty Killer in 2009 which peaked at #7 on the US Billboard Top Electronic Albums chart. His debut album included popular songs such as Lollipop Luxury featuring Nicki Minaj.
In 2010, Jeffree Star signed with Akon, who described him as the 'next Lady Gaga' – with plans to release his second alum. He, however, abruptly left the music industry and has termed signing with Akon as 'the biggest mistake he has ever made.' Particulars on what exactly went down are still unclear.
In 2010, Jeffree appeared in the second video version of Keisha's music single, 'Take It Off'. He has also worked with other music performers such as Millionaires, Blood on the Dance Floor, Deuce, and Larry Tee.
As of his fashion design career, Jeffree founded his e-commerce brand, Jeffree Star Cosmetics in 2014, using his life savings. He created his self-titled YouTube channel where he would upload videos promoting his brand.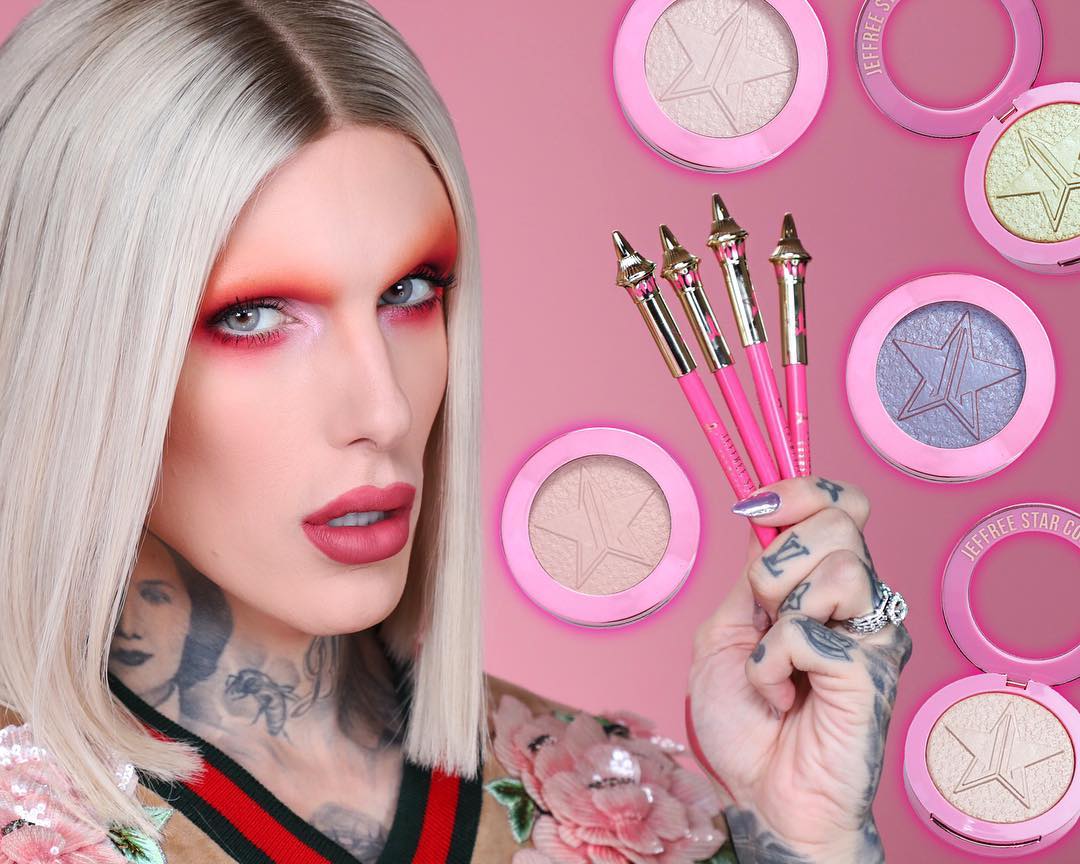 In the process, Jeffree became a popular YouTube star and has achieved a great deal of success with millions of subscribers.
His first cosmetics release entailed a collection of velour liquid lipsticks, followed by highlighter palettes, lip scrubs, eyeshadow palettes, clothing, and other accessories such as mirrors and bags.
Jeffree has earned himself a great deal of success and was even described by the Bustle magazine as 'a musician and onetime Myspace celeb that re-invented himself in the YouTube makeup tutorial space.'
Jeffree Star recently opened his first physical Cosmetics store at Westfield Garden State Plaza in Paramus, New Jersey on 11th August 2018.
He has used Myspace – a popular social networking website to further both his music and Fashion design career. He uses the platform to blog about his life, while at the same time making social commentary on 'self-image and confidence', beauty, fame, and life.
As a result, Jeffree has managed to build up a big fan base on several websites and on Myspace platform as well. His photo-shoots posted on the platform attract a lot of attention and often get more than 50,000 total comments once posted.
Jeffree Star's personal life – is he Gay?
As a matter of fact, it is true that Jeffree Star is Gay, and he doesn't mind sharing that with his fans either. He is in a live-in relationship with his boyfriend, Nathan Schwandt who is an Instagram star.
Their relationship kicked off in March 2015 after Nathan flew to California to see him for the first time. Nathan reportedly helped set up Jeffree Star's cosmetic company and is now part of it.
Previously, there were speculations that Nathan had turned his sexuality to Gay in order to be free with Jeffree and his money. However, the couple has discarded this rumors and is currently enjoying a blissful relationship.
The two currently reside in Calabasas, California and have 5 Pomeranian dogs named Diamond, Drama, Diva, Daddy, and delicious.
Alos Read: Nathan Schwandt – Bio, Jeffree Star's Partner, Facts, LIfe Of Internet Personality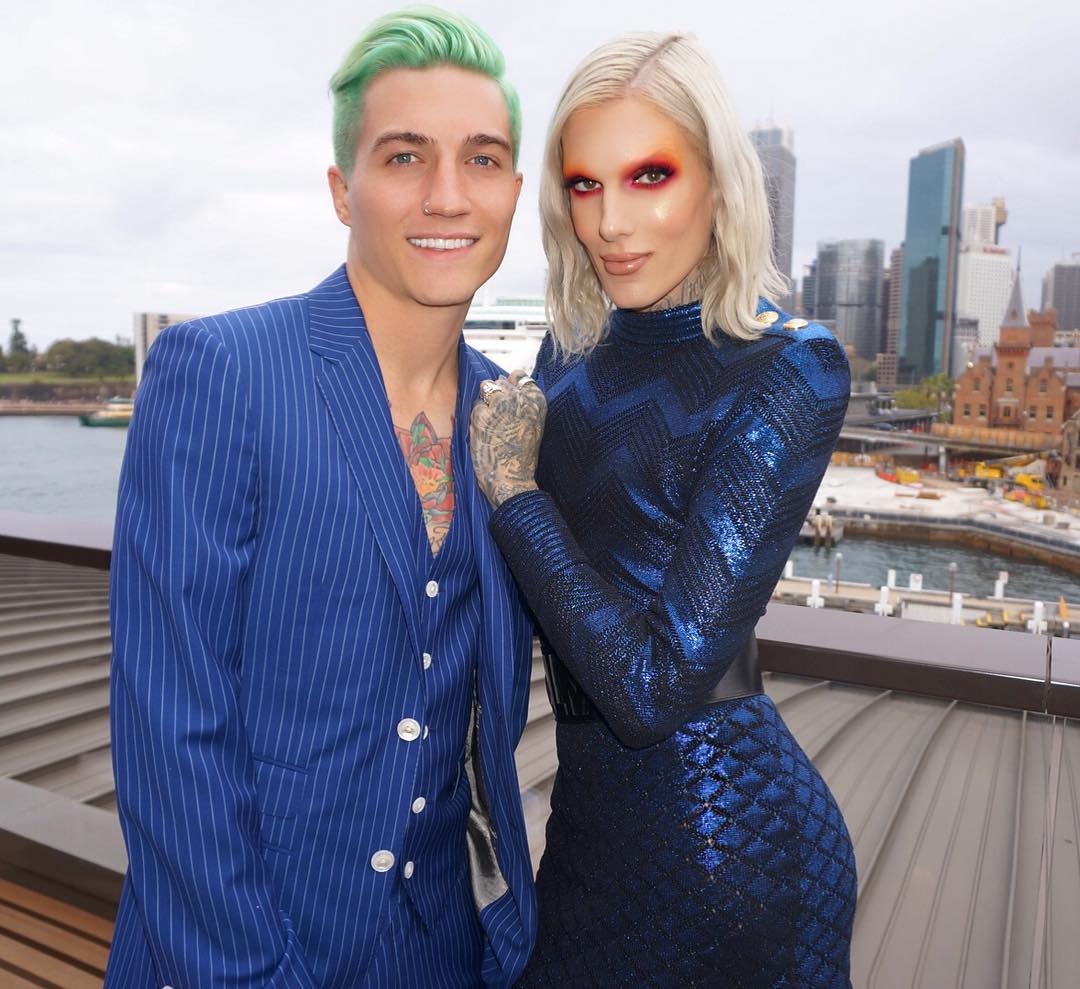 Jeffree Star's net worth
At the age of 33, Jeffree has managed to set up a successful career as an internet personality and businessman. He earns from his various online activities, and from his fast-growing business ventures.
As of 2018, Jeffree Star was reported to have a hefty net worth of more than $50 million.
Also Read: James Charles – Bio, Is He Gay?, Who Is His Boyfriend?, Facts, Net Worth