Kiari Kendrell Cephus (Stage name: Offset) is an American rapper who gained fame as part of the hip hop trio Migos, alongside his relatives Quavo and Takeoff. The Atlanta natives became hip hop famous after the release of their 2013 single Versace. They became international sensations after the overwhelming success of the 2017 single Bad and Boujee.
The trio's second album, Culture, debuted at number one on the US Billboard 200 chart. Offset has a booming solo career, with his first solo album, Father of 4, receiving widespread critical acclaim.
This piece will look at Offset's baby mamas and his children.
Offset initially denied paternal responsibility of his son Jordan from his relationship with Justine Watson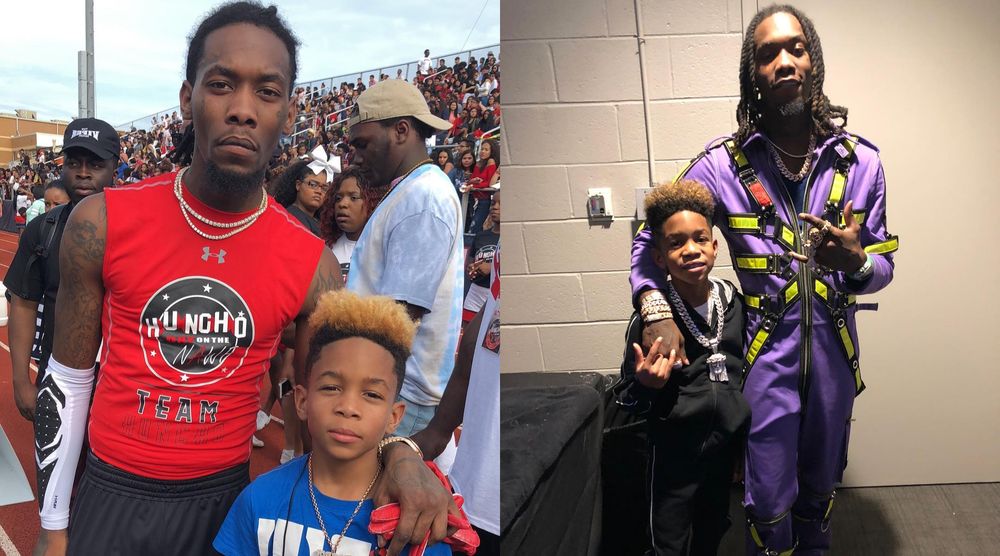 Justine Watson gave birth to Jordan when Offset was only 17 years old. The rapper initially denied that he was the father and made it clear that he wanted nothing to do with the boy. However, a DNA test proved that Offset was the father. Jordan was seven years old when Justine went to court to seek financial assistance orders.
"I had my first child at 17, so the journey of fatherhood was kind of tough for me at first. I was trying to find myself. I didn't have much direction on what it meant to be a father. I definitely made some mistakes, but I have no regrets. It's challenging when you have a career like this and you're constantly on the road. It makes it difficult to see your kids, especially when they are young."
In Father of 4, Offset addressed why he wasn't around much during Jordan's younger years. "Jordan, sorry I wasn't there for all your birthdays," the rapper sings. "I tried to hit, and I wasn't rich, I had no workplace."
Offset shares a son Kody with entrepreneur Oriel Jamie who he left to pursue a relationship with Cardi B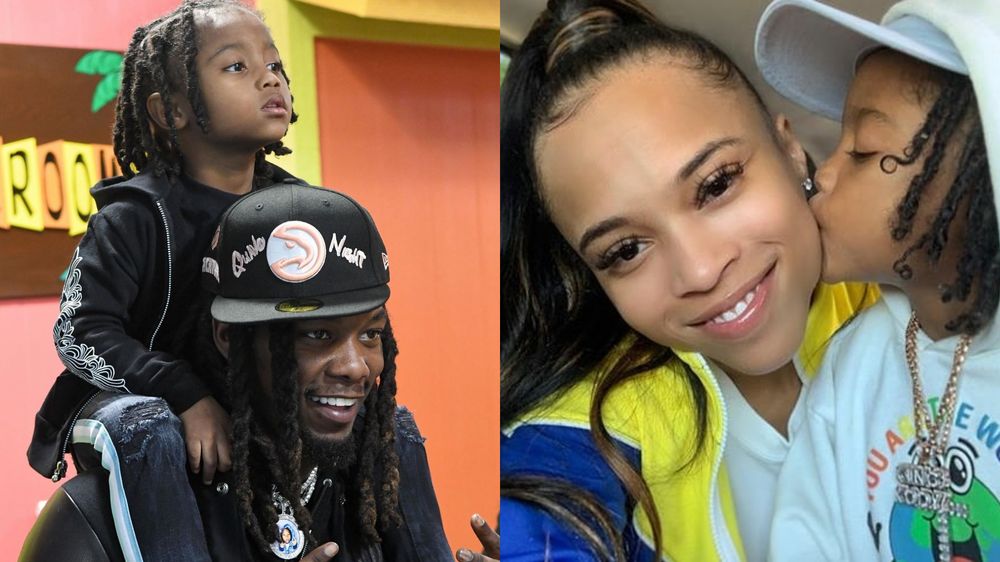 It is reported that Offset's close friends thought that Oriel was the one for him before he left her to pursue a relationship with Cardi B. Oriel couldn't hide her frustration after Offset proposed to Cardi. She wrote on her Instagram stories: "Congrats to my son daddy and his step mother whom he has yet to meet. Hopefully he at least get an invite to the wedding."
Offset is very involved in Kody's life, and they are often spotted donning matching hairstyles and apparel. The rapper has stepped up his efforts to be around his kids. They regularly accompany him on tour and he endeavors to spend time with them whenever he isn't busy with music. Offset told Haute Living:
"The influence you have on your kids is incredible, so you have to be aware of the example you're setting and make sure you're influencing them in the right way because they watch you… I just want them to be kids. And that's the best thing about it – inspiring your kids, and being inspired by your kids."
Shya L'Amour, the mother of Offset's daughter Kalea, is constantly feuding with Cardi B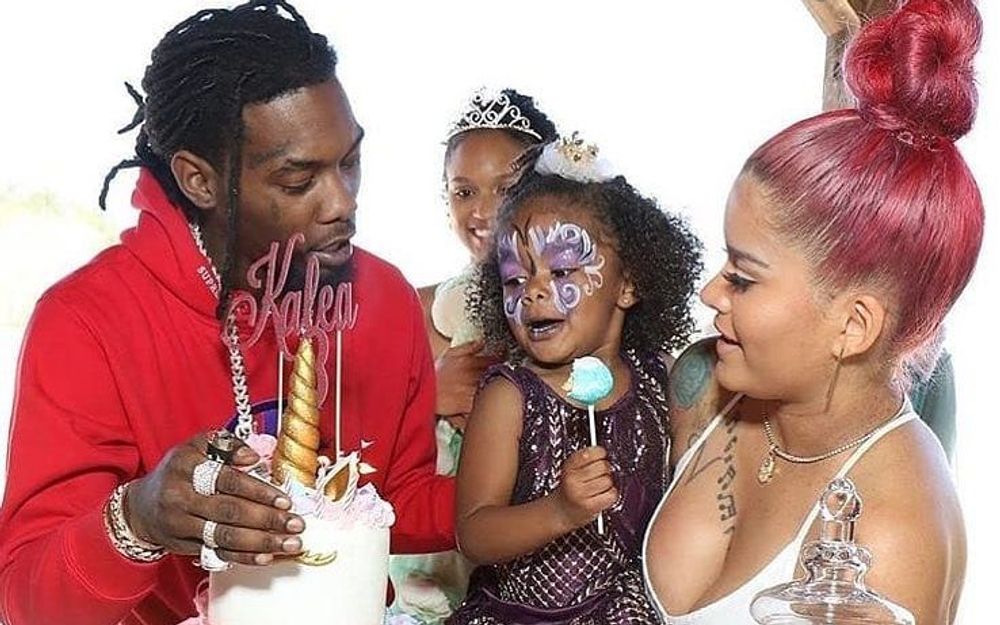 Rapper Shya L'Amour initially kept her pregnancy with Kalea secret. However, she wrote on Instagram that Offset's ignorance forced her to share news of the child with the world. Shya said:
"I stayed silent nine months of my pregnancy and the first year of her life. But I has to speak up for myself cuz I'll be damned if my daughter see or hear this in the future and think I was just out here living a thot life and didn't know who my bd was!"
Offset addressed Kalea in Father of 4, claiming that he kept away because he wasn't sure that he was her father. He eventually accepted parental responsibility and committed to paying child support. All was well between him and Shya when she told TMZ that his relationship with Cardi B had changed him for the better.
However, the situation changed after Shya took Offset to court in April 2020, alleging that Offset had been providing 'limited financial support' for Kalea. Shya then stated in an interview with OnSite that Offset started to withdraw child support for their daughter after she refused to have an affair with him. She then posted screenshots proving that Offset pursued her while married to Cardi.
The text messages showed that Shya rejected Offset's advances and advised him to contact her only for matters concerning their daughter. In a follow-up post, Shya claimed that Cardi threatened to get physical with her. She said:
"I came to her privately and respectfully and she still come with the disrespect talking about she gonna smack me. This is your second time threatening me. I'm done trying to save face for motherfuckers who don't give a fuck about me. And they disrespectful and stupid bro. It's like talking to a fucking wall, man, these people slow."
Amid reports of a possible split between Cardi and Offset, Shya released a diss track titled Like Me. She also posted cryptic posts of a former lover coming back into her life.
Offset and Cardi B initially kept Kulture off social media, but they recently opened an Instagram account for her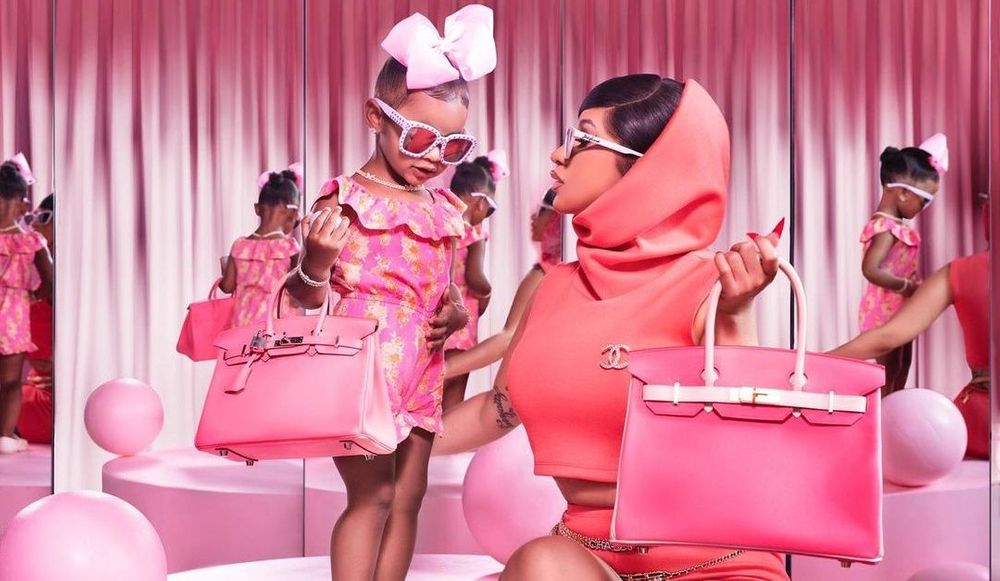 Offset and Cardi married in September 2017 and welcomed their daughter Kulture in April 2018. The couple initially opted to keep their daughter away from social media. Offset rapped on Father of 4: "Gotta protect her from the world, I can't even post her." In an interview with Entertainment Tonight, Cardi echoed Offset's statement, but she also acknowledged that it was difficult not to share Kulture with her fans. She said:
"I'm scared of sharing her to the world. There are so many mean people out there. Sometimes I do want to show people how beautiful and precious she is. She's so precious… There's a lot of people that have crazy minds, you know. I want to protect her! She's my little buggy."
The couple eventually gave in and started posting their daughter on social media. In September 2020, Cardi launched Kulture's Instagram page, which currently has 1.4 million subscribers.
Cardi and Offset have had a tumultuous relationship, which has almost ended in divorce, twice. The pair first separated in December 2018, allegedly due to Offset's infidelity. They got back together before Cardi filed for divorce in September 2020, citing irreconcilable differences. She wrote on social media that she was tired of arguing with Offset.
However, the couple got back together in time for Cardi's 28th birthday celebrations. In early November 2020, Cardi withdrew the divorce 'without prejudice', giving her the leeway to refile for divorce at a later date. "I just be started to miss [him]," Cardi told fans. "It's hard not to talk to your best friend. It's really hard not to talk to your best friend."
---