Jayson Tatum's level dropped during game three of the Celtics' playoff match against the Heat, leading to questions about his ability to lead the team to glory.
Tatum responded magnificently in game four, scoring 31 points in the Celtic's series-leveling match. With momentum on his and his team's side, Tatum hopes that 2022 delivers NBA Championship glory.
Away from the court, Jayson Tatum's known for posting photos of his son Deuce. Like his mom, Jayson welcomed a child soon after graduation from high school.
Jayson's mom, Brandy Cole, was featured in a Mother's Day post on Tatum's Instagram page. "Love you momma," Jayson wrote.
Brandy raised Jayson as a single mom while working and going to school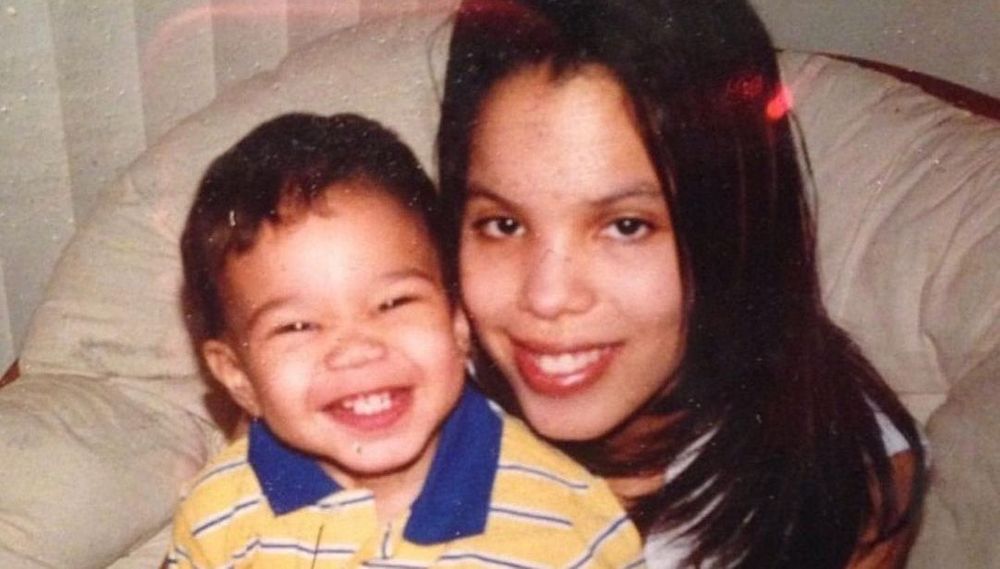 Jayson Tatum was born in St. Louis, Missouri, in early March 1998 to Brandy Cole and Justin Tatum. Brandy passed up a volleyball scholarship to raise Jayson while Justin enrolled in St. Louis University, where he played basketball.
Cole moved out of her mother's home when Tatum was six months old. She purchased a two-bedroom house in St. Louis but didn't have enough money to furnish the house.
Brandy and Jayson slept on the same bed for several years as she struggled to make enough money for necessities. Cole had a lot on her plate: bills, a son to raise, a part-time job, and education at the University of Missouri.
"There were many nights I'd come home and he'd already be sleeping," Cole told ESPN. "It was really tough, but it was what I felt like I had to do for both of us."
Unfortunately, Brandy missed some milestones in Jayson's life. "I remember one day my mom called and told me Jayson crawled for the first time. I just broke down and cried," she added.
If, for whatever reason, no one could babysit Jayson, Cole went with him to class. She continued:
"I remember one teacher said something to me about it. I said, 'I pay tuition like everyone else. He's not disrupting the class.' As long as I was holding him, Jayson was fine."
Taytum described accompanying Cole to class as boring and 'pretty awful.' One day, the duo arrived home to find a foreclosure notice on the front door. Cole told Bleacher Report that she felt like a failure; Jayson wanted to help, but he didn't know how. "I was just 11 years old," he said.
However, as she'd done countless times before, Cole found a way: she applied for a loan modification and kept the house. She said:
"I always was so proud that we had our own home. When you're a kid, you shouldn't be worried about packing up the stuff in your room and going to live with your grandma. It was a pride thing: 'I'm going to do this. I'm not going to become a statistic.'"
Cole supported her son's basketball dream and keeps doing so today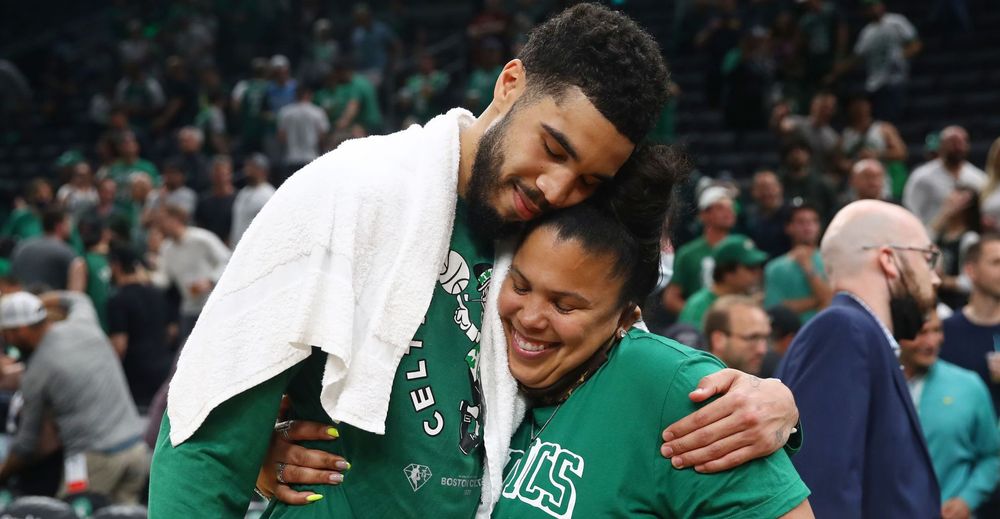 As Cole studied for her law degree, Jayson flipped through some of her property law books and resolved that law wasn't for him. "I want to play basketball," Tatum would tell Cole. "Work really hard," she would reply.
Tatum worked hard and expressed pride in wanting to become a basketball player. When his teacher told him to pick a 'realistic profession,' an enraged Cole marched to the school to confront the person asking Jayson to change his dream. Cole told Bleacher Report:
"It wasn't, like, a two-way conversation. I said, 'Ma'am, with all due respect, if you ask him a question and he answers, I don't think it's appropriate to tell him that's something he can't achieve when I'm at home telling him anything he can dream is possible.'"
As the NBA Draft neared, Cole couldn't help but count down to the days Tatum would achieve the dream she'd lovingly and fiercely nurtured. "I mean, how many people can say there is a finite number of days left before their dream comes true?" Cole said.
After Jayson became the youngest player in Boston Celtic's history to reach 5,000 career points, Cole posted the following tweet in celebration: "At 23 years, 32 days old Jayson Tatum just became the youngest player in Celtics history to reach 5,000 career points. That's my baby."
"Mom's proud of me that's all that matter," Tatum tweeted. Cole keeps Tatum on his toes by threatening not to watch his games if he plays poorly. "She'll say, 'If you're not gonna be aggressive let me know. I'll turn the TV off,'" Jason told Sage Steele of ESPN.
Cole's proud of Jayson's athletic achievements but still wants him to complete his education. She told ESPN:
"Coach K won't retire your jersey until you graduate. That's a big thing for me. A lot of Duke kids come back and get their degree. I told him, It doesn't matter how long it takes. He's seen how hard I've worked."
Tatum had a strained relationship with his father during high school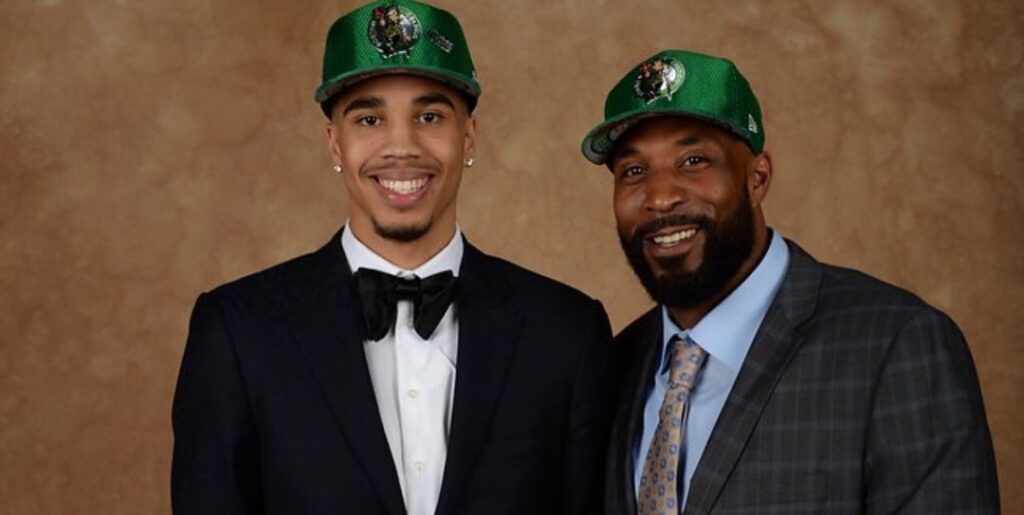 Justin Tatum was always around during Jayson's childhood. Jayson and his dad talked often, and when Justin went to play in the Netherlands, Cole took the boy to Europe to see his dad.
Tatum became one of Jayson's primary coaches when he returned from Holland. Justin said he recognized Jayson's potential when he became a consistent scorer against older teams.
As Jayson grew up, his relationship with his dad became strained: Justin never seemed impressed with Jayson's achievements. As other dads congratulated their children, Justin appeared oblivious to Jayson.
"I could have 40 (points) and he would never clap," Jayson said. "He would just sit there. He would leave, like I wouldn't see him after the game." Justin's attitude inadvertently pushed Jayson to work harder.
"I would go to the gym, thinking if I do this, If I score 50, then maybe that would be good enough," Jason told ESPN's Sage Steele. "Honestly, that drove me."
Perhaps Justin felt angry because Jayson refused to join him at Christian Brothers College High School, where Justin was appointed coach in 2013. Jayson defied expectations by remaining at Chaminade Prep. "It was tough because obviously I wanted to play for him," Jayson said. "And he wanted to coach me."
Jayson said that Justin 'understood that it was best for me to stay.' Tatum told Steele that he and Justin are now close, and he appreciates how his desire to make Justin proud drove him to greater heights. However, Jayson vowed to raise Deuce differently:
"Honestly, me and my dad didn't do normal dad/kid stuff. I was basketball or… I'm sorry. It was always basketball or go to the barber shop. That's something I've always told myself that I'm gonna help my son (and show) how to do it differently."
Brandy instilled in Jayson the value of giving back to society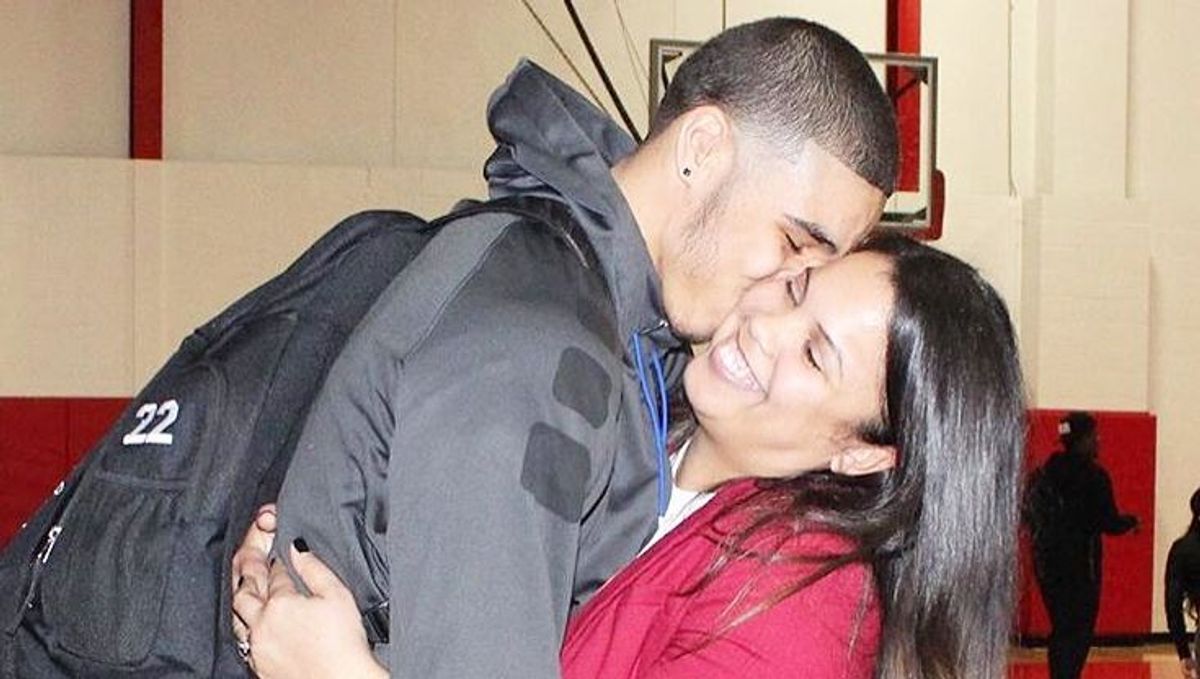 Brandy Cole resolved to shape Jayson into a star both on and off the court. Tatum wrote in The Players' Tribune that Cole involved him in volunteer work:
"Mom had me get involved with volunteer work, helping out at a homeless shelter and mentoring young student-athletes in our city. I would go to their practices and games, talk to them about problems they were facing in school."
After joining the NBA, Jason challenged the Boys and Girls Clubs of Greater St. Louis to organize a supply drive to help the hurricane-ravaged clubs in Florida and Houston. He promised to host a lunch for the winner, which turned out to be The Riverview Gardens club.
Jayson delivered his promise by traveling to St. Louis during an off day in the preseason. "For these kids to come together and do something positive, that's great for St. Louis, and for them," Tatum said. Justin told The St. Louis Post-Dispatch:
"This is one of the gyms that helped raise who he is right now. To see him come back, and give back like he always wanted to. These kids, who weren't even born yet, are sitting and screaming his name."
Jayson and Brenda planned to start a nonprofit organization to support single mothers. Tatum created The Jayson Tatum Foundation to help youth achieve their dreams. "Our goal is for your youth to positively affect their peers, neighborhoods, communities and generation in a multitude of ways," the foundation's website reads.
In 2021, Tatum hosted the first Jayson Tatum Foundation Charity Golf Tournament in St. Peters, Missouri, to raise funds for his cause.
Jayson has two half-siblings from his dad's other relationships
Jayson Tatum has two half-siblings from his dad's other relationships: brother Jaycob and sister Kayden.
Justin told The St. Louis Curator that he wanted to be there for Jaycob and Kayden as he wasn't always present in Jayson's life. He said:
"I want to be dominant in their lives. I thought, whenever I have a son or a daughter, you will always know me for the rest of your life, and I will do whatever I can to help you. That's what I've learned the most, because this is my heart. It would stop beating if I don't see them."
Read Next: What we know about Paolo Banchero's parents
---