Following Islam Makhachev's brilliant win over Charles Oliveira, Khabib Nurmagomedov rushed into the octagon and hoisted the new lightweight champion on his shoulders. Islam won a title that Khabib forfeited after his retirement in 2020 as an undefeated champion. In an emotional moment, Makhachev handed the belt to Khabib and said:
"I just want to say this, my belt, is for Abdulmanap Nurmagomedov [Khabib's late father]. Many years ago he told me just train hard and you are going to be champion. I want to give this belt… Him [Khabib] and his father – they made me."
Khabib and Makhachev aren't related, but they've trained together for over two decades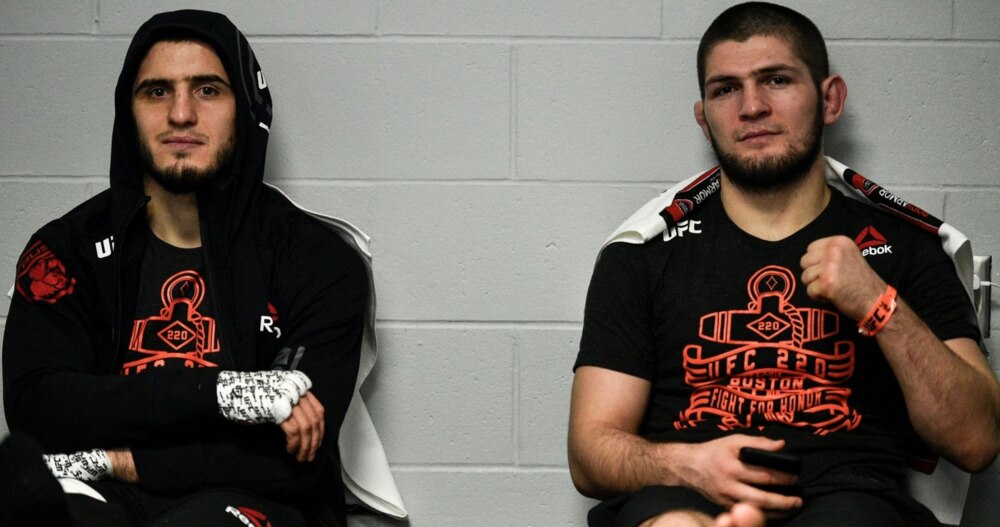 Khabib and Makhachev may look alike, but they aren't related. They hail from Russia's Dagestan region and have trained together for over two decades. "All life, all life we train together," Nurmagomedov said after Islam's win.
"22 years we train together, and last couple of years, I told you guys, Islam Makhachev is the best fighter." The pair trained under Khabib's late father, Abdulmanap Nurmagomedov, until he passed away in 2020 due to coronavirus complications.
Khabib fought once more after Abdulmanap's death before retiring as he'd promised his mother. Nurmagomedov took over from his father, becoming Islam's coach. After Islam's win, Khabib said the newly crowned champion was his father's favorite student.
Nurmagomedov's team reportedly spent $1 million preparing Islam for his fight against Charles Oliveira. The investment paid off as Makhachev dominated the bout on his way to a second-round victory.
Khabib said he was nervous before the fight, but Makhachev calmed his fears with a commanding performance. Nurmagomedov said Islam deserved the win:
"I watch all his life, last 20 years, the way he works so hard, amateur career, professional career, and now he's almost [there]. This is a very hard sport. Any time anything can happen. Look at Kamaru Usman. He was winning all five rounds, boom, one time, finished."
Makhachev said Khabib is a more demanding coach than his father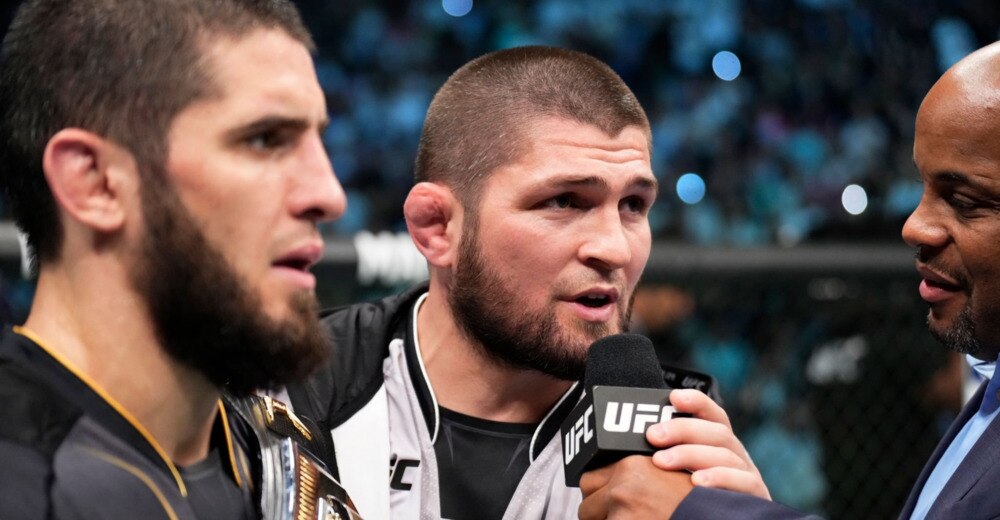 Islam told BT Sport that Khabib pushes fighters harder than his father did. He told the outlet that Khabib expects his fighters to keep going for longer. Islam explained:
"I think so [tougher coach than his late father Abdulmanap] because he doesn't have too much experience being a coach, but he pushes us so hard. For example, this camp, just this week I have been light training but all other months, it has been so hard."
Khabib informed Islam they would resume training two weeks after his win over Oliveira. Makhachev will need to practice hard, considering he might face Alexander Volkanovski, the UFC's No. 1 pound-for-pound fighter, early next year.
Nurmagomedov presented a challenge to Alexander following Khabib's title-winning fight:
"He finished Charles, now it's our plan: fly all the way to Australia and fight in pound-for-pound king backyard. Volkanovski, let's do it. We know we're gonna finish this guy. Volkanovski, we respect you, but we want to take your place, brother."
Dana White, the president of the UFC, said he's open to the idea of a Makhachev-Volkanovski fight.
---