Emily Blunt and John Krasinski have been gracing the red carpet together for close to a decade now. For many, they are the perfect Hollywood couple, and it's almost impossible to deny the affection they have for each other. The love they share is clear for all to see every time they appear in public together.
John and Emily's love has grown in an environment where many relationships fail. This piece will delve into the origins of the couple's love, their family, and their secret to maintaining a happy marriage.
John and Emily had their first date at a gun range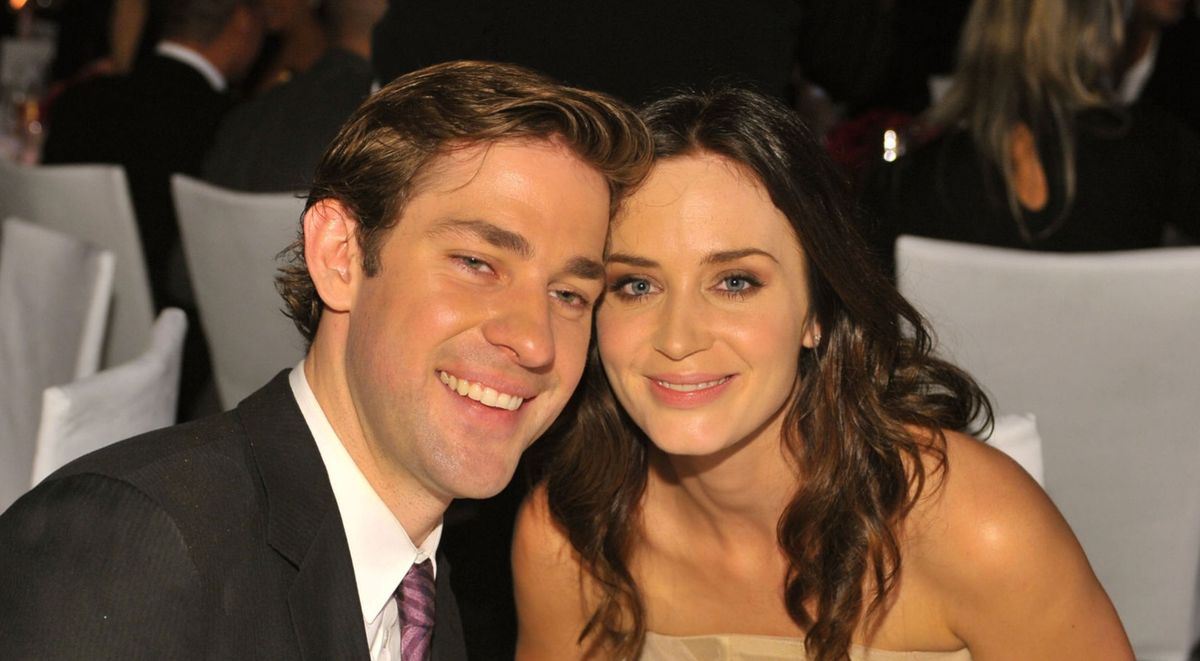 John and Emily met at a restaurant where they were both hanging out. Blunt was with a friend who knew Krasinski, and the friend introduced them. John admits that he wasn't looking for a relationship at the time, but he couldn't resist what he felt for Blunt. He told Ellen DeGeneres;
"I wasn't really looking for a relationship… then I met her and I was so nervous. I was like, 'Oh God, I think I'm going to fall in love with her.' And as I shook her hand I went, 'I like you.' So if anyone's looking to pick up a girl, that's the way to do it. You don't need any pick up lines; just be weird."
Krasinski wasn't confident about his chances with Blunt, and so he decided to blow it by taking her to a gun range for their first date. However, to his surprise, the date went pretty well. Krasinski told Conan O'Brien in 2012;
"On our first date, I decided, 'I'm gonna really hit the gas and bring her to a gun range. I think that I was so sure that I would never end up with her… that I was like, 'You know what, I'm gonna blow it right away and then that way you don't feel bad."
Both of them cried when Krasinski proposed in Los Angeles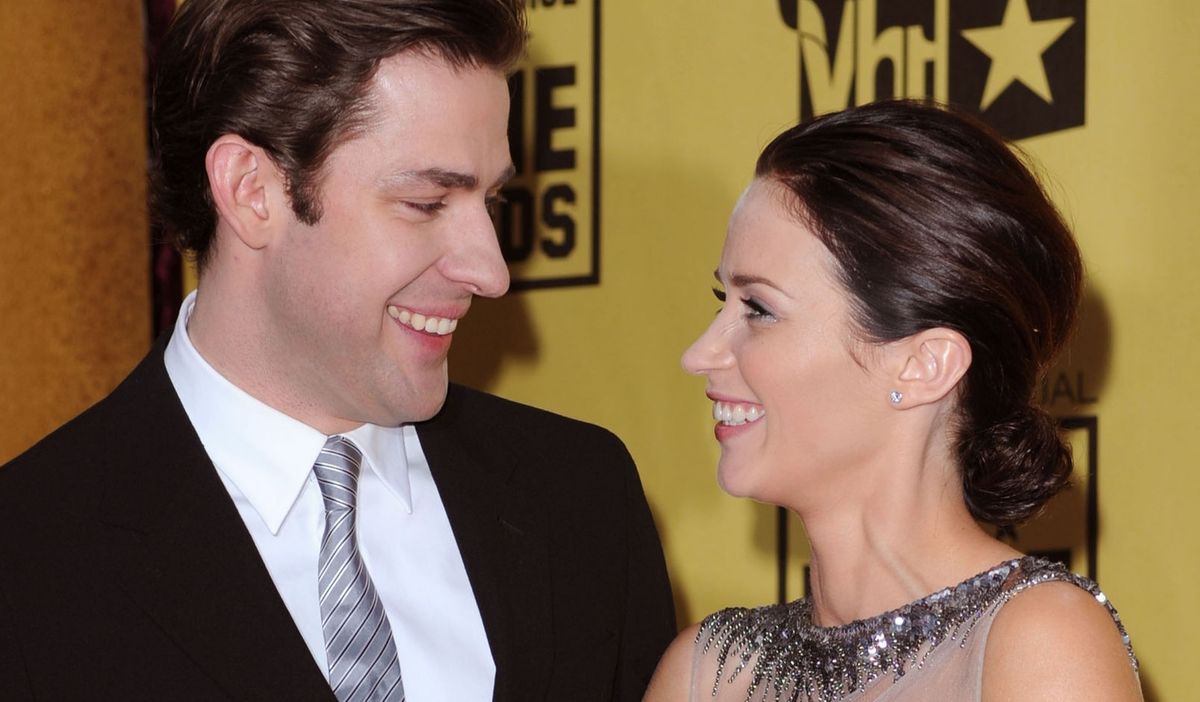 Less than a year after they'd started dating, Krasinski proposed. Krasinski and Blunt have been secretive about the details of the proposal. In 2009, Emily told MTV that flutes were playing in the background and angels showered the couple with rainbow drops. John spoke to Access Hollywood and said that the proposal involved clouds, oceans, and unicorns.
While they refused to share the details about the proposal, the couple did assure us that there were a lot of tears. Krasinski told Access Hollywood;
"She did cry after I cried and we cried and then everyone around us was crying. Then, I think people weren't really sure what was going on, but they were crying because we were crying. But it was great. At the end of the day she said yes which is great. It's a big part of this whole thing."
The couple got married in a private ceremony at George Clooney's house in Italy a year after Krasinski proposed. Both John and Emily have described meeting each other as life-changing. Emily told InStyle in 2013;
"Meeting John really changed my life… When I feel the support that I have from him, I feel invincible. There's someone behind you on your good days and someone in front of you on your bad days,"
John echoed Emily's sentiments when he talked to The Daily Beast in 2016. He said;
"The best days of my life started when I met my wife – that's the truth, it's not just me saying it because it sounds nice on a card. She's one of the coolest people, she's so talented, she's beautiful, and she certainly out of my league. And so all of a sudden all of the things I loved, I got someone who loved that about me."
John and Emily's love sounds like something out of a fairy tale.
They welcomed their first child in 2014 and their second child in 2016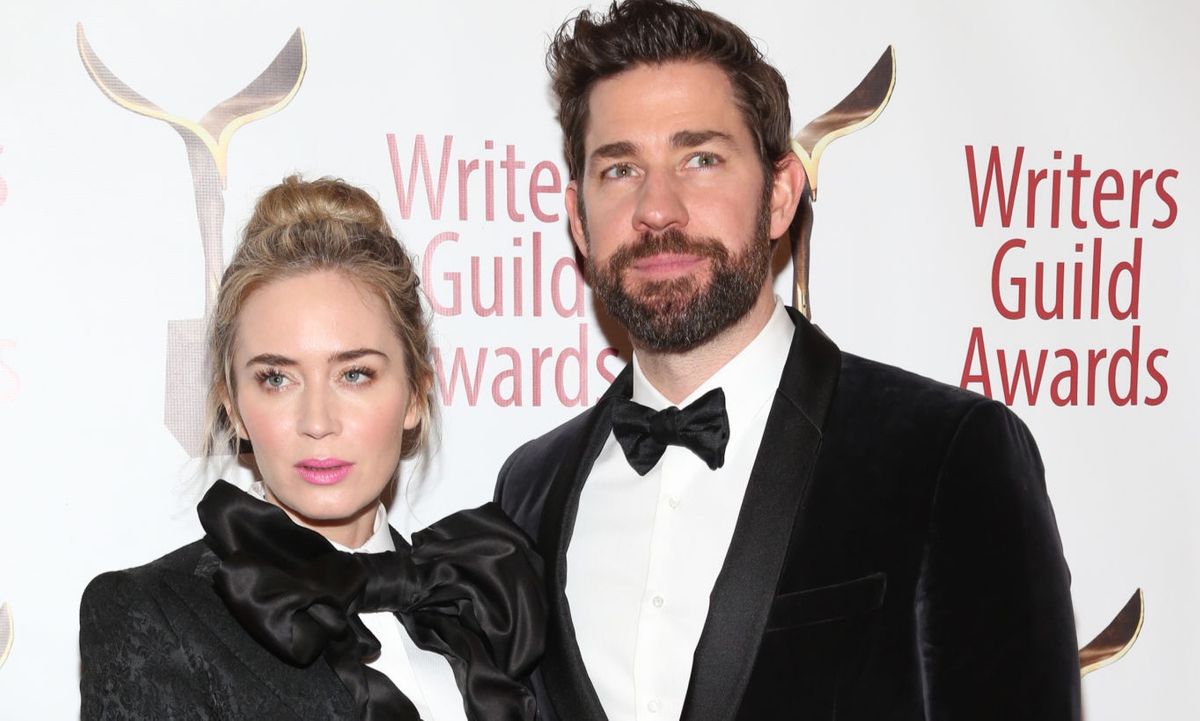 John and Emily welcomed their first child four years after they got married. Krasinski let the world know that Hazel had been born via a tweet. John also announced the birth of their second child via a tweet sent on 4th July 2016. The tweet read;
"What better way to celebrate the 4th… than to announce our 4th family member!!! 2 weeks ago we met our beautiful daughter Violet."
The couple regularly opens up about parenting, and the obligations they feel towards their children. It's essential for John and Emily that they keep their children safe and happy. Emily told People;
"My children's happiness, their safety, and their well-being is the most paramount thing in my life. And if [I am] unable to give them any of those things, then who am I? What's my identity? My greatest hope is that they are truly happy, and that they're interested in life, in anything. Interested and interesting, and truly happy."
Krasinski described raising the kids as 'wonderful chaos' while speaking to Stephen Colbert. He also said that the couple's daughters are now buddies.
A Quiet Place was John and Emily's first joint project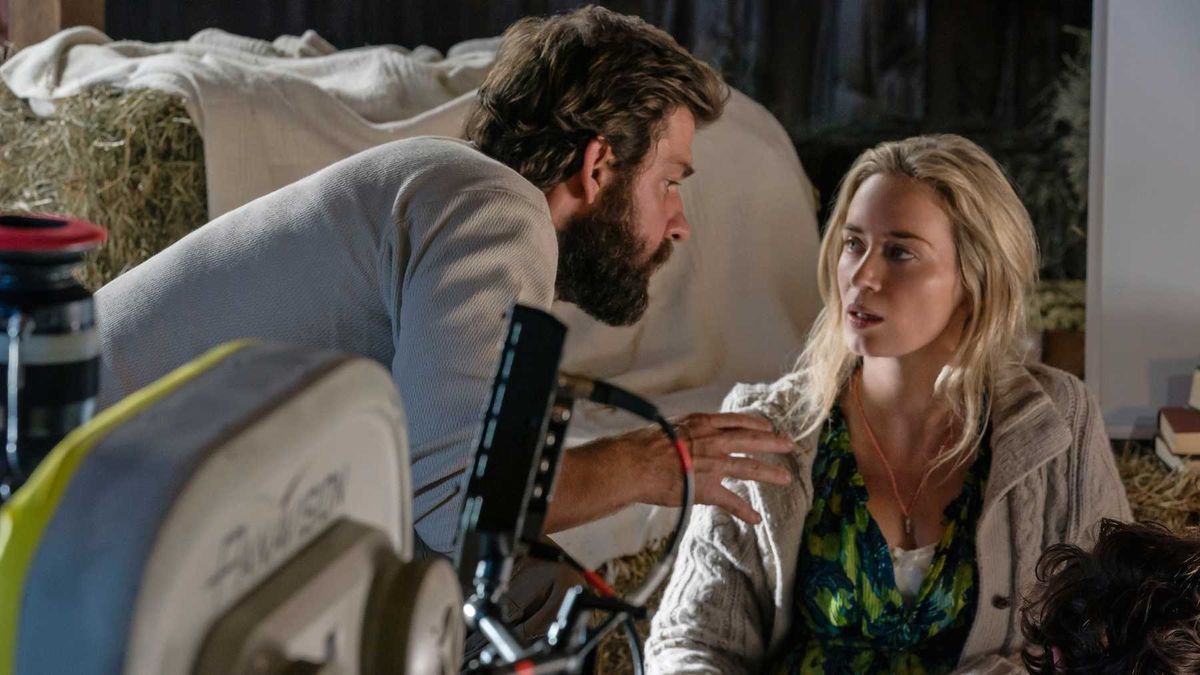 John and Emily both admired each other's work, but they hadn't been in a movie together before A Quiet Place. Krasinski admitted to watching Emily's The Devil Wears Prada more than 70 times. He also admitted to using an entire box of tissues while watching Blunt's Mary Poppins Returns for the first time.
Krasinski wrote A Quiet Place with Emily in mind for the role of Evelyn. However, he didn't want to pressure her into accepting the role. John was, therefore, elated when Emily asked him whether she could play the role. Krasinski told Hello Giggles that Emily asking to play Evelyn's role felt like a proposal;
"One day we were on a plane together, and she read the script, and she turned to me and she actually looked sick. And so I said, 'Are you okay?' And she said, 'Yeah, you can't let anyone else do this role.' And it was almost like she was proposing to me. And she said, 'I need to be the one to do this role.' And I immediately yelled 'Yes!' on a plane. Which was not awkward at all."
The duo worked magic in A Quiet Place, and it was an instant hit among fans and critics. Emily and John have praised each other on multiple occasions for their roles in A Quiet Place. Emily's role in the film won her a Screen Actors Guild award for outstanding actress in a supporting role, and she said the following during her acceptance speech;
"I am going to share this completely with my husband, John Krasinski, because the entire experience of doing this with you has completely pierced my heart directly. You are a stunning filmmaker and I'm so lucky to be with you and to have done this film with you."
A Quiet Place part 2 is set to premiere on March 20th.
Family comes first for Emily and John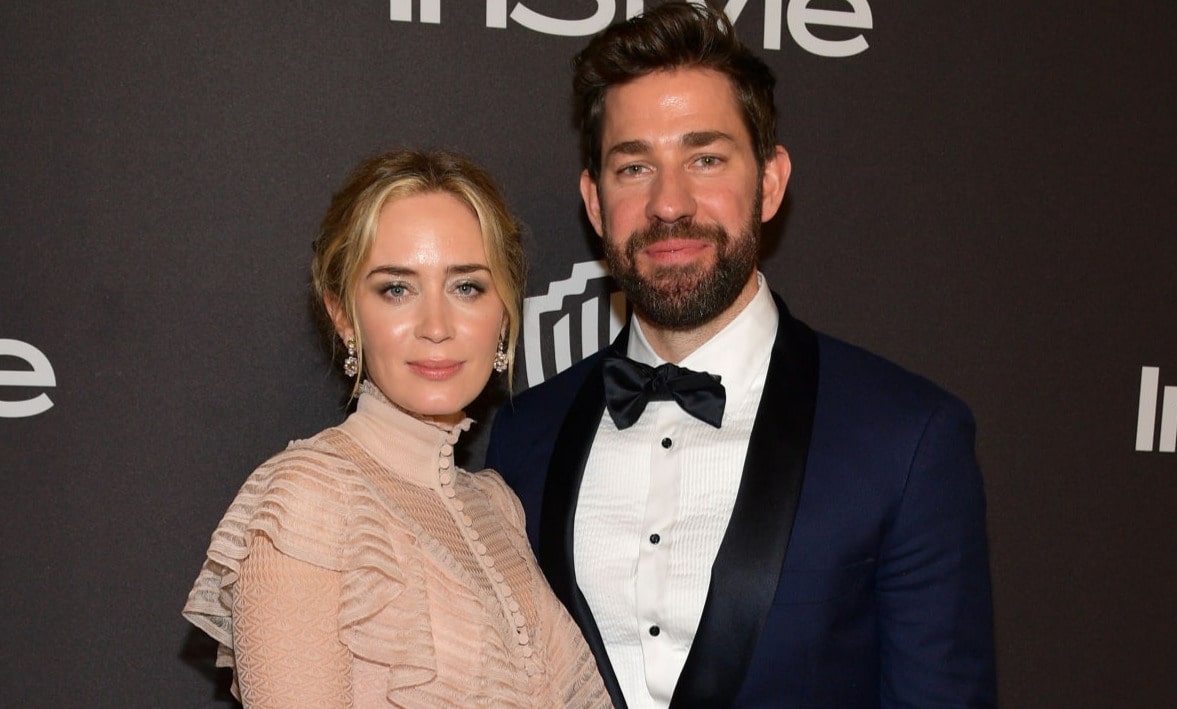 Emily and John's careers can be quite demanding, and it's crucial for them that they found the right work-life balance. It's important for the couple that they find time for family even as they advance their careers. Krasinski told E! News;
"So we're just extremely supportive, we get what the job is and that you gotta travel and do some stuff, but it's always about coming back home and being together, it's the most important thing."
John and Emily try as much as possible to see each other even when filming different projects. Back in 2018, John flew from Canada to London every weekend to see Emily. At the time, John was filming Jack Ryan in Canada while Emily was filming Mary Poppins Returns in London. Krasinski told People;
"Family for me, it's a non-negotiable thing. So, if I'm honest, I was shooting 6,000 miles away from them and I flew back every single weekend."
Also Read: The truth about Mila Kunis and Ashton Kutcher's Marriage
---