Alex Honnold is a rock climber who is best known for tackling the 3,000-foot El Capitan rock formation in Yosemite National Park without climbing equipment. Free soloing is regarded as one of the most dangerous forms of sport because climbers rely solely on their athletic abilities to prevent themselves from falling.
Alex's spectacular achievement featured in the 2018 biographical documentary, Free Solo. The documentary earned an Academy Award and a BAFTA. Alex also authored the book Alone on the Wall alongside fellow climber David Roberts. This piece will look at Alex's life growing up, his parents, the challenges he faced as a young climber, and his relationship with his fiancée.
His dad died shortly after getting divorced from his mom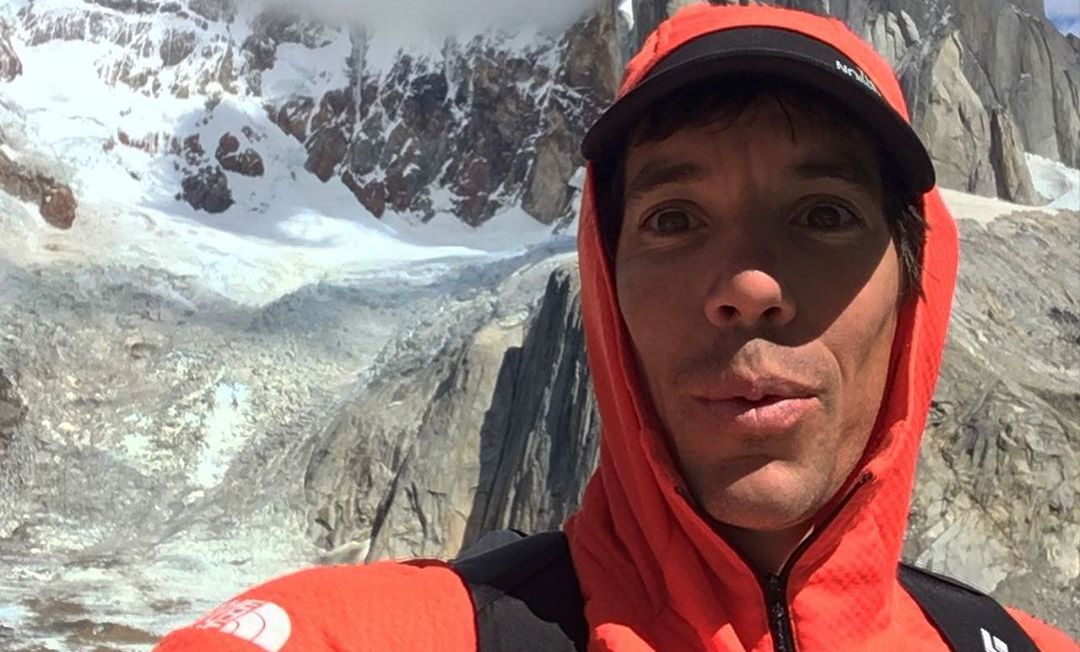 Alex was born on 17th August 1985 in Sacramento, California, to Charles Forrest Honnold and Dierdre Wolownick. His parents raised him alongside his older sister Stasia. Alex started climbing at the age of 5, and he was competing professionally by the time he was 10. He claims that other kids were more naturally gifted than he was, but his love and commitment to climbing made him improve rapidly.
In 2003, he enrolled in UC Berkeley to study civil engineering. Disaster struck during his first year of college when his maternal grandfather passed away, and his parents got divorced. In 2004, his father passed away due to a heart attack. After Charles' death, Alex's mom allowed him to drop out of school to pursue rock climbing. Alex wrote in an article for Wealthsimple:
"That summer I placed second in the youth division at the National Climbing Championships. After that, my dad died of a heart attack and some of the pressure to stay in college went away. My mom espoused a bit more of a 'follow your path' philosophy. I took a semester off to train for and climb at the World Youth Championships in Scotland. I never went back."
Alex was probably going to drop out of school anyway as, during his first year, he skipped most classes to boulder alone at Indian Rock.
Alex lived in a van for 14 years before acquiring a property in Los Angeles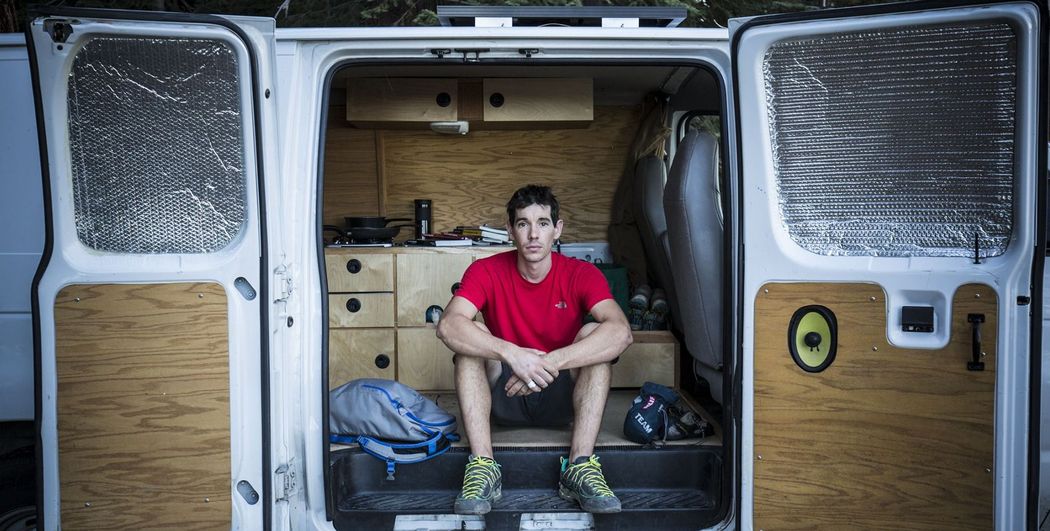 Alex's parents were professors, and they managed to offer their children a middle-class life. However, after leaving college, Alex didn't have a lot of capital, and he lived out of his mom's minivan. After a short while, the van broke down, and Alex started living in a tent. In 2007, he gathered enough money to buy a 2002 Ford Van, which became his home.
As the years rolled on, Alex's financial situation improved, but he didn't leave his van. In 2017, he bought a customized 2016 Ram ProMaster, which he lives and travels in a lot. Alex talked to Outside Magazine about why he feels the need to live in vans:
"It's not like I love living in a car, but I love living in all these places. I love being in Yosemite; I love being basically wherever the weather is good; I love being able to follow good conditions all over. And be relatively comfortable as I do it. And so that pretty much necessitates living in a car… If I could, like, miraculously teleport a house from place to place, I'd prefer to live in a nice comfortable house."
In 2017, Alex purchased a property in Los Angeles, but he lived in his car for a couple of weeks because the house didn't have furniture. He talked to Wealthsimple about his home:
"I bought a house in Las Vegas, a classic cookie-cutter house in the suburbs. It's just functional. In some ways, it's not unlike van life was. It's cheap, it's easy, it's close to the airport."
Alex's El Capitan climb put a strain on his relationship with Sanni McCandless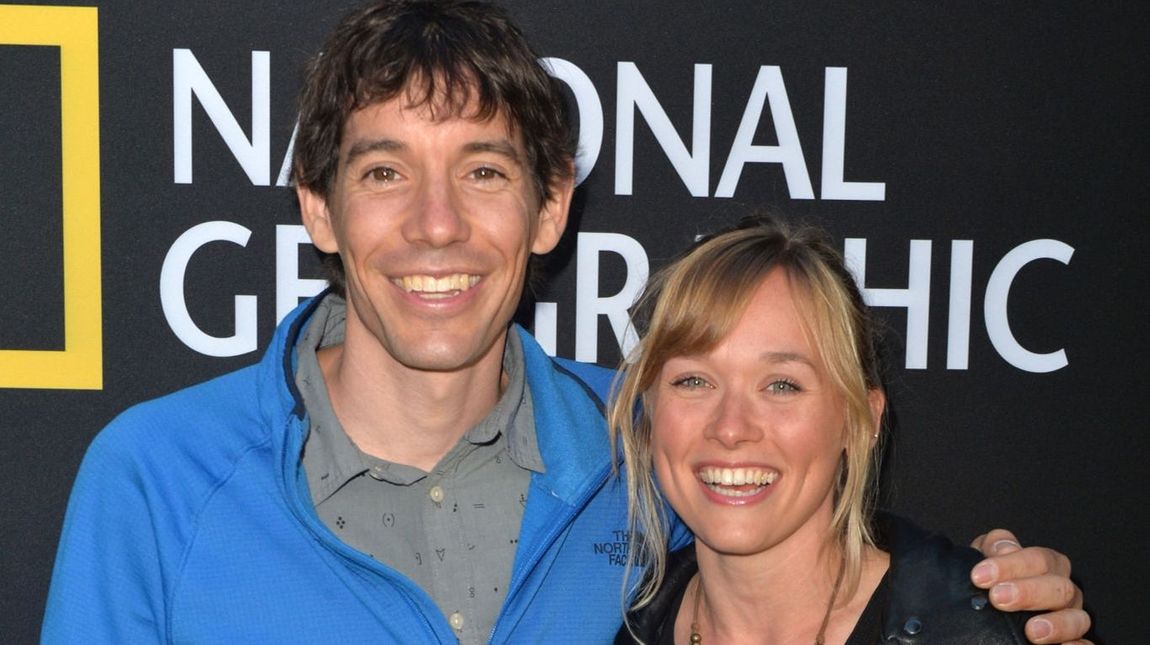 Sanni and Alex met during one of his book tour stops. She handed Alex her number, and the two started dating. Shortly after, Sanni quit her job in Seattle to join Alex on the road. At around the time that the couple started dating, Alex was busy preparing to tackle El Capitan. The film crew making Free Solo was recording every aspect of his life, including his fledgling relationship with Sanni.
Sanni felt that the event would put a strain on the couple's relationship, and it did. Alex revealed that he considered ending the relationship after he got injured twice after bringing Sanni along during training. Alex told the Los Angeles Times:
"I wanted to blame her, but honestly, it's more on me. Basically, I slipped, I fell, I hurt my ankle – she was there and she was belaying, but it's not anything she did. It was just sort of unfortunate."
Thankfully, the couple talked about their issues and resolved them before they escalated. As the big day came closer, there was a growing concern that Alex's relationship with McCandless would hinder him from his goal. Sanni told the Los Angeles Times that she understood the concern:
"I mean, imagine you're waking up to take on the most challenging physical experience of your life. If you wake up alone in a cold, dark van, you're like, 'I've gotta get out there and ascend and be rad!' If you wake up the next to a partner and you're cozy, you're happy – why go? Why put your life at risk."
One week before the climb, Sanni moved away from Alex to allow him to focus on the challenge.
Alex got engaged to Sanni on Christmas day 2019
Jimmy Chin and his wife Elizabeth Chai led the filming crew that created Free Solo. Chin and Alex had known each other for about a decade. After Alex finished his monumental climb, he called Sanni and told her that he loved her. Chin told the Los Angeles Times that he was stunned beyond belief by Alex's comments. He said:
"In the 10 years I've known Alex, I've certainly never heard him say 'I love you' to anybody. So when we saw the footage, I was like, 'He said what?' I couldn't believe it."
Two years after his epic climb, Alex proposed to McCandless on Christmas Day 2019. Sanni announced the news via an Instagram post of the couple with the caption, "He said, do you wanna keep doing what we're doing? And I said, yes."
Alex wed Sanni McCandless in a family-only ceremony held on Lake Tahoe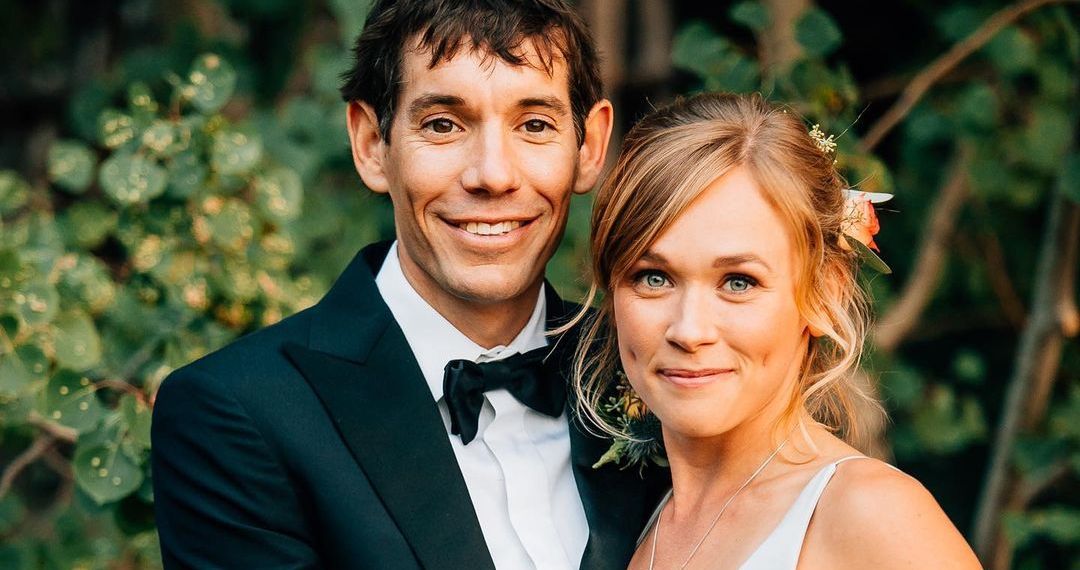 "We got married," Alex announced on Instagram. "Small family ceremony on the lake… totally lovely all the way round."
Rock climber Tommy Caldwell officiated the ceremony on Lake Tahoe. Sammi wrote on Instagram that the couple planned the ceremony in three weeks. She wrote: "Three weeks is not much time to plan a wedding, but in classic style our family rose to the occasion and helped everything go perfectly."
McCandless thanked everyone who'd contributed to the wedding including her husband. "Thank you to @alexhonnold for making me the happiest and luckiest girl in the world."
In May 2021, Sanni wrote an article on Outside detailing how Free Solo had helped prepare her and Alex for married life. McCandless concluded the insightful article as follows:
"Looking back, I can see how navigating Free Solo prepared us for the journey we are just beginning: our marriage. Alex and I faced almost every pressure a new relationship could take. We fell in love in front of a film crew, knowing that if it didn't work out, we'd have complicated people's lives for nothing. We had to discuss not only the prospect of death, but what we each needed to truly feel alive."
Alex's mom is the oldest woman to climb El Capitan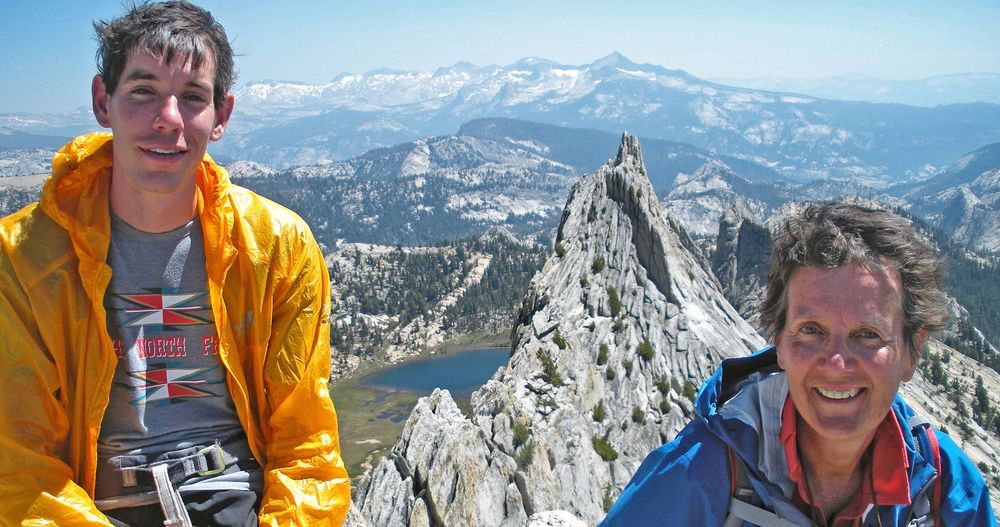 Alex's mom told ASN that she didn't know that Alex planned to scale El Capitan free solo. He went hiking with her son the day before, and Alex kept quiet about the climb. She explained:
"After the hike, he said he was tired and was going to bed early. The next morning while I was headed to Portland my daughter told me the news. That's how I found out. It floored me. I pulled over at a picnic area off I-5 and stayed there to process what I'd just heard."
Several months later, Dierdre put her name in the record books after becoming the oldest woman to climb El Capitan. She was 66 years old when she made her way up on Halloween 2017 alongside Alex. The climb took 13 hours, and the descent took six hours.
Dierdre always climbs with a rope, which allows her to pursue personal adventures without Alex's help. In 2018, she worked on two books: A French textbook and her memoir titled The Sharp End of Life: A Mother's Story.
---