Hulk Hogan (real name Terry Eugene Bollea) is a retired professional wrestler who served as the face of professional wrestling during the sport's 1980s boom. Hogan, with his iconic horseshoe beard, was the star of the 80s, headlining eight out nine of WWF's flagship event, WrestleMania. Hulk was the first person to win two consecutive Royal Rumble matches, recording victories in 1990 and 1991.
Hogan departed for the WCW in 1993 and won the WCW World Heavyweight Championship six times before the WWE acquired WCW in 2001. Hulk departed from WWE in 2003, and two years later was inducted into the WWE Hall of Fame.
Hogan has talked up one last return to the ring, but it seems highly unlikely
In recent times, we have seen retired WWE stars return to the ring for final stints before retiring for good. The Undertaker is a noteworthy example.
Hulk Hogan has also talked up a return to the ring for one final match. In October 2019, he told the Los Angeles Times that he'd had conversations with WWE chairman Vince McMahon about a one-off return to the ring. "I told Vince, 'When I get through this back surgery, I'm going to get in the best shape of my life and we're going to talk about having one last retirement match," Hogan told the publication.
Rumor had it that Hulk would have his match during WrestleMania 36, which he was scheduled to host before the coronavirus pandemic forced the WWE to change its plans. Hogan stated on the After The Bell podcast that he was devastated when he learned that he couldn't host the event. "Gronk did a great job, but as I watched it there was a hole in my heart," Hulk said.
Via a tweet posted on 31st March 2021, Hogan again teased a return to the ring. "When the crew saw I had the nWo title belt with me yesterday everyone got psyched for one more run," he wrote alongside a photo taken during WWE's Hall of Fame ceremony. During his interview on After The Bell, Hulk stated that he might feature in the ring during WrestleMania 37.
"Hey I just might come out as Hollywood with one of my nWo belts here, and we might have a third title match," he said. "I'll get in a three way, take on the winners of the first two title matches." However, the Hogan-hosted WrestleMania 37 came and went without a bout featuring Hogan. Despite his desire, it is unlikely that Hogan will fight again.
The last time he fought was nearly a decade ago, and the numerous surgeries he's had on his back limit his movement. "That's always been in my blood, the wrestling business," Hogan said on After The Bell. He will likely remain a fixture in the WWE, but his wrestling days are almost certainly over. He told the Los Angeles Times that if he does get his final bout, he'd like to face a familiar opponent:
"I'd love for it to be against Vince. I had such a great time with him in the ring at WrestleMania 19. I had no idea what to expect from him, but he's a great bad guy. His timing is great. I loved wrestling him, but everything he does hurts. Everything he does hurts, but I'd like to get in the ring with him one more time for my last match. That would be perfect."
Hulk seems to have put his health problems behind him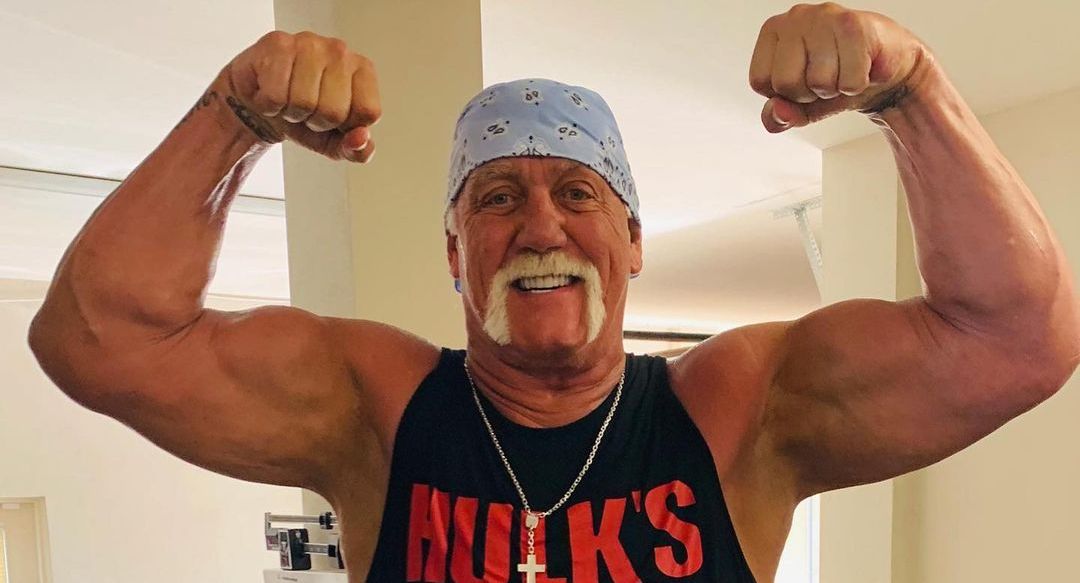 In late 2021, Hulk's close friend Ric Flair talked about Hogan's health problems on his Wooooo Nation Uncensored podcast. Ric said:
"He's having some really bad health issues but he keeps up with me. We support each other, good and bad. When I was in the hospital he flew up that day like everybody like came up to see me. Hulk was gracious."
Flair didn't specify Hulk's health issues; however, his daughter Brooke spoke about Hogan's struggles with surgery. During an appearance on the Hollywood Raw podcast, Brooke revealed that Hogan had undergone 25 surgeries in ten years. 
They included shoulder, bicep, knee, hip, and elbow surgeries. Thankfully, Brooke said that the last surgery may have solved Hulk's problems:
"So yeah, he's had so many surgeries, so he's done a ton, but this last one that he just had finally was like the winning ticket. So right now, he's feeling great. He's working out two hours in the gym every day. He's still chugging along."
Hulk's focus is popularizing his merchandize shop Hogan's Beach Shop
Most posts on Hulk Hogan's Instagram page revolve around his merchandize shop, Hogan's Beach Shop. As expected, the items on the shop have some connection to wrestling or Hulk Hogan's stellar career. On 23rd January 2021, he posted an Instagram photo with a caption that celebrated wrestling's impact on Hulk's life. The caption read:
"January 23rd 1984, I was driving to NY from Stanford Ct, little did I know the wrestling business would change forever after that night!!! HULKAMANIA WILL LIVE FOREVER!!!!! HH."
Hulk was temporarily ejected from WWE's Hall of Fame after he admitted to being racist in a leaked sex tape
In July 2015, Hulk's world came crashing down after a video of himself using racist slurs leaked. Hulk, in conversation with Heather Clem, blasted his daughter Brooke for sleeping with a black man. "She is making some real bad decisions now," the retired wrestler said.
He moaned about a 'black billionaire guy' offering to fund Brooke's music career. "I don't know if Brooke was fucking the black guy's son," Hulk said. "I mean, I don't have double standards. I mean, I am a racist, to a point, fucking niggers. I mean, I'd rather if she was going to fuck some nigger, I'd rather have her marry an 8-f00t nigger worth a hundred million dollars!"
"I guess we're all a little racist," Hulk crowned his shocking tirade. The WWE moved swiftly to sever its ties with Hulk Hogan. It removed every sign of Hulk from its website, ended his associations with WWE projects, and ejected him from the Hall of Fame. Hogan apologized via a statement sent to People:
"Eight years ago I used offensive language during a conversation. It was unacceptable for me to have used that offensive language; there is no excuse for it; and I apologize for having done it. This is not who I am. I believe very strongly that every person in the world is important and should not be treated differently based on race, gender, orientation, religious beliefs or otherwise."
"I am disappointed with myself that I used language that is offensive and inconsistent with my own beliefs," Hulk added. Hulk was reinstated into the WWE Hall of Fame and restored his association with the professional wrestling giant, but some fans and WWE superstars saw his apology as insufficient. It's probably why the decision to have him host WrestleMania 37 met some resistance.
---