Damian Lillard is an American basketball player for the Portland Trail Blazers of the NBA. Lillard impressed as a high school basketball player, but his poor ranking meant that colleges didn't rush to recruit him. Eventually, he accepted a scholarship to play for Weber State in Ogden, Utah.
Lillard silenced his doubters during his time at Weber State. As a redshirt junior, Lillard topped national scoring charts for most of the season but ended up second behind Reggie Hamilton. He skipped his final season to enter the 2012 NBA draft, where Portland selected him with the sixth overall pick. Following a unanimous vote, Damian scooped the Rookie of the Year Award in his first NBA season.
This piece will look at Damian Lillard's fiancée Kay'La Hanson.
Damian proposed to Kay'La Hanson during the 2020 All-Star weekend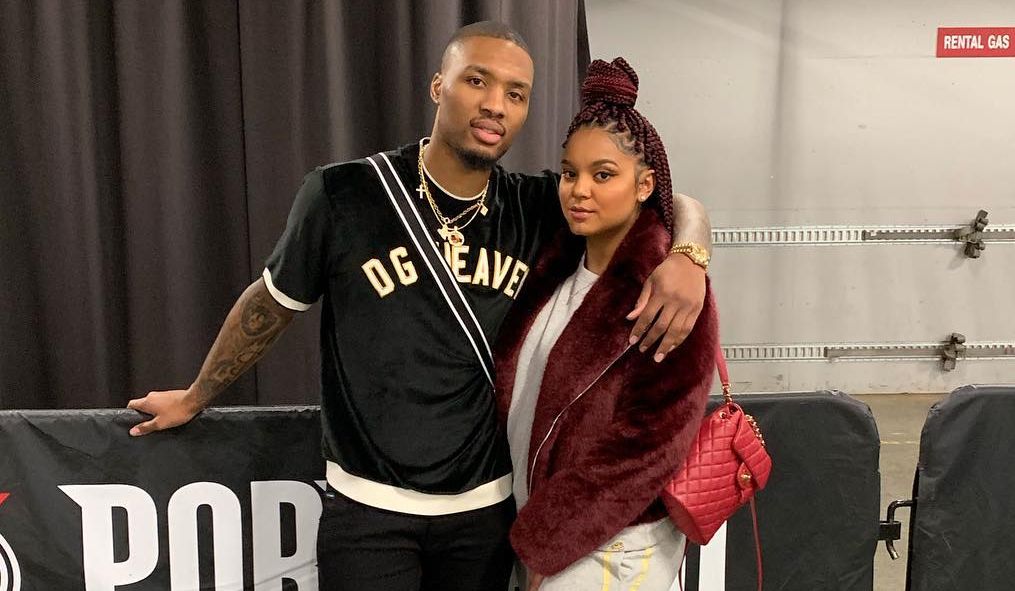 Damian and Hanson met at Weber State, and they have been dating ever since.
Rumors of a potential engagement started circulating after Damian's teammate CJ McCollum proposed to his longtime girlfriend in September 2018. After the proposal, CJ started joking with Damian to follow in his footsteps.
Damian always responded with a smile, but unbeknown to fans, he planned to propose during the 2020 All-Star weekend. The NBA star popped the question during a private party attended by Lillard's mom, former and current teammates, and Damian's mentor David Vanterpool.
Lillard's mom, Gina Johnson, shared videos of the engagement party on Instagram. Damian announced the news via a series of Instagram photos posted on 23rd February 2020. "Team Lillard… confirmed," he wrote. On 14th February 2021, Kay'La posted a series of photos showing the couple's relationship progression through the years. She captioned the post as follows: "This time last year you proposed. Making this my new favorite holiday! I love you babies. @damianlillard."
Damian and Kay'La Hanson welcomed twins in January 2021 to add to their son Damian Jr
Damian and Kay'La welcomed their first son Damian Jr. on 29th March 2018. In August 2020, the couple announced that they were expecting twins.
Lillard was much more prepared for his twins' birth than he was for Damian Jr.'s. He knew that he would be home as Portland two home games in January. For Damian Jr.'s birth, Damian had to fly from Memphis to Portland. The Covid-19 pandemic caused the postponement of January's games, further freeing up Damian's schedule.
Damian was around for the C-section, but this time, he waited for the procedure to end before joining Kay'La. He told National Basketball Association that he passed out during Damian Jr.'s birth:
"I felt like an experienced parent. First time I was kinda nervous, like 'Ah shit!' you know what I mean? 'My first kid!' This time it was a scheduled C-section, we went in, we knew what time we was going to do it, I had already done it before. I made the mistake the first time of looking over the curtain and passed out. So this time I didn't, I just sat back and waited until the babies came out, held 'em and that was that."
Kali Emma Lee and Kalii Laheem Lillard were born healthy, but the family spent extra time at the hospital as a precaution. Damian told National Basketball Association that the prospect of raising a daughter feels different. "I already feel them feelings," he explained. "It's a feeling of weakness. It's only gonna get worse."
Kayla's Instagram page shows that Damian Jr. shares a close bond with his siblings, but according to Damian Sr., the younger Damian initially wanted nothing to do with his little brother and sister. He hilariously revealed:
"He was literally like – his words – 'That's not mommy babies.' And I was like 'They coming home with us' and he was like 'No!' He was laughing like he thought I was joking, like real playful. I can tell that he thinks I'm just messing with him because I always mess with him, but he in for a real dose of reality."
---