Flavor Flav's unmistakable clock neckpiece marks him out from a rapping generation obsessed with chains. Flav is a rap industry veteran famous for forming part of the hit group Public Enemy. The comedic and flamboyant Flav complimented the oft-serious Chuck D, who impressed with his flawless delivery of politically-charged lyrics.
Flav and Chuck stayed together as rappers joined and left Public Enemy. However, the over three-decade-long partnership dissolved in 2020 following confusion over a performance on Bernie Sanders' campaign trail. The break didn't affect the release of Public Enemy's 15th studio album What You Gonna Do When the Grid Goes Down? in September 2020.
Flavor Flav hosts a podcast after his axing from Public Enemy
Following several years away from the public limelight, Flavor returned to pioneer several reality shows on VH1, including The Surreal Life and Flavor of Love.
The shows racked up decent viewership ratings, but for whatever reason, VH1 discontinued Flav's reality shows. Flavor appears to have given up on reality television to become a podcast host.
The Flavor Flav Show has attracted guests such as Mike Tyson and Ice Cube. The podcast has amassed over 20K YouTube subscribers and is also popular on other platforms.
Flav and Chuck D have been blaming each other for stalling Public Enemy's reunion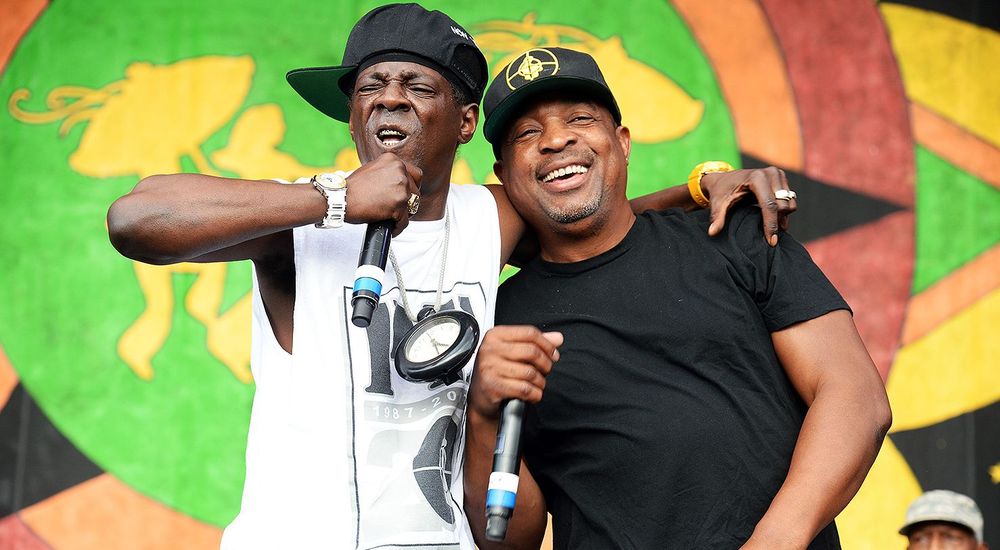 In early 2020, Public Enemy announced that it had officially cut ties with Flavor Flav. Public Enemy released a statement confirming that the group released Flavor because he failed to perform at a stop on Bernie Sanders' campaign trail. The statement confirmed that his axing was not politically motivated:
"Flavor Flav has been on suspension since 2016 when he was MIA from the Harry Belafonte benefit in Atlanta, Georgia. That was the last straw for the group. He had previously missed numerous live gigs from Glastonbury to Canada, album recording sessions and photo shoots. He always chose to party over work."
The statement from Public Enemy accused Flavor of refusing to 'do free benefit shows.' "I built [Public Enemy Radio] so it does benefits & fundraisers," Chuck D wrote. Flavor escalated the situation by sending a cease-and-desist letter to Bernie Sanders demanding that the campaign stop using his image. The letter read:
"The planned performance will only be Chuck D of Public Enemy, it will not be a performance by Public Enemy. Those who truly know what Public Enemy stands for know what time it is. There is no Public Enemy without Flavor Flav."
After the split, Flav addressed rumors that he refused to perform for Bernie because Flavor is a Trump supporter. "Some people tried to say I did this because I'm a Trump supporter and that's not true," he told The Guardian. "Fuck Trump."
Is there a likelihood that Public Enemy's founding members will reunite? At the moment, it doesn't seem like a reunion will happen soon.
Per TMZ, Flav stated that he is open to a reunion, but Chuck has refused to reason with him. "I want to continue this legacy," Flavor said. "I've been reaching out to my partner Chuck, but he's been turning his back. And I'm like, 'C'mon Chuck. Let's go to the table. Let's make this happen.' He's on his own agenda right now."
"We will, one day, come to the table." Chuck, on the other hand, claims that Flavor is free to do whatever he likes, whether it's staying solo or reuniting with the group. In an interview with TMZ, Chuck suggested that Flavor's future as a Public Enemy member is in Flavor's hands.
"He wants to be Flavor? That's fine," Chuck said.
---