Daniel Levy is a Canadian actor who gained prominence for playing the role of David Rose in Schitt's Creek. Levy started his career as a host and actor on various MTV shows such as The After Show and Daniel Levy's Holi-Do's & Don'ts. Levy worked with MTV for five years before leaving in 2011.
With limited experience as an actor and a screenwriter, Levy came up with the idea for Schitt's Creek and pitched it to his father, Eugene Levy. Together, Daniel and his father formed Not a Real Company Productions and put the show into production. The series turned out to be a massive success for Daniel, earning him several Canadian Screen Awards. 
This piece will look at Daniel's love-life and his family. We can confirm that Daniel Levy isn't married. 
Daniel explained that his career took priority over his love life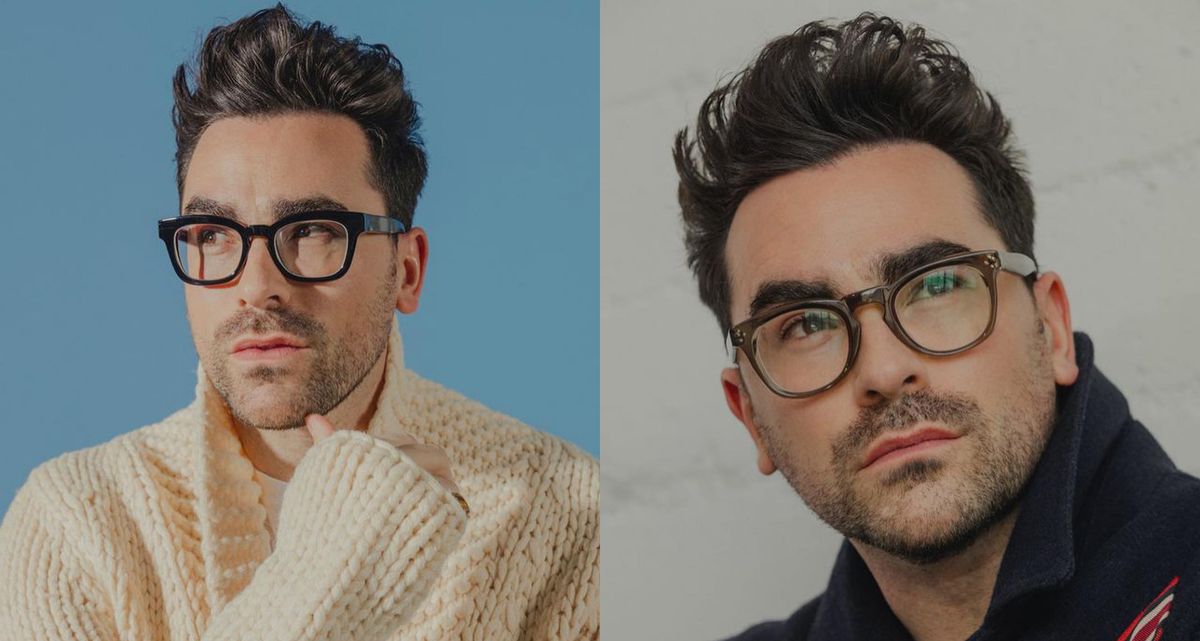 Daniel's decision to focus on his career rather than his love life might explain his single status. Levy told Out Magazine that he chose to gamble on 'professional happiness' before looking for a lover. He said:
"I don't know whether it's an excuse that I'm telling myself or whether it's just what it is, but I feel like this job has consumed my life. I feel like I only get one shot at this. I hope that I can find someone when it's all done, or when things are a little bit more smooth. But the eye has really been on making sure that the show is as good as it can be…"
The show that Daniel referred to in his interview, Schitt's Creek, ended in April 2020 and it might offer Daniel more time to invest in personal happiness. At the moment, Daniel is satisfied with the love he gets from friends but he added, "When the time comes and all the stars are aligned, someone else will come in and hopefully we can call it a day in the love life department."
Daniel's parents knew that he was gay before he came out
For many years, Daniel declined to reveal his sexual orientation. He finally addressed the matter during a January 2020 interview on Watch What Happens Live With Andy Cohen. Daniel stated that his parents knew that he was gay before he came out. He said:
"My mom asked me over lunch one day and I said, 'Yes.' She almost knew. My mom and I have a very close relationship in that sense and it almost felt like she knew that I was ready."
Daniel's dad, Eugene, echoed his son's statements when he added, "We knew for the longest time."
Daniel's family celebrates both Christmas and Hanukkah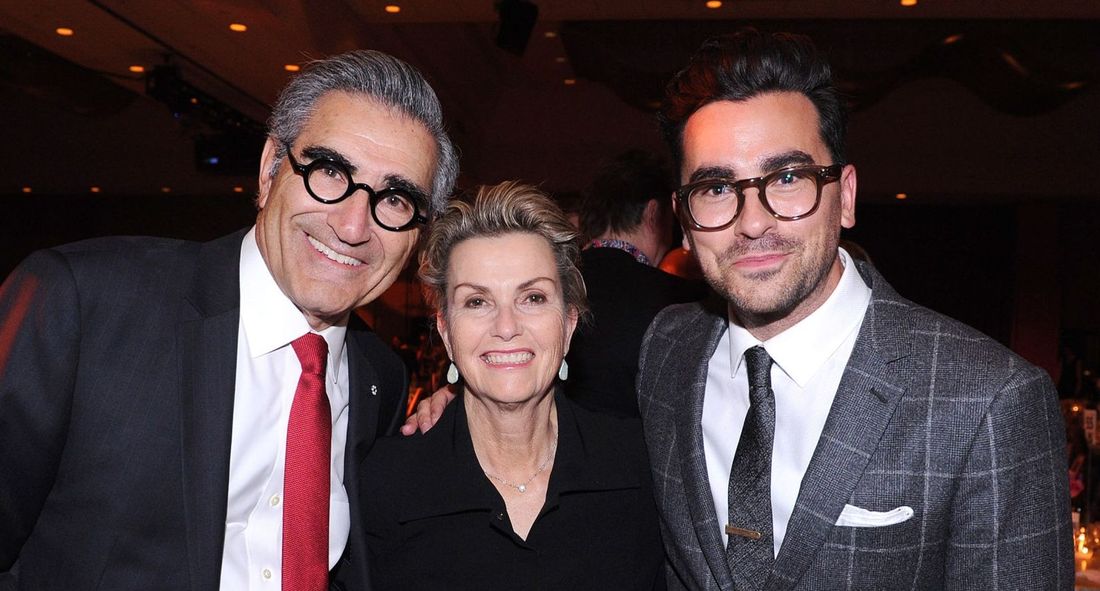 Daniel Levy was born on 9th August 1983 in Ontario, Canada, to Deborah Divine and Eugene Levy. Eugene is Jewish, while Deborah is Protestant. Daniel had a bar mitzvah, and he identifies as Jewish.
The Levy family celebrates Christian and Jewish traditions. For instance, the family celebrates both Hanukkah and Christmas. Daniel's mom posted the following tweet on 31st October 2018 in appreciation of her religious family:
"The best thing I ever did for my Protestant family was marry a Jewish man. We learned that a combined world is an enriched world."
Eugene Levy is a famous actor, and he did his best to shield his family from fame. He kept the family in Canada and tried to offer his children a normal life without interference from the industry. Daniel told Interview magazine that he is grateful for his dad's efforts:
"I know how much of a sacrifice that was for him and now that I am an adult, I look back on that choice with such fondness. I think it's very rare for someone in entertainment to put their family before work. It was great because you really get to enter that world as an adult."
Daniel believes that Schitt's Creek brought his family closer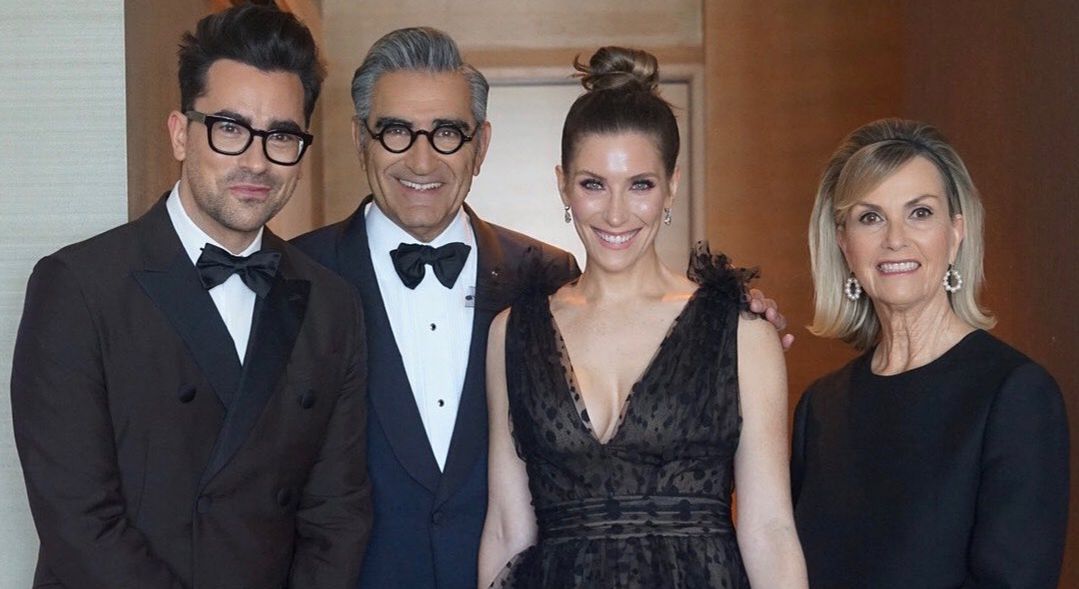 Daniel grew up in Ontario alongside his sister Sarah Levy. He told Interview magazine that he and Sarah had their fair share of fights growing up, but their parents managed to stop the disputes before they got too serious. 
Daniel, his sister, and his dad came together to create Schitt's Creek. Daniel stated that their experience on the show brought them closer. He said:
"I think for my dad it's the ultimate dream. He's giddy about the fact that we all get to work together. He had a lovely long career and at this point in his life, getting to go to work every day with his family, he's on cloud nine clearly. Mouthing dialogue. On the sidelines. Like a parent at soccer practice."
Daniel's appreciation for his family is on full show on his Instagram page. He posts a wide range of photos dedicated to his parents and sister. One of his latest photos is a throwback picture of his mom holding Daniel and Sarah. Its caption reads:
"And a happy birthday to my Mom! She's the funny one in the family. And a true legend who has had to put up with my judgmental dissatisfied looking face for 36 years now. Love you."
---