Ben Shelton will come up against the biggest test in his young career: Novak Djokovic, a tennis legend looking to win his 24th Grand Slam title. The 20-year-old Shelton feels confident he can beat Djokovic. "I'm definitely going to try to bring some things to the table that are different and hopefully disruptive on Friday," Ben discussed his game plan with Eurosport.
Ben Shelton's father, Bryan, is African-American; his mother, Lisa Witsken, is Caucasian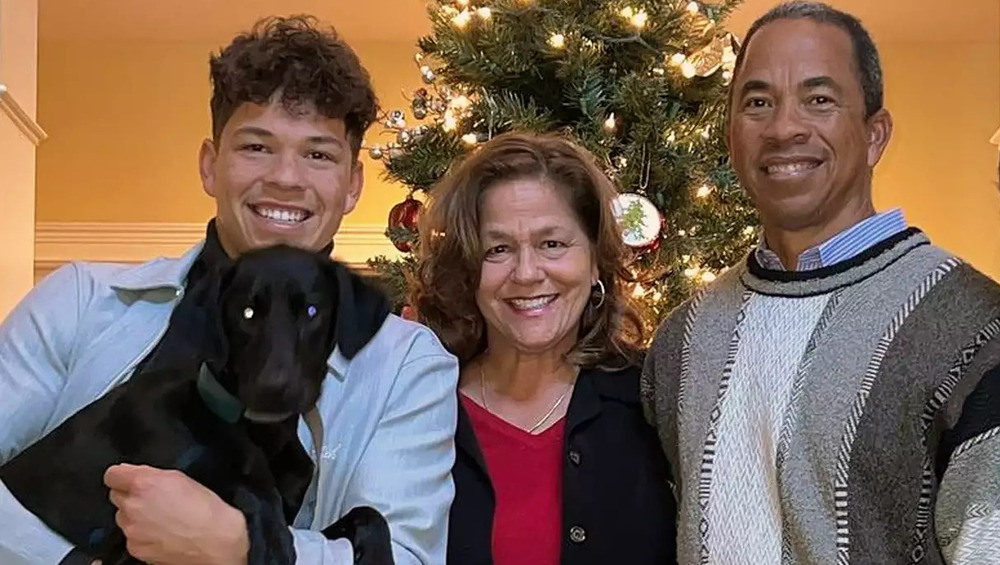 Ben Shelton was born on 9th October 2022, to Lisa Witsken and Bryan Shelton in Atlanta, Georgia. Bryan is African-American, and Lisa is Caucasian. Ben grew up alongside his older sister, Emma.
Black men haven't had as much success in tennis as black women have: The Williams sisters have a combined 30 major singles titles; Coco Gauff could dominate women's tennis for at least the next decade.
In contrast, only three men – Arthur Ashe, James Blake, and Frances Tiafoe – have breached the Top 10 of the ATP ranking in its five-decade history. Among them, only Arthur Ashe won a Grand Slam. Tiafoe and Ben could add to the major honors won by black men in tennis if they continue improving on their already impressive games.
Ben grew up in a family of accomplished tennis players
Ben grew up surrounded by tennis stars. His father, Bryan, was a professional tennis player who beat No. 2 seed Micheal Stitch at Wimbledon in 1994. After retirement, Bryan became a tennis coach, guiding the Georgia Tech women's tennis team and the Florida Gators men's tennis team to NCAA victory. He is the only coach to have won a national championship with both a women's and a men's team in NCAA Division 1 tennis.
Lisa, an accomplished junior player, is the sister of Todd Witsken, a former world No. 4 doubles player. Ben's sister, Emma, played tennis at the University of Florida.
In his early years, Ben preferred football to tennis. However, his size disadvantage prevented him from enjoying the sport. "So going into the end of middle school, there was a lot of huge kids in football, and I hadn't really hit my growth spurt yet. I was maybe a little tired of getting bashed up all the time," Ben told The New York Times.
At age 11, Ben dropped football for tennis. Bryan told The New York Times that no one influenced him to switch disciplines. "This was the same kid who said that 'tennis will not be my sport' when he was younger," Bryan said. "So he definitely came to it on his own. There was no pressure from mom or dad or sister."
Bryan Shelton coached his son through the junior levels and in college. He continues to train him alongside Dean Goldfine, a veteran tennis coach and former pro. Bryan recognizes that Ben has more potential than he did. He admitted:
"It took me a long time to get to where he's at, and he started later than I did. So he's just a different animal than I was, and I try not to compare too much what I did and just help him along the way, but I also realize he's got a much higher ceiling."
His advice for Ben is to remain focused, especially when on tour. "It's a tough sport, and the sport is just part of it," Bryan said. "It's dealing with the travel and dealing with losses and dealing with feeling lonely."
---