Angel Resse is no shrinking violet when it comes to flaunting her victories on the court, taunting her opponents, and expressing her opinions. She hit Iowa star Caitlin Clark with her 'you can't see me' celebration and laughed off Jill Biden's suggestion that defeated Iowa accompany LSU to the White House.
Reese's fearlessness is rooted in her upbringing.
Angel Reese and her younger brother were raised by a single mother after their parents split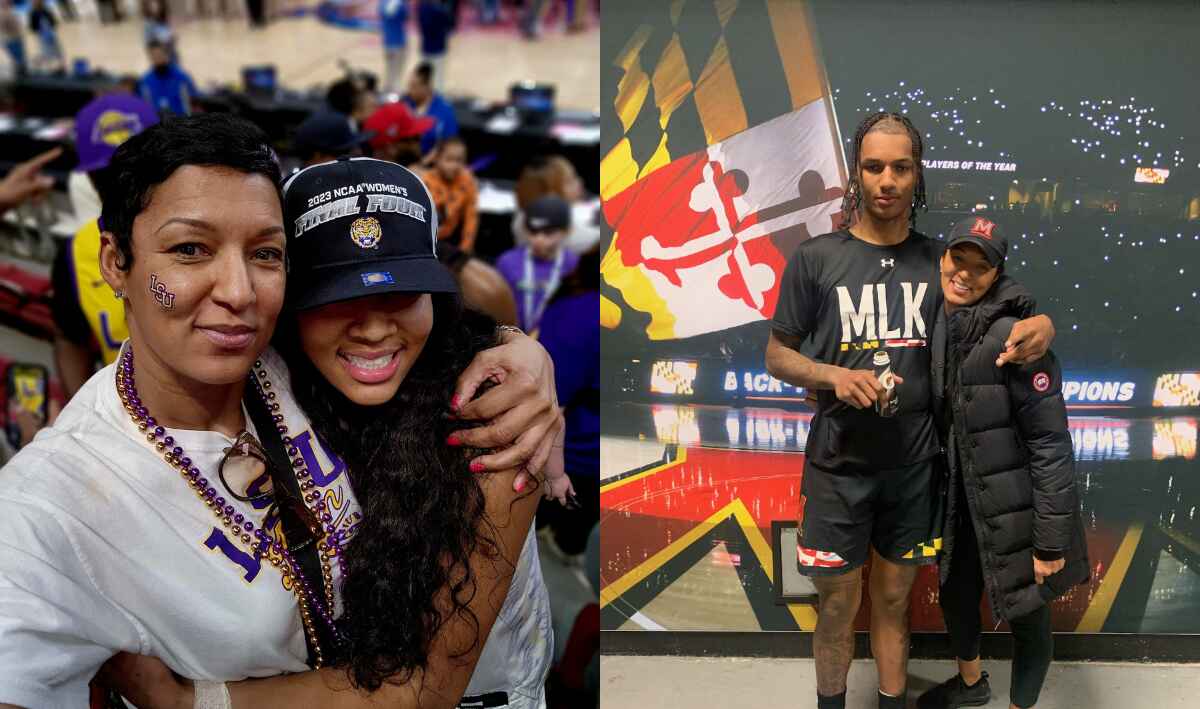 Angel Reese was born to Angel and Michael Reese on 6th May 2002 in Randallstown, Maryland. Reese's parents played college basketball before playing professionally overseas.
After her parents split, Reese and her younger brother, Julian, were raised by Angel. Reese was a multidisciplinary athlete participating in track, swimming, and basketball. The LSU star said she decided to focus on basketball while watching Angel play. Reese told Just Women Sports:
"I used to go to my mom's games when I was younger. She used to play in a little league, and I used to always go to watch her games on Sundays. That was something that was always inspiring to me. She's always been independent and she molded that into me. I am who I am because of her."
Reese and Julian often played against each other. She told What's Up Media that games between the siblings were intense and competitive, which helped them improve:
"Everything was always competitive with my younger brother. We had a basketball court in front of our house, and it was always very competitive and intense. We played all the time together. It helped shape me to who I am now."
Reese said she hopes to inspire Black women to embrace their identities
Reese developed mental toughness playing against her younger brother. "My younger brother didn't want me to be better than him," she said. "We used to argue and say, 'Who is taking the shots?' But it really helped my game."
Playing against opponents who backed up their skill with trash talk taught Reese the value of unsettling rivals with taunts. "You have to be who you are and not be apologetic about it," Reese told Sports Illustrated.
"I don't let anybody dictate how and who I am," she added. "I never wanted to think I can't do what Julian does. The trash talk, he kind of put that in me."
After her antics during the game against Iowa sparked uproar on social media, Reese questioned why Clark, who's white, wasn't criticized for using a similar gesture during Iowa's game against Louisville. Reese said:
"All year, I was critiqued about who I was. The narrative — I don't fit the narrative. I don't fit into the box that y'all want me to be in. 'I'm too hood. I'm too ghetto.' Y'all told me that all year. But when other people do it, y'all don't say nothing,"
Reese told ESPN's Malika Andrew that she'd gotten used to criticism. The LSU star said she hoped to be a voice for Black women: "I want to take on that role of being the Black woman that's going to stand up for the girls that may not have a voice. I don't care what anybody has to say about me. I love who I am. I'm authentically me."
Reese's mother pleaded with people to stop messaging her with dating proposals
Reese and her mother have similar names, which has caused confusion on social media: romantic proposals meant for Reese are flooding her mother's inbox.
On 27th March 2023, Angel pleaded with people to stop sending her dating requests. She tweeted:
"FYI…I am Angel Reese the mom not the LSUwbb player please be mindful when you tag and/or send me DM's that your intent is to me not my daughter. I'm getting some crazy dating request from men my kids age who clearly by the content of msg think they're sending it to Lil A."
---