If you are looking for inspiration, then Adalia Rose is the person for you. Adalia is famous on the internet for facing progeria – a rare condition that causes accelerated aging – with characteristic joy and optimism. Adalia is a confessed diva and a social media celebrity unlike any other out there.
Rose and her parents launched her social media career via Facebook before moving to YouTube in June 2012. So far, Rose has close to 13 million followers on Facebook and 2.9 million followers on YouTube. Her YouTube videos have racked up over 290 million views.
This piece will look at Adalia Rose's condition, her parents, and how she deals with negativity.
Adalia Rose passed away on 12th January 2022 due to her condition
Adalia Rose died due to progeria in the early evening on 12th January 2022, a statement on her Facebook and Instagram accounts read. "Adalia Rose Williams was set free from this world," the post read. "She came into it quietly and left quietly, but her life was far from it."
The announcement celebrated Adalia's achievements in the fifteen years she lived. "She touched MILLIONS of people and left the biggest imprint in everyone that knew her," it read. 
Her family found solace in Adalia's release from pain and hoped she had gone to a better place. The statement concluded by expressing gratitude to everyone who helped Rose:
"We want to say thank you to everyone that loved and supported her. Thank you to all her doctors and nurses that worked for YEARS to keep her healthy. The family would now like to mourn this huge loss in private."
Condolences poured in from Rose's fans, including designer Michael Costello, who designed dresses for Rose in celebration of her 13th birthday. Costello captioned a post in honor of Rose as follows:
"My heart is broken. I am at a loss for words and cannot stop crying. Adalia has been so special to every single person that she met. She was an angel. Words cannot convey how much you changed my life. I will miss you dearly, friend, and I promise to cherish all the wonderful memories we've had together."
Adalia Rose was expected to have a life expectancy of 40 to 50 years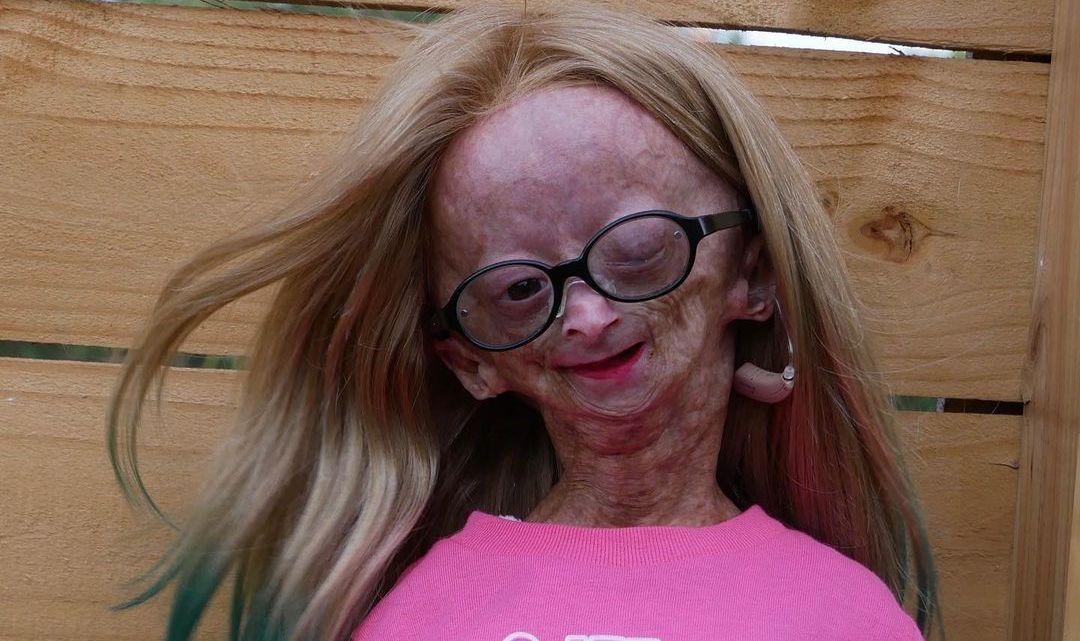 Adalia Rose was born on 10th December 2006 to Ryan Pallante and Natalia Amozurrutia in Round Rock, Texas. Natalia and Ryan noted that Adalia had a growth issue one month after she was born. "I think she was like a month old and they weren't happy with her growth," Natalia told New Zealand Herald. "That was one of the symptoms that first popped up and then it was also that the skin on her tummy was really tight and just different looking."
At three months old, doctors diagnosed Adalia with Hutchinson, Gilford Progeria Syndrome. According to The Progeria Foundation, children with Progeria show accelerated aging within the first two years of life. The Foundation's page further reads:
"Progeria signs include growth failure, loss of body fat and hair, aged looking skin stiffness of joints, hip dislocation, generalized atherosclerosis, cardiovascular (heart) disease and stroke. The children have remarkably similar appearance, despite differing ethnic backgrounds."
Adalia has the distinctive appearance of a person suffering from progeria – a small, frail frame, a shallow jaw, a pinched jaw, and no hair on her body. Despite appearing physically ill, Adalia doesn't suffer from conditions associated with old age such as dementia. The condition also doesn't affect her ability to have children as there are cases of people with progeria giving birth to healthy babies.
According to The Sun that are about 100 cases of progeria in the world. It is a genetic condition, but it is not hereditary. Progeria has no cure, but associated conditions can be treated.
Adalia's parents are committed to giving her as normal a life as possible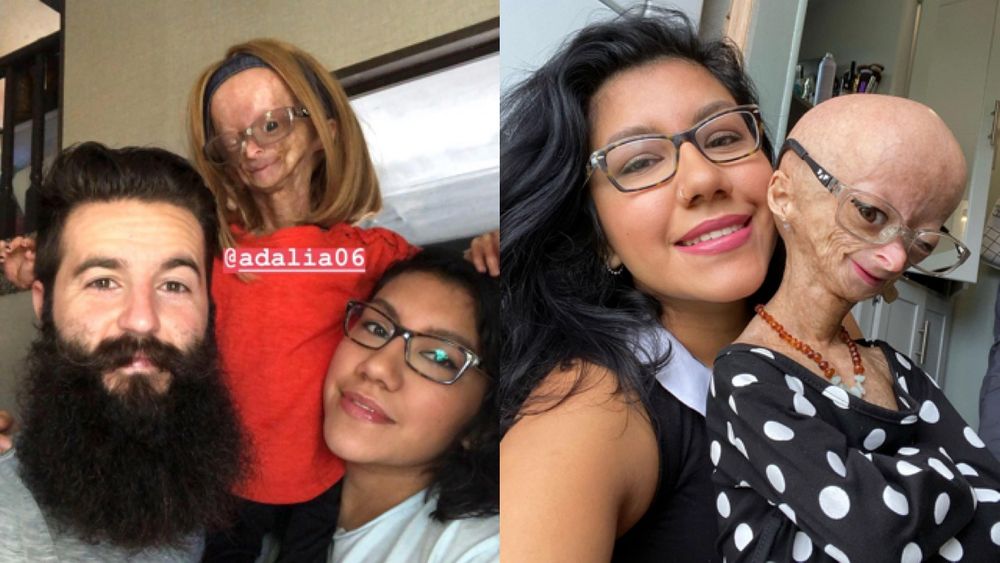 Adalia Rose's parents raise three sons alongside Adalia: Emiliano, Marcelo, and Niko. They are committed to giving Adalia as normal a life as possible and that involves not mentioning her condition out loud. Ryan and Natalia enjoy being around their exuberant daughter, but they admit that there it can get tough. Natalia told truly:
"It can be hard some days, especially at night. When everybody goes to sleep and I am just thinking about the day. Just thankful for another day I guess."
Adalia has had a transformative effect on her parents – it has made them appreciate life more. "Adalia has changed my life completely, it's not like I was hateful but I wasn't nice to myself," Natalia told New Zealand Herald. "I wasn't thankful. I didn't realize what life was until she was born."
It has been an appreciative learning experience for Natalia and Ryan. They have the rare privilege of raising an exuberant character with a rare disease that doesn't affect her personality one iota. Natalia and Ryan told truly:
"My favorite thing about being her mom is watching her grow and like seeing how different she is from everyone. Seeing how she takes on every day and just learning from her as well."
Social media can be toxic but Adalia has learnt to deal with the hate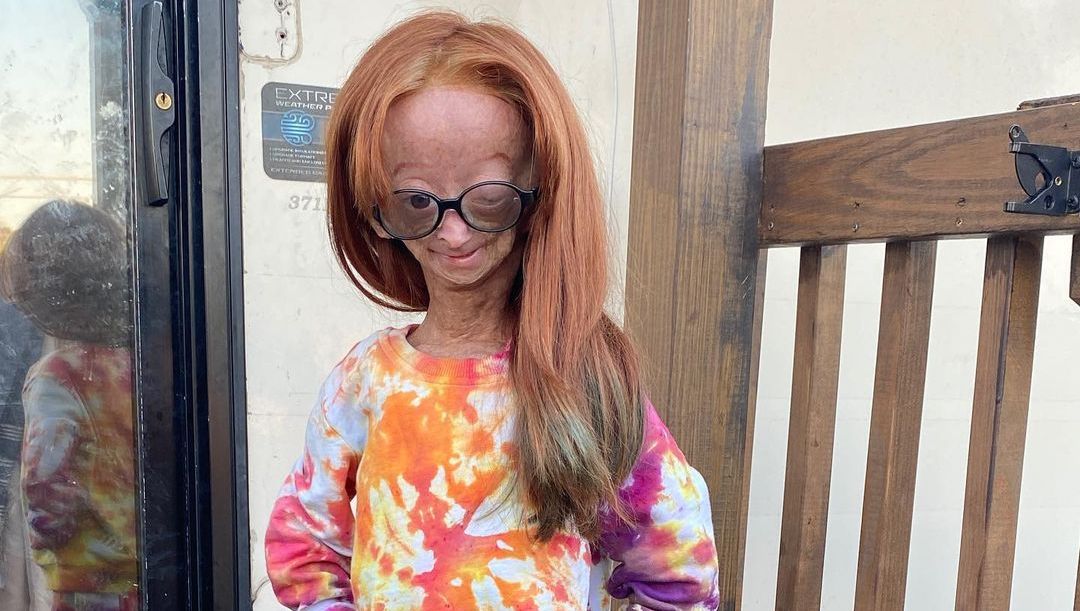 Adalia's decision to showcase her life on social media garnered different reactions. A large section of fans was happy that Adalia was brave enough to dance and show off her makeup skills on the internet, but some internet users didn't appreciate it.
Anti-Adalia groups such as 'Adalia Rose should have been aborted' emerged and hate comments flooded Adalia's posts. It affected Adalia, but she learned how to use the hate as inspiration. She told Special Books by Special Kids:
"If somebody is being mean in my mind I'm just like, 'It's fine.' Just do what you are going to do and move on with it. You don't need to be sad when somebody is being mean to you. You just got to move on and be like, 'It's fine. It's fine.' They're just bullies. They're jealous because you're famouser and your awesomer than them."
Despite the positivity, Adalia sometimes wishes that she didn't have her condition. "But then she'll be like 'Who needs hair anyways, I have a bunch of wigs, I can have different hair every day,'" Natalia told New Zealand Herald. That unbridled positivity is the reason why people keep coming back to watch Rose's videos. Adalia's adoring fans show their love by posting encouraging comments. Natalia told New Zealand Herald:
"Her followers say good things to her all the time, that you are so cute, I love you you're so beautiful, I love the way you dance, I love your videos. They have constant comments of how she is inspirational and how she doesn't let anything stop her and they're right. She loves those comments."
---