Jen Psaki's time as White House Press Secretary ends in mid-May 2022. Psaki took over the position following President Joe Biden's inauguration and brought back traditional daily on-camera press briefings, which the previous administration had done away with. She gained viral internet fame for her sharp-witted responses to reporters' questions.
Reports about Jen's departure surfaced after Axios leaked a potential deal between her and MSNBC. She'd reportedly spoken with other media houses before signing with MSNBC. Karine Jean-Pierre will take over after Jen Psaki vacates the position.
Jen's leaving to take a less demanding job that'll allow her more time with family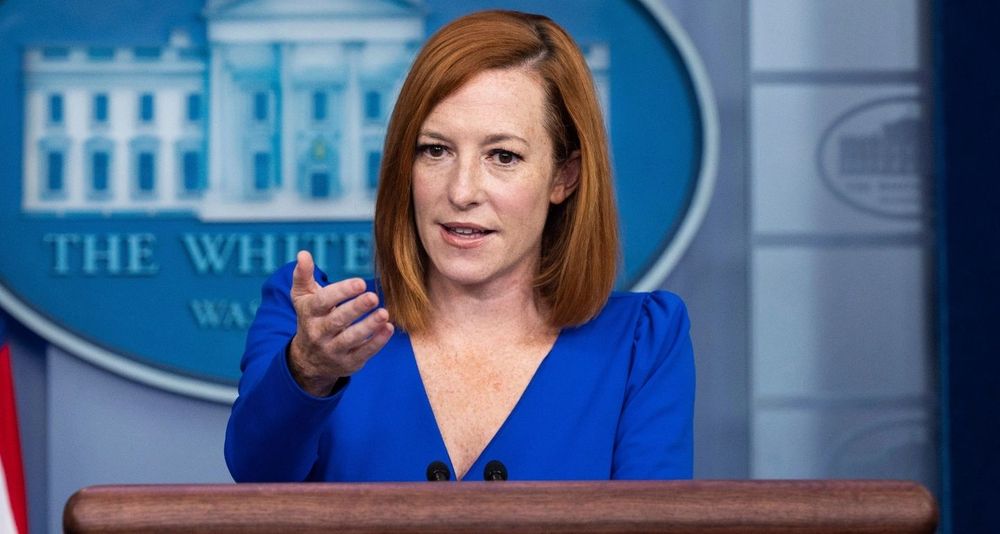 Jen Psaki let President Biden know early on that she would spend about a year working as White House Press Secretary. Leaving the position was always part of her long-term plan.
"When I talked to the inner circle of the Biden Orbit, we talked about coming in and doing this job for a year, which was quite appealing to me for many reasons," Jen said on The Axe Files. "I think it's going to be time for somebody else to have this job, in a year from now or about a year from now."
Therefore, Jen's departure didn't surprise many. The White House Press Secretary role can be demanding, forcing one to dedicate most of their time to the job. Consequently, other aspects of a person's life – including family life – can suffer.
Jen's leaving to dedicate more time to her husband and kids. She married Greg Mecher in May 2010, and the pair share two children. Jen said:
"It's a great job. It will be hard, but I also never thought I'd be here, and I also love my kids a lot. I don't want to miss moments. I don't want to miss things, and I'm very mindful of that as well."
Following Axios' revelation, reporters grilled Jen on her future. She avoided giving concrete answers about her imminent departure but stated that spending time with her children was the first thing she would do after leaving.
"At whatever time I leave the White House," Jen said, "I can promise you the first thing I am going to do is sleep, and spend time with my 3- and 6-year-olds."
Psaki will join MSNBC as an analyst and host of a new show on Peacock.
Jen's set to be replaced by the first black and openly LGBTQ+ secretary
Karine Jean-Pierre will be the first black and openly LGBTQ+ person to serve as White House Press Secretary. She served as the deputy press secretary before her promotion. President Biden said:
"Karine not only brings the experience, talent and integrity needed for this difficult job, but she will continue to lead the way in communicating about the work of the Biden-Harris Administration on behalf of the American people. Jill and I have known and respected Karine a long time and she will be a strong voice."
An emotional Jen showered praise on Jean-Pierre, calling her a 'partner in- truth.' "Representation matters and she is going to give a voice to so many and show so many what is truly possible when you work hard and dream big," Psaki said.
Jean-Pierre said she was 'still processing' the significance of her appointment. "This is a historic moment, and it's not lost on me," she said. The incoming White House Press Secretary added:
"If you are passionate about what you want to be, where you want to go, and you work very hard to that goal it will happen. You'll be knocked down and you'll have some tough times and it won't be easy all the time but the rewards are pretty amazing."
Jen joins the growing number of White House officials who've joined television news
Jen's primary motivation for leaving the White House may be to have more time to spend with family. Nevertheless, we can't ignore that she follows a contingent of White House officials who've found employment in television news.
"It's accelerated in recent years as both politics and journalism have grown more partisan," Mark Feldstein, chair of the broadcast journalism department at the University of Maryland, told Variety. "For the networks, these former officials bring knowledge, expertise – and spin. The downside is the predictably partisan nature of their talking points."
Moves like Jen's from politics to news media raise ethical concerns. In her case, MSNBC and White House lawyers ensured that her departure adhered to government regulations.
Nevertheless, reporters questioned why the ethics of her continued participation in government while negotiating deals with media houses. Jen said she'd recused herself from particular decisions.
"I have always gone over and above the stringent legal requirements of the Biden administration, and I take that seriously," she added.
MSNBC has acquired an invaluable asset in Jen Psaki. She's odds-on to prove her worth during the upcoming midterm elections.
---