Booker needed only one college basketball season to prove he was ready for professional basketball. In March 2017, Booker showed he belonged among the elite in basketball by becoming the youngest player to ever score 60 in a game. 
This piece will look at Devin Booker's parents, Melvin Booker and Veronica Gutierrez.
Devin was raised by his Hispanic mother as his dad played basketball in Europe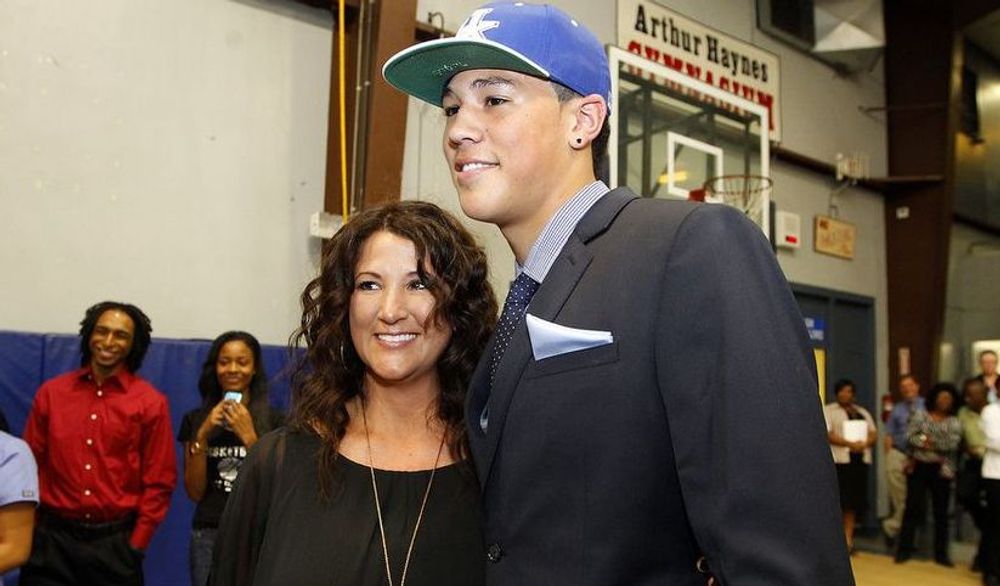 Devin Booker was born on 30th October 1996 in Grand Rapids, Michigan, to Melvin Booker and Veronica Gutierrez. Veronica is Puerto-Rican and Mexican American, and Melvin is African-American. Melvin was a basketball player who'd made his name as a star point guard at the University of Missouri. He met Veronica as he played for the Grand Rapids Hoops in Veronica's hometown of Grand Rapids.
Their relationship spawned their only son Devin. Despite showing immense talent, Melvin was not selected in the 1994 NBA Draft. He told Undefeated that it was one of the most painful moments:
"My draft night was one of the worst nights ever. I was with my family back home. I felt like and thought I would be drafted. It's unheard of for a player of the year in his conference and a second-team All American to go undrafted for reasons I don't even know today."
Melvin played in the NBA for the Houston Rockets, Denver Nuggets, and Golden State Warriors, but he feels that the teams didn't give him enough time to prove his worth. About a year after Devin's birth, Melvin decided to try out his luck in Europe. He had stints in Russia, Turkey, and most notably Italy.
Melvin tried as much as possible to keep in touch with Devin, but expensive international call rates and the time difference made communication difficult. Devin told Undefeated that he couldn't understand why Melvin struggled to keep up constant communication, but his experience as an NBA player opened him up to a different perspective. He explained:
"It was hard for me to understand then why we couldn't communicate so much. But now that I'm a professional and I have been around this lifestyle, I understand how hard it is. This is a good life here in the NBA. I can only imagine how it is across the water."
Devin and Melvin spent valuable time together during summers in Mississippi. He credits his mom for allowing him to build a relationship with Melvin. "I owe her everything," Devin told ESPN. "She really cared for me, and never really cared about basketball, as long as I was happy. Having the support from your mother like that it's unbelievable."
Devin fully appreciated his Latino heritage after joining the Phoenix Suns
Booker's traces his Latino roots back to his maternal grandfather, who was born in a border town named Nogales in Mexico. He stated that he fully appreciated his Latino heritage after joining the Phoenix Suns.
"I'm around [Latino culture] every day," Booker said after a game. "I always say I'm fortunate enough to live around it, see it around the stands, and see it around the city. Being able to touch those types of communities in this area makes all this that much better."
Being one of only two active NBA players with a Mexican heritage has earned Booker many admirers. Suns radio broadcaster Arturo Ochoa is one of Devin's loudest fans. He talked to The Ringer about his appreciation of Devin's Latino roots. He said:
"Imagine the pride of having your team have a guy score 40 points in a playoff game, and he has Latino blood? Mexican blood like you? Imagine how I have to paint that picture over the airwaves so that those who listen to us who are Mexican, so that they can feel proud of a guy who shares their blood being an NBA star and who might be the most important player in the city since Larry Fitzgerald."
Devin's father taught him to use intelligence as well as athleticism to get ahead of the game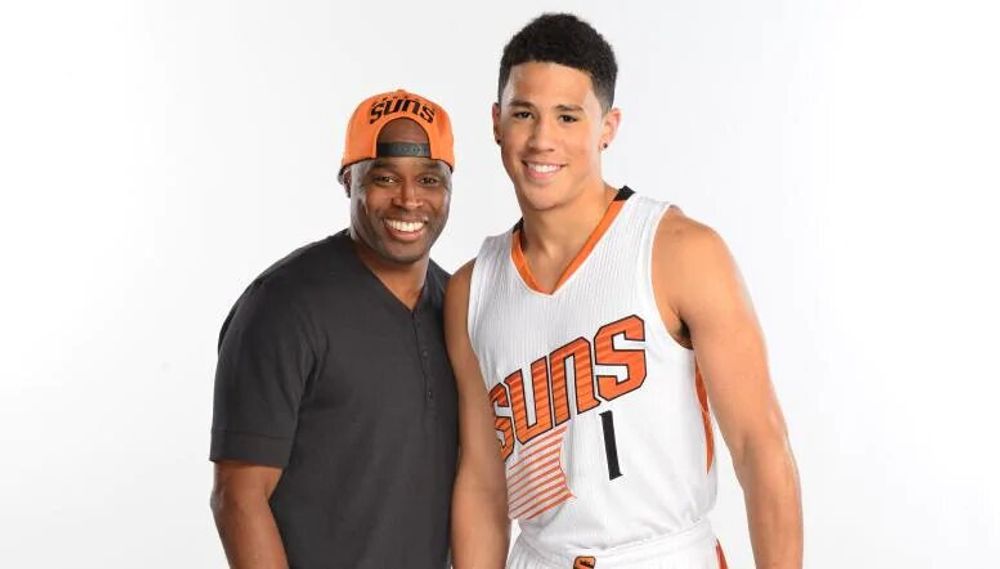 Devin naturally took an interest in basketball due to his father. As he grew, he eventually convinced his mom to let him visit Melvin in Europe. Melvin retired in 2008 and returned to his alma mater Moss Point High School as an assistant coach. He declined a one-year extension offered by the Armani Jeans Milano so he could return to America to train Devin.
Melvin tried to convince Devin to join Moss Point High School because he felt that it would benefit his career. However, Devin spent his first year at Grandville High School. Unwilling to give up, Melvin continued whispering in Devin's ear about the benefits of Moss Point. Devin didn't want to leave his mom and his friends, but Melvin insisted that moving to Mississippi was the only way he would make it to the top.
An added incentive was that Devin and Melvin would strengthen their bond by staying close together. Eventually, Devin yielded and agreed to join his dad at Moss Point. After a tough first day, however, Devin contemplated going back to Michigan. He told Undefeated that he is glad that he chose to confront the challenge:
"The respect I received from my family and everyone in the city made me want to stay. And it turned around. It ended up being one of the best decisions I've ever made. I fell in love with the city. I'd do anything for them. I appreciate my dad actually telling me to make the move. It was better for my life."
Devin is also appreciative of his mom for letting him move for his career. "It takes a powerful woman to do that," he said. "For her to allow it to happen is unbelievable." Melvin and Moss Point taught Devin to utilize his mind to overcome his physical deficiencies. Devin told ESPN that he credits Melvin for instilling in him the idea that IQ would put him ahead of the game.
"I was never the fastest, or the guy who could jump the highest," Devin said. "But I always wanted to be the smartest."
Devin has two siblings from his mother's other relationships
Us Weekly described Veronica Gutierrez as a 'multi-millionaire cosmetologist.' Gutierrez is single and has three children from three previous relationships: Davon, Devin, and Mya. 
Davon Wade, four years older than Devin, graduated from Western Michigan University with a degree in Business Administration and works as a real estate agent. 
Mya Renee Powell is six years younger than Devin. She was born with a chromosomal genetic disorder called microdeletion syndrome. Devin said in a video for the NBA that he plays to put smiles on the faces of Mya and Veronica. 
"To have someone in the corner like my sister – I don't know if I'd be here without her," Booker said. 
---