Sarah Elizabeth Sanders is an American political adviser who served as White House Press Secretary from 2017 to 2019. Sanders had a largely controversial spell as Press Secretary, hosting fewer press conferences than most of her predecessors and spreading misinformation in attempts to defend the administration.
During the Muller Special Counsel investigation, Sanders admitted to lying to the public as Press Secretary. Elizabeth resigned from her post at the end of June 2019. Despite no longer being a part of the White House staff, Sarah is a staunch defender and supporter of President Trump.
This piece will look at what Sarah Sanders is doing now and her husband.
Sarah works as a contributor for FOX News and is planning to run for governor of Arkansas in 2022
In late June 2019, Sarah Sanders left the White House after setting and breaking several records for periods between formal press briefings. In August 2019, FOX announced that Sarah had signed with the network as a political contributor. In her comment on the announcement, Sarah praised FOX News for being the top news organization in the United States and expressed pride in joining FOX's political analysts' panel.
Sarah's long-term goal is running for governor of Arkansas – a position held by her father from 1996 to 2007. She has already started working toward that goal, with her autobiography, Speaking for Myself, seen as an attempt to publicize her brand and ideologies.
The book talks about the lessons she learned from her father and her unwavering support for President Trump and the Republican Party. Some may have seen the book as an attempt to wriggle back into the President's administration, but it's highly unlikely considering that Sarah left the White House on her own accord. As The Guardian put it, Sarah has her sights firmly set on being Governor: "She has her eyes on a different executive mansion – in Little Rock, Arkansas."
Sarah and her husband Bryan Sanders have three children: Scarlett, William, and George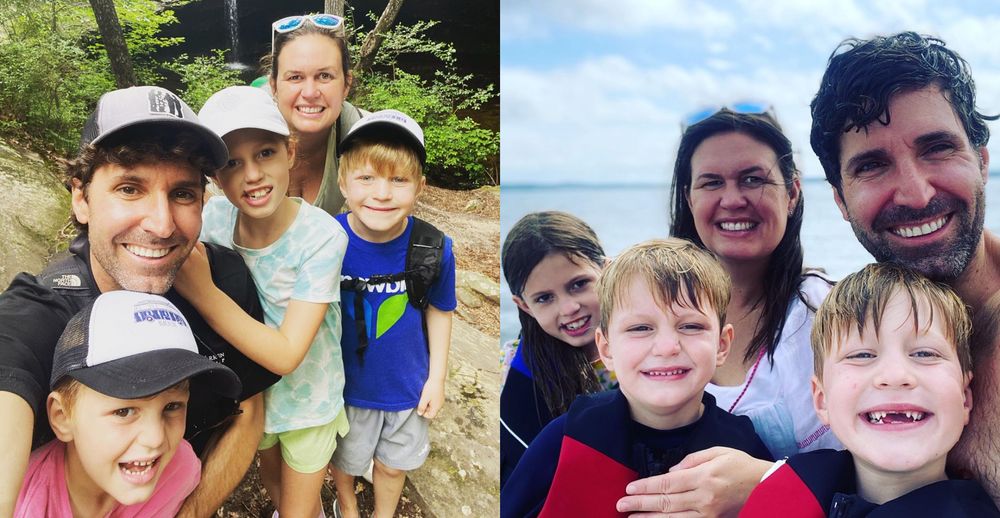 Sarah and Brian met during her father's presidential campaign in 2008. Brian was a media consultant while Sarah worked as the field director. The couple struck up a relationship, and on 25th May 2010, they tied the knot in a ceremony held on the Virgin Islands.
Elizabeth has consistently received praise for raising three children without compromising her political ambitions. Her dad, Mike Huckabee, praised her for welcoming her third child at the start of the 2016 Presidential campaign. "Sarah probably becomes the first presidential campaign manager in America to have a baby at the launch of a campaign," Mike told NewsMax.
Sarah received more praise after become the first mother to hold the position of Press Secretary. Sanders stated that raising three kids had prepared her for any type of situation that would have come up in the White House:
"You want to see chaos? You should come to my house early in the morning when my three kids are running around. That's chaos. This is nothing."
Sarah came under criticism for holding a 'press conference' for the children of White House staffers more than 40 days since her last formal press conference. Parenting is something that Bryan and Sarah enjoy and take pride in. Their posts on social media show that the family shares a strong bond.
---