Netflix's focus on thieves and con-artists continues with its latest release: Bad Vegan: Fame. Fraud. Fugitives. Sarma Melngailis was once the queen of New York's raw vegan community, with her restaurants attracting celebrities like Rooney Mara, Owen Wilson, and Alec Baldwin.
Sarma attracted people perhaps more than the food did: she was sexy, Ivy-league educated, and a budding entrepreneur. She appeared in multiple interviews and wrote cookbooks, earning fame and fortune.
Then, in early 2015, Sarma vanished, having defrauded millions from investors and employees. Melngailis and her ex-husband were arrested ordering non-vegan pizza at a motel in Tennessee.
Sarma has settled in New York and is writing a memoir and working on a podcast
Following a four-month stint in the infamous Rikers Island, Sarma returned to New York and settled in Harlem.
Melngailis is reportedly working on a memoir and teased a podcast via a late February 2022 Instagram post. "My set up on floor in quietest corner I could find while away from home to do one podcast, the only one I felt made sense for now," she wrote. "Will post again once it's out."
Per an Instagram post uploaded following Bad Vegan's debut, Sarma stated that she would go offline for a while. Rather than reply to emails and texts, she would spend her time 'hiding under the covers spooning Leon (her dog), watching videos of woodchucks.'
Sarma also promised to update her website and 'clear up a few things.' As promised, Sarma posted on her website for the first time in three years, predictably about Bad Vegan. 
Melngailis stated that contrary to journalistic standards, she got paid for appearing in the documentary. However, none of the cash Netflix released went to her. She claims that the money went to her attorney, who forwarded it to the attorney representing her former employees.
At the time of her disappearance, she owed 84 workers up to $3,500 each, the DA's office claimed. Sarma wrote:
"At my insistence, the producers made an exception so that I could pay the total amount my former employees were owed—amounts that accrued after my disappearance in 2015. Of all the harm and the many debts resulting from my downfall, this portion weighed heaviest."
Sarma expressed regret and shame at abandoning her employees. She says that Netflix can support her claim she didn't profit from Bad Vegan. Melngailis then promised to pay the outstanding debts she owes. "I want to be clear that I'll keep working towards addressing it all—one way or another—eventually," she added.
Melngailis appreciates the documentary but claims that it got several things wrong. She hopes that people can learn something from her story. Sarma concluded by saying that she's doing alright and praying for the quick resolution of the conflict in Ukraine.
Sarma previously stated that she would reopen her restaurant, Pure Food and Wine, if the opportunity arose. "If there was some magical opportunity to open the same restaurant in the same place, I would do it in a heartbeat," she told The New York Post. "I think New York would take me back."
Sarma had an easy time in Rikers Island and briefly served as a food critic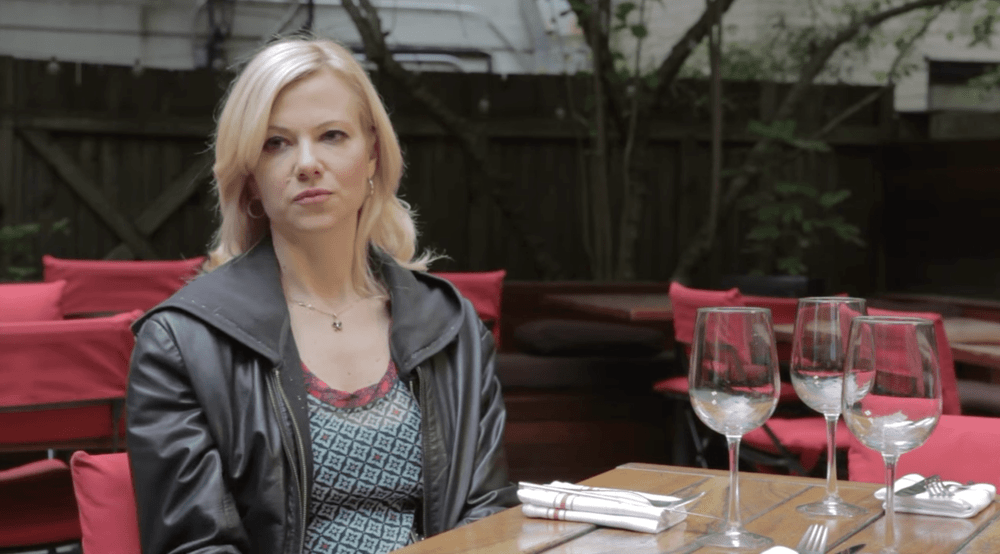 After Sarma's release, she wrote on her website that though prison could be dangerous, she had a relatively easy time at Rikers. She enjoyed having no responsibilities in the four months she spent at the famed penitentiary. Melngailis wrote:
"You have no responsibilities, other than not being an asshole. There is no email, no texting, no expectations, no deciding what to wear or worrying about how you look. Of course there is plenty about it that sucks hard, but in many ways it was the easiest few months of these past few years."
Sarma admitted that she was lucky to have family support, a definite release date, letters and books, and good health. Some of the inmates housed at the facility had none of the above.
The realities of jail sensitized Sarma to the urgent need for prison reform as it disproportionately affects the impoverished in society. She wrote:
"It's easy to be theoretically aware of the injustices, inefficiency, and tragedy of the bail system as it currently functions. Another to be there seeing it up close; women feeling stuck and more desperate day after day as they may lose their job, then lose their apartment, and worry about who is taking care of their kids."
Melngailis told The New York Post that she had no issues with other inmates. Despite her vegan inclinations, Sarma feasted on chicken, claiming she didn't want to see it wasted.
"And so yeah, if it's a situation where something is going to be thrown away, I don't ethically have a problem eating it," she said. Sarma served as a food critic in prison; she was asked to try out the veggie burger before other prisoners ate. "It was surprisingly well done," she said.
Melngailis had an affair with her lawyer and nearly dated Alec Baldwin
Sarma told The New York Post that attorney Jeffrey Lichtman – who also represented El Chapo – was 'totally different from the start.' Melngailis stated that Jeffrey didn't attempt to belittle her, and he smelled good.
"He smelled really good," she raved. "That's something you notice when you start working with somebody and then you give them a hug goodbye. I'm very sensitive to that."
The affair leaked after dozens of X-rated texts between the pair surfaced. At the time of their dalliance, both Sarma and Jeffrey were married. Melngailis said that she believed Jeffrey genuinely cared for her. "My going away was painful for him, too," she said. "It has to be hard if you care about somebody."
Sarma also alleged that another top Manhattan lawyer sexually harassed her as he tried to bed her. He got to her by representing her pro bono on a legal matter.
Melngailis also claimed that she got an STD from comedian Louis C.K. "It was something that happened once," Sarma said. Melngailis stated that she remained friends with Louis after they had sex.
Actor Alec Baldwin met his wife, Hilaria, at Pure Food and Wine. Before meeting Hilaria, Alec was briefly involved with the hotel's owner.
Baldwin and Sarma nearly dated, but she had a boyfriend at the time. "I didn't sleep with him [because I was dating someone else], but we spent a bunch of time together," Sarma said. She described Alec as chivalrous and expressed delight at his happiness.
After her release from prison, Sarma tried to contact Baldwin, but he didn't reply.
Melngailis allegedly believed that her ex-husband would make her dog immortal
Sarma opened Pure Food and Wine alongside famed chef and then-boyfriend Matthew Kenney in 2004. Kenney left in 2005, ending the couple's personal and professional relationship.
Melngailis then met a man named Shane Fox on Twitter via Alec Baldwin. The name Shane Fox was a cover for Anthony Strangis, a convicted con artist.
Anthony trapped Sarma in his web of deceit, convincing her to send ever-increasing sums to his account. Strangis claimed to be a black ops operative mandated to keep most of his personal details secret.
He responded aggressively when Sarma questioned his spending, assuring Sarma that eventually, everything would make sense. Sarma handed over her passwords and private information for 'encryption' – the high-risk nature of Anthony's alleged job requires Salma to take extreme security measures.
Sarma drew money from her business accounts to support Anthony. In truth, Anthony used the money to fuel his gambling addiction.
Melngailis and Anthony's financial situation got so precarious that they had to flee New York. Sarma probably stayed with Strangis because he promised to immortalize her dog, Leon, with whom she shares a close bond.
As police arrested her, she seemed to care more about Leon's welfare than her own – she repeatedly begged officers to take care of her dog.
Sarma writes on her website that she didn't want to marry Anthony; she claims to have hated and feared him. "The ending of Bad Vegan is disturbingly misleading; I am not in touch with Anthony Strangis," she writes.
Melngailis told The New York Post that she's unlikely to get married again or be in a relationship. "I have no desire to get married again. I have no desire to be in a relationship," she said.
---