With Serena Williams competing in her last tennis tournament at the U.S. Open and her sister Venus expected to retire, the Williams name will soon exit tennis. The Williams sisters have dominated women's tennis in the past couple of decades, having undergone grueling and revolutionary coaching from their father, Richard Dove Williams, Jr.
Richard Williams was a regular at his daughters' matches but no longer appears. He is not dead, but as seen in social media posts from his children, the 80-year-old Williams looks frail and sickly.
Richard reportedly suffered two strokes and has dementia
Reports initially stated that Richard Williams suffered one stroke. However, court filings from Richard's lawyers revealed that he suffered two strokes in 2016.
Williams instituted legal proceedings against his wife, Lakeisha Williams, claiming she faked his signature to transfer his home in Florida to her. Lakeisha used the property to borrow money, which she used to set up a failed business.
Court records showed Lakeisha had forged Richard's signature before to sell his Bluebird Wanderlodge Motor Coach. She used the money to buy food for herself and the couple's son, Dylan.
Lakeisha said: "Mainly, I was broke by my husband [who] did not help me. It was my son and I not getting any money, so I had to sell it so I can eat and my son can eat… we didn't have anything."
Williams' lawyers asked Williams' doctor, Monica Walker, to testify about his health. Monica said the stroke had damaged Williams' brain tissue, causing memory loss and dementia. Walker said:
"You have recovered from problems forming your words. However, you have not recovered from what is called dementia. Your ability to do household business transactions such as writing checks, paying bills, and maintaining records is lost. This is all part of cerebral vascular disease and stroke."
Richard's son, Chavoita LeSane, holds his power of attorney. Court filings state that Chavoita understands Williams' speech and his wishes. "Mr. LeSane's familiarity with the Plaintiff's speech has been a crucial assistance in attorney-client communication, analogous to having an interpreter," the court filing states.
Williams' children upload photos of Richard on social media. In November 2021, Serena posted a video of Richard praising his granddaughter's cycling progression. "A rare sighting, the one and only G.O.A.T. still motivating," Serana wrote.
Richard's daughter Sabrina claims that Richard is already dead in her head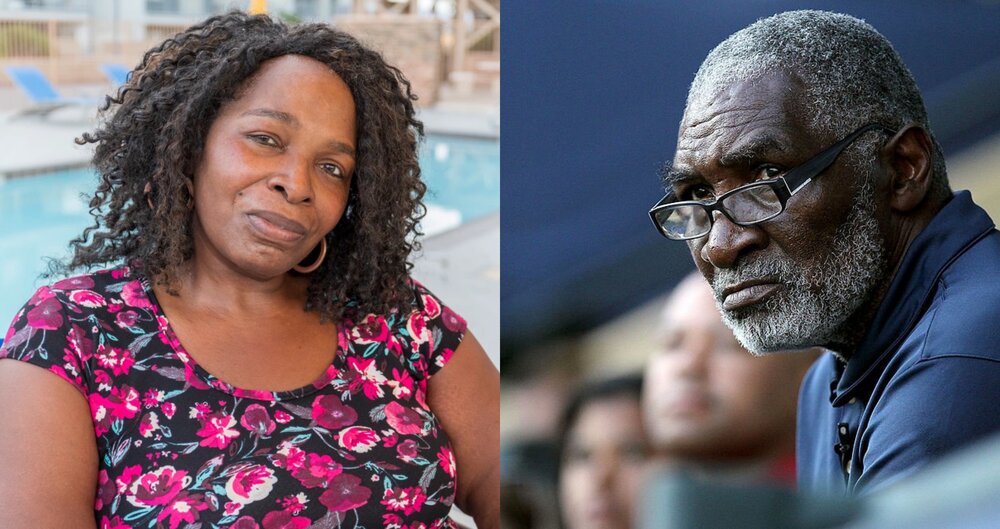 Richard Williams has several lesser-known children from other marriages and relationships. Before marrying Venus and Serena's mother, Oracene 'Brandy' Price, he welcomed five children with his ex-wife Betty Johnson: Sabrina, Richard III, Ronner, Reluss, and Reneeka.
Williams' son and caretaker, Chavoita, is from a relationship he had outside his marriages. Robert's youngest son, Dylan, resulted from his wedding to Lakeisha Juanita Graham.
Except for Sabrina, the rest of Robert's non-famous children rarely appear in the news. Sabrina has spoken extensively to the media, recently claiming that Richard is faking his illnesses.
She based her accusations on Lakeisha Graham's assertion that she and Richard had rekindled their romance. In March 2022, Lakeisha petitioned a Florida judge to halt the couple's divorce proceedings. Submissions from Lakeisha's lawyer, Sara Lawrence, read:
"The wife believes that the parties have reconciled and have engaged in an active marital life including having regular weekly sexual relations including but not limited to on January 9, 2022, the night before filing this motion."
"Well, it seems like sex weekly! I'm laughing, wow!" Sabrina said, per Radar Online. Citing a report that King Richard drove himself to Chavoita's house in late March 2022, she cast further doubt on Richard's alleged health problems.
Sabrina said: "Wow, that doesn't sound like someone who's had two strokes. Come on, he doesn't even have dementia. I'm done with playing like that. He needs to stop playing all the time."
Sabrina had previously expressed contempt towards Richard, admonishing him for leaving her mother to care for four children and an eight-month toddler. "How do you leave a baby?" Sabrina said during an interview with The Sun. Sabrina told the outlet that Richard Williams is already dead to her:
"I don't think I'll see him alive. I've even buried my dad in my head because I know I won't be able to attend his funeral. That's just not going to be an option, they're not going to let me, they won't even tell me. I'll find out from the media reports or a friend."
---