Statistics
Age:

32 years old

Date of Birth:

July 14, 1987

Birth Place:

Indianapolis, Indiana

Horoscope:

Cancer

Full Name:

Charly Caruso

Occupation:

WWE Announcer, Sportscaster, Reporter, Journalist

Height:

5 feet 2 inches

Nationality:

American

Ethnicity:

White

Marital Status:

Not married
About Charly Caruso
If you are a big fan of WWE and has been an active follower over the past two years, it is then very likely that you have come across Charly Caruso.
Caruso is an outstanding NXT and World of Wrestling Entertainment (WWE) reporter. She interviews the various WWE wrestlers in both the WWE events and in the paid episodes.
She is quite popular for setting 'fire' inside the WWE rings and you will hardly miss her in the backstage being involved in heated arguments on the Monday Night Raw.
But who was Charly Caruso before her debut WWE career?
She took a try and dabbled in standup comedy way back in 2015. Caruso has also worked as a reporter for various news channels and stations such as WDAF, WTTG, and WSAZ.
Recently, Caruso shared with her Instagram fans about her expected appearance in ESPN Sports Center.
That's not all, here is everything you need to know about her.
Early life and education
Caruso is just a name she got from her stage appearances. She was born as Charly Arnolt on 14th July 1987 in Indianapolis, Indiana, US. Caruso has been raised by her mother, Charlene May Arnolt.
She holds the American Nationality and is of white ethnicity.
Not much information is known about her father and siblings – but she has on some instances posted some posts and pictures about her family on Social media.
Caruso considers her mother a big inspiration in her life since she helped build who she is today. Even with the little information available about her family, we can confirm that she maintains close contact with them – especially her grandmother who she is very fond of.
She attended the North Central High School and after a successful completion joined the American University in Washington DC.
During her college education, she interned at KRIV-TV, owned by FOX station.
Caruso graduated from the university in 2010 with a degree in Broadcast Journalism with a minor in Criminal Justice and Spanish.
Charly Caruso's Debut Career, and her rise to stardom
After her graduation, she worked for several TV stations which helped her gain the required professional experience.
From 2010 to 2011, she worked with WSAZ-TV in West Virginia. Caruso then worked with WDAF-TV in Kansas from the year 2011 to 2013.
She explains how she would essentially work by herself during this 5 years. Charly discusses how she would carry the equipment and cover each story entirely on her own. Can you picture the scenario?
She worked as a general assignment reporter in Missouri before returning home in Indiana in the year 2013.
Once in Indiana, Caruso worked with WXIN station as a sportscaster until the year 2015. During her time with WXIN, she covered the NBL and NFL sports in Indianapolis, Indiana.
With the collective skills and experience she had gathered, Caruso became a major success when she joined WWE in 2016 as a reporter.
Caruso made her first appearance at an NXT live event in July 2016, 4 days after joining WWE.
In a behind-the-scenes interview, she said that before joining WWE, she had followed their network and would watch different programs such as Monday Night Raw and Smack Down.
The reason, she explained was to get a glimpse of the world she was joining.
She now conducts backstage interviews and sometimes makes ring announcements. Her new job in WWE has played a vital role in the rise of her popularity.
Around the time she joined WWE, Caruso created her YouTube channel, BlackTalk Ball which she uses to share comedy/sports series with her fans. Her channel is still new and has garnered over 1.7K subscription.
Is Charly Caruso leaving WWE?
Caruso revealed to her Instagram fans that she was now an ESPN employee and would be anchoring on ESPN's Sports Center.
The post left her fans with many questions, the most disturbing one being whether it would mean quitting WWE.
She was however quick to clarify the point and confirmed to her fans that she wasn't about to quit her WWE job, at least not yet.
Caruso would only be appearing on ESPN from time to time and was planning on keeping both jobs
Although she was in disbelief about the life-changing opportunity, Caruso was still grateful that she had gotten the chance.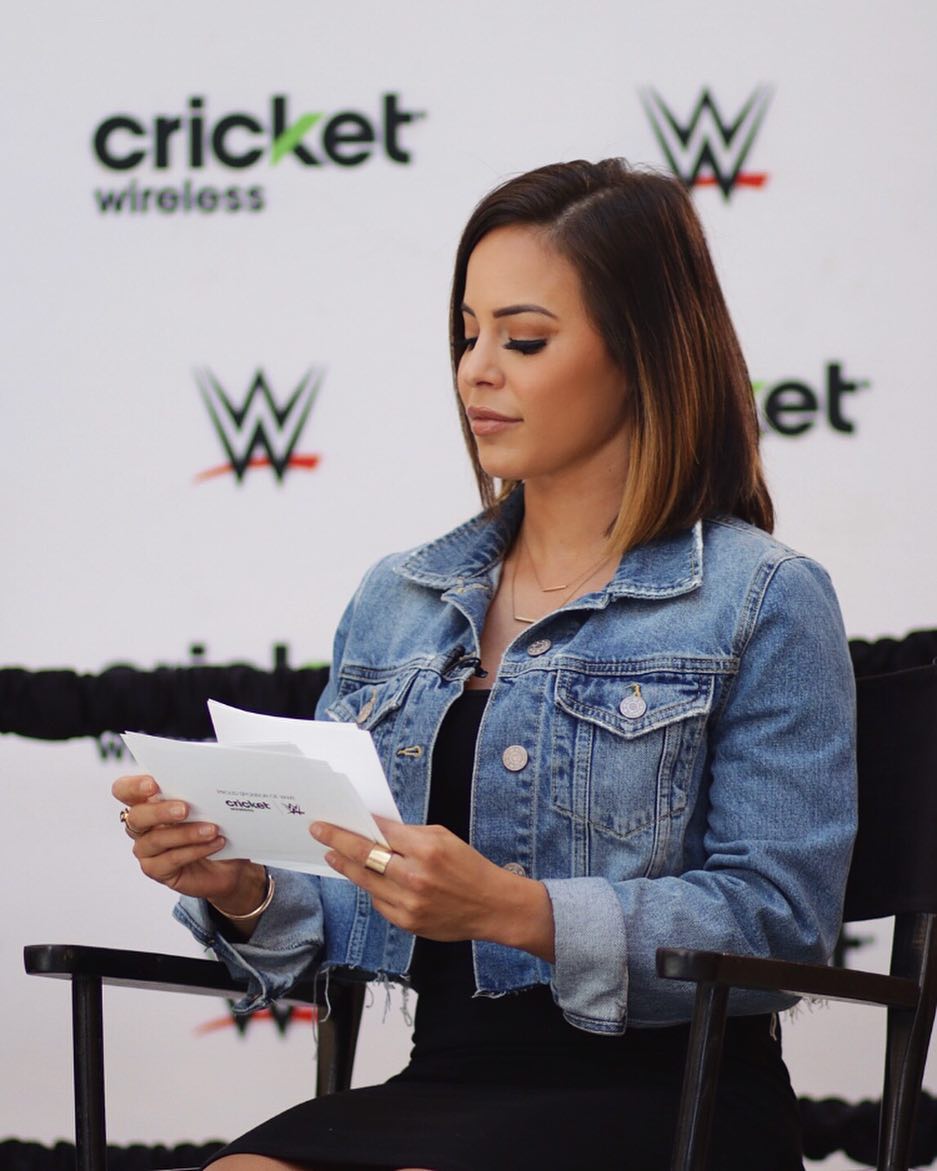 Charly Caruso's Personal life
She weighs approximately 50 kg and has a height of 5ft and 2 inches.
A few years back, Caruso was a dedicated sand volleyball player and actually wished to be a pro beach player. But her height, which has never increased from 5'2 disqualified her.
It might sound rather unfortunate but she would never have made it to her debut anchoring career if she had qualified as a pro player.
Caruso moved to Orlando, Florida after she landed her job at WWE.
Her job sometimes involves a lot of traveling because of its frequent road trips, but she has no problem with that – traveling is one of the things she enjoys doing.
Her other hobbies include watching movies and TV series, reading magazines and gym training. Caruso also enjoys eating baby prunes food – yeah, you heard right. That is what her WWE profile says.
Charly Caruso's love life – is she married?
Even at the age of 31, Caruso is reportedly still single and unmarried. She prefers keeping her dating and love life away from the limelight.
However, there have been rumors of an alleged love affair with a popular WWE superstar, Seth Rollins. After the breakup with her girlfriend, Seth tweeted about a WWE diva – who people deduced to be Caruso.
Word soon circulated that they were 'dating' but neither of the two confirmed being in a relationship.
Caruso has opted to stick to her demanding career at the moment.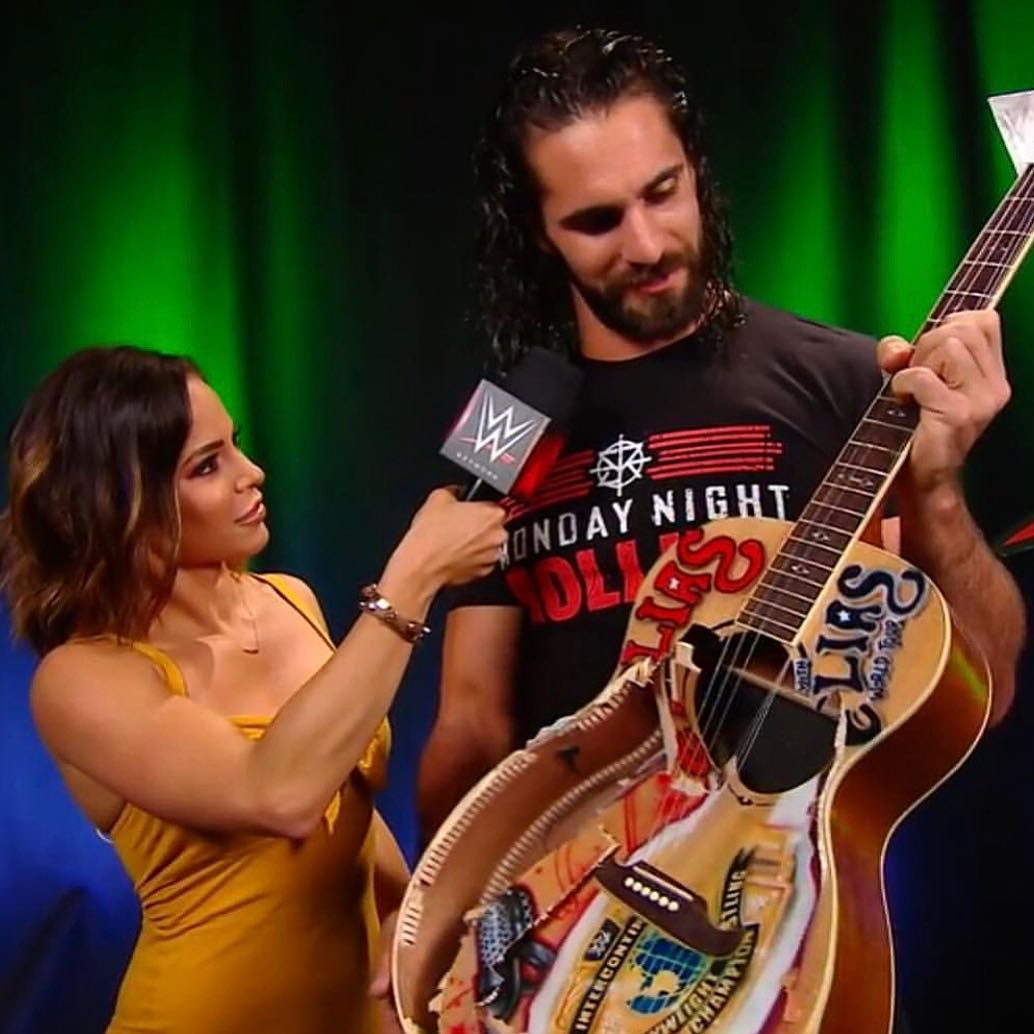 Charly Caruso's Net Worth
Caruso is slowly paving her path to success. Through her consistent hard work and skills, she has been able to build herself a successful career.
She is now getting an impressive salary from her two exclusive jobs. Her net worth is yet to be official. However, Caruso has been estimated to be over $0.5M.
Also Read: Lisa Boothe – Biography, Facts, Husband, Net Worth, Early life & Education