Jason Kidd retired from the NBA having cemented his position as one of the greatest ever to play the game. His one Championship ring probably doesn't justify his stats: he was a 10-time NBA All-Star, a nine-time NBA-All Defensive Team member, and ranks second on the NBA all-time lists in career assists and steals.
Kidd got his second Championship ring as a coach on the 2020 Los Angeles Lakers team. In 2021, Jason became head coach of the Dallas Mavericks and is looking to bring glory to the team that won him his first Championship. The Mavericks have improved under Jason: in 2022, the team made it to the Western Conference final, where they lost to the Golden State Warriors.
Jason used footage shot by his father to improve himself and his teammates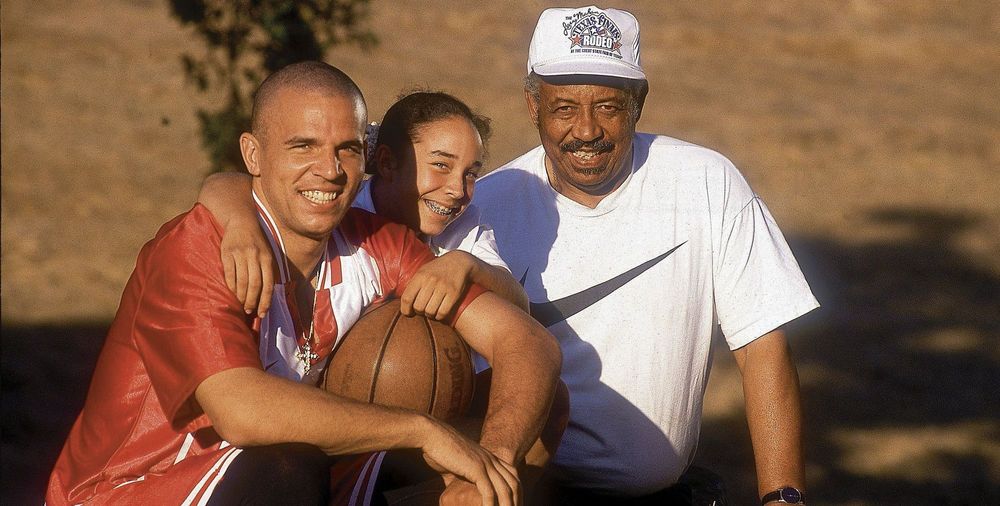 Jason Kidd was born on 23rd March 1973 to Steve Kidd, an African-American, and Anne, an Irish-American. He grew up alongside two younger sisters: Denise and Kim. The family lived in a middle-class home near Oakland Coliseum, where they kept horses.
Steve improved Jason's career by recording his games, so he could watch the footage and learn how and where to improve. Andre Cornwell, Jason's teammate at St. Joseph Notre Dame High School, told The Mercury News:
"Jason's watched film since we were in fifth grade, of us playing basketball. I never understood why. I thought he was conceited because he scored 20 or 25 points, but it was more so him studying and watching, then educating me so much."
Kidd's talent and desire to improve himself and his team made him a legend in Alameda. The team retired his Jersey, which is displayed inside Kelly Gymnasium alongside his Gatorade Player of the Year plaque.
"It's always good to come home," Kidd told The Mercury News. "A lot of great things happened here as a kid growing up in the Bay. It's always good."
Kidd's father taught him to be patient in whatever he pursued
Jason told the San Jose Mercury News that winning the Championship was Steve's dream for him. Kidd said:
"With my dad, [winning a championship] was the No. 1 thing. Talking with him when I was younger, or seeing him on the road while playing in the NBA, I always told him we were going to win a championship here soon. I think he agreed. I also think he was willing to be honest about the fact that there are some better teams out there than you."
Steve Kidd didn't get to see his son crowned an NBA Champion as he passed away in 1999. He instilled in Jason the value of patience, which helped Jason as he waited another eleven years for his maiden NBA triumph.
"But to take this long, I think he would probably tell me, 'The thing I've always told you was you have to be patient. It doesn't always happen when you think it will.'" Jason said. "He always told me it doesn't happen when you want it to happen, but it will."
Read Next: Jimmy Butler's story – How an abandoned child climbed the ladder of NBA All-Star
---