Statistics
Age:

29 years old

Date of Birth:

August 24, 1990

Birth Place:

Montreal, Canada

Horoscope:

Virgo

Full Name:

Catherine Paiz

Occupation:

Actress, Model, Youtuber

Height:

5 feet 7 inches

Nationality:

Canadian

Ethnicity:

Panamanian

Marital Status:

Engaged (Austin McBroom)

Children:

Two (Elle and Alaïa)

Education:

Saint Louis University
About Catherine Paiz
Being a pretty lady with gorgeous features translates to a lot of opportunities in the modern world – all you have to do is act smart.
Meet Catherine Paiz, a model, TV host, actress and social media star best known by her fans for her great looks and gorgeous body.
As a model, she has worked for popular fashion firms such as Victoria's Secret and Azzelia Swimwear. She also runs a popular YouTube channel, The ACE Family alongside her fiancé, Austin McBroom.
Here's everything you need to know about her.
Early Life
Her real birth name is Dolores Catherine Johnston Paiz – but she prefers to stick with the shorter version, Catherine Paiz. She was born on 24th August 1990 in Montreal, Quebec, Canada.
Her zodiac birth sign is Virgo and she belongs to the Panamanian ethnicity. Catherine has been raised as a Roman Catholic.
She has not revealed much about her family; however, it's clear that she was raised by her father. She also has three siblings – two younger brothers, Ryan and Josh and one younger sister.
Catherine moved with her family to Miami, Florida when she was young. She later moved to Los Angeles, California when she was older in search of better career opportunities.
Not much is known about her education either. She attended and graduated from St. Louis College where she played several sport games such as Basketball. Catherine also played other games such as hockey, volleyball and swimming while growing up.
Catherine Paiz' career – her rise to fame
It was not a direct ticket to success for Catherine – she had to work to achieve what she is today. Catherine's first modelling job was when she was 16 years. During this time, she worked for Victoria's Secret.
Afterwards, she worked at an ice cream parlour for a short time before going back to the modelling industry.
Catherine modelled for Azzelia Swimwear and through various modelling gigs; she identified herself as an established model. Later, she worked for Arkadia Miami as a VIP manger. The exposure and experience worked in her favour – and as her career blossomed, Catherine even worked as a TV host.
She then entered the film industry where she worked as an actress. Catherine starred in a horror movie, Lilin's Blood directed by P.W. Simon and Artii Smith. She starred with Maxine Goynes, James Wellington, Martin Sensmeier, and Melinda Milton among others,
She also appeared in a Romantic drama movie called Monday Night at Seven. The movie which had other movie stars such as Lorraine Bracco, Pepe Serna, Anderson Silva and Mary Apic, was directed by Marty Sader.
In 2017, Catherine was featured in another movie, You Can't Have It, directed by Andre Gordon. Other stars included Rob Gronkowski, Jillian Murray, Joanna Krupa, Dominique Swain, and John Steven Rocha.
Catherine Paiz' personal life
Catherine has a curvy body and an impressive height of 5 feet 7 inches, and weighs 57 kg – an ideal body for a model. She also has dark brown hair and an attractive set of dark brown eyes.
She maintains an active social media life and has managed to earn herself millions of fans. Catherine is also quite active on their YouTube channel, The ACE Family which she runs with her fiancé. They upload videos related to their family life, life challenges, pranks and Vlogs.
Some of the most popular videos have been, 'The Best Proposal of All Time,' in which her boyfriend was proposing to her. Another popular video on their channel is, 'Mommy and Daughter Surprise Daddy with Pregnancy Announcement.' In this video, they share the news of her pregnancy with her fans.
The ACE Family is a modern day reality YouTube channel, and as a result, they have been able to amass themselves a fairly big audience. The channel currently has over 16 million subscribers.
Catherine is close friends with a fellow social star, Chantel Jeffries who wished her a happy birthday via an Instagram post on September 2016. She is also good friends with Kylie Jenner.
She underwent a Plastic Surgery
Catherine Paiz revealed to her fans about her secret of getting a breast Augmentation. According to a picture she posted on 14th November 2013, she underwent the surgery in 2010.
On 14th January 2018, she updated her fans about the surgery on her gums. She mentioned about her teeth removal. She explained that horizontal impact under her gums was causing her a lot of pain.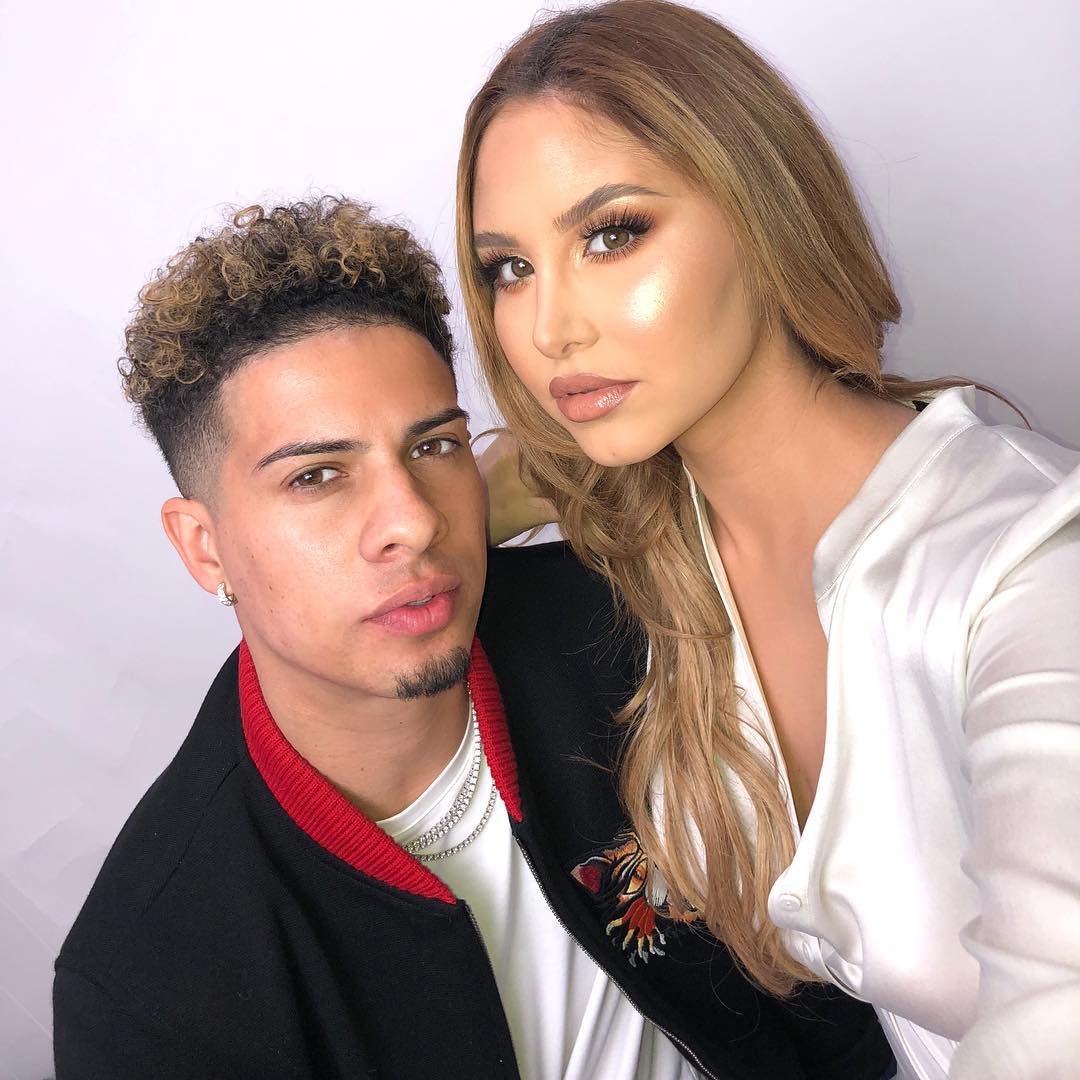 Who is Catherine Paiz dating?
'Who will she marry?' – is actually the best question because she is engaged and already has a family of her own.
Now, if you are still wondering who the lucky guy is, it is none other than Austin McBroom. Her fiancé is a successful YouTuber and owns The ACE Family YouTube channel which they run together.
The two attended St. Louis University but did not date until 2015.
Austin first met her in a party. He had been sighting her for some time in several parties but never got a chance to talk to her. He eventually got Catherine's number and messaged her asking for a date.
At first, Catherine was faced with the temptation of turning him down, but decided to give him a chance. She invited him to join her in a hike, and they started dating soon after. Her boyfriend, despite his plans to transfer to East Washington University, did not let her go.
The two enjoyed a brief dating period before Catherine unexpectedly got pregnant. The couple decided to start a family together, and on 28th May 2016, they welcomed their first daughter, Elle Lively McBroom.
A year later after the birth of their daughter, the couple became engaged.
On February 2018, the couple appeared on a Vlog on their YouTube channel and shared the news of Catherine's pregnancy.
A few months later, they invited their close friend Kylie Jenner to organize a gender reveal for their new Baby.
On Oct 20th 2018, she gave birth to a daughter who she named Alaïa.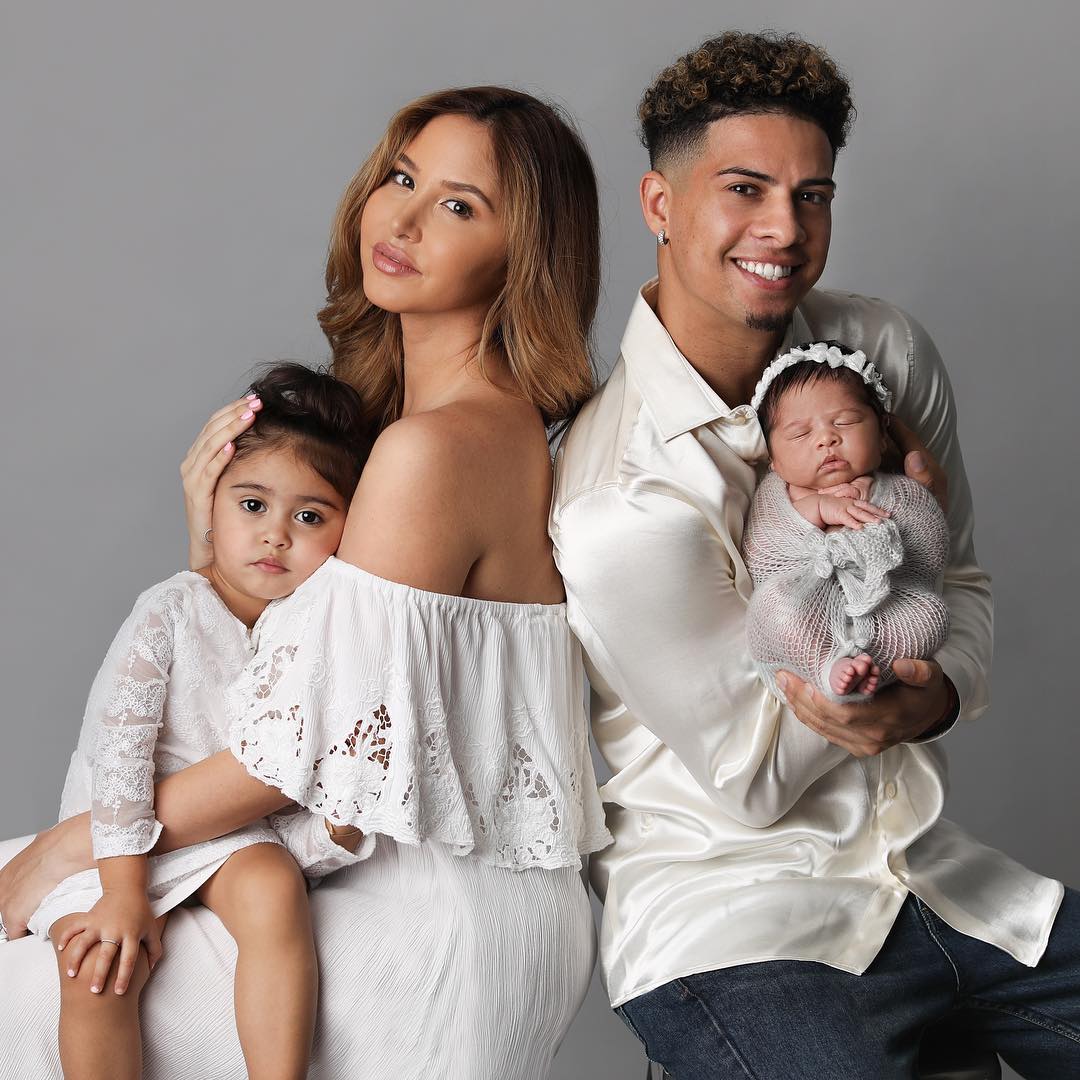 Catherine Paiz' Net Worth
Over the years, Catherine Paiz has been able to establish herself as a successful model. With her big fan base, she has been able to earn from endorsements and advertisements on her Social media pages. She is also a TV host and an upcoming actress.

Although her net worth is yet to be official, Catherine Paiz is estimated to be worth over $3 million.
Also Read: Austin McBroom – Bio, Family, Height, Fiancée, Net Worth & Life