In mid-June 2017, Judge Lawrence Moniz found Michelle Carter guilty of involuntary manslaughter for encouraging Conrad Roy to commit suicide. Carter's much-publicized trial had enthralled and shocked the nation as the prosecution brought forward digital communications that blamed Carter for Conrad's death.
Roy died of carbon monoxide poisoning after connecting the exhaust fumes from a generator to the cabin of his pickup. Conrad briefly got out of the vehicle but got back in following encouragement from Michelle. Texts between the pair also showed that Michelle gave Roy instructions on how to commit suicide.
Michelle is on parole up to 2022 following her early release from prison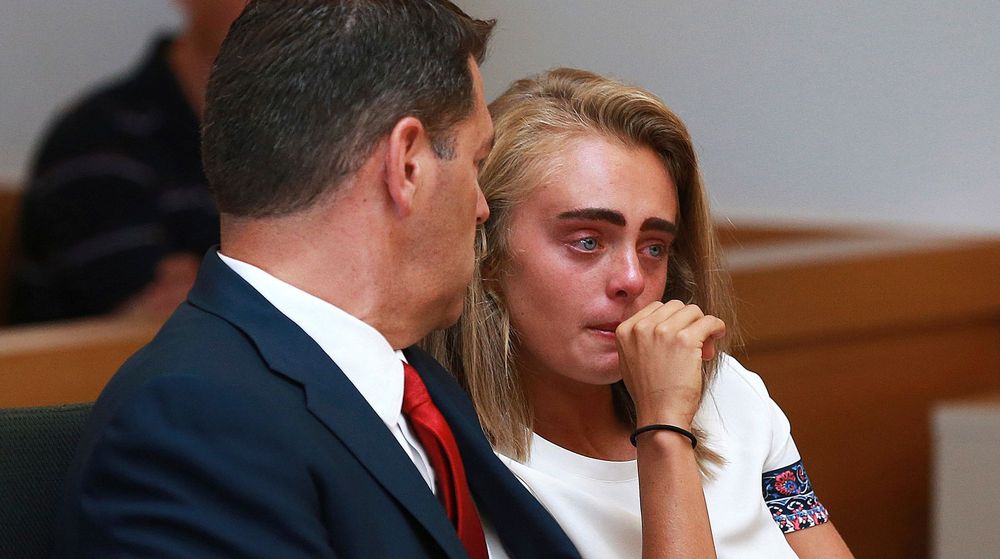 Judge Moniz found Michelle guilty of involuntary manslaughter because she failed to prevent Roy's suicide. "She [instructed] Mr. Roy to get back into the truck, well-knowing of all the feelings that he [had] exchanged with her: his ambiguities, his fears, his concerns," Judge Moniz said.
Via a text friend to a friend shortly after Roy's death, Michelle admitted that she could have stopped the suicide. "I was on the phone with him and he got out of the car because it was working and he got scared and I [expletive] told him to get back in," Michelle wrote.
The judge sentenced Carter to two and half years in jail. Michelle settled in quickly at the Bristol County House of Correction. A week after the U.S. Supreme Court rejected her appeal, Michelle Carter left prison.
She got out eleven months into her sentence because of good behavior. A spokesperson for the Bristol County Sheriff's Office told Buzzfeed News:
"Ms. Carter has been a model inmate in Bristol County. She has attended programs, had a job inside the jail, has been polite to our staff and volunteers, has gotten along with her inmates, and we've had no discipline issues with her whatsoever."
NBC News reported that Carter 'showed no emotions' as bailiffs led her away after sentencing. However, her lawyer told People that she regretted her actions and had tried to talk Conrad out of suicide. The lawyer said:
"A lot of what has been said thus far is that Michelle Carter always wanted to endorse Conrad Roy's plan to kill himself. But it will be abundantly clear that for weeks prior to agreeing to his plan, she tried to talk him out of it, and he tried to get her to commit suicide with him."
Michelle Carter's parole will end on 1st August 2022. Her parole conditions prevent her from profiting from the publicity of her case. After her parole ends, however, she can gain money from her story.
States have tried to formulate laws preventing convicted criminals from profiting off their stories. However, the right to free speech prevents the enforcement of such laws.
A bill inspired by Michelle's case was reintroduced to the Massachusetts legislature in 2021
If passed, 'Conrad's Law' will criminalize coercing a person to commit suicide. "There is acceptable behavior and unacceptable behavior and coercing someone to commit suicide is clearly unacceptable behavior," state Senator Barry Finegold stated as he refiled the bill in January 2021.
"Like everyone else, I watched in horror," state senator Paul Feeney said. "There has to be something we can do to prevent a tragedy in the future."
Massachusetts is one of eight states in the United States without such a law. Conrad's mother, Lynn Roy, helped craft the bill.
The coronavirus pandemic delayed the bill's passing in 2020, but its promoters hope that it will pass in 2021. The legislators hope that the increased focus on mental health will benefit the bill.
"We're gonna get this thing passed," Lynn Roy's husband, Roland St. Denis, told The Boston Herald. "It's just going to be a matter of when."
---