The racist statements made by Jaelyn Crooks of Prior Lakes, Minnesota, targeting fellow student Nya Sigin are perhaps too vile to transcribe. A video posted by activist Shaun King on Instagram shows Jaelyn and her friend, Jayden Kewley, repeatedly hurling racial slurs at Nya and encouraging her to commit suicide.
The comfort displayed by Jaelyn and Jayden while making crude racial comments makes you wonder about their upbringing. Shaun King opines that the girls have picked up such behavior at home, where racial abuse has been normalized.
This piece will look at Jaelyn Crooks' parents and ethnicity.
Jaelyn is half indigenous and belongs to a wealthy Minnesota casino tribe
Information about Jaelyn's parents has proven challenging to find, but we know that her mother's name is Jodie Crooks. Jodie made her Instagram private after the video leaked, possibly due to trolls. She has a Twitter account but doesn't tweet much. 
Jodie is much more active on Facebook, which shows that she is an alumna of Prior Lakes Senior High School. Per her Facebook page, Jodie got married on 15th August 2014. 
Many pegged Jaelyn to be Caucasian after watching the racist video, but it turns out that she is half indigenous. According to the grio, Jaelyn hails from 'the most wealthy casino tribe in Minnesota.' The publication adds that the family has left their home following a flurry of death threats and harassment. 
Police are present at the family home to protect the family's property presumably.
The indigenous community in Minnesota has condemned Jaelyn's actions. A statement by the Shakopee Mdewakanton Sioux Community states:
"As a tribal nation, we are acutely aware of the destructive nature of racist thoughts and acts. Our ancestors suffered from racist and genocidal governmental policies and acts for over two hundred years. We are still subjected to anti-Indian racism today. We are talking with our youth about our history and the genuine harm racist beliefs and comments cause."
The overwhelming feeling is that Jaelyn's parents encourage racist commentary at home. "I'm sure your parents and grandparents and siblings talk this way at home," Shaun King wrote alongside the vile video. "You are so comfortable with your racism that it clearly wasn't a slip of the tongue."
Twitter user @TwoHispanic shares Shaun's views: "The way I would be so fucking ashamed to be the parents of Jaelyn Crooks. Although now that I think about it, that's probably who made her so comfortable to talk like that."
The community is calling for the expulsion of Jaelyn and her friend Jayden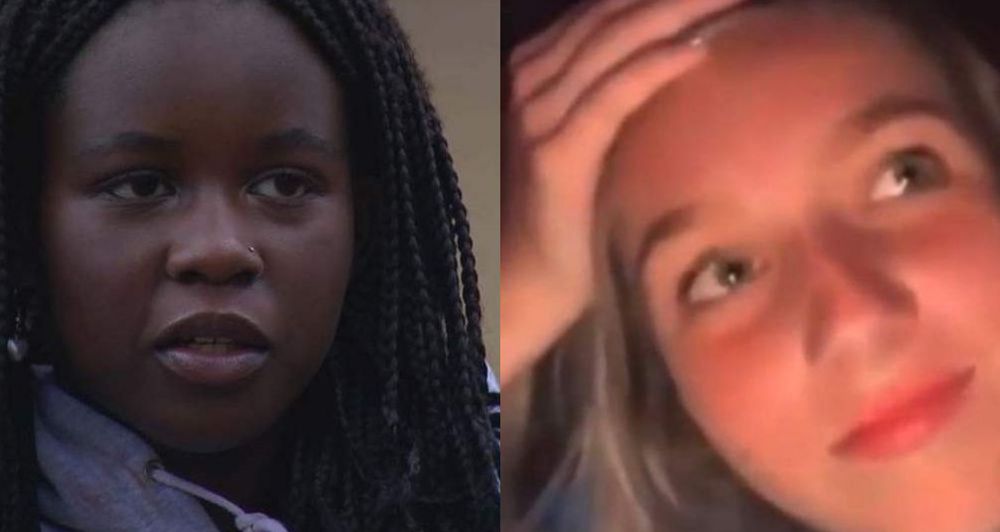 According to a post by Nya Sigin's sister, Elizabeth Sigin, racism seems to be an endemic problem at Prior Lake High School. The post by Sigin provides some context to the video posted by Jaelyn.
About a month ago, two of Jaelyn's friends made a racist video similar to the one made by Jaelyn. The footage leaked, forcing Jaelyn's friends to consider transferring. That's why you hear Jaelyn say, 'You made them leave' in the video – she blames Nya for her friends' imminent departure.
Jaelyn and Jayden allegedly turned on each other before the video leaked, attempting to appear like the non-racist (or least racist) one among the pair.
Nya struggles with depression and anxiety and attempted suicide in May. She'd made great strides towards recovery, but the video brought her back to dark times. Nya told KSTP:
"When I first saw the video, I hadn't really processed everything that was going on. I was hearing the words but yesterday I was in my counselor's office and I was really talking about it to them, and that's when it all really hit me and how personal it was to me. That was just really hard because I just had this wave of emotions."
Elizabeth told the outlet that racists have targeted Nya severally. It impacts Nya and her family, as they worry about her longevity at the school. Elizabeth wants Nya to have a good time in high school, but it won't happen if she regularly deals with racism.
Nya added that hearing people talk about her suicide and encourage her to repeat it 'felt like a relapse.' "Talking about my suicide attempts is absolutely not OK," Nya said. "I don't think they even understand the impact of this on me and my family, to even make these comments."
The community has held protests calling for the expulsion of Jaelyn and Jayden. Principal Dr. John Bezek stated that the school has launched an investigation and 'will take appropriate action.' A statement by Superintendent Dr. Teri Staloch echoed Bezek's statement:
"Our schools do not tolerate racism and hate speech. An investigation into the students involved with the video is underway and we will take appropriate action. We remain focused on our priority of providing safe, supportive and inclusive learning environments for all students."
---